2022 Knoxville Nationals
Schuchart Wins Knoxville Night One, Schatz & Gravel Take Points Lead
Schuchart Wins Knoxville Night One, Schatz & Gravel Take Points Lead
Follow along for updates from 61st edition of the Knoxville Nationals at Knoxville Raceway.
Aug 10, 2022
by Kyle McFadden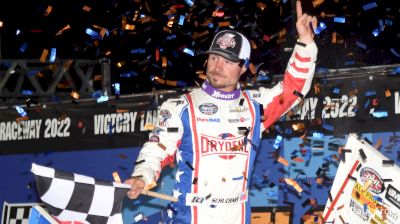 For the second time in four days on Wednesday, Logan Schuchart of Hanover, Pa., put his Shark Racing No. 1s machine in Knoxville (Iowa) Raceway victory lane, following his Capitani Classic victory Sunday by grabbing the Knoxville Nationals qualifying night one checkers.
Donny Schatz of Fargo, N.D., and David Gravel of Watertown, Conn., came from seventh and eighth, respectively, to round out the podium. Schatz and Gravel are also tied atop the event points chase at 469 markers apiece through an abnormal night one defined by cutthroat racing conditions that simply made it hard to pass.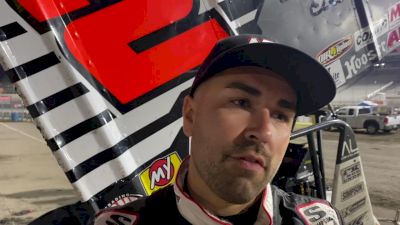 David Gravel details a fifth-straight podium finish on Knoxville Nationals qualifying night.
While Schuchart affirms that any victory at Knoxville is welcome, Wednesday's preliminary night win was no true reason to celebrate.
The World of Outlaws NOS Energy Drink Sprint Car Series driver is unofficially eighth in the points and on the probable bubble as he observes the rest of the 53 event competitors do battle during Thursday's qualifying night. After that, the top 16 in points are locked into Saturday's main event, leaving everyone else with work left to be done during Friday's Hard Knox night or Saturday's alphabet soup.
"Yeah, I'm looking at the bigger picture. I don't know if that was good enough (points-wise)," said Schuchart, who benefited from the eight-car invert to start from the pole but fell behind in qualifying at 26th quick of 50 cars. "Somebody's going to have to do the math pretty quick to figure it out for me. I'm looking at the big picture. I feel like we have a good shot at it if we can put ourselves in the positon to race for it. We just might have put ourselves too far back. Hopefully we can make it (for) a good run at it on Saturday. ... If not, we'll try to make a run at it in that B-main and make something happen."
Brent Marks of Myerstown, Pa., walked out of Wednesday third in points at 462. Fast qualifier Parker Price-Miller is fourth (457), while Justin Sanders (456), Aaron Reutzel (447), Giovanni Scelzi (445) and Schuchart (444) complete the top eight in points.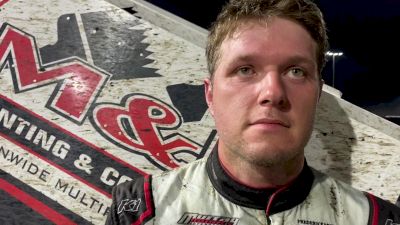 Brent Marks preserves favorable Knoxville Nationals odds with a 13th-place finish from the B-main.
Sheldon Haudenschild, Justin Henderson, Brady Bacon, Cory Eliason, Brock Zearfoss and Shane Golobic were among the drivers that failed to qualify for the main event.
Feature finish (started)
Logan Schuchart (1)
Donny Schatz (7)
David Gravel (8)
Gio Scelzi (3)
James McFadden (2)
Aaron Reutzel (6)
Justin Peck (4)
Cole Macedo (5)
Corey Day (12)
Roger Crockett (11)
Hunter Schuerenberg (13)
Parker Price-Miller (21)
Brent Marks (22)
Colby Copeland (19)
Justin Sanders (24)
Kyle Reinhardt (17)
Carson Short (16)
Scotty Thiel (19)
Mike Wagner (23)
Lachlan McHugh (10)
Mark Dobmeier (20)
Ian Madsen (23)
Davey Heskin (14)
Brandon Wimmer (18)
Feature lineup
🚨 𝗙𝗘𝗔𝗧𝗨𝗥𝗘 𝗟𝗜𝗡𝗘𝗨𝗣 🚨

Who's your pick to win Wednesday's preliminary at the 61st @NosEnergyDrink Knoxville Nationals presented by @CaseysGenStore? 👇 pic.twitter.com/5LWYtlJvss

— World of Outlaws (@WorldofOutlaws) August 11, 2022
Points among Feature starters…

286 Marks (22)
284 Sanders (24)
279 Price-Miller (21)
276 Madsen (23)
273 Gravel (8)
271 Schatz (7)
257 Reutzel (6)
253 Peck (4)
251 Scelzi (3)
249 McFadden (2)
249 Co. Macedo (5)
244 Schuchart (1)
242 Copeland (9)
238 Day (12)
237 McHugh (10)

— World of Outlaws (@WorldofOutlaws) August 11, 2022
Consolation results
B-main (12 laps, top-four transfer): Parker Price-Miller, Brent Marks, Ian Madsen, Justin Sanders, Ayrton Gennetten, Sheldon Haudenschild, Shane Golobic, Justin Henderson, Brady Bacon, McKenna Haase, Josh Schneiderman, Dustin Selvage, Cory Eliason, Robbie Price, Brock Zearfoss, Terry McCarl, Sawyer Phillips, Marcus Dumesney, Riley Goodno, Dylan Westbrook, Jordan Golesberry, Kevin Ingle, Scott Bogucki. DNS: A.J. Moeller
C-main (12 laps, top-four transfer): Brock Zearfoss, Dylan Westbrook, Riley Goodno, Jordan Goldesberry, Derek Hagar, Skylar Prochaska, Jake Bubak, Clint Garner. DNS: Don Droud Jr., Rusty Hickman, Blake Hahn.
Heat results
(10 laps, top-four transfer)
Heat one (started): Carson Short (1), Aaron Reutzel (4), Logan Schuchart (3), Donny Schatz (6), A.J. Moeller (2), Cory Eliason (5), Ayrton Gennetten (7), Parker Price-Miller (8), Brock Zearfoss (9), Jake Bubak (10)
Heat two (started): Corey Day (2), Kyle Reinhardt (1), Colby Copeland (3), Cole Macedo (4), Brent Marks (8), Terry McCarl (5), McKenna Haase (6), Sawyer Phillips (8), Dylan Westbrook (9). DNS: Don Droud Jr.
Heat three (started): Brandon Wimmer (1), Justin Peck (4), Hunter Schuerenberg (2), Lachlan McHugh (4), Justin Sanders (8), Brady Bacon (6), Dustin Salvage (5), Sheldon Haudenschild (7), Jordan Goldesberry (9), Riley Goodno (10)
Heat four (started): Scotty Thiel (1), Giovanni Scelzi (4), Davey Heskin (2), Roger Crockett (3), Robie Price (6), Shane Golobic (7), Ian Madsen (8), Kevin Ingle (9), Derek Hager (10), Clint Garner (5)
Heat five (started): Mark Dobmeier (1), James McFadden (4), Mike Wagner (3), David Gravel (7), Justin Henderson (6), Scott Bogucki (3), Marcus Dumesny (5), Josh Schneiderman (8), Skylar Prochaska (9). DNS: Rusty Hickman
Qualifying results
Quick time, @parker_pm9!

PPM sure benefitted from an opportunistic pill draw but his lap of 15.362, almost two-tenths better than Brent Marks, isn't a surprise.

Was fast two weeks ago with the All Stars and ran fifth Sunday at the Cappy. pic.twitter.com/dLtbXFuuMy

— Kyle McFadden (@ByKyleMcFadden) August 11, 2022
Tezos All-Star Circuit of Champions regular Parker Price-Miller of Kokomo, Ind., raced to fast time honors Wednesday with a lap of 15.362, nearly two-tenths better than second-fastest Brent Marks.
👇 Full Qualifying results from #NOSvilleNationals on Wednesday night: pic.twitter.com/CPAfeI05zD

— World of Outlaws (@WorldofOutlaws) August 11, 2022
Qualifying order
Time Trial order for @BRANDT_co Professional Agriculture Preliminary Night #1 of the @NosEnergyDrink Knoxville Nationals presented by @caseysgenstore! 51 cars have officially signed in! #NOSvilleNationals pic.twitter.com/EbU00RCfxP

— Knoxville Raceway (@knoxvilleraces) August 10, 2022
Storylines
Wednesday's opener consisting 53 participants is led by the event's most decorated driver, 10-time Knoxville champion Donny Schatz, as well as 2019 event victor David Gravel, winner of three of the last four qualifying nights.
While Schatz and Gravel are the crown jewel's most accomplished drivers to take the famed Marion County Fairgrounds oval Wednesday, Brent Marks, Logan Schuchart and Aaron Reutzel bear great momentum into the crucial qualifying night.
Donny Schatz vies for an 11th Knoxville Nationals title at the famed half-mile.
Marks, who placed a career-best third in last year's qualifying night, is the nation's second-winningest Sprint Car driver and is shortly removed from dominant Kings Royal and Historical Big One victories at Eldora, as well as a runaway Pennsylvania Speedweek championship.
Schuchart has never placed better than seventh in a qualifying night and did fail to qualify for three straight semifeatures from 2017 to '19, but after Sunday's Capitani Classic victory, the Pennsylvanian looks poised for his best Knoxville Nationals.
A year after his suspension and subsequent fallout from Roth Motorsports kept him from racing in the legendary event, Aaron Reutzel has settled in nicely aboard the Toyota-backed Ridge & Sons Racing No. 8 — fresh off a 360 Knoxville Nationals victory on Saturday. The former champion of the Tezos All-Star Circuit of Champions also leads the track's 410 points with four wins in 13 features.
Cory Eliason, Gio Scelzi, James McFadden, Justin Henderson and Sheldon Haudenschild are other drivers who have made noise in past qualifying nights and perhaps are ready to move one step closer to Knoxville glory.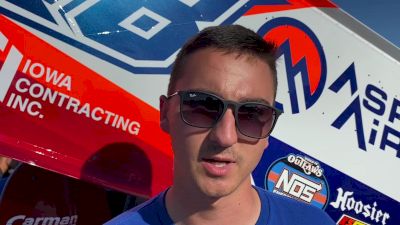 Gio Scelzi previews his Wednesday Knoxville Nationals prelim.
Eliason, now in Bernie Stuebgen's No. 71 machine after departing the Rudeen Racing No. 26, has three-straight qualifying night top-10 finishes. Scelzi, twice a top-five finisher in three career qualifying nights, was last year's Knoxville Nationals polesitter and 360 Nationals champion.
McFadden finished second in his 2019 qualifying night, while Henderson led 20 of 25 laps in last year's qualifying night before fading to finish fourth. Haudenschild, a third-place finisher in his 2019 qualifying night, is tied for a series-high eight World of Outlaws this season.
Seven event rookies — reigning Lucas Oil ASCS champion Blake Hahn, Carson Short, Cole Macedo, Dylan Westbrook, Garet Williamson, Justin Sanders and Lachlan McHugh — are in Wednesday's field. Macedo, the current points leader at Attica (Ohio) Raceway Park, is aboard Philip Dietz's No. 14 Sprint Car, while Sanders — last year's second-winningest Sprint Car driver nationally at 21 wins and from California — debuts in Kevin Swindell's No. 39.
Format
Every time a driver takes the racing surface, minus hot laps of course, points are accumulated upon performance that ultimately build the lineup for Saturday's Knoxville Nationals main event.
The top 16 in combined points from qualifying nights on Wednesday and Thursday are locked in to Saturday's 50-lap grand finale. Teams 17th through 26th in points are awarded the first 10 positions in Saturday's B-main. The rest of the field, meanwhile, will then be relegated to Friday's Hard Knox qualifying night.
The uniqueness of Knoxville, where Pizza Hut among so many other shops in town accommodate pre-race prep.

T-minus five hours til cars, including @LSchuchart1s & @DonnySchatz as seen in my brief stroll, hit the black dirt. #NOSvilleNationals | @knoxvilleraces pic.twitter.com/CUXsY56O1U

— Kyle McFadden (@ByKyleMcFadden) August 10, 2022
Qualifying
Two-hundred points are on the table for quick time, with 198 for second, 196 for third and so forth.
Heats
There's an eight-car inversion for the heats, with the top-four finishers advancing to the 25-lap semifeature. Fifth through eighth go to the B-main and ninth through 10th to the C-main.
One-hundred points are awarded to each 10-lap heat race winner, with a three-point reduction for each following position (re: 97, 94, 91, 88, etc.).
C-main
In the C-main, the top-four finishers tag the rear of the B-main. Fifth place in the C-main is worth 92 pts., with sixth worth 90 points and so forth.
B-main
In the B-main, the top-four finishers transfer to the tail of the A-main. The B-main awards 142 points for fifth, 140 for sixth and so forth.
A-main
The 25-lap semifeature will invert eight cars, with points being the same as time trials (200, 198, 196, etc.).
Tiebreakers go as follows: finishing position in respective main event, followed by time trial finish.
A perfect score — quick time, a heat win and feature win — is 500.
Wednesday's roster by series and/or region
Tezos All-Star Circuit of Champions
11M Parker Price-Miller of Kokomo, Ind.
13 Justin Peck of Monrovia, Ind.
55 Hunter Schuerenberg of Avon, Ind.
91 Kyle Reinhardt of Abbottstown, Pa.
California
14 Corey Day of Clovis, Calif.
14J Cole Macedo of Memoore, Calif.
16A Colby Copeland of Rocklin, Calif.
17W Shane Golobic of Rocklin, Calif.
18 Gio Scelzi of Fresno, Calif.
39 Justin Sanders of Aromas, Calif.
71 Cory Eliason of Visalia, Calif.
International
1AU Marcus Dumesny of Sydney, Australia
2KS Ian Madsen of St. Mary's, Australia
7s Robbie Price of Cobble Hill, Canada
45 Rusty Hickman of Bendigo, Australia
47X Dylan Westbrook of Scotland, Canada
84 Scott Bogucki of McLaren Vale, Australia
101 Lachlan McHugh of Gold Coast, Queensland
Knoxville regulars
2M Davey Heskin of St. Michael, Minn.
3 Ayrton Gennetten of Gravois Mills, Mo.
3P Sawyer Phillips of Pleasantville, Iowa
7 Justin Henderson of Tea, S.D.
7W Dustin Selvage of Indianola, Iowa
8 Aaron Reutzel of Clute, Texas
20 A.J. Moeller of Rockwell City, Iowa
22 Riley Goodno of Knoxville, Iowa
24 Terry McCarl of Altoona, Iowa
40 Clint Garner of Sioux Falls, S.D.
49J Josh Schneiderman of West Burlington, Iowa
55T McKenna Haase of Des Moines, Iowa
Midwest
1M Don Droud Jr. of Lincoln, Neb.
2KK Kevin Ingle of Huron, S.D.
6B Brandon Wimmer of Fairmont, Ind.
10 Skylar Prochaska of Lakefield, Minn.
13JT Mark Dobmeier of Grand Forks, N.D.
17C Carson Short of Marion, Ill.
21H Brady Bacon of Winchester, Ind.
24W Garet Williamson of Kingdom, Mo.
65 Jordan Goldesberry of Springfield, Ill.
73 Scott Thiel of Sheboygan, Wis.
Mountain West
1X Jake Bubak of Arvada, Colo.
Pennsylvania Posse
19M Brent Marks of Myerstown, Pa.
55W Mike Wagner of Harrisonville, Pa.
South-Central
2c Wayne Johnson of Tuttle, Okla.
9JR Derek Hagar of Marion, Ark.
11 Roger Crockett of Broken Arrow, Okla.
52 Blake Hahn of Sapulpa, Okla.
World of Outlaws
1s Logan Schuchart of Hanover, Pa.
2 David Gravel of Watertown, Conn.
3z Brock Zearfoss of Jonestown, Pa.
15 Donny Schatz of Fargo, N.D.
17 Sheldon Haudenschild of Wooster, Ohio
83 James McFadden of Warrnambool, Australia
Wednesday's schedule
(All times local)
8 a.m. - Knoxville Raceway ticket office opens
8 a.m. - National Sprint Car Hall of Fame opens
10 a.m. - Trade show in skate pit building opens
10 a.m. - Vendors open
10 a.m.-3 p.m. - Bryan Clauson Suite Tower tours
12 p.m. - Food vendors open
1 p.m. - Autograph sessions at NSCHoF
1:30 p.m. - "WoO Sprint Car Racing" with announcer Johnny Gibson @NSCHoF
2 p.m. - Pit gate opens
3 p.m. - Autograph sessions at NSCHoF
5:30 p.m. - Grandstands open
6 p.m. - Winged Nation on the Hercules Tire Entertainment Stage
Opening Ceremonies - Kyle Larson Raises Champion's Flag
7:15 - On-track activity begins
- Hot laps
- Time trials
- Five heats
- C-main
- B-main
- 25-lap semifeature
Post race - Live music with THE BOYS on the Hercules Tire Entertainment Stage