2021 All Star Circuit of Champions at Lernerville Speedway
Tear-Offs: 'Concrete Kid' Anthony Macri Impresses Over All Star Swing In PA
Tear-Offs: 'Concrete Kid' Anthony Macri Impresses Over All Star Swing In PA
Matt Weaver's sprint car storylines after a busy FloRacing All Star weekend at Virginia Motor, Williams Grove, Port Royal, and Bedford.
Apr 20, 2021
by Matt Weaver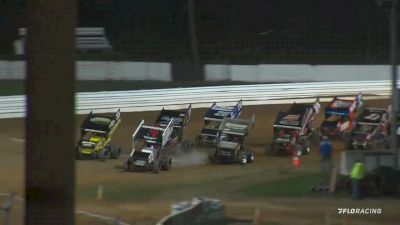 If you can't win the show, be the show.
Over the weekend with the All-Star Circuit of Champions in Pennsylvania, Anthony Macri was able to accomplish both.
It's a rare accomplishment to be the runner-up and steal the spotlight from the winner, but that's what the 21-year-old from Dillsburg accomplished at Port Royal on Saturday night. He rallied from 21st to second in 30 laps and probably would have won if not for running out of fuel just after the final restart in which he took the lead from eventual winner Logan Wagner.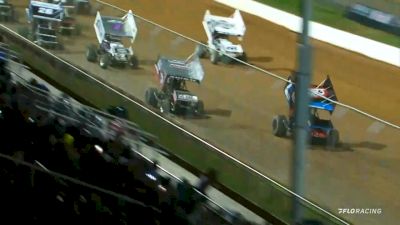 Highlights from an epic Keith Kauffman Classic at Port Royal.
He was only back there in the first place because he crashed from his heat and was forced to run the B-Main even after setting fast time in qualifying.
Regardless, it was a statement performance that captured the hearts and minds of those in attendance and watching on Flo. Macri kept them talking on Sunday by winning the Johnny Grum Classic at Bedford Speedway.
"These guys gave me one hell of a car all weekend long and it finally paid off," Macri explained in Bedford victory lane. "I don't know what to say, I'm out of breath. I just tried to pace myself there at the end and not do anything stupid."
After stumbling out of the gate with reliability issues in February and March, Macri has regained his 2020 form in April with his second straight podium at Port Royal, a third place at Bridgeport and then a breakthrough victory at Port on April 10.
He won that race by over seven seconds as if to say I'm back.
Macri was poised for another top-five on Thursday at Virginia Motor Speedway before he was one of many to shred their right rears. He was fifth on Friday at Williams Grove before owning the headlines this weekend.
The Anthony Macri Show is back on the air.
LEARNING TO APPRECIATE CONSERVATION RACES
Based on the vitriol from Thursday night, this is probably an unpopular opinion from an amateur Sprint Car enthusiast, but races like the All Stars Circuit of Champions feature at Virginia Motor Speedway on Thursday night are a welcome development every once and awhile.
There, I said it.
Cory Eliason held the top spot for much of the second half of the feature when right rears started to expire. Roughly half the field suffered the same fate, blistering tires that led to cording and eventually an expiration.
Anthony Macri and Danny Dietrich were both running top-five and were the first contenders to fall. Eliason lost his right rear with five to go and Justin Peck inherited the top spot. Ian Madsen in second lost his on the ensuing restart, and Tony Stewart moved to second.
Peck exited the final corner with the checkered flag in his sights when his right rear lost pressure and sent Stewart to take his second win of 2021 in his first race back since winning the Wild Wing Shootout finale in January.
"We weren't the fastest car by any means," Stewart said. "We kind of figured out early that it was going to be a tire deal. I just tried to run my car straighter than those guys ahead of me."
That's the key takeaway here.
Everyone who made the feature was permitted new tires and had equal opportunity to scope out the track before strapping in. Stewart won because he ran one of the smartest races, and that's something that should be celebrated, right?
"We could see that (Peck's) tire was getting pretty worn under that last caution," Stewart said. "I could see the cords to the white so I told myself if he can run that hard and make it work, good for him. If we were going to finish second saving tires, that would be a good night for us anyway. He had plenty of race car, he just needed to slow down a little bit and take care of his tire."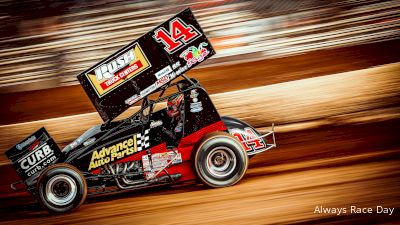 Tony Stewart was back in FloRacing All Star victory lane at Virginia Motor.
It was a similar dynamic to the World of Outlaws race on September 5 at Huset's Speedway when virtually everyone suffered a flat right rear with Sheldon Haudenschild losing his early and charging back through the field on his replacement tire.
It was total pandemonium, something those who watched it will never forget, and shakes up the running order for an unpredictable finish.
That was certainly the case on Thursday night, too.
But most importantly, it's not totally a random number generator, as there is a degree of skill involved to what Stewart accomplished too -- citing his Silver Crown and NASCAR tire management experience.
"That's exactly what all those years running 100-mile races and 100 lap runs, Richmond or Sonoma in the Cup car, there's been a lot of races over the years where I had to take care of the tires," Stewart said. "Darlington.
"Like I said, we weren't fast enough to run their pace. I asked Danny Dietrich on the first caution how mine looked, he said they looked good, and his were about gone. Once they started popping, I just decided I was going to take care of mine."
Score one for old age and treachery.
STACKED SHOWS ALL WEEKEND
The World of Outlaws were rained out over the weekend, but it actually made for some seriously stacked rosters on Saturday night.
Sheldon Haudenschild won the Knoxville Raceway opener against a lineup that included the likes of Aaron Reutzel, Carson Macedo, Parker Price-Miller and Mason Daniel. Jacob Allen contended for the win at Port Royal.
Stewart and Larson also generated national headlines with their participation and wins, too.
The Outlaws are, of course, The Greatest Show on Dirt, but the rainouts allowed that spotlight to be disseminated amongst the All-Stars, Knoxville and Lincoln on Saturday.
Besides, the Outlaws will certainly regain center stage this weekend as the tour returns to Bristol Motor Speedway for the first time in 20 years.
That's going to be must-see television.