All Star Circuit of Champions
Chris Windom Finds New Home For 2024 Sprint Car Season
Chris Windom Finds New Home For 2024 Sprint Car Season
Chris Windom and Vermeer Motorsports are teaming up for the 2024 sprint car season with NOS Energy Drink.
Nov 20, 2023
by Tyler Burnett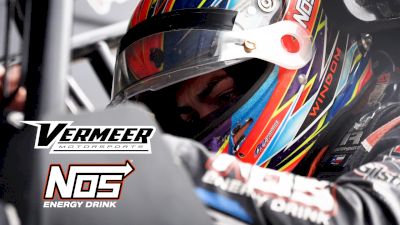 Chris Windom and NOS Energy Drink have teamed up with Vermeer Motorsports for the 2024 sprint car season. The Canton, Illinois driver will take-on his third full-time national season in a winged sprint car housed in Indianapolis and owned by Pella, Iowa's Tony Vermeer.
"I'm really excited to have Chis join our Vermeer Motorsports team, as I believe he hasn't yet come close to showing how good he can be in a winged sprint car," Tony Vermeer owner of Vermeer Motorsports said. "He's won at every level he's competed in and is a USAC Triple Crown winner. Teaming him with one of the best young crew chiefs, Clinton Boyles, I think they will gel quite quickly. I'm also super excited to announce NOS Energy Drink as our new primary sponsor. What Lauren Albano and everyone at NOS does for all of sprint car racing is pretty amazing."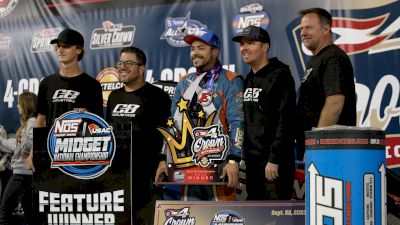 VIDEO: Chris Windom returned to Midget racing and won a 4-Crown Nationals feature at Eldora in September.
Windom finished second in the Tezos All Star Circuit of Champions championship standings last season driving for Lane Racing, scoring nine top fives and 22 top 10s in 41 races. Vermeer Motorsports started the season with Hunter Schuerenberg behind the wheel before hiring Buddy Kofoid, who finished second in the Ohio Sprint Speedweek points standings. They finished out the year with Australian Kerry Madsen behind the wheel and finished third in the All Star owner standings with two wins.
"I'm very grateful for the opportunity to team up with Vermeer Motorsports. I think we both have the same goals and mindset of what we want to accomplish in 2024," said Chris Windom. "Tony takes his program very seriously, and wants to do what it takes to compete at the highest level. Clinton and Nate both have worked super hard to excel this program as well. I also have to thank NOS Energy Drink for their continued support of me with them coming on board. I do want to thank Brett and Patty Lane, as well as everyone at Lane Racing for everything they did for me in 2023. I wish them continued success. I'm super excited to get started in February."
Clinton Boyles will return to Vermeer Motorsports for his third season and work with Windom as the crew chief of the No. 55.
"Firstly, I want to say thank you to Hunter (Schuerenberg). Without him taking a leap of faith and trusting me to turn the wrenches on the 55, I wouldn't be where I am today," Clinton Boyles said. "Also thank you to Buddy and Kerry. Each driver I've gotten to work with created new opportunities that propelled Vermeer Motorsports to new heights. Chris is super talented and I'm really excited to see what challenges await us with him as our driver in 2024. Sprint car racing as a whole is heading in a really exciting direction right now, and I can't wait to see what we can accomplish together as a team."
Vermeer Motorsports is expected to announce their plans for the 2024 in the coming weeks.