2023 Tezos ASCoC Jim and Joanne Ford Classic at Fremont Speedway
Zeb Wise Wins Jim And Joanne Ford Classic With All Stars At Fremont
Zeb Wise Wins Jim And Joanne Ford Classic With All Stars At Fremont
Zeb Wise drove to the front at Fremont Speedway to win the Jim And Joanne Ford Classic and take owner's points standings lead with one race left.
Sep 17, 2023
by Tyler Burnett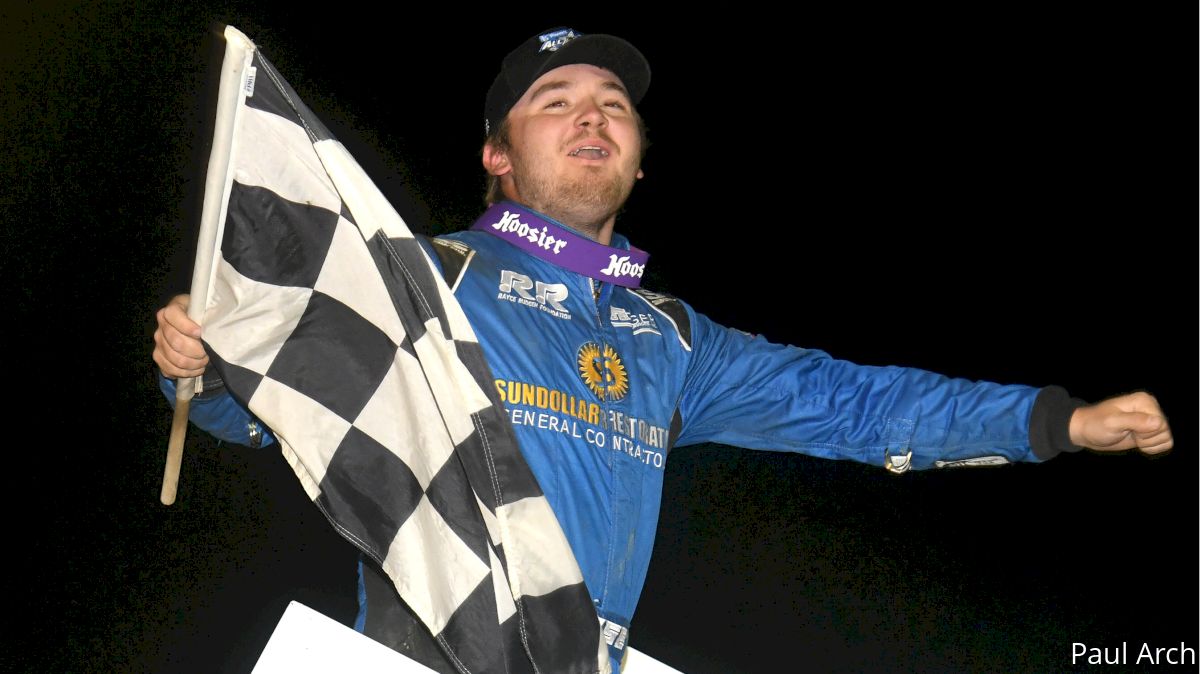 With an $80,000 team title on the line next Saturday night at Eldora Speedway in Rossburg, Ohio, leaving Fremont Speedway in Fremont, Ohio, with a Jim & Joanne Ford Classic finale title would be the ultimate momentum kick, and that's exactly what Zeb Wise and Rudeen Racing did, eventually cashing in for not only their eighth All Star victory of the season, but a $10,000 payday in the process.
Wise, ace of the Rayce Rudeen Foundation/Sundollar Restoration No. 26 sprint car, earned his $10,000 Jim & Joanne Ford Classic title from the outside-pole position, slipping back to third at the initial start before making his charge to the front. The Angola, Indiana, native used traffic to get himself to second on lap 15, then getting by team championship rival and race-long leader, Tyler Courtney, with a move around the top on lap 20. The next ten circuits would see Wise stretch his advantage to almost three seconds, that until caution flags waved on lap 31.
By that point, Kyle Reinhardt, Fremont Speedway's Friday night winner aboard the Bryan Grove Racing No. 45, had already made his way to the second spot, utilizing some mid-race chaos to get around Tyler Courtney and Kerry Madsen. The Neptune City, New Jersey, native did everything he could to get to Wise in the final few circuits, but all was too late. Even one final caution on lap 39 proved unworthy.
Reinhardt raced home second, followed by Madsen, Parker Price-Miller, and Cole Duncan.
All Star Circuit of Champions a Fremont Speedway Highlights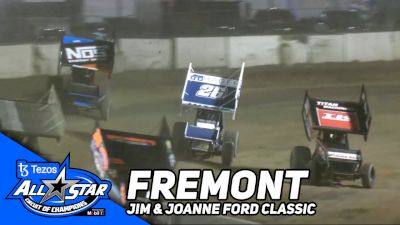 Winning Quote From Zeb Wise
"I actually didn't want to see that last caution come out because I wasn't sure what to do after that. I was never in clean air by myself all race, so I really wasn't sure, Man, I say this every single interview, but all of this is because of the guys standing behind me. They really make my job easy out there. We had our Ford motor in tonight too, so hats off to them and all of their support."
Tezos All Star Circuit of Champions Results From Fremont
1. 26-Zeb Wise[2]
2. 45-Kyle Reinhardt[5]
3. 55-Kerry Madsen[4]
4. 9P-Parker Price Miller[7]
5. 22-Cole Duncan[3]
6. 99-Skylar Gee[10]
7. 7BC-Tyler Courtney[1]
8. 33W-Cap Henry[12]
9. 4-Chris Windom[11]
10. 49X-Tim Shaffer[18]
11. 23-Cale Thomas[8]
12. 29X-Zeth Sabo[15]
13. 70-Kraig Kinser[17]
14. 50YR-JJ Hickle[13]
15. 42-Sye Lynch[9]
16. 5T-Travis Philo[24]
17. 16-DJ Foos[14]
18. 32B-Dale Blaney[21]
19. 29-Carl Bowser[25]
20. 97-Max Stambaugh[20]
21. (DNF) 15C-Chris Andrews[16]
22. (DNF) 5-Byron Reed[23]
23. (DNF) 32-Bryce Lucius[6]
24. (DNF) 28M-Conner Morrell[19]
25. (DNF) 35-Stuart Brubaker[22]
Tezos All Star Circuit Of Champions Point Standings
Zeb Wise leads Chris Windom in the driver point standings, while Rudeen Racing took over the owner points lead by four heading into the final race at Eldora Speedway.
Full ASCoC Driver Point Standings
Previous Race: September 15 - Tezos All Star Circuit of Champions at Fremont Night 2 - Jim And Joanne Ford Classic
Up Next: September 23 - 4-Crown Nationals At Eldora - All Star Championship Finale