2023 Tezos All Star Circuit of Champions at Attica Raceway Park
Takeaways From The New Hoosier Sprint Car Tire Debut
Takeaways From The New Hoosier Sprint Car Tire Debut
Hoosier's debut of the new Sprint Car tire in Saturday's World of Outlaws race at Lincoln gave positive first impressions.
Mar 21, 2023
by Kyle McFadden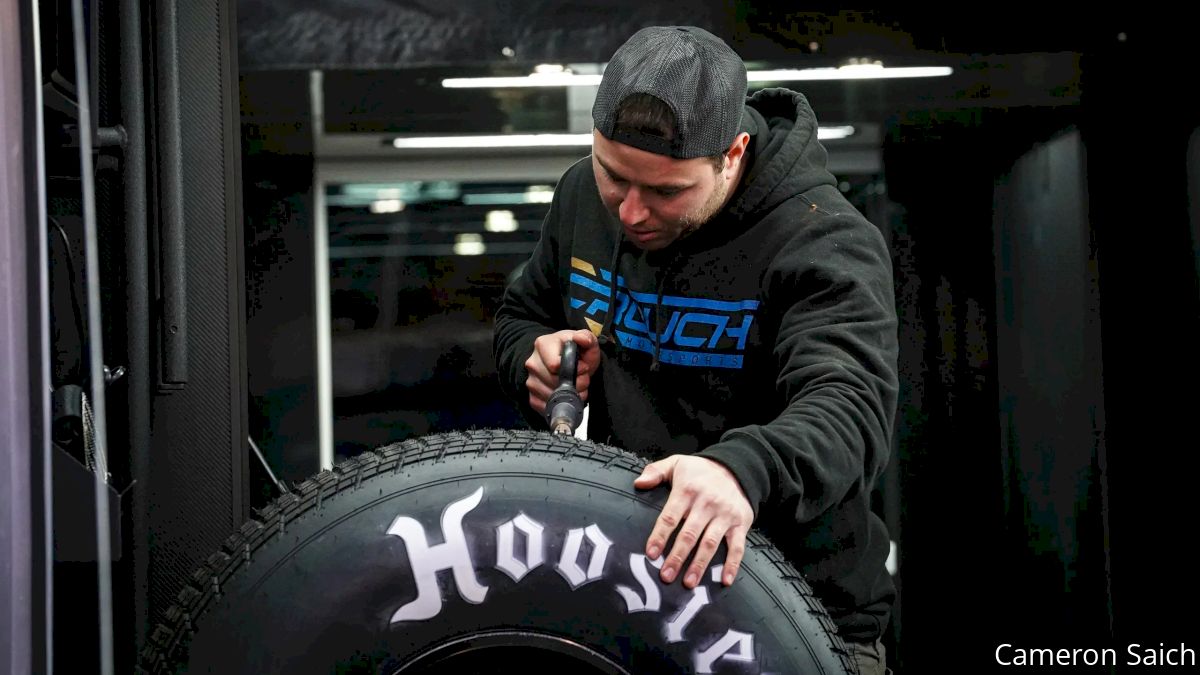 Sprint Car racing's new rear tires debuted during Saturday's World of Outlaws NOS Energy Sprint Car Series event at Lincoln Speedway in Abbottstown, Pa., and while there's little knowledge to gain from the small sample size, overall first impressions were upbeat.
Neil Cowman, the dirt oval business unit manager at Hoosier Racing Tire in Lakeville, Ind., was on hand to oversee the launch of the new tire, something that Sprint Car racing hasn't seen in more than a decade. A handful of new features encompass the next-gen tire, but none are as distinct than the symmetrical tread design and more compact tread pattern crafted to keep tires at optimal, cooler temperatures.
"A symmetrical tread design can be flipped around so teams can try to get more longevity and use out of the tire, especially for, like, some budget teams," Cowman said. "The tread designs and molds we've been using in Sprint Cars, they're getting very outdated. They are roughly 25 years old, this design. Taking the mold in and out of the presses, it's a lot of wear and tear.
"At some point, they have to be replaced. We felt like if they had to replaced, it only makes sense to upgrade the tread design. Now, getting the teams a tire they can flip around and reuse … part of the features of the tread design is to disperse the heat more evenly across the tire, and also create more even wear across the tire, try to give everyone a better package overall."
Because the tires are nondirectional, camber no longer exists in the newly dubbed D12A left-rear and D15A right-rear, which in turn "gives more of a balanced feel between the right-rear and left-rear, just to give the car more balance, more driveability," Cowman says.
"It's early … but I've heard some positive comments like that already," he said Saturday at Lincoln.
Take a look at the NEW Hoosier tire that we will be running soon in @USACNation and I walk through the differences between the new and the old as well as the changes for the nonwing vs the changes for the wing tire that makes its debut tonight with the @WorldofOutlaws race… https://t.co/KmxsArKaXz pic.twitter.com/8V8MvTX3A4

— Brady Bacon (@BradyBacon) March 17, 2023
Before the weekend, Lance Dewease predicated — based on the insider knowledge he had — that the new tire would require an increased level of finesse at the wheel. An unhooking of the car is the specific term Dewease used, as he claimed it'd be "a lot harder to drive and it's not just holding the pedal down to the floor, and just gassing it up."
"So, it would benefit me, (Donny) Schatz, (Brad) Sweet … guys that have really good throttle control," Dewease said before Saturday. "If it unhooks the race car, it will separate people. It should separate times a little bit more. If it does do that, it should — and I'm just using that in quotation marks — making the racing better."
Cowman agreed with Dewease's train of thought.
"It should unhook the car some and make the car more drivable on entry," Cowman said. "But it's very early. It's only one night. Until we get to more tracks and more types of different track conditions, I guess the jury is still out."
So, how much of a difference did the tire have in its debut?
"It's hard to tell. We just have to race more," World of Outlaws points leader David Gravel said. "The local guys who have raced (at Lincoln), they can compare it. We really can't."
Many drivers, namely those on the World of Outlaws circuit, offered similar assessments, such as USAC Triple Crown winner Chris Windom, who said "a lot of guys are in the unknown (about the new tire)."
"I don't have an opinion on it yet," Windom added.
Mechanical woes, meanwhile, hampered Donny Schatz from having a fair shake at gauging the new tire.
"We didn't really get a straight shot tonight to find out what we're doing," Schatz said. "We had ourselves buried the whole time."
Schatz did, however, envision what the future of the tire could mean for the dynamic of winged Sprint Car racing, a future that could very well evoke the formative years of the sport where the cars felt unhooked like Dewease and Cowman touched on.
"They unhook the cars a lot," Schatz said. "I think it's good for racing. Lincoln isn't a place where you see a ton of passing, but there was some decent racing (on Saturday). Maybe it was because everybody was new to it. There's a lot of things we used to do back in the day because the tires were unhooked that we're probably going to have to go back to now. Until you run them a little bit, you just don't know.
"Obviously, now that we have tires, we're probably going to go test somewhere, see how we're going to get connected the way we want. I was behind guys that could hit the throttle and go. I couldn't do that. I didn't have that sort of transfer and the ability to go the way I wanted. We'll just keep working on it until we get it."
If there's anyone who stood as an insightful source on how the tire performed — someone with a lot of laps at Lincoln to compare and contrast — it's Freddie Rahmer, who wrecked out of the race battling for the win with Brad Sweet.
"They didn't seem that much different tonight," Rahmer said. "Maybe the left-rear was a little softer. We have to get some more racing in at different tracks. Honestly, we did the same (setup) we always do. How do you know until you run it? I'm encouraged (the tires) are not way different."
Before Saturday's 35-lap feature, Rahmer put the new tire in perspective.
"When we were on Goodyears — I didn't race them, my dad (Fred) did — we hated them. We didn't hate the brand, just hated the way they felt and the style of racing," Rahmer said. "So I'm excited for them. I think we've been on this other tire for 10 years, since 2013. They've been good and bad. … It's nice to have a little bit of a change. I think it's good for Hoosier and good for the competitor, too."
After Hoosier launched the National Late Model Tire in January to create a streamlined, universal tire market for Dirt Late Model racing, Cowman expects the new Sprint Car rear tire to further stabilize the tire business on the while.
Cowman also went on to say that rolling out new tires both in Dirt Late Model racing and Sprint Car racing almost hand-in-hand is more by happenstance than by design. And while Dirt Late Model racing saw its new tire from the outset of the season in January, Cowman and his crew purposely staggered the release of the new Sprint Car tire, so that "it'd give the Outlaws and (Pennsylvania) Posse drivers the same opportunity to be on the same tire the same week."
"Whenever you have a transition like this, it's never going to be easy. It's not going to be perfect," Cowman added. "But we're doing everything we can to be as fair to everyone as we can and roll this package out at the same time. … We felt like this would be a good time to roll out the new package.
"Part of it coinciding together — we feel, on the Dirt Late Model side, consolidation of the compounds and having a national tire where everyone can take anywhere — puts us in a better position from a manufacturing standpoints," Cowman added. "It helps manufacturing be more efficient. Kind of the same thing on the Sprint Car side, consolidating some of the Sprint Car products, trying to condensate the product line. Again, it helps manufacturing specifically and efficiency."
The idea for a new Sprint Car tire began roughly two years ago. Cowman and those at Hoosier noticed an alarming rise in tire blistering and failure, particularly under sweltering, summertime conditions.
"The Sprint Cars today carry a lot more corner speed than what we're used to, especially when tracks get dry and slick," Cowman said. "But with shock packages and setups, as you mentioned, overall we just carry more speed. The things we have learned over the years, the way teams groove their tires, sipe their tires — the things we've learned, because we get all our input from the teams — we take all that information and try to incorporate it into the new design."
Whether the tire is susceptible to more compelling races or finishes, time will tell. The key takeaway Jason Johnson Racing tire specialist Nate Repetz draws from Saturday's opening night of the new tire is that the tire is tailored to maintain a more optimal, cooler temperature on the whole.
"Neil and I talked before the feature on Saturday and we both agree that the tire is made to let out heat," Repetz said.
Granted, temperatures dipped into the low 40s on Saturday at Lincoln, so it's difficult to truly gauge the tire's resoluteness. All that Repetz knows is that he was pleased with how the rear tires wore by the feature's end.
"We couldn't get that much heat in qualifying and the heats, but after the feature, the tires wore really evenly," Repetz said. "We were really happy with that. They were even. No drastic changes that I noticed. Just looking forward to getting to run them more, get some more data and filing things in more.
"My understanding from Hoosier is the molds that they used to make the tires were starting to get old. Some were having to be repaired. That was causing some inconsistencies with the rolling, like you would spin it on your balancer and you'd see more of a wave or an egg-shaped tire, which can lead to uneven temperatures. When I roll these new ones, they are relatively flat, so that's a good sign."
Repetz attributes the new tire being supposedly more durable and heat-withstanding to the symmetrical, more compact tread pattern.
"A big section of rubber — (bigger blocks in the tread) — is going to build and retain a lot of heat," Repetz said. "We would get into grooving and siping, and try to dissipate that. This tire, the squares are a lot smaller. There's a lot of holes to let that thing out.
"One specific example is the outside edge of the left-rear. It used to be one giant rectangle. You'd typically see that blister on a long feature on your average track. Now, I'd say, you'd cut one of those squares into four on the outside of the tire if that makes sense. There's a lot more surface area for air to get in there, like the ridges, to cool it down, as well as get some more bite."
As far as a possible timeline for when the tire will definitely answer some of its pressing topics — that's if it does maintain cooler temperatures, limit blistering, amplify throttle control, perhaps improve the racing, etc. — the fuller picture likely won't be seen until the mid summer.
"I don't think there's a time where we're going to be comfortable, if you'd say," Repetz said. "You could even argue there are small differences batch to batch that are never ending, right? I feel like we're going to get a good handle on how this thing performs in the summer, when we're racing an abrasive track when it's a 100 degrees out in the afternoon where you'd typically see a lot of wear and blistering issues.
"I would say tires are one of the biggest variable to your race car night in and night our because there could be differences in the batch. On one hand, it's sort of a never-ending catchup to work that variable in the car, but then on the other hand, with some of the immediate changes on how they're built, they're pretty obvious once you start putting tapes and measurements in."
Jimmy Shuttlesworth, crew chief of Devon Borden at Shuttlesworth-Stehman Racing, summed it up well. On Saturday, he and Borden were 40th of 49 cars in warmups, their lap of 14.631 seconds nearly a second off Brad Sweet's pace-setting lap of 13.780.
By the end of the evening, Borden registered a third-place finish, his first World of Outlaws podium at 20 years old.
"They seem like (the tires are) a little harder. But it's the same old thing," Shuttlesworth started. "If you keep working at your car all night to try and play catch-up all night. We were terrible in warmups. … We just worked hard after that at just getting it better. Then we timed third in our group, and we kept working at our car. His feedback and feel, that's what you have to work at."