2022 NASCAR Whelen Modified Tour at Martinsville Speedway
Dirt Racers React To Ross Chastain's Video-Game Like Move At Martinsville
Dirt Racers React To Ross Chastain's Video-Game Like Move At Martinsville
Dirt racers from around the country reacted to Ross Chastain's unbelievable move during Sunday's NASCAR Cup Series race at Martinsville Speedway.
Oct 31, 2022
by Brandon Paul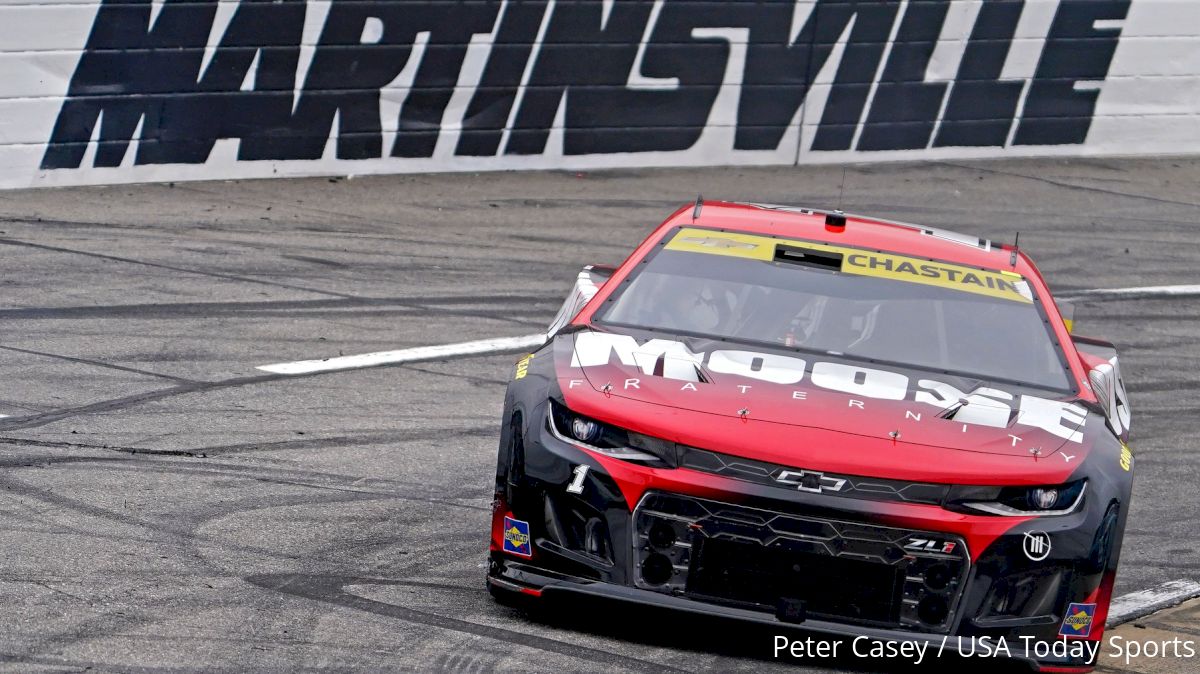 It's the move being talked about throughout the motorsports world. With his championship hopes all but eliminated during Sunday's NASCAR Cup Series penultimate event at Martinsville Speedway, Ross Chastain pulled off a move unlike anything ever witnessed before in the world of motorsports.
Riding in the 10th position, one point behind Denny Hamlin for the final position in next week's championship four at Phoenix Raceway, Chastain made the decision to take the phrase "just send it" to a new level.
In a move that resembled those we've previously witnessed only in movies and video games, Chastain kept his foot on the gas pedal and rode the wall through turns three and four. The driver of the Trackhouse Racing No. 1 charged from 10th to fifth, setting a track record (18.845 seconds) and clinching his spot in next week's championship race at Phoenix.
What's your reaction to Ross Chastain's move?

Here's what it sounded like on his radio, and for drivers around him! #NASCAR pic.twitter.com/joSXDgAWLS

— NASCAR on NBC (@NASCARonNBC) October 31, 2022
After the race, many of the drivers competing in Sunday's race offered differing opinions on Chastain's move and the validity of it.
One of the drivers most vocal about his displeasure with the move was dirt standout and defending NASCAR Cup Series champion Kyle Larson.
"I think that's not a good look for our sport, at all," Larson said during post-race media availability. "I don't know what you guys think, you probably think it's cool. But I think it's pretty embarrassing."
In the aftermath of Chastain's viral moment, drivers from throughout the dirt racing community shared their thoughts on what they had witnessed at Martinsville Speedway.
Nick Hoffman, a UMP Modified standout and Dirt Late Model competitor, compared Chastain's move to one that we witnessed in one of the most popular racing movies of all time.
Ross said he grabbed 5th gear and just never lifted around the fence. No driver used 5th gear all day. The only other guy that we have seen grab another gear and pass half the field is Cole Trickle.

— Nick Hoffman (@Nick_Hoffman2) October 30, 2022
Open-wheel racing standout Logan Seavey, who has had a few unbelievable moments of his own during his career, predicted that we'll see more excitement at Martinsville in the future.
The ending of every Martinsville race from here on will be epic.

— Logan Seavey (@Logan_Seavey) October 30, 2022
Brad Sweet, who coincidentally is a cover athlete for the recently released "World of Outlaws: Dirt Racing" video game, was equally impressed by Chastain's move.
I've never seen anything like that in my life. Wow that was a video game move

— Brad Sweet (@BradSweet49) October 30, 2022
While speaking to NASCAR on NBC reporter Dillon Welch after the race, Chastain admitted that the move he pulled off was inspired by his time playing NASCAR 2005 on Nintendo GameCube. That comment led Big-Block Modified ace and NASCAR Truck Series playoff driver Stewart Friesen to question his time playing other video games on a Playstation 2 console.
Top thing I missed while playing sprint cars and rock band on PS2 in the 2000's: Wall riding Martinsville on nascar 05 on a f****** GameCube. A what?!?!?

— Stewart Friesen (@StewartFriesen) October 31, 2022