2022 50th NAPA Spring Sizzler at Stafford Motor Speedway
50th Spring Sizzler Boasts A Deep And Diverse Entry List
50th Spring Sizzler Boasts A Deep And Diverse Entry List
The entry list for the 50th annual Spring Sizzler at Stafford Motor Speedway is both deep in talent and diverse.
Apr 21, 2022
by Rob Blount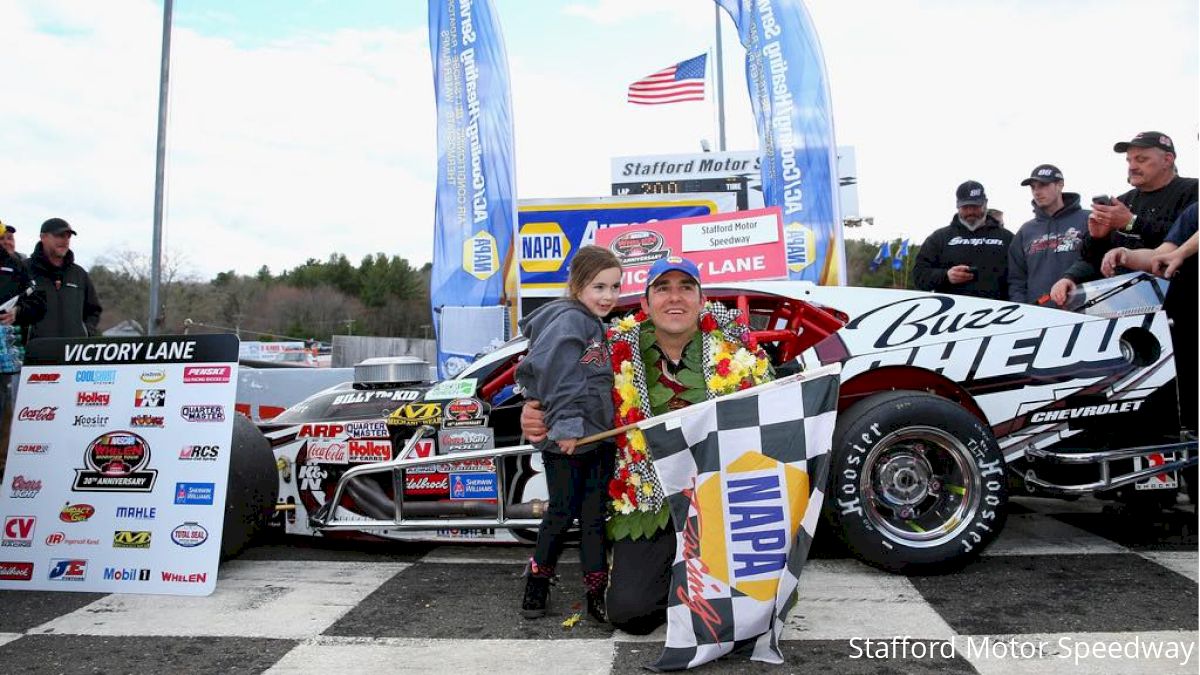 The Spring Sizzler at Stafford Motor Speedway has long been known as "The Greatest Race in the History of Spring." Some are even saying that this weekend's 50th running of the Sizzler has the potential to be the Modified race of the decade. When you look at the entry list, it's hard to make a case against either one of those claims. With the names on this list, the 50th Spring Sizzler has the potential to be the best one yet.
With more than 40 names already pre-entered, this year's crop of drivers is as diverse as it is deep. There's a NASCAR flair, plenty of local flair, and even some touring series flair as well.
Headlining the entry list is Milford, Connecticut's own Doug Coby. The veteran boasts an extremely impressive and well documented resume of four Spring Sizzler victories. That's in addition to 31 career NASCAR Whelen Modified Tour wins, six NASCAR Whelen Modified Tour championships, and 31 total feature victories just at Stafford alone. He also holds the claim of being the very first winner in the history of the Superstar Racing Experience (SRX), which just happened to come at Stafford as well. If you're going to drink the milk in victory lane on Sunday, you're going to have to go through Coby.
Right there at the top of the list is Berlin, Connecticut's Ryan Preece. The Stewart-Haas Racing reserve driver has 37 total feature wins at Stafford, three of which came in the Sizzler. Preece also was the 2011 SK Modified champion at Stafford and has won 25 NASCAR Whelen Modified Tour races along with the 2013 series championship.
When big money is on the line, everyone knows that Matt Hirschman from Northampton, Pennsylvania will be one of the drivers to beat. Hirschman's resume at Stafford isn't that strong, but you can't count out Hirschman anywhere he goes. Already this year alone, Hirschman has seven wins and its only April. But, Hirschman has never visited victory lane at the Connecticut half-mile.
Woody Pitkat is one that you can never overlook at Stafford either. The Stafford Springs native is second on the all-time wins list at Stafford, and leads all active drivers with 78 total wins. Pitkat also has one Spring Sizzler victory to his credit, back in 2015. Pitkat also won the track's SK Modified championship in 2013.
And then there's Keith Rocco. The Wallingford, Connecticut driver holds four SK Modified championships at Stafford, and sits just two wins behind Pitkat on the all-time wins list with 76 victories at Stafford. However, the 2010 NASCAR Advance Auto Parts Weekly Series champion is still in search of his first Spring Sizzler triumph.
In the last decade at Stafford, Ronnie Williams has quickly shot up the all-time wins list. Williams has already won 25 features at Stafford, which has him 26th on the all-time list. Williams also has two SK Modified championships on his resume in 2018 and 2019. That said, Williams' best finish in the Spring Sizzler was a ninth place run one year ago.
Another driver that will be tough to beat is Bobby Santos III. The Massachusetts driver has three Spring Sizzler victories coming in 2011, 2013 and 2014. Santos' three Sizzler victories are his only three victories at Stafford.
And of course, we can't overlook the defending SK Modified champion at Stafford, Todd Owen. The longtime Stafford competitor finally broke through and got his first championship last year, two years after losing the championship on a tiebreaker to Ronnie Williams in 2019. Owen sits 23rd on the all-time wins list at Stafford with 28 victories, but he's in search of his first Spring Sizzler win.
One entry that surprised many people when it was filed was that of 57-year-old Bobby Labonte. The Corpus Christi, Texas native is best known for his NASCAR Winston Cup Series championship in 2000, but now he runs full-time with the SMART Modified Tour in the Southeast. Labonte finished fifth in the SRX feature at Stafford last summer, his only trip to the legendary facility.
Other big names on the list include Eric Goodale, Ron Silk, Anthony Sesely, Jon McKennedy, Craig Lutz, Stephen Kopcik, Chuck Hossfeld, Patrick Emerling, Jimmy Blewett, Michael Christopher Jr., Chase Dowling and Tommy Barrett Jr.
Like we said at the start, the 44 names on this entry list are some of the most talented names that Tour-type Modified racing has to offer. Picking a winner might be impossible, but in this case we fans are the true winners, because this is shaping up to really be the greatest race in the history of Spring.
| | |
| --- | --- |
| Name | Driver |
| 1 | Artie Pedersen, III |
| 2 | Jimmy Blewett |
| 1 | Patrick Emerling |
| 1 | Chuck Hossfeld |
| 3 | Ryan Preece |
| 4MA | Jeff Gallup |
| 4NH | Tommy Barrett, Jr. |
| 6 | Matt Galko |
| 7NY | Michael Christopher, Jr. |
| 9 | Chase Dowling |
| 10 | Doug Coby |
| 11 | Cory DiMatteo |
| 11CT | Dylan Izzo |
| 16 | Ron Silk |
| 19 | Anthony Bello |
| 24 | Mikey Flynn |
| 25 | Bobby Labonte |
| 25 | Matt Swanson |
| 25CT | Anthony Flannery |
| 25NH | Brian Robie |
| 28 | Buddy Charette |
| 31 | Noah Korner |
| 34 | Dave Etheridge |
| 35 | Andrew Molleur |
| 44 | Anthony Sesely |
| 44 | Bobby Santos, III |
| 48 | Marcello Rufrano |
| 50 | Ronnie Williams |
| 52 | Mark Bakaj |
| 55CT | Teddy Hodgdon |
| 55B | Robert Bloxsom, III |
| 57 | Keith Rocco |
| 58 | Eric Goodale |
| 60 | Matt Hirschman |
| 66 | Austin Kochenash |
| 75CT | Chris Pasteryak |
| 76 | Dana DiMatteo |
| 79 | Jon McKennedy |
| 81 | Todd Owen |
| 81 | Jack Ely |
| 82 | Craig Lutz |
| 88 | Woody Pitkat |
| 92 | Anthony Nocella |
| 179 | Stephen Kopcik |