2022 NASCAR Season Opener at Bowman Gray Stadium
Bowman Gray Stadium Events To Be Streamed Live On FloRacing
Bowman Gray Stadium Events To Be Streamed Live On FloRacing
The excitement and drama from Bowman Gray Stadium will be streamed live all season long on FloRacing.
Apr 6, 2022
by Brandon Paul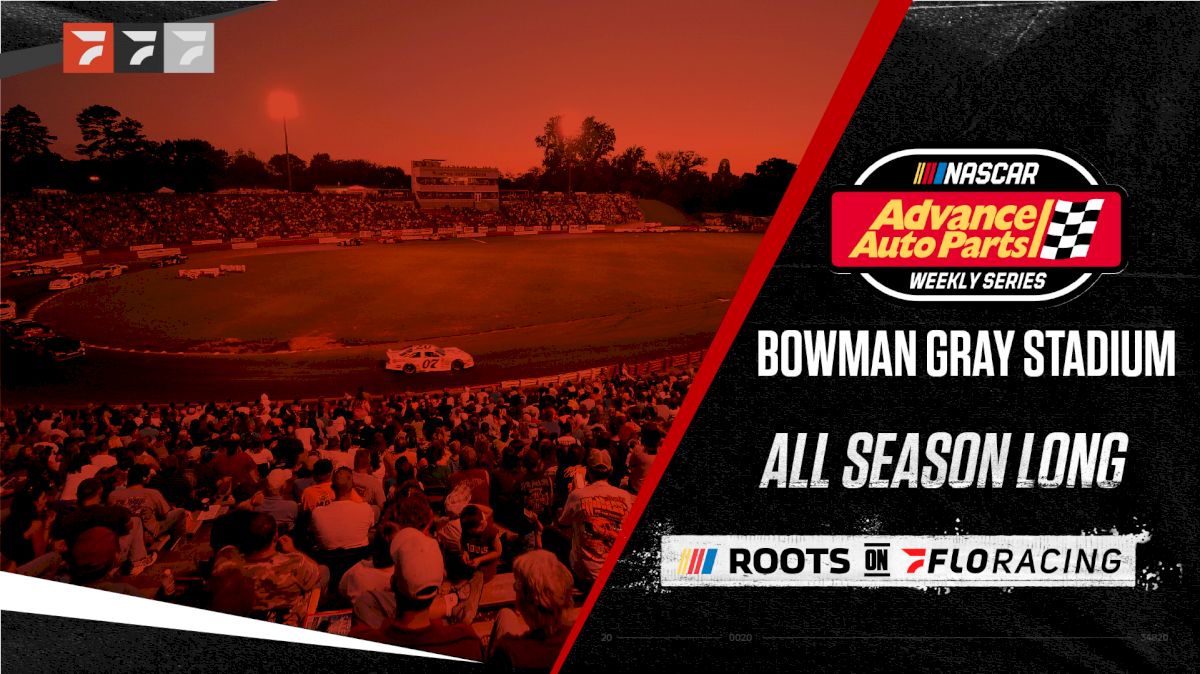 NASCAR's first and longest running weekly race track is coming to FloRacing in 2022. The historic Bowman Gray Stadium will have all of the track's NASCAR Advance Auto Parts Weekly Series events streamed live this season.
Located in Winston-Salem, North Carolina, Bowman Gray Stadium is a tight, quarter-mile asphalt oval located inside a football stadium that seats 17,000 people. The close-quarters racing is known to ruffle feathers on the track, while the atmosphere during events is incomparable to anything in motorsports.
For the first time, fans worldwide will be able to watch the excitement from "The Madhouse" live all season long on FloRacing.
"We're excited to work with FloRacing and bring this opportunity to everyone involved at Bowman Gray Stadium," said track promoter Gray Garrison. "It should open up new avenues for the competitors to showcase their talents and bring new sponsors to the competitors as well as the track itself. I think everyone has heard about Bowman Gray, and this will give them a chance to see it up close."
Adding NASCAR's first weekly race track to the FloRacing broadcast schedule is another step taken by NASCAR and FloRacing to increase their investment into grassroots motorsports.
"We can't wait to showcase the competition and excitement from Bowman Gray Stadium on FloRacing," said Dan Barker, NASCAR managing director, direct to consumer strategy. "It's one of the most historic short tracks in the country and will provide must-watch entertainment to race fans worldwide."
The first live broadcast of the year from Bowman Gray Stadium will take place on Saturday, April 23 during the season-opening Hayes Jewelers 200. The traditional season opener features a 200-lap race for the Modified division, a 40-lap Sportsman feature, Street Stocks and Stadium Stocks.
Bowman Gray's summer schedule includes a variety of events including five 100-lap Modified races, three 100-lap Sportsman races and a handful of twin feature events. The season ends on August 20 with the Carolina Farm Credit 150, a 150-lap Modified race that will help crown the season champion.
Bowman Gray Stadium joins a growing list of NASCAR-sanctioned tracks that will be broadcast live on FloRacing this season. That list already includes Hickory Motor Speedway, South Boston Speedway, Berlin Raceway, Langley Speedway, Riverhead Raceway, Jennerstown Speedway, Evergreen Speedway, Florence Motor Speedway, Meridian Speedway, All American Speedway, Alaska Raceway Park and Autodrome Granby.
More additions to the NASCAR Roots broadcast schedule on FloRacing will be announced soon.
FloRacing is also the home of the NASCAR Pinty's Series, ARCA Menards Series (11 events), ARCA Menards Series East, ARCA Menards Series West and NASCAR Whelen Modified Tour.
Motorsports fans can subscribe to FloRacing for $150/year to enjoy over 2,000 live motorsports events in 2022. A FloRacing subscription also provides unlimited access to the entire FloSports network, which includes FloFootball, FloHockey, FloWrestling, FloBikes, FloGrappling and more.
FloSports is available by visiting https://www.floracing.com/signup or by downloading the FloSports app on iOS, Android, Apple TV, Roku, Amazon Fire and Chromecast.