2021 NOS Energy Drink Knoxville Nationals
Live From Knoxville: Updates From The Knoxville Nationals
Live From Knoxville: Updates From The Knoxville Nationals
Follow along for updates from 60th edition of the Knoxville Nationals at Knoxville Raceway.
Aug 14, 2021
by Andy Hamilton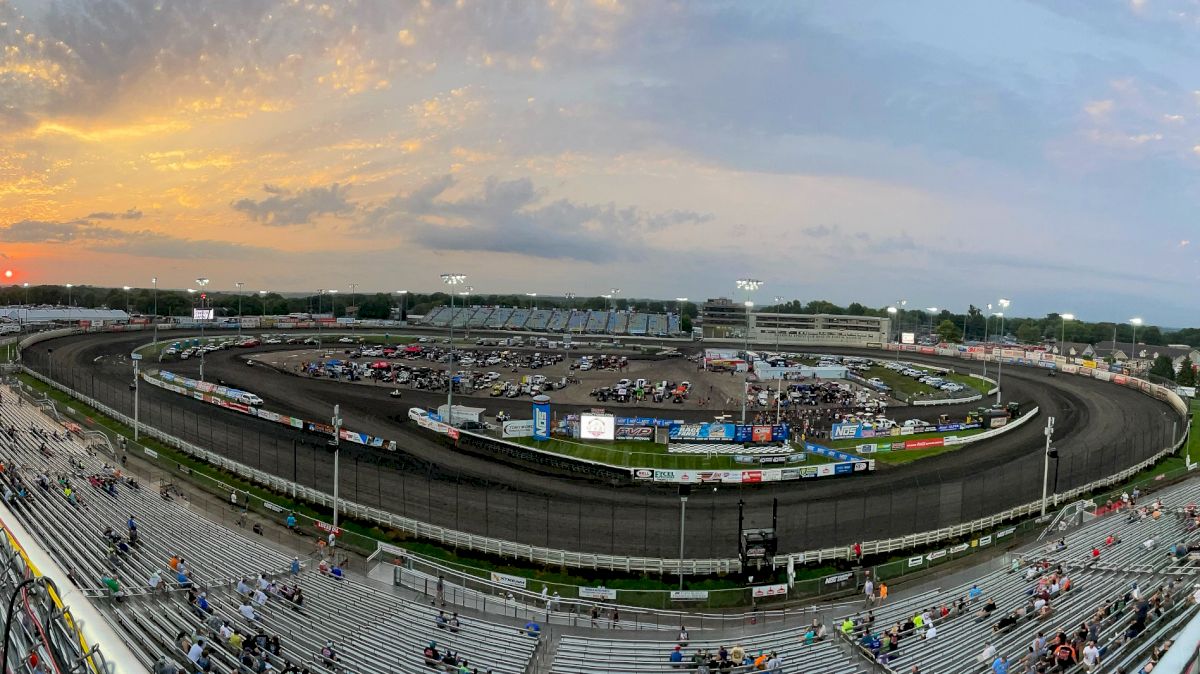 No community in Iowa goes through an annual August metamorphosis quite like Knoxville. Sprint car haulers roll in, racing enthusiasts follow and this community of 7,200 residents quadruples for a week.
They call this "The Sprint Car Capital of the World'" and the moniker is well deserved. Fans from all over the globe flock to this half-mile, black dirt jewel located 40 miles southeast of Des Moines.
Follow along here and we'll keep you posted on the top developments throughout the 60th edition of the Knoxville Nationals.
Saturday Night In Knoxville
It's a perfect Saturday night in Knoxville. No clouds in the sky. A sellout crowd of more than 21,000 will be on hand. The Budweiser Clydesdales are here. The pits are packed with 87 of the sport's best drivers vying to take home at least $150,000, a 5-foot trophy and all of the glory that comes with winning sprint car racing's most prestigious race.
Here's a look at the full house Saturday night in Knoxville.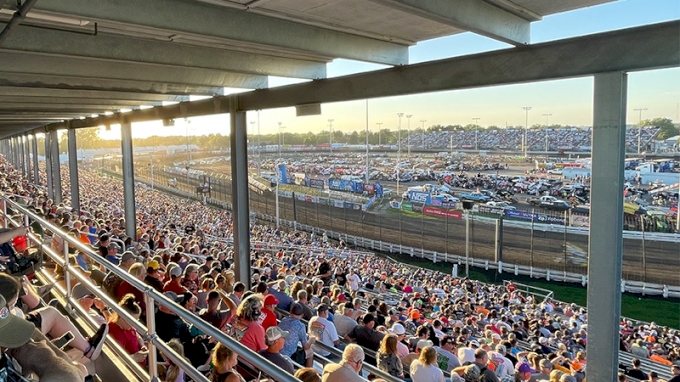 Matt Weaver wrote a pair of terrific pieces to set up tonight on why Knoxville is such a big deal and tonight's Watch Guide, which has some great insight from drivers on how tonight could play out.
Zeb Wise, who had been slated to start at the back of the C-Main, is subbing for Paul McMahan, who was involved in a fiery wreck here Thursday night. Wise will start at the back of the B-Main.
60th Knoxville Nationals Starting Lineup
50 Laps, Two 25-Lap Stages
Gio Scelzi

Brad Sweet

Kyle Larson

Brent Marks

Donny Schatz

David Gravel

Kasey Kahne

Logan Schuchart

Brian Brown

Ian Madsen

Brooke Tatnell

Tyler Courtney

James McFadden

Justin Henderson

Justin Peck

Danny Dietrich

Carson Macedo

Kerry Madsen

Cory Eliason

Sheldon Haudenschild

Rico Abreu

Anthony Macri

Shane Stewart

Brock Zearfoss


A-Main
Blistering pace early. Leader Gio Scelzi catches the back of the pack on Lap 6. Scelzi leads the first 10 laps before Donny Schatz slips past him on the bottom. Kyle Larson takes second from Scelzi on Lap 13 and goes to work on running down Schatz for the lead. Larson tries the top but catch get past the 10-time champ. Schatz leads by .8 seconds on Lap 23. Larson goes to the top and takes the lead coming out of Turn 2 on Lap 24.
RO at the break: Larson, Schatz, Scelzi, Gravel, Marks, Sweet, Kahne, Macedo, McFadden, Tatnell, Peck, Brown, Schuchart, Henderson, Courtney, Eliason, K. Madsen, Haudenschild, Zearfoss, Abreu, Stewart, Macri, Dietrich, Madsen.
Brent Marks and Brooke Tatnell penalized two spots for working beyond the limit during the break.
Larson gets a great restart as we go back to green. Schatz goes to the top and has a run, but Larson slides up from the bottom and shuts down his momentum. Abreu gets clipped on the fronstretch and gets turned. He gathers the car to avoid serious damage. Rico pulls it into the pit to end his weekend.
Another great restart by Larson. Gravel looking to get past Scelzi for third and goes around him on the top exiting Turn 2 with 22 to go. Moments later, Brian Brown and Tyler Courtney are upside down in Turn 1 after Brown went over the cushion and went into the fence. Cory Eliason and Brock Zearfoss are also involved.
Brown and Courtney are done. Eliason and Zearfoss enter the work area. Justin Henderson is also in the work area. Eliason re-enters the work area and he's done for the night.
Larson pulling away with 20 to go. Trouble for Gravel. He's off the pace and enters the pit with 18 to go. Logan Schuchart is up to sixth.
Larson extends his lead to nearly two seconds with 17 to go. Kyle catches the back of the field with 14 left and he holds a 2.3-second lead.
Larson's lead is up to 3.3 with eight left. Now here comes Schatz. He's got the lead down to under two seconds with six to go.
Donny's coming and he's on Larson's tail with two to go. Now Brad Sweet is entering the fray.
Larson goes to the bottom on the final lap with Schatz on the top. Donny takes one more shot, but Larson holds him off to win the Knoxville Nationals.
Kyle Larson takes home $176,000 for the win, including a $26,000 bonus for his 26 laps led.
"Gosh, I've always dreamed of winning this race," Larson said. "This atmosphere, this week was unbelievable. I think the year off last year made this place's roof explode. I felt the energy all week. It kept me excited and pumped up and honestly, this was as nervous as I've been leading up to a race in a couple years. I had butterflies all day today during Cup practice. All I could think about was: 'What do I need to do at the start of the Knoxville Nationals? What do I need to do to beat Donny and Gravel?'"
Final results: 1. Kyle Larson, 2. Donny Schatz, 3. Brad Sweet, 4. Gio Scelzi, 5. Logan Schuchart, 6. Brent Marks, 7. James McFadden, 8. Kasey Kahne, 9. Carson Macedo, 10. Sheldon Haudenschild, 11. Kerry Madsen, 12. Brooke Tatnell, 13. Justin Peck, 14. Shane Stewart, 15. Brock Zearfoss, 16. Ian Madsen, 17. Anthony Macri, 18. David Gravel, 19. Justin Henderson, 20. Brian Brown, 21. Tyler Courtney, 22. Cory Eliason, 23. Rico Abreu, 24. Danny Dietrich.
B-Main
Incredible finish to the B-Main with three cars drag racing to the line, all separated by .07 for the last two transfer spots. Cory Eliason gets there first, followed by Sheldon Haudenschild, who edges Spencer Bayston by .008 for the final spot in the A-Main. Haudenschild turns to the inside coming past the flag stand to avoid Eliason and barely misses the inside guard rail as he goes onto the apron.
Carson Macedo wins the race by 4.017 seconds over second-place Kerry Madsen. Macedo will start 17th in the A-Main with Madsen to his outside and Eliason and Haudenschild in the row behind him.
Here's how the B-Main played out: Macedo checks out early, followed by Josh Baughman, Sye Lynch, Spencer Bayston, Cory Eliason and Kerry Madsen. Baugman falls off the pace and drops to sixth as Madsen moves into a transfer spot. Jac Haudenschild pulls off the track with 17 to go. That'll be the end for the Wild Child at Knoxville.
Macedo is gone. He's into lapped traffic with 14 left. Harli White pulls off the track with 12 to go, ending a terrific performance for her here this week. Sheldon Haudenschild moves up to fifth and he's gaining on Eliason for the final transfer spot. Sheldon tries a slider with seven to go, doesn't get there and nearly clips Eliason. Sheldon is losing ground. Eliason is momentarily up to second before Madsen takes the spot back.
Final results: 1. Carson Macedo, 2. Kerry Madsen, 3. Cory Eliason, 4. Sheldon Haudenschild, 5. Spencer Bayston, 6. Shane Golobic, 7. Kraig Kinser, 8. Scott Bogucki, 9. Davey Heskin, 10. Sam Hafertepe, 11. Bill Balog, 12. Lynton Jeffrey, 13. Sawyer Phillips, 14. Ayrton Gennetten, 15. Sye Lynch, 16. Daryn Pittman, 17. Hunter Schuerenberg, 18. Josh Schneiderman, 19. Josh Baughman, 20. Sammy Swindell, 21. Zeb Wise, 22. Kyle Reinhardt, 23. Harli White, 24. Jac Haudenschild.
. @DIRTVision REPLAY: @carson_macedo wins the @MicroLiteLLC Last Chance Showdown! The difference between making it to tonight's #NOSvilleNationals Feature was 0.008 seconds! @Haudenschild_17 finishes just in front of @spencerbayston. pic.twitter.com/5gBRBkLXHI

— World of Outlaws (@WorldofOutlaws) August 15, 2021
C-Main
Scotty Thiel is unable to start. Wayne Johnson starts out front. Terry McCarl brings out the yellow on Lap 2 and retires for the night. Austin McCarl battles for the transfer spot after it goes back to green and McCarl grabs the spot with 12 to go. Ayrton Gennetten, who started ninth, takes the transfer spot from Austin McCarl with 9 to go. Johnson leads the first 11 laps but brings out the yellow with 4 to go when he has a right rear tire go down on the front stretch. Hunter Schuerenberg inherits the lead. Sawyer Phillips goes around Austin McCarl with two left for the final transfer spot. Schuerenberg goes on to grab the win with Gennetten, Harli White and Sawyer Phillips also claiming transfer spots.
Final results: 1. Hunter Schuerenberg, 2. Ayrton Gennetten, 3. Harli White, 4. Sawyer Phillips, 5. Carson McCarl, 6. Tim Shaffer, 7. Tim Kaeding, 8. Marcus Dumesny, 9. Roger Crockett, 10. Clint Garner, 11. Tasker Phillips, 12. Mark Dobmeier, 13. A.J. Moeller, 14. Tanner Carrick, 15. Colby Copeland, 16. Jessie Attard, 17. Dustin Selvage, 18. Mike Wagner, 19. Jack Dover, 20. McKenna Haase, 21. Chad Kemenah, 22. Wayne Johnson, 23. Terry McCarl, 24. Scotty Thiel.
D-Main
Jack Dover and Dustin Selvage battle for the lead early before a yellow comes out with seven laps to go when Chris Martin gets sideways in Turn 4 and tips on his side following contact with Noah Gass. Robbie Kendall clips the fence while trying to squeeze by on the outside. Dover leads the final seven laps, pulling away to win by 2.357 seconds over second-place Scotty Thiel. Selvage, Mark Dobmeier, Chad Kemenah and Jessie Attard also transfer to the C.
Final results: 1. Jack Dover, 2. Scotty Thiel, 3. Dustin Selvage, 4. Mark Dobmeier, 5. Chad Kemenah, 6. Jessie Attard, 7. Jake Bubak, 8. Don Droud Jr., 9. Derek Hagar, 10. Greg Wilson, 11. Robbie Kendall, 12. Ryan Roberts, 13. Jordan Goldesberry, 14. Jacob Allen, 15. Jeff Swindell, 16. Riley Goodno, 17. T.J. Stutts, 18. Jason Sides, 19. Dylan Cisney, 20. John Carney, 21. Chris Martin, 22. Tyler Esh, 23. Bobby Mincer, 24. Noah Gass.
E-Main
Jason Sides starts on the pole and goes wire-to-wire for the win. Dylan Cisney, Jacob Allen, John Carney, Tyler Esh and Bobby Mincer also transfer to the D-Main. Joe Simbro gets into the fence on Lap 1 and saves it to keep the race under green. Austin Miller has trouble on Lap 9 and stalls on Turn 2 on his way to the pits, bringing out the yellow and turning the 10-lap E into an 11-lap affair.
Final results: 1. Jason Sides, 2. Dylan Cisney, 3. Jacob Allen, 4. John Carney, 5. Tyler Esh, 6. Bobby Mincer, 7. Kevin Ingle, 8. Tori Knutson, 9. Austin Miller, 10. Joe Simbro.
---
Preliminary Night Format
Qualifying Night Order Of Events — Hot laps, Qualifications, Heats, C-Main, B-Main, A-Main (25 laps)
Qualifications — 200 points for quick time, 198 for second quick, 196 for third, 194 for fourth, 192 for fifth, etc.
Heats — 100 points are awarded for the heat race winner with points going down by three for each position: 97, 94, 91, 88, etc. Heats are inverted by eight. The top four finishers in each heat go to the A-Main with fifth- through eighth-place finishers going to the B-Main and ninth and 10th going to the C-Main.
C-Main — The top four finishers go to the back of the B-Main. Fifth place is worth 92 points, sixth is worth 90, seventh is worth 88, etc.
B-Main — The top four finishers transfer to the back of the A-Main. The B-Main is worth 142 points for fifth place, 140 for sixth, 138 for seventh, etc.
A-Main — The A-Main finishing positions are the same as time trials with 200 going to the winner, 198 to second, 196 to third, etc. The invert for the A-Main is eight.
A perfect qualifying night score (quick time, heat win and feature win) is 500 points. The top 16 in combined points from Wednesday and Thursday lock into Saturday night's A-Main. Drivers who finish 17th through 26th in points are awarded the first 10 positions in Saturday night's B-Main. The rest of the field comes back for Friday night's FVP Hard Knox Events. The top four finishers from the Hard Knox A-Main earn the 21st through 24th starting positions in Saturday night's A-Main. Friday night's event consists of split-field qualifying, six heats, C-Main, two B-Main races and the Hard Knox 25-lap A-Main.
---
Hard Knox Friday
It's Hard Knox Friday night here, which means those who fell outside the top 16 in points after the first two nights have the option to come back again tonight for a fresh start at securing a spot in Saturday night's 50-lap A-Main. The top four in tonight's feature will claim the last four starting spots in tomorrow night's big show. Tonight's headliners include Jac Haudenschild, Shane Stewart, Daryn Pittman, Sammy Swindell and Rico Abreu.
FVP Hard Knox Time Trial Draw, presented by Checkered Flag Concessions! #NOSvilleNationals pic.twitter.com/VldJTWImBu

— Knoxville Raceway (@knoxvilleraces) August 13, 2021
Qualifying
Daryn Pittman and Rico Abreu stood atop the charts after two-session qualifying.
Pittman led the first group, clocking in at 15.583 seconds (115.51 mph) to finish .103 ahead of second-place Jac Haudenschild. Abreu topped the chart in the second group with a time of 15.874 seconds (113.393 mph) to finish .014 ahead of Jacob Allen.
Group 1 — 1. Daryn Pittman, 2. Jac Haudenschild, 3. Matt Juhl, 4. Anthony Macri, 5. Clint Garner, 6. Roger Crockett, 7. Brock Zearfoss, 8. Bill Balog, 9. Ayrton Gennetten, 10. Shane Stewart.
Group 2 — 1. Rico Abreu, 2. Jacob Allen, 3. Mike Wager, 4. Tim Shaffer, 5. Kyle Reinhardt, 6. Lynton Jeffrey, 7. Hunter Schuerenberg, 8. Sammy Swindell, 9. Shane Golobic, 10. McKenna Haase.
Heats
The top three transfer to tonight's A. Good news, bad news for the McCarl family in the heats. Austin McCarl wrecked hard in the first heat when he tried sliding up in front of Logan Wagner and they both went tumbling around Turn 2. Moments later, Terry McCarl fell off the pace and pulled into the pits. In the fifth heat, though, Carson McCarl went around Sammy Swindell and then passed Jacob Allen on the final lap to seize the final transfer spot. Also of note, Daryn Pittman finished fourth in the first heat, so he'll start on the pole in the B-Main. Jac Haudenschild grabbed the final transfer spot in Heat 2, which will put him on the pole for tonight's feature.
Heat 1 — 1. Shane Stewart, 2. Brock Zearfoss, 3. Anthony Macri, 4. Daryn Pittman, 5. Robbie Kendall, 6. Riley Goodno, 7. Lucas Wolfe, 8. Tori Knutson 9. Terry McCarl, 10. Logan Wagner, 11. Austin McCarl, 12. Matt Moro (DNS).
Heat 2 — 1. Bill Balog, 2. Scott Bogucki, 3. Jac Haudenschild, 4. Clint Garner, 5. Tasker Phillips, 6. Skyler Gee, 7. Scotty Thiel, 8. Derek Hager, 9. Marcus Dumesny, 10. Greg Wilson, 11. Dylan Cisney, 12. Tyler Esh.
Heat 3 — 1. Josch Schneiderman, 2. Ayrton Gennetten, 3. A.J. Moeller, 4. Roger Crockett, 5. Matt Juhl, 6. Chad Kemenah, 7. Colby Copeland, 8. Don Droud Jr., 9. Mark Dobmeier, 10. John Carney, 11. Jason Sides.
Heat 4 — 1. McKenna Haase, 2. Hunter Schuerenberg, 3. Rico Abreu, 4. Tim Shaffer, 5. Jack Dover, 6. Tim Kaeding, 7. Zeb Wise, 8. Tanner Carrick, 9. Noah Gass, 10. Chris Martin, 11. Joe Simbro, 12. Kevin Inge.
Heat 5 — 1. Wayne Johnson, 2. Kyle Reinhardt, 3. Carson McCarl, 4. Jacob Allen, 5. Sammy Swindell, 6. Harli White, 7. Jeff Swindell, 8. T.J. Stutts, 9. Jordan Goldesberry, 10. Bobby Mincer, 11. Ryan Roberts.
Heat 6 — 1. Davey Heskin, 2. Lynton Jeffrey, 3. Shane Golobic, 4. Sawyer Phillips, 5. Ryan Giles, 6. Jake Bubak, 7. Mike Wagner, 8. Dustin Selvage, 9. Jessie Attard, 10. Austin Miller, 11. Skyler Prochaska.
B-Main 1
Daryn Pittman started on the pole and led all 12 laps on his way to winning the first B-Main. Clint Garner and Roger Crockett finished second and third to claim the other two transfer spots.
1. Daryn Pittman, 2. Clint Garner, 3. Roger Crockett, 4. Matt Juhl, 5. Colby Copeland, 6. Tasker Phillips, 7. Terry McCarl, 8. Marcus Dumesny, 9. Mark Dobmeier, 10. Scotty Thiel, 11. Chad Kemenah, 12. Skyler Gee, 13. Lucas Wolfe, 14. Robbie Kendall, 15. Derek Hager, 16. Greg Wilson, 17. Don Droud Jr., 18. Riley Goodno, 19. Jason Sides, 20. John Carney, 21. Dylan Cisney, 22. Tori Knutson, 23. Tyler Esh.
B-Main 2
It's been a rough couple nights for Jacob Allen, who qualified 10th Thursday night before things went south. He finished fifth in his heat, coming up one pass short of a transfer spot, and then finished 18th in the B-Main after starting sixth. Allen ran into tough luck again in the second B-Main. He was way out front with two laps to go when his right rear tire came apart. Sammy Swindell capitalized to win the race, while Harli White and Tim Shaffer grabbed the other two transfer spots.
1. Sammy Swindell, 2. Harli White, 3. Tim Shaffer, 4. Sawyer Phillips, 5. Mike Wagner, 6. Tim Kaeding, 7. Tanner Carrick, 8. Zeb Wise, 9. Jack Dover, 10. Dustin Selvage, 11. Jessie Attard, 12. Chris Martin, 13. Noah Gass, 14. Jordan Goldesberry, 15. Jake Bubak, 16. Ryan Roberts, 17. Jeff Swindell, 18. T.J. Stutts, 19. Austin Miller, 20. Joe Simbro, 21. Jacob Allen, 22. Bobby Mincer, 23. Kevin Ingle.
A-Main
Rico Abreu, Shane Stewart, Anthony Macri and Brock Zearfoss secured spots in the back two rows for Saturday night's A-Main by finishing first through fourth, respectively, in Friday night's 25-lap A-Main.
Stewart raced his way up from the 11th starting position. Zearfoss went around Jac Haudenschild with three to go for the final transfer spot — the difference between starting at the back of the big show on Saturday and lining up 11th in Saturday night's B-Main.
1. Rico Abreu, 2. Anthony Macri, 3. Shane Stewart, 4. Brock Zearfoss, 5. Scott Bogucki, 6. Jac Haudenschild, 7. Shane Golobic, 8. Bill Balog, 9. Kyle Reinhardt, 10. Lynton Jeffrey, 11. Josh Schneidermann, 12. Davey Heskin, 13. Daryn Pittman, 14. Sammy Swindell, 15. Wayne Johnson, 16. Hunter Schuerenberg, 17. Harli White, 18. Tim Shaffer, 19. Roger Crockett, 20. A.J. Moeller, 21. Carson McCarl, 22. McKenna Haase, 23. Ayrton Gennetten, 24. Clint Garner.
---
Thursday
Lineup
1a — Jacob Allen, Hanover, PA
1Z — Logan Wagner, Harrisonville, PA
2DC — Dylan Cisney, Port Royal, PA (R)
2K — Kevin Ingle, Huron, SD
3P — Sawyer Philips, Pleasantville, IA
3Z — Brock Zearfoss, Jonestown, PA
5 — Paul McMahan, Nashville, TN
5V — Colby Copeland, Roseville, CA
5X — Parker Price—Miller, Kokomo, IN
7BC — Tyler Courtney, Indianapolis, IN
7W — Dustin Selvage, Indianola, IA
09 — Matt Juhl, Tea, SD
10 — Jeff Swindell, Memphis, TN
11K — Kraig Kinser, Bloomington, IN
11N — Harli White, Lindsay, OK
11T — TJ Stutts, Liverpool, PA
11TK — Tim Kaeding, San Jose, CA
13R — Brad Ryun, Odessa, MO (R)
13s — Tyler Esh, Quarryville, PA (R)
14 — Kerry Madsen, St. Mary's, NSW, AU
15H — Sam Hefertepe Jr., Sunnyvale, TX
15M — Bobby Mincer, Burlington, IA
17a — Austin McCarl, Altoona, IA
17B — Bill Balog, Hartland, WI
17W — Shane Golobic, Fremont, CA
19 — Brent Marks, Myerstown, PA
20G — Noah Gass, Mounds, OK (R)
21 — Brian Brown, Grain Valley, MO
22 — Jac Haudenshild, Wooster, OH
24R — Rico Abreu, St. Helena, CA
35P — Skylar Prochaska, Lakefield, MN
39 — Daryn Pittman, Owasso, Oklahoma
41 — Carson Macedo, Lemoore, CA
42 — Sye Lynch, Apollo, PA
44 — Chris Martin, Ankeny, IA
N47 — Marcus Dumesny, Sydney, NSW, AU
49 — Brad Sweet, Grass Valley, CA
49X — Ian Madsen, St. Mary's, NSW, AU
53 — Jessie Attard, Landilo, NSW, AU (R)
53D — Jack Dover, Springfield, MO
55W — Mike Wagner, Harrisonville, PA (R)
57 — Kyle Larson, Elk Grove, CA
70 — Sammy Swindell, Lakeland, TN
71 — Shane Stewart, Bixby, OK
73A — Scotty Thiel, Sheboygan, WI
83 — Kasey Kahne, Enumclaw, WA
83J — Lynton Jeffrey, Sydney, NSW, AU
97 — Greg Wilson, Benton Ridge, OH
101 — Cale Thomas, Fairland, IN
Rain Delay
A late-afternoon storm rolled through Knoxville, dumping rain on the track for roughly 45 minutes. As a result, Thursday night's program has been pushed back two hours. The show is expected to begin around 8:45 p.m. CT.
Final Time Trial Draw, presented by Checkered Flag Concessions. 48 cars have officially entered. #NOSvilleNationals pic.twitter.com/mq753twtOf

— Knoxville Raceway (@knoxvilleraces) August 12, 2021
Qualifying
Kasey Kahne put down the fastest qualifying time of the week thus far, turning a 15.142-second lap (118.875 mph) to collect 200 points. Kahle's time was .002 faster than Tyler Courtney. The top eight times tonight were all faster than Wednesday night's quick time registered by Brooke Tatnell.
Here are the top 10 qualifying times:
1. Kasey Kahne 15.142
2. Tyler Courtney 15.144
3. Brad Sweet 15.166
4. Kyle Larson 15.167
5. Ian Madsen 15.186
6. Kerry Madsen 15.187
7. Carson Macedo 15.193
8. Brent Marks 15.194
9. Bill Balog 15.242
10. Jacob Allen 15.247
Heats (top four transfer to A-Main)
Passing was difficult in the heats, particularly in the first couple, setting up a star-studded B-Main that includes Kyle Larson, Daryn Pittman, Kasey Kahne, Kerry Madsen, Ian Madsen, and Jac Haudenschild, all of whom failed to transfer. The second heat produced the most drama. Something broke on Cale Thomas' car midway through, the race, shooting him across the track and into the inside guard rail. Jeff Swindell seemed in control until the final lap when he fell off the pace and plummeted to eighth, opening the door for Sawyer Phillips, who won the drag race to the finish, edging Parker Price-Miller by .002 seconds. In the third heat, Brad Sweet got bottled up on the start but clawed his way up to a transfer spot. Kyle Larson wasn't as fortunate in the fourth heat. He moved around on the track and made a late charge, but Rico Abreu held him off to hang onto the transfer spot.
Heat 1 — 1. Sammy Swindell, 2. Shane Stewart, 3. Sye Lynch, 4. Brian Brown, 5. Daryn Pittman, 6. Kasey Kahne, 7. Kerry Madsen, 8. Harli White, 9. Jack Dover, 10. Colby Copeland.
Heat 2 — 1. Sawyer Phillips, 2. Parker Price-Miller, 3. Tyler Courtney, 4. Carson Macedo, 5. Matt Juhl, 6. Scotty Thiel, 7. Bobby Mincer, 8. Jeff Swindell, 9. Cale Thomas, 10. Tim Kaeding (DNS).
Heat 3 — 1. Greg Wilson, 2. Brent Marks, 3. Sam Hafertepe, 4. Brad Sweet, 5. Dylan Cisney, 6. Jac Haudenschild, 7. Noah Gass, 8. Lynton Jeffrey, 9. Dustin Selvage, 10. Kevin Ingle.
Heat 4 — 1. Skylar Proachaska, 2. Mike Wagner, 3. Kraig Kinser, 4. Rico Abreu, 5. Kyle Larson, 6. Bill Balog, 7. Brock Zearfoss, 8. Logan Wagner, 9. Tyler Esh.
Heat 5 — 1. Marcus Dumesny, 2. Austin McCarl, 3. Paul McMahan, 4. T.J. Stutts, 5. Jacob Allen, 6. Ian Madsen, 7. Shane Golobic, 8. Chris Martin, 9. Jessie Attard.
C-Main (top four transfer to B)
Jack Dover and Colby Copeland staged an entertaining battle for the lead before Dover pulled away on the final lap to win the C.
1. Jack Dover, 2. Colby Copeland, 3. Dustin Selvage, 4. Jessie Attard, 5. Kevin Ingle, 6. Tyler Esh, 7. Cale Thomas (DNS), 8. Tim Kaeding (DNS).
B-Main (top four transfer to A)
Kyle Larson seized the lead from Kasey Kahne on Lap 2 and cruised to victory in the B-Main, finishing ahead of Kerry Madsen, Kahne and Ian Madsen, who also transferred to the A. Ian Madsen survived a three-car battle with Bill Balog and Jacob Allen midway through the race, but Allen wasn't as fortunate. He spun in the middle of 3 and 4, essentially knocking him out of contention.
1. Kyle Larson, 2. Kerry Madsen, 3. Kasey Kahne, 4. Ian Madsen, 5. Brock Zearfoss, 6. Bill Balog, 7. Lynton Jeffrey, 8. Shane Golobic, 9. Daryn Pittman, 10. Chris Martin, 11. Dustin Selvage, 12. Noah Gass, 13. Harli White, 14. Colby Copeland, 15. Logan Wagner, 16. Jac Haudenschild, 17. Jessie Attard, 18. Jacob Allen, 19. Bobby Mincer, 20. Jeff Swindell, 21. Jack Dover, 22. Dylan Cisney, 23. Matt Juhl, 24. Scotty Thiel.
A-Main
Brian Brown prevailed after a 64-minute battle of attrition as Thursday night's A-Main spilled into Friday morning.
The Missouri native held off Kyle Larson in the closing laps to capture the third preliminary night feature win of his career. Now he'll set his sights on winning Saturday night's big prize.
The bigger story, perhaps, though, was Larson, who started 21st and dodged trouble in the early laps to race his way up to the runner-up spot in the caution-cluttered, 25-lap feature.
Two early wrecks wiped out seven cars, including six in one mess. On Lap 2, Carson Macedo tried squeezing underneath Paul McMahan on the bottom but clipped the berm and spun into McMahan, triggering a massive wreck that left McMahan's car charred and Macedo's mangled. Marcus Dumesny, Kerry Madsen, Sammy Swindell and Sawyer Phillips also got caught in the carnage, but Larson somehow slipped through unscathed and lined up 10th before the restart.
1. Brian Brown, 2. Kyle Larson, 3. Brent Marks, 4. Brad Sweet, 5. Rico Abreu, 6. Kasey Kahne, 7. Austin McCarl, 8. Ian Madsen, 9. Kraig Kinser, 10. Sye Lynch, 11. Sawyer Phillips, 12. Sam Hafertepe Jr., 13. Skylar Prochaska, 14. Greg Wilson, 15. T.J. Stutts, 16. Mike Wagner, 17. Tyler Courtney, 18. Sammy Swindell, 19. Paul McMahan, 20. Carson Macedo, 21. Marcus Dumesny, 22. Kerry Madsen, 23. Parker Price-Miller, 24. Shane Stewart.
Points Standings After Night 2
1. Gio Scelzi 487
2. Brad Sweet 481
3. Kyle Larson 480
4. Brent Marks 479
5. Donny Schatz 477
6. David Gravel 475
7. Kasey Kahne 475
8. Logan Schuchart 472
9. Brian Brown 471
10. Ian Madsen 463
11. Brooke Tatnell 460
12. Tyler Courtney 460
13. James McFadden 459
14. Justin Henderson 458
15. Justin Peck 458
16. Danny Dietrich 449
17. Josh Baughman 447
18. Carson Macedo 441
19. Sye Lynch 436
20. Spencer Bayston 435
---
Wednesday
Lineup
1M — Don Droud, Jr., Lincoln, NE
1s — Logan Schuchart, Hanover, PA
1X — Jake Bubak, Arvada, CO
2 — David Gravel, Watertown, CT
2C — Wayne Johnson, Tuttle, OK
2KS — Chad Kemenah, Alvada, OH
2M — Matt Moro, Polk City, IA
3 — Ayrton Gennetten, Gravois Mills, MO (R)
5W — Lucas Wolfe, Mechanicsburg, PA
5X — Parker Price-Miller, Kokomo, IN
5XX — Zeb Wise, Angola, IN (R)
07 — Skylar Gee, Leduc, ALB, CAN
7 — Justin Henderson, Tea, SD
7c — John Carney, Lubbock, TX
7s — Jason Sides, Bartlett, TN
7TAZ — Tasker Phillips, Pleasantville, IA
9 — James McFadden, Warrnambool, VIC, Au
9G — Ryan Giles, Grimes, IA (R)
9JR — Derek Hagar, Marion, AR
11 — Roger Crockett, Broken Arrow, OK
11M — Spencer Bayston, Lebanon, IN
13 — Mark Dobmeier, Grand Forks, ND
14K — Tori Knutson, Monticello, MN (R)
15 — Donny Schatz, Fargo, ND
15M — Bobby Mincer, Burlington, IA
17 — Sheldon Haudenschild, Wooster, OH
17X — Josh Baughman, Odessa, TX
18 — Gio Scelzi, Fresno, CA
18R — Ryan Roberts, Aurora, NE
19P — Paige Polyak, Tiffin, OH
20 — A.J. Moeller, Rockwell City, IA
22x — Riley Goodno, Knoxville, IA (R)
24 — Terry McCarl, Altoona, IA
25 — Scott Bogucki, McLaren Vale, SA, AU
26 — Cory Eliason, Visalia, CA
27 — Carson McCarl, Altoona, IA
28 — Tim Shaffer, Aliquippa, PA
39M — Anthony Macri, Dillsburg, PA
40 — Clint Garner, Sioux Falls, SD
48 — Danny Dietrich, Gettysburg, PA
49J — Josh Schneiderman, Burlington, IA
55 — Hunter Schuerenberg, Sikeston, MO
55K — Robbie Kendall, Catonsville, MD (R)
55M — McKenna Haase, Des Moines, IA
56 — Joe Simbro, Swan, IA
56N — Davey Heskin, St. Michael, MN
65 — Jordan Goldesberry, Springfield, IL
73 — Justin Peck, Monrovia, IN
83A — Austin Miller, Lacona, IA (R)
83T — Tanner Carrick, Lincoln, CA (R)
91 — Kyle Reinhardt, Neptune City, NJ
Final Time Trial Draw Sheet presented by Checkered Flag Concessions! All 49 teams have drawn! #NOSvilleNationals pic.twitter.com/j3XFZWAtuV

— Knoxville Raceway (@knoxvilleraces) August 11, 2021
Qualifying
Brooke Tatnell and Gio Scelzi capitalized on early qualifying draws and posted the two fastest times of the night. Tatnell clocked in at 15.208 seconds to edge Scelzi by .001. Tatnell will collect 200 points for quick time, while Scelzi grabs 198 for posting the second-fastest time.
Past champions Donny Schatz and David Gravel overcame sub-optimal draws, going out late but still managing to check in with top-10 times. Schatz was sixth (15.403) and Gravel was ninth (15.47). Also of note, Sheldon Haudenschild, a seven-time winner this year on the World of Outlaws circuit, faces an uphill climb in the points standings here after checking in 29th in qualifying with a time of 15.815.
Here are the top 10 qualifying times:
1. Brooke Tatnell 15.208
2. Gio Scelzi 15.209
3. Logan Schuchart 15.249
4. Danny Dietrich 15.353
5. Roger Crockett 15.365
6. Donny Schatz 15.403
7. McKenna Haase 15.420
8. Don Droud Jr. 15.448
9. David Gravel 15.47
10. James McFadden 15.472
Heats
Heat 1 — Josh Schneiderman got out front early and cruised to victory, finishing ahead of Jason Sides, Justin Henderson and Donny Schatz, who also secured spots in tonight's A-Main. Schatz raced his way up to fourth after starting seventh. Brooke Tatnell, who posted the fastest qualifying time, finished seventh and will go into tonight's B-Main.
Heat 2 — Gio Scelzi has put himself into position for a big opening-night point total. He raced his way up to fourth in the heat after registering the second-fastest qualifying time earlier tonight. Kyle Reinhardt won the heat, while Zeb Wise, Clint Garner and Gio Scelzi also transferred into tonight's A-Main.
Heat 3 — Riley Goodno, Spencer Bayston, Skylar Gee and Josh Baughman transferred into tonight's A-Main. Logan Schuchart raced his way from eighth up to fifth. He'll go into the B-Main after notching the third-fastest time in qualifying.
Heat 4 — Jake Bubak pulled away to win the fourth heat, finishing ahead of Davey Heskin, Sheldon Haudenschild and David Gravel.
Heat 5 — Ayrton Gennetten, Cory Eliason, Justin Peck and James McFadden transferred to the A-Main.
C-Main
Tanner Carrick, John Carney, Robbie Kendall and Ryan Roberts transferred to the B.
B-Main
Logan Schuchart went around Brooke Tatnell on Lap 2 and checked out. Roger Crockett, Don Droud Jr. and Scott Bogucki battled for the final transfer spot before Bogucki hit the inside berm and slid up to the fence, nearly taking out Droud in the process. Schuchart pulled away after the restart to finish ahead of Tatnell, Danny Dietrich and Droud.
A-Main
David Gravel went to the bottom of Turn 1 with four laps to go and slid up in front of Justin Henderson for the lead and cruised to the $12,000 check for winning the preliminary night feature. Gio Scelzi added to his superb opening-night performance by finishing second. Donny Schatz edged Henderson at the line to finish third.
"This car's bad," Gravel said. "I'm ready for Saturday."
Zeb Wise started on the pole and slipped back to fourth before getting knocked out with a mechanical issue on Lap 8.
After winning the B, Schuchart raced up to seventh.
. @dirtvision REPLAY: The 2019 Nationals Champion and Sunday's Capitani winner @DavidGravel takes the win in tonight's feature at @knoxvilleraces! #NOSvilleNationals pic.twitter.com/hStZoJJJ7B

— World of Outlaws (@WorldofOutlaws) August 12, 2021
Unofficial Point Standings After Night 1
1. Gio Scelzi 487
2. Donny Schatz 477
3. David Gravel 475
4. Logan Schuchart 472
5. Brooke Tatnell 460
6. James McFadden 459
7. Justin Henderson 458
8. Justin Peck 458
9. Danny Dietrich 449
10. Josh Baughman 447
11. Spencer Bayston 435
12. Cory Eliason 433
13. Sheldon Haudenschild 428
14. Don Droud Jr. 426
15. Roger Crockett 422
16. Ayrton Gennetten 418
17. Clint Garner 414
18. Zeb Wise 409
19. Josh Schneiderman 408
20. Davey Heskin 405