2021 NOS Energy Drink Knoxville Nationals
Why The Knoxville Nationals Is The Biggest Deal
Why The Knoxville Nationals Is The Biggest Deal
They call the Knoxville Nationals 'The Granddaddy of Them All' for a reason.
Aug 14, 2021
by Matt Weaver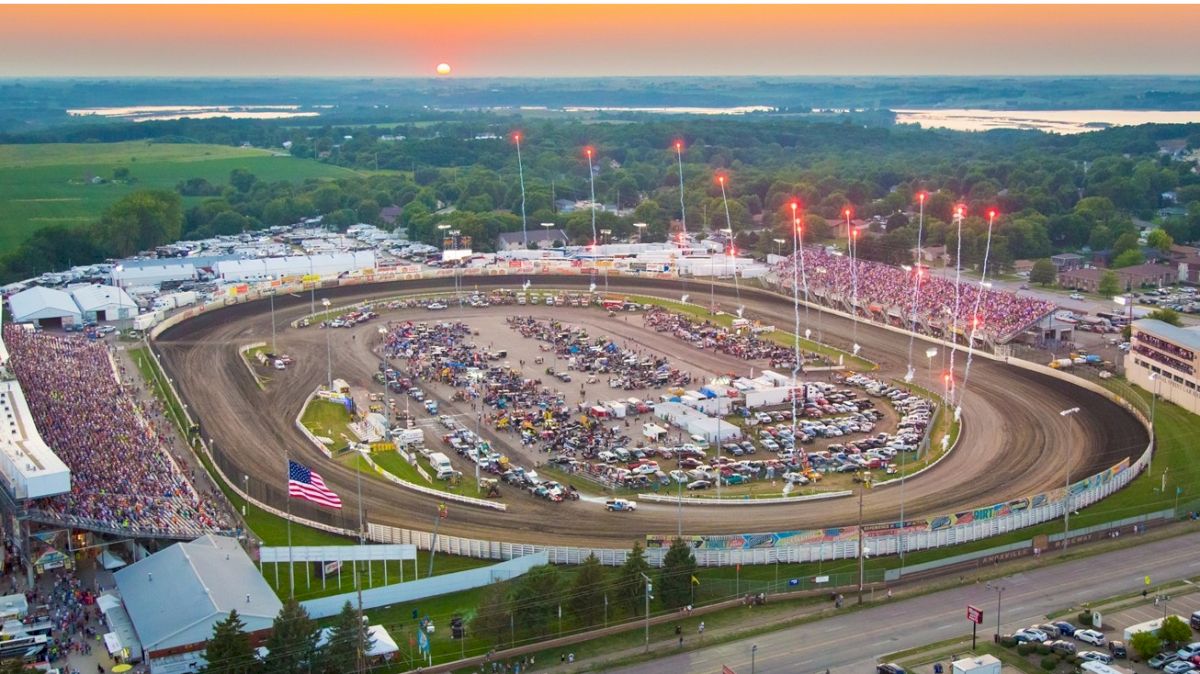 Two years ago this week, David Gravel was standing in victory lane at the Knoxville Nationals with Jeff Gordon and Mark Webber, $150,000 richer.
There was also a trophy too, but more on that later.
Gravel finally earned the arguable real prize on Wednesday. With a crowd of hundreds in attendance, the 29-year-old from Watertown, CT unveiled his victory banner on a pillar within the Avenue of Champions underneath the venerable frontstretch grandstands.
Money is quickly spent in Sprint Car racing and trophies are ultimately highly sought-after props, but the pillar and banner is designed to last forever.
It's an immortal testament to the engineering prowess and bravery behind the wheel neccesary to win at the highest level. It's also why 25,000 people will watch Gravel attempt to go back-to-back and why hundreds took the time out of a Wednesday afternoon to celebrate his accomplishment.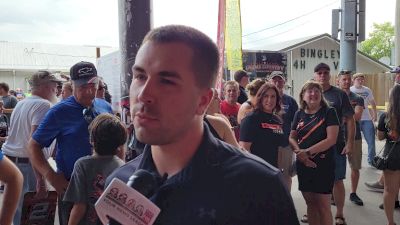 The reverence in which this community regards this roster is on par to the Indianapolis 500, even if on a smaller scale. There are several parallels from the neighborhood of Speedway, Indiana to the Marion County Fairgrounds residential area.
In most cities, Gravel could go unnoticed when going about his business, but not in Knoxville, Iowa where he is regarded as an emerging legend. The 28 different drivers to have won The Granddaddy of them All are treated as their greatest heroes.
"It was a struggle to make this race the first couple of years I started coming here," Gravel said. "So, to be on this pole alongside a bunch of legends is really cool.
"You can't trip and fall into winning the Knoxville Nationals. You have to earn it every time you're on the track and that's what makes it so special."
Brian Brown has spent the better part of his life walking through the Avenue of Champions. He has witnessed his uncle Danny Lasoski add banners to those pillars on four different occasions. Brown has also nearly came to blows with his own family in pursuit of the honor. Lasoski spun from contact with Brown in 2016 -- igniting a family feud in the infield.
They're all back together now, of course, Lasoski even serving as crew chief on the Brian Brown Racing No. 21 this summer in the hopes of adding another chapter to their family's storied legacy at the Fairgrounds.
Brown will also tell you this race is so much more important than whatever personal accomplishments he achieves. It's bigger than himself, or his uncle, or any one personality.
"I came here as a kid with Danny," Brown said. "I probably wasn't two years old. It means a lot to me in my heart. This is my favorite week of the year as a fan, and at six o'clock I get to go drive, too. For those who have never been here, it is the Daytona 500, the Super Bowl or the Indy 500.
"It is everything to us because I have come here for a long time. The woman (Katie Spriggs) who sang the national anthem, I remember her singing it when I was a kid, the flag man. I know these people, they are my family, to come here and run well means a lot to me and to win this race would be an absolute dream come true."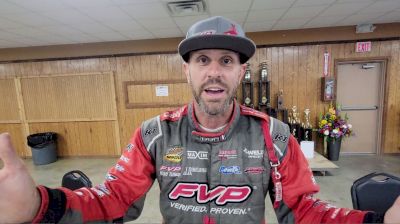 Everyone seems like family at Knoxville though -- not just the Lasoskis and Browns.
Throughout the week, there are parties at Dingus Lounge and Corigliano's Pizzeria where everyone seems to know each other, which is remarkable given the size of the crowds leading up to the Main Event.
Kyle Larson has been coming here since he was a kid from California. Even when he failed to make the show in 2019, he came back from the NASCAR event in Michigan just to attend the Saturday feature as a fan.
It means that much to him.
"This is such a big event," Larson said. "I have come here just as many times as a fan as I have to race and I have just as much fun watching as I do racing because this is so big and the atmosphere is so amazing.
"You get to see your friends. You get to see your family. You get to see your friends who are like your family. There's so much history here and it grows every year."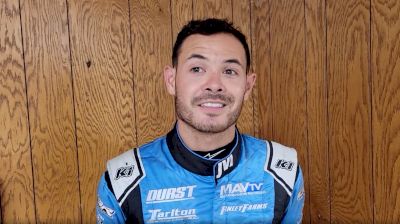 But it always goes back to the Avenue of Champions.
"I'd love to add my name to the winners list and have my banner on the midway," Larson said. "I want to see my face on the pillars some day and I'm glad I get to compete in it every now and then."
After losing the 2020 Knoxville Nationals to COVID-19, the 60th running has seemed to grow even larger from where it was in 2019. Brown believes the pandemic made everyone appreciate this race even more after it was lost for a year.
"Last year, after what happened, people are out and about," Brown said. "I haven't seen this many people here on a Wednesday and a Thursday and I can't wait to see what it's like on Saturday. We feel that electricity."
A member of the Pennsylvania Posse, Brent Marks drew parallels to the Indianapolis 500 and Speedway, Indiana too.
"Me being from Pennsylvania, we have a lot of big races, and I hadn't seen this place until like 2014," Marks said. "You hear about the Knoxville Nationals and you think you know what it means to see a big race and then there's this.
"You'll stay here the full week, and it's one of the busiest loudest towns we go to, and then it's a ghost town on Sunday after the race. It empties out and the party is over until next year."
And then there's the trophy, which stands 5' but is otherwise unassuming and not particularly much to look at.
The base features four pillars around a steering wheel center, which supports a second story that displays an official waving a checkered flag, both layers supporting a Sprint Car standing atop of a masthead listing each of the previous 59 winners.
And make no mistake, drivers would do almost anything to add their names to that prize.
It pays absurdly well, too.
The inaugural Knoxville Nationals in 1961 paid Roy Robbins $1,280 for his victory. On Saturday night, the winner of the main event will earn no less than $150,000 but also $1,000 per lap led. The runner-up will earn $75,000 and third-place earning $37,500.
Every driver that starts the 24-car main event is guaranteed at least a $10,000 payout -- the equivalent of most World of Outlaws feature victories.
It's how Donny Schatz established his legacy with 10 banners on the Avenue of Champions to run alongside his 10 World of Outlaws championships. But similar to Larson, it's a story that begins as a kid, and is again reflective of the town as much as the race.
"The festivities here make you feel it anywhere you walk in this town this week," Schatz said. "You can feel it in the air. All the fun people are having. As a racer, you can walk by turns one and two on the street and see the fairgrounds and the history it, I came here as a kid. My dad brought me here when I was five years old. It is one of these placed in the Midwest that just has such a heritage and such an aura.
"Everything about it is exciting. There are other events that pay a lot of money and they are as exciting, but this place, this race, has the most prestige, the most money and the most amount of people. There is something about it for me that makes it the best of the best and it's not just because I won it. If I would have never won it, I would say the same thing."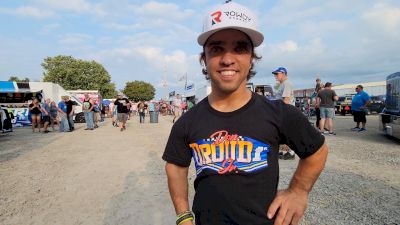 Gravel echoes all of that.
The Knoxville Nationals is special because of this town, the difficulty in winning it, how much it pays and that unassuming trophy, all wrapped in one.
"It is such a unique place," Gravel said. "It is in a town and the whole place shuts down. I don't know if there is any other landscape like that. Dingus is cool. Turns 3 and 4 (storied fairgrounds party spot) is cool. This is the hardest race to win. If you look at the Kings Royal history, a lot of different people have won the Kings Royal, but the list of Knoxville Nationals winners is a lot smaller.
"It always paid the most money and now the Kings Royal stepped it up, but I feel like at the end of the day, every driver would say the Knoxville Nationals is the most prestigious.
"When you first came here, you always just wanted to make the show and that relief and excitement of putting it in the show for the first time was an amazing feeling. All the people, the grandstands on the backstretch and all the fireworks. Everything is just so cool about this place. It is my No. 1 and always will be."
It's the Granddaddy of them All.