2021 NOS Energy Drink Knoxville Nationals
60th Knoxville Nationals Watch Guide
60th Knoxville Nationals Watch Guide
Everything you need to know before Championship Saturday at the Knoxville Nationals.
Aug 14, 2021
by Matt Weaver
It's not quite Kyle Larson versus The World at the 60th Knoxville Nationals but why would you pick against the Paul Silva No. 57 right now?
Somewhere, Donny Schatz, even in the midst of his worst season would surely throw up both hands and all 10 digits to signify the number of times he's already won this event, and who would have the temerity to argue with him.
The Brian Brown Danny Lasoski family dream team won the Thursday night preliminary and this could be the 42-year-old's last dance as an obvious contender in the Granddaddy of Them All.
Two-time reigning and defending World of Outlaws champion Brad Sweet will take the green from the outside front row opposite Gio Scelzi. And then there's defending winner David Gravel and the team he won it for in Jason Johnson Racing now featuring Carson Macedo, who swept the June event at the Sprint Car Capital of the World.
King Tyler Courtney starts P12.
Okay, so maybe The World isn't that bad a pick either.
That's the beauty of the current state of affairs in Sprint Car racing and its most prestigious event, that you can talk yourself into anyone winning on any given night, and even on this night with a 50-lap feature split in half with an open red.
It's a magical night, with incredible energy and an opportunity to establish or extend a legacy. The Knoxville Nationals is a must-see event for any motorsports enthusiast and is absolutely one of the top-10 racing events in North America.
It's time to make history.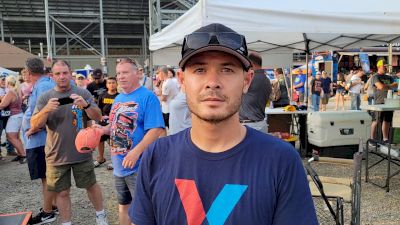 FINISH SETTING THE FIELD
Before that history can be made, Championship Saturday must first set positions 17-20 with Hard Knox night already having set positions 21-24 on Friday night.
The B Main is already stacked with the likes of Josh Baughman, Carson Macedo, Sye Lynch, Kerry Madsen, Spencer Bayston, Cory Eliason, Sheldon Haudenschild, Jac Haudenschild, Daryn Pittman and Sammy Swindell all fighting for those four spots.
Rayce Rudeen Foundation Indiana Invasion winner Zeb Wise is starting dead last in the C!
So, there is a lot of drama throughout the night to be consumed even before the main event and all the pomp and circumstances.
TWO RACES IN ONE
The Knoxville Nationals are essentially two races in one at 50 laps split in half by an open red.
The race length permits all the contenders to have a chance to win, even if they start in the back. So what's the strategy for the feature:
Kyle Larson: "I want to lead every lap. It sounds long compared to other Sprint Car races but it's not that long. You have to take advantage of every opportunity you get over the first 25 laps and feel your car out and try to make proper adjustments. The biggest thing is not to lose any positions. If I could be running third at the halfway break, that's a good place to be but I want to be leading from lap 1."
Considering every lap pays $1,000, that's not a bad goal.
David Gravel: "I think you want to be top-5 at the break. Hopefully have the car close, and it's just fine tuning at the break, because you don't want to be making wholesale changes. It's just two 25 lap features. We've had two different kind of tracks in the Capitani and the Qualifier and we won on both so that gives us a lot of confidence. I've tuned us out before so it's just important I don't lead these guys in a bad direction at the break."
Donny Schatz: It's 50 laps and all that counts is the last one so if you go out there, and David (Gravel) has done this, driving through all the holes and his right rear came apart. So it's a race of finesse over aggression. You can use your stuff up too early. So you have to have a good car that doesn't need you to overdrive it to get there at the end."
Brent Marks: "I was good on a full fuel load and feel like we were right there. But I feel like we were too good, and you end up getting too free over a long run if you're that good. It was weird, because I got to that point earlier in the race and near the end, I got tighter and gained speed so we just have to work on that."
Brian Brown: "I've started on the front row, and started second, and led at the break. For me, starting ninth, I feel like I need to be in that top 3 or 4 at the break, but look at what Kyle did (in his prelim) coming back from 21st, albeit with some help, so its doable. I like my spot. I'd like to start, fifth, third or first, but you have to be in the show to win the show, and we made the dance and we're in the show."
It's a different story for those starting at the back, and their primary goal in the first half is simply to stay on the lead lap:
Brock Zearfoss: The biggest thing is you can't get lapped. You have to go right away being in the back where the guys up front can be more conservative. If you're the back, the leaders are coming and your night is pretty much over if they pass you. So if we can pass some cars, stay on the lead lap, and get to around the top-10, it's another 25 lap feature to make changes for and go race."
Anthony Macri: Honestly, I don't even know. You want to stay on the lead lap, obviously, but I don't even really care if I get lapped after getting into the show. Obviously, it's not the goal but we're excited to be here, and we're going to try to stay on the lead lap and just make something happen."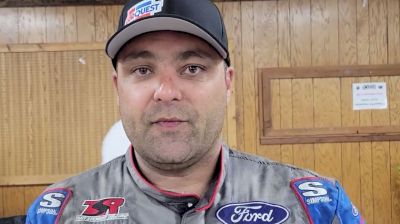 THE CREAM ROSE TO THE TOP
For all the debate about the format, most everyone landed about where they should have entering Championship Saturday. Sheldon Haudenschild was the obvious exception given his bad qualifying draw and resulting effort, but even then, he will have 22 laps to break into the feature from ninth.
Wise was a lock for the feature until suffering a mechanical issue that relegated him to the back of the C on Saturday but that's racin.'
Throughout the week, everyone said the cream would rise to the top despite eight car inverts and a points system that weighs perhaps too heavily on time trials, with the racing throughout the week continuing to justify the format.
It works.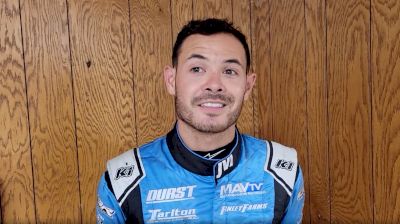 HOW ABOUT KASEY KAHNE?
In light of the suspension to Aaron Reutzel, Kasey Kahne withdrew the entry for his 9T car and accepted a ride with Dennis Roth this week and has enjoyed an exceptional week.
After finishing fifth in the Front Row Challenge at Southern Iowa Speedway, Kahne proceeded to set fast time during the Thursday night preliminary. He had to race his way into the feature that night from the B after getting beat by the invert but survived a crash marred feature to finish sixth and maximize his points effort.
All told, it allows him to start seventh in the main event.
Kahne has said there are some differences between his own cars and the Roth Enterprises No. 83, but it's been a rewarding experience thus far.
"Really happy with how the car performs, the guys working on it," Kahne said. "A lot of work has gone into it since Sunday at 11 o'clock when we decided we were going to do this.
"It's been a fun week. A lot of work by our KKR guys pitching in but the Roth guys too. Overall, a really solid week with two locked in KKR cars and us too. Really happy."
Kahne hasn't raced much this year with eight Outlaws starts and four with the All Stars, but this provided a rare chance to take some pressure off his full-time road crew, while also having a chance to do something special with one of the most iconic teams in the sport.
Kahne is piloting a paint scheme that commemorates Danny Lasoski's 1998 Nationals victory with Roth.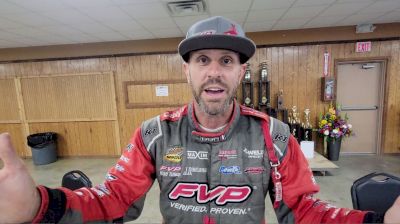 BRIAN BROWN UNDER THE RADAR
It's hard to imagine Brian Brown existing under the radar at the Knoxville Nationals, especially after winning his prelim, but that's kind of where the No. 21 team is.
The 42-year-old two-time track champion has brought all the pieces together to finally claim his personal Moby Dick.
In 2012, Brown came close to adding his name to the Avenue of Champions with a second place finish to Schatz. It wasn't the last time he would be denied in this fashion, history repeating itself in 2013 and 2014 too. After finishing sixth in 2015, Brown missed the race in 2016, finished sixth again in 2017 and 25th in 2018.
He failed to qualify in 2019 and that's changed his perspective. Brown has talked about enjoying the moment no matter what happens, while also building a dream team with uncle Danny Lasoski coming on board as crew chief alongside his dad and grandad, Tye Wolfgang and Nate Steinhaus.
"For me and my team, it is just a sense of relief," said Brown of winning on Thursday night. "In '12, '13 and '14 I ran second to Donny (Schatz) and you start thinking that's the way it's going to be. I'll beat him next year. Well, in '15, '16, '17 and '18, I've had some bad luck, a tire vibrating or just me driving like an idiot and I have never been back in the show.
"I am proud of my whole team and proud to be able to relax and breathe these next two days. I feel like with the team we have, we are building confidence and we have a chance to win on Saturday night and I am very excited about that."
BROADCAST INFORMATION, START TIMES
Championship Saturday for the Knoxville Nationals will air on Dirtvision. Annual subscribers have the event included in their subscription, while monthly subscribers and non subscribers will need to purchase the Nationals as an add-on.
Saturday's single day PPV pass is $49.99. The annual platinum pass, which includes every World of Outlaws Sprint Car and Late Model race, in addition to numerous weekly track schedules, is $299.99.
Track action begins at 7:45 p.m. ET with E-Main and D-Main hot laps with the next scheduled race and hot laps for that race alternating thereafter. Each main will take the top four finishers to the back of the next feature until the field is whittled down to the 24 main event starters.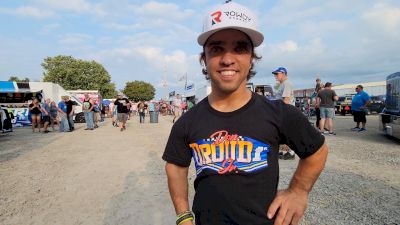 STARTING LINEUPS
60th Knoxville Nationals Starting Lineup
50 Laps, Two 25 Lap Stages
Gio Scelzi
Brad Sweet
Kyle Larson
Brent Marks
Donny Schatz
David Gravel
Kasey Kahne
Logan Schuchart
Brian Brown
Ian Madsen
Brooke Tatnell
Tyler Courtney
James McFadden
Justin Henderson
Justin Peck
Danny Dietrich
B-Main Transfer 1
B-Main Transfer 2
B-Main Transfer 3
B-Main Transfer 4
Rico Abreu
Anthony Macri
Shane Stewart
Brock Zearfoss
Knoxville Nationals B-Main
22 Laps, Top 4 Transfer
Josh Baughman
Carson Macedo
Sye Lynch
Spencer Bayston
Cory Eliason
Kraig Kinser
Paul McMahan*
Kerry Madsen
Sheldon Haudenschild
Sam Hafertepe Jr.
Scott Bogucki
Jac Haudenschild
Shane Golobic
Bill Balog
Kyle Reinhardt
Lynton Jeffrey
Josh Schneiderman
Davey Heskin
Daryn Pittman
Sammy Swindell
C-Main Transfer 1
C-Main Transfer 2
C-Main Transfer 3
C-Main Transfer 5
*Paul McMahan is Questionable for Saturday's event after being injured in an accident on Thursday.
Knoxville Nationals C-Main
15 Laps, Top 4 Transfer
Wayne Johnson
Hunter Schuerenberg
Harli White
Tim Shaffer
Roger Crockett
AJ Moeller
Carson McCarl
McKenna Haase
Ayrton Gennetten
Clint Garner
Matt Juhl
Sawyer Phillips
Colby Copeland
Mike Wagner
Tasker Phillips
Tim Kaeding
Terry McCarl
Tanner Carrick
Marcus Dumesny
Zeb Wise
D-Main Transfer 1
D-Main Transfer 2
D-Main Transfer 3
D-Main Transfer 4
Knoxville Nationals D-Main
12 Laps, Top 4 Transfer
Mark Dobmeier
Jack Dover
Scotty Thiel
Dustin Selvage
Chad Kemenah
Jessie Attard
Skylar Gee
Chris Martin
Lucas Wolfe
Noah Gass
Robbie Kendall
Jordan Goldsberry
Derek Hagar
Jake Bubak
Greg Wilson
Ryan Roberts
Don Droud Jr.
Jeff Swindell
Riley Goodno
TJ Stutts
E-Main Transfer 1
E-Main Transfer 2
E-Main Transfer 3
E-Main Transfer 4
Knoxville Nationals E-Main
10 Laps, Top 4 Transfer
Jason Sides
Austin Miller
John Carney II
Joe Simbro
Dylan Cisney
Jacob Allen
Tori Knutson
Bobby Mincer
Tyler Esh
Kevin Ingle
Matt Moro
Ryan Giles
Skylar Prochaska
**Parker Price-Miller is OUT for the weekend after an accident on Thursday.