The World Of Outlaws
World of Outlaws Sprint Cars, The Ultimate Test of Championship Purity
World of Outlaws Sprint Cars, The Ultimate Test of Championship Purity
World of Outlaws is the ultimate pure motorsports championship.
Jun 10, 2021
by Matt Weaver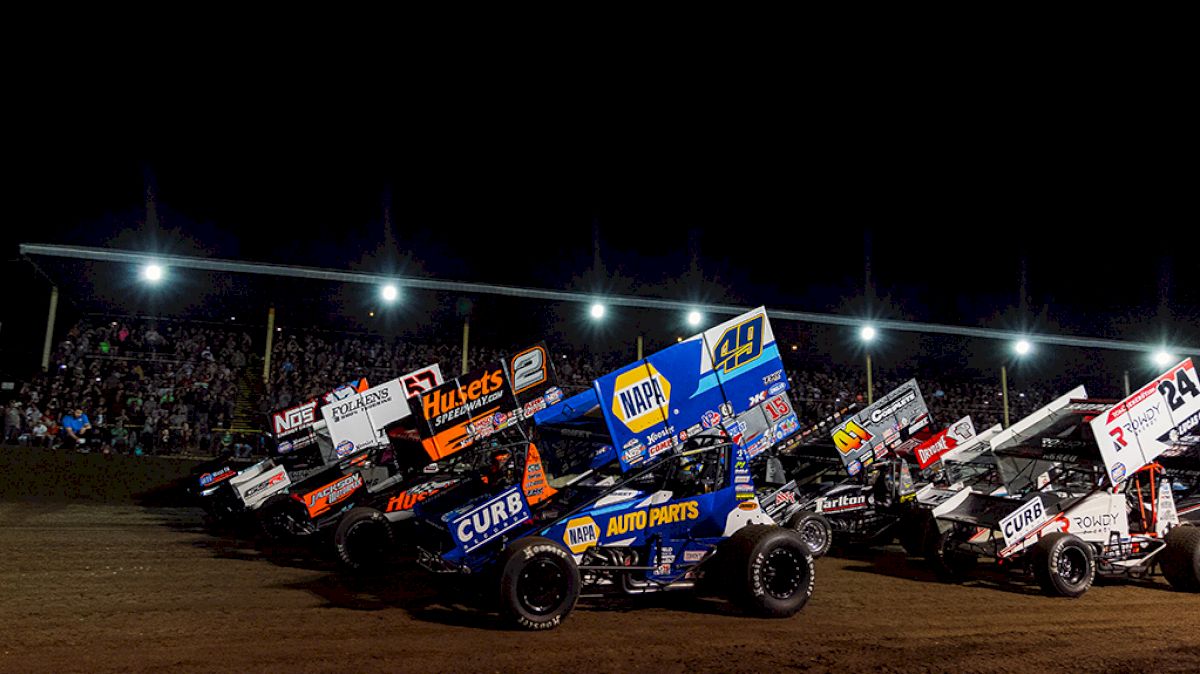 It has been seven races since Brad Sweet has scored a podium with the World of Outlaws, but his closest pursuers haven't been able to consistently take advantage.
David Gravel has won twice during that stretch but has finished outside of the top-10 on three other occasions. His average finish the past seven races is 7.1 compared to 7.8 by Sweet. As a result, Sweet has only lost 14 points on his lead, which now sits at -56.
That's the key to winning championships in a season long format -- maximizing the worst days.
Sweet and Kasey Kahne Racing have done just that throughout the early summer stretch, best exemplified by finishing seventh in a back-up car after a complete write-off crash during a heat race earlier in the afternoon.
Gravel finished 12th.
What remains of the Kasey Kahne Racing No. 49

Brad Sweet is going to a backup pic.twitter.com/fugejMQbYJ

— Matt Weaver (@MattWeaverAW) May 31, 2021
The championship won't be decided based on head-to-head results over the course of the season, but it is a reminder that every lap matters.
"There's nothing purer right now in the country than Sprint Car racing," Sweet said. "It's the true pure grassroots form of motorsports right now. Every lap matters every night. It's so competitive, that you can build a big lead, but after a few bad nights, you can bring everyone else right back into it."
Spoken from experience.
Brad Sweet recovered from a lap one, heat one crash to finish seventh at Lawrenceburg in a backup car.

He's feeling this one tonight but made the most of his circumstances. pic.twitter.com/cw5efRmB3B

— Matt Weaver (@MattWeaverAW) June 1, 2021
Carson Macedo also has two finishes outside of the top-10 over his past seven races, but also won on Night 1 of the Morgan Cup at Williams Grove. Three other podiums during that stretch has allowed him to stay around -100 points, striking distance of the championship should Sweet continue to miss podiums for whatever reason.
Macedo has frequently spoken about his desire to be a World of Outlaws champion. It's not uncommon for Outlaw contenders to say they focus on winning races and everything else will take care of itself, but not the new driver of the Jason Johnson Racing No. 41.
He says he wakes up every day to put time in the gym, looking at video replays and whatever else it takes to make that next step into the championship mix.
"I feel like our race cars are really good," Macedo said. "Night in, and night out, we're as good as anyone right now. I think if we keep chipping away at it, keep our heads down and keep progressing, and keep knocking out the good finishes, anything is possible.
"At the same time, we're not worried about the championship now because it's early, but we are focused on staying in the top-five every week because that's how you start to build towards that."
Carson Macedo finished third in the World of Outlaws feature at Sharon.

He calls Dave Blaney "a legend of our sport."

He's started to make ground in the championship and feels good.

"It's still early though." pic.twitter.com/MogplYOgwC

— Matt Weaver (@MattWeaverAW) May 23, 2021
To that point, Sweet echoed that sentiment. Sweet still has a 56-point advantage and 104 over Macedo, and that's arguably after what he hopes is the worst stretch of the season. It wasn't that long ago that Sweet opened the season with 10 podiums in the first 12 races -- including four in a row.
Should that happen again, everyone will be over 100 points out of the lead.
Remarkably, the most consistent driver during the stretch has actually been 10-time champion Donny Schatz and the No. 15 Tony Stewart Racing team. A month ago, Schatz was over 200 points out of the lead in the midst of his worst career season, the byproduct of the still developing Ford engine program.
Schatz is still seeking his first win of the season, and the 300th of his career, but has shown the ultimate example of championship resiliency.
For all the talk of the slump, Schatz only has two finished outside of the top-10 over his last 15 races, and only 11 overall. The worst stretch of his season came early at Pevely, Kokomo and Haubstadt, five straight outside of the top-10, but has been the pillar of consistency since then.
"I think at one point we were like 220 points out of the championship and we've cut that down by almost 100 points," Schatz said. "We haven't really been all of that strong either, sure we've been consistently in the top-10 and there have been issues for others, but that's where you have to start. You have to crawl before you can walk, and you have to walk before you can run.
There are so many ways to win a World of Outlaws championship and Schatz, the third most winningest driver of all-time is starting to do it without having won a single race by mid-June.
"It may not look like it today, but this could pay off down the line in say two months," Schatz said. "That's when this tough, resilient part of the season will shine through. I hope it's in the middle of a championship battle. It's all the nature of the beast. Sometimes we have to work through things we don't want to, and that's what we're doing."
📊 𝗦𝗨𝗡𝗗𝗔𝗬 𝗦𝗧𝗔𝗡𝗗𝗜𝗡𝗚𝗦 📊

Here's how the points look ahead of this week's return to 𝚃𝙷𝙴 𝚂𝙿𝚁𝙸𝙽𝚃 𝙲𝙰𝚁 𝙲𝙰𝙿𝙸𝚃𝙰𝙻 𝙾𝙵 𝚃𝙷𝙴 𝚆𝙾𝚁𝙻𝙳. pic.twitter.com/a4Acu9L9gJ

— World of Outlaws (@WorldofOutlaws) June 6, 2021
The there's Sheldon Haudenschild, robbed of several wins this spring, who has fallen to fifth and -152 as a result.
There was the weight disqualification at Eldora. The (aguably self-inflicted) flat tire at Haubstadt. An unlucky flat at Jacksonville. He missed out on chances to win at Sharon and I-70. As a result, Lil Haud is just focusing on winning at this stage of his career, something he has done three times this season.
"We don't pay too much attention to the points," Haudenschild said. "At the end of the day, that is what we're working towards, so if we can keep having good days and win a few more times a long the way, that's what we're aiming for."
The World of Outlaws season resumes this weekend at the Sprint Car Capital of the World, with the two-day Brownells Big Guns Bash.
It's time to see who is going to go on that next streak, for good or for bad, to decide the stretch run after big money season.
"We're only a quarter of the way through the season, and it's easy to draw conclusions but anyone could go on a run -- Sheldon, David Myself.
"You can really separate yourself if you get on a run when someone else starts to struggle too, but they all count the same when you get to World Finals."