The World Of Outlaws
Inside The Development Hurdles Of Donny Schatz, TSR And The FPS 410
Inside The Development Hurdles Of Donny Schatz, TSR And The FPS 410
No, nothing is wrong with Donny Schatz, Tony Stewart Racing or the Ford Performance Stewart 410.
May 14, 2021
by Matt Weaver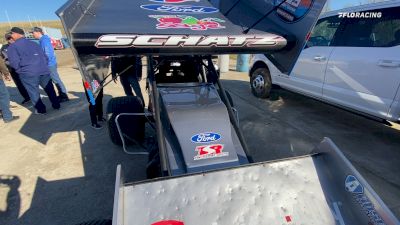 Donny Schatz and Tony Stewart/Curb-Agajanian Racing are putting the World of Outlaws on notice.
We're coming back, and you'd best make peace with it.
It's been 29 races since the 10-time champion won the Williams Grove National Open on Oct. 3 to move one win away from joining Steve Kinser and Sammy Swindell as the only drivers to earn 300 victories in the Greatest Show on Dirt.
That night in Mechanicsburg was 223 days ago and Schatz has been denied the historic benchmark in every dramatic way possible.
After opening 2021 with two wins with the All Stars Circuit of Champions at Screven Motor Speedway and East Bay Motorsports Park, Schatz contended for another DIRTcar Nationals championship at Volusia Raceway Park.
He was two laps away from No. 300 on Feb. 7 when an ignition box issue sent him to the infield. That denied Schatz both a date with history and the Florida Speedweeks Championship. After leading the first 17 laps on Apr. 2 at Pevely, a broken heim joint resulted in another heartbreak.
"I guess it's luck or karma when you've had the success we've had over the years," Schatz said. "I'm not sure what it is, but it's been a struggle to get past this point."
But it's not entirely bad luck.
Schatz and TSR are still in the midst of an active R&D situation with the relatively new Ford Performance Stewart 410 engine platform. The project hasn't progressed as quickly as anticipated, but make no mistake, the FPS 410 makes plenty of power.
It arguably makes too much power right now.
Simply stated, Schatz doesn't have the drivability he currently needs to contend for wins and the championship -- especially in traffic on the most technical tracks on the schedule. Because the engine makes so much power, Schatz has struggled to get the powerplant to match his throttle response expectations.
In other words, if he is at 30 percent throttle, he expects 30 percent power, and that input-to-output ratio isn't consistent right now. That's important because dirt tracks are so dynamic, the grip level changing on corner exit, that drivers must manage it through the throttle.
"The issue I run into is being able to race," Schatz said. "I've been able to pass a lot of cars over the years, and you pass by moving your foot, and keeping the car loaded in a way that allows you to do what you need. … We just don't have that feel right now, where everything is on the end of your foot, and things responding the way it should, when you move it."
It's something that Tony Stewart himself has felt when he climbs into his No. 14, too.
"I do, but I don't feel a lot of the little things that Donny feels, which is actually kind of frustrating for me as a driver," Stewart said. "It's like, am I really that far disconnected to where I can't feel what's going on?
"Donny is so good at feeling every little detail. He is so particular about what he wants his motor to feel like. That's why he struggles with it more than I have to this point, but it's part of the process, and it's the process that we're in."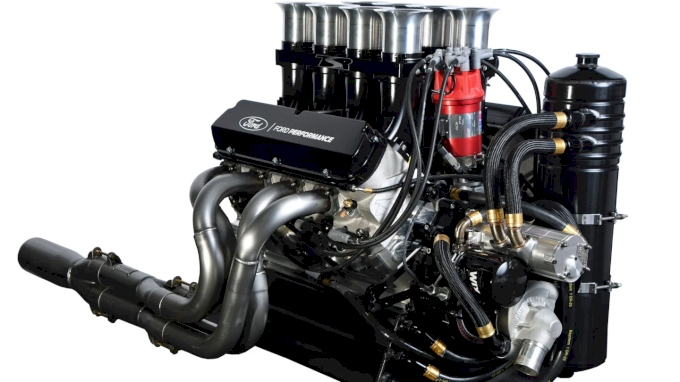 THE PROCESS
The Ford Performance Stewart 410 entered the World of Outlaws with a considerable amount of fanfare in 2019, but also prompted changes to the Tony Stewart Racing road crew. Longtime Schatz crew chief Ricky Warner transitioned to a R&D role with Ford Performance with car chief Steve 'Scuba' Swenson taking over as crew chief after seven years in his previous role.
The powerplant was built by Andy Durham Racing Engines with longtime Schatz engine builder Ron Shaver serving in an advisory role.
"We sat down as a group and Donny wanted some changes within the organization and we had the opportunity to take Ricky and move him to the motor side," Stewart said. "Which, of all the people we have, he was the only guy who could take on a project that big. He still is.
"It speaks volumes that he's still the crew chief on my car, but he's also the guy that's been asked to manage the program on the TSR side."
Durham is most known for engines commonly used in the Lucas Oil and World of Outlaws Dirt Late Model divisions. He built a powerful and impressive powerplant for TSR and Ford Performance but was challenged by refining it for Sprint Cars.
Schatz won just five times in 54 starts last season, the first time he had failed to reach double digits since 2011, albeit in a COVID-19 shortened campaign.
Regardless, the decision was made during the off-season to permit Shaver to take over development of the FPS 410 in advance of the 2021 season. The expectation was that a version of the Ford 410 would be made available to the entire industry by now.
The development challenges pushed that timeline back.
"Andy is an awesome engine builder," Stewart said. "I mean, you look at what he's done in Late Model racing and it's phenomenal.
"He's one of the guys that really changed the Late Model industry over the last four to five years and that's why we brought him on board. To be honest, I think what proved to be overwhelming for him is adjusting to the power curve needed for a Sprint Car compared to a Late Model.
"He had never worked with a Sprint Car team, never worked with fuel injection and how that needs to be different from a Late Model."
That sentiment was echoed by Shaver, too.
"Typically, when you build a new motor, you spend the first season trying to squeeze every bit of power out of it," Shaver said. "This was the polar opposite of what we anticipated.
"We had to work backwards just to control it. So that was a challenge for Andy. We weren't unhappy with Andy by any means. We just ran out of time on having to get this thing developed and decided to try something different."
Again, Durham built an extremely powerful and impressive engine and Shaver was tasked with essentially de-tuning it to give Schatz the drivability he had become accustomed to during his near two decades of dominance.
Overly simplified, horsepower is a result of air and fuel, so Shaver has worked with Ford engineers in Dearborn, Michigan to actually reduce the power through nozzle blockers, headers and various different restrictors.
"We use cams and stuff to do that and and we just made a new head," Shaver said. "We made the ports smaller, which will help. Ford told us if we cut the compression a bit, but not as much as I thought, that would help get us there, too.
"A whole point of compression only makes 12 horsepower, so we did that. We've done everything we can to back it down. We've spent this whole season figuring out how to back this motor up to get it under the drivers."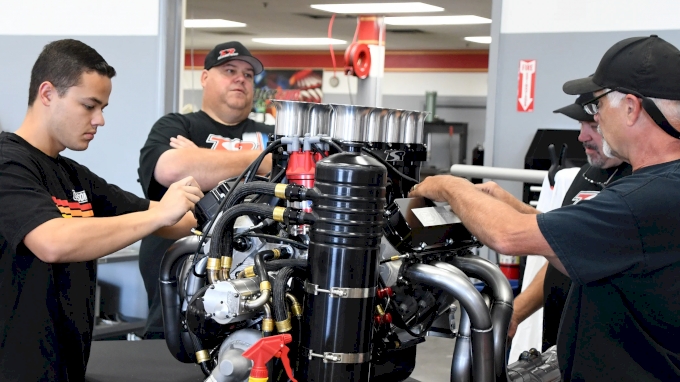 THE TURNAROUND
The hard work is starting to pay off with Stewart winning with the All-Stars on April 15 at Virginia Motor Speedway.
He was running inside the top-five throughout the feature but was the beneficiary of the four leaders all blowing their right rears on a dry slick track. Stewart snookered the field with tire management, but also had a good driving car against a stout field.
Schatz meanwhile looks extremely close to securing that 300th victory, too.
Since unloading at Bristol Motor Speedway for the World of Outlaws Throwdown on April 22, the 10-time champion has posted seven top-5s in eight features, including four podiums. He led 20 laps at Eldora Speedway on Saturday night before getting overtaken by Sheldon Haudenschild with two laps to go. He led 23 laps on Wednesday in the Gettysburg Clash at Lincoln Speedway.
In both races, it was traffic that further delayed No. 300, but not to the severity it had been over the past calendar year.
Schatz is close.
"You know the saying, that Rome wasn't built in a day and we're doing our best to race with that mentality," Schatz said. "You know, we have several different configurations of the motor that you try here and there.
"It's made harder when you're trying to race and stay in the championship while also developing a motor and doing the things you have to do to get this right, because we're always changing something to get the data and results that we're looking for.
"That's why we've started running two cars at the same track the past couple of weeks -- just to get better feedback and information. But at the end of the day, when you're under the gun, you're under the gun, and here we are."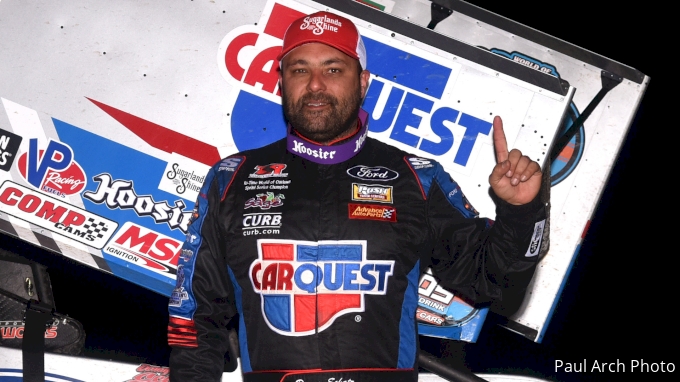 THE MOOD
Everyone at Tony Stewart Racing has publicly talked a good game about their collective spirits over the past calendar year, but it's taken a toll.
When you average 25 wins over the course of a decade, and then 11, and then 5, and then winless through 21 races and counting, it's been something of a gut check.
Every single result, or circumstance has been scrutinized or overanalyzed by the public in the pursuit of uncovering what's wrong with Schatz and TSR. Social media, while a vocal minority of the overall community, has been especially scathing during this spring.
"I don't owe anyone an explanation," Schatz said. "I mean, we have great fans and they're discouraged, and I understand that.
"We live in an environment where when people feel discouraged, you'll hear their voices loud and clear. I see the messages when things are really bad, and I get them when they're really good too, and that comes with the territory.
"But I don't race to appease anyone, or appease a critic, and I think the team's resume speaks for itself. We know we're going to get ourselves back to that level."
Methodically, they are indeed inching closer to their expected standard.
It has been an experience watching Schatz come close to 300 at Pevely and Rossburg. After years of rooting against Schatz, because dominance is never truly appreciated in the moment, fans are now cheering for the TSR No. 15.
You could feel the air deflate from the grandstands when Schatz broke at I-55 and was passed at Eldora.
Perhaps the fans simply wanted to be witnesses to history, or maybe Schatz has remarkably lived long enough to see himself become the hero -- returning to reconquer his lost kingdom.
And make no mistake, that is the expectation once TSR completes its development on the FPS 410, retaking the World of Outlaws from Brad Sweet and Kasey Kahne Racing.
"It's hilarious watching all these keyboard jockeys get online and talking about 'Donny Schatz can't do it anymore or isn't as good as he used to be.' Hilarious," Stewart said.
"Donny Schatz is every bit as good as he's always been. We just have to give him what he needs so he can do his job. We all have the confidence in him. I'm a driver. I know what Donny Schatz can do. These keyboard jockeys aren't seeing the results and what he's doing compared to what we were giving him. They have no clue, but they're about to."
Tony Stewart Racing has put the World of Outlaws on notice.