Benji Hicks' Focus At Screven Is The Fastrak Championship
Benji Hicks' Focus At Screven Is The Fastrak Championship
A tight battle has developed for the Fastrak Championship, but Benji Hicks is confident that he will prevail.
Nov 10, 2017
by Dan Beaver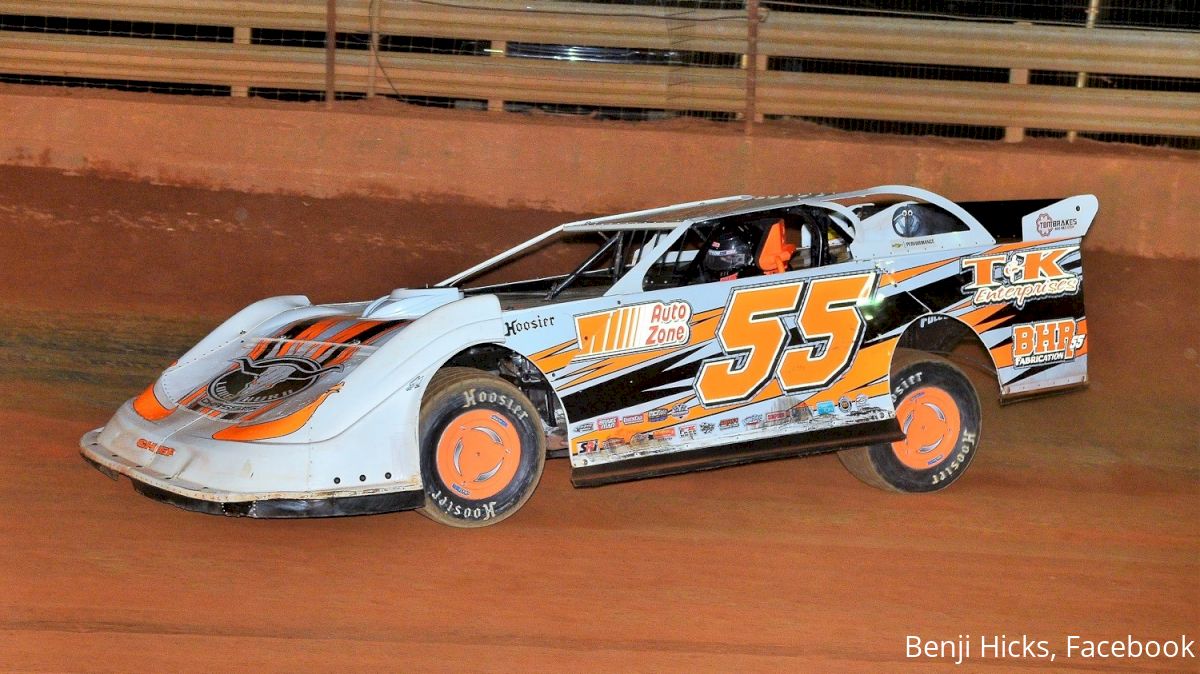 Benji Hicks has a lead in the points with only two races remaining on the Fastrak schedule, but he knows he can't get too comfortable.
Each race is worth up to 35 points for the win, and Hicks sits just 22 points above Jensen Ford heading into the finale weekend at Screven Motor Complex in Sylvania, GA, on Nov. 17-18, which is streaming LIVE on FloRacing.
"Honestly, I have mixed emotions," Hicks said of the final point weekend. "I'm excited to go back racing it's a great car, but last time I was there we had bad luck and ended up having to put a clip on my car. It being the last races of the year we're just hoping for two good solid finishes so we can wrap the points deal up and win the series."
In last time the series raced at Screven in July, Hicks spun early in the race and sustained heavy damage. While the team was able to apply a Band-Aid on the night by pulling off parts of the front bumper, it lost its competitive edge.
He finished 14th in the feature.
"We ended up finishing the race," Hicks said. "But on lap two or three I got spun out on the front stretch and then hit head on. It bent the front clip on my car. We finished the race anyways, but every caution we would come in and whatever was hanging off we would just rip off and get back out there. We knew we had to stay out there for the points and that we had to do whatever we had to stay on track."
The new Fastrak program schedule for next Friday night might very well help Hicks, as the draw placement has a tendency to hurt him at Screven.
On Friday night, the series will attempt to separate into heats based on two qualifying flights instead of the group draw.
"You usually draw and whatever you draw puts you in your group," Hicks said. "Last time we were at Screven I think there were three groups in qualifying. Out of everyone there, we were fourth fastest but ended up third in our group."
If Hicks struggles on the first night and Ford wins or runs a top-five, Saturday will become a more drastic situation. But for now the team is hesitantly confident in maintaining the points lead.
"I'm pretty confident in it" Hicks said. "We just have to stay consistent and make sure nothing stupid happens. The biggest thing is that we finish the race and leave the car in one piece. Make sure we're there both nights and nothing happens. Hopefully, we can wrap it up. A win would be nice, but we just want to stay consistent and finish top 10 both nights."
Running Saturday night in the Ultimate Super Late Model race also depends on how Friday night treats Hicks and his Crate Late Model. Last week, Hicks ran his new Super for the first time and only the second time racing in the class overall.
"We got a brand new Super car that we debuted last week at the World Finals at Charlotte, and we made the show on Friday night, missed it on Saturday," Hicks said. "It was only my second time in the super car and first in that car. We still learning it and the driver is still getting used to the motor difference."
Hicks' first Super race was with the Ultimate series in October at 311 in Pine Hall, NC. The rained-out Dublin Motor Speedway race in Elizabethtown, NC, last month would have been his second.
"We ended up finishing sixth or seventh," Hicks said of his 311 run. "I feel pretty confident in it, but then again my track record at Screven isn't too hot. If my Super car even gets unloaded, it all depends on what happens Friday night in the Crate race. If we struggle Friday night in the Crate race, we're not going to unload it and just focus on the Crate car and making sure we wrap up the points and whatever needs to get fixed gets fixed. Hopefully find some speed for Saturday."
The addition of the Super changes Hicks and his team's agenda for 2018. They will not be pursuing a points championship and instead will be racing in as many major series events and unsanctioned races as they can fit into the schedule — while still running the Crate Late Model at their favorite tracks and events.
"We're not going to follow any tour in 2018," Hicks said. "We're going to run the major Crate races and probably try to focus on the Super next year, drive up and down the road racing it."
Ultimate Southeast Screven Motor Complex Coverage
Ross Bailes Has Been Taking Notes In Preparation For Screven
The Fastrak Championship Is Two Weeks Away
Fastrak Alters The Format For The Season Finale