2024 Chili Bowl Nationals
Logan Seavey Will Run It Back At The Chili Bowl With Kevin Swindell
Logan Seavey Will Run It Back At The Chili Bowl With Kevin Swindell
Logan Seavey will once again drive the Swindell SpeedLab/Bertrand Motorsports No. 39 to defend his Chili Bowl Nationals win from a year ago.
Nov 15, 2023
by Tyler Burnett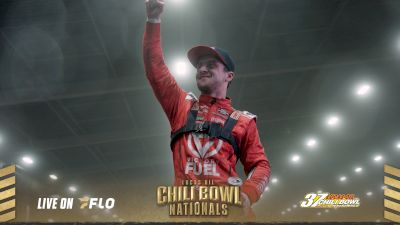 Defending Chili Bowl Nationals winner Logan Seavey is running it back with the team that helped him win his first Golden Driller trophy in 2023. Seavey will once again drive the No. 39 for Kevin Swindell during the 2024 Chili Bowl Nationals in January.
If you ask car owner Kevin Swindell, Seavey returning to his car to defend their crown was never in doubt.
Well, that was until Seavey drove his Abacus Racing No. 57 USAC National Midget to seven victories and a 200+ point lead in the point standings entering the final six races of the season.
"I keep losing all my wing drivers. I was really gonna give up if I lost my Chili Bowl guy after last year," Swindell told FloRacing.
"They (Abacus) kinda brought it up right away, and he said he was sticking with me. Then I think they won some stuff and sorta came back to him again and was like, you sure?
"They actually went back after Chili Bowl and built a car that was really close to mine because he liked what we had so much."
On Wednesday afternoon, Abacus Racing announced they hired Tyler Courtney to drive the team's No. 57 Midget at the 2024 Chili Bowl Nationals. That announcement set the stage for Swindell to confirm that Seavey would be returning to the No. 39 ride in January.
"We honestly hadn't even thought about it," Swindell joked when asked whether they had planned to announce Seavey was returning. "It was just kind of preconceived he was coming back. Guess not often is a guy stuck between the USAC title car and the Chili Bowl winning car as his options.
Swindell will once again partner with Tim Bertand of Bertrand Motorsports for the team's Chili Bowl effort. The duo has even thought about bringing a second car to Tulsa.
"Everyone who was involved last year re-upped or even bumped up what they were doing from last year, which is cool. Bertrand is back and he owns the motor and some other pieces. I was borderline going to do a second car and was going to do it for sure if Corey Day was available, but he already has a ride."
Swindell SpeedLab ran a limited Sprint Car schedule this season, competing in High Limit Racing events. They won two Golden Drillers last season, as Gavan Boschele won the team's first Tulsa Shootout driller in December. They will field cars for Boschele again this year at the event.
The Lucas Oil Chili Bowl Nationals will begin on January 7, 2024 with practice before five qualifying nights begin on January 8. Driller Day feature events will be held on January 13, 2024. Every lap will be streamed live on FloRacing.