2024 Chili Bowl Nationals
Tyler Courtney Heading Back To The Chili Bowl With A New Team
Tyler Courtney Heading Back To The Chili Bowl With A New Team
Tyler Courtney has landed a ride with a new team for the 2024 Chili Bowl Nationals.
Nov 15, 2023
by Tyler Burnett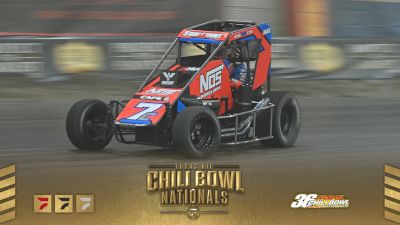 After a year away from the biggest Midget race of the year, Tyler Courtney will return to the Chili Bowl Nationals in 2024. Courtney has teamed up with Abacus Racing to pilot the team's No. 57 NOS Energy Drink entry in Tulsa, Oklahoma.
Abacus Racing's No. 57 car is currently leading the USAC National Midget Series championship standings with Logan Seavey by over 200 points with six races remaining. Seavey won last year's Chili Bowl Nationals driving for Swindell SpeedLab and Bertrand Motorsports. He will again drive for Swindell and Bertrand in 2024.
Courtney has competed 11 in Chili Bowl Midget Nationals, with the majority of those starts coming with Clauson-Marshall Racing. Courtney, the 2019 USAC National Midget champion, did not run last year's event.
"I have had a lot of success in racing, but until you get a Golden Driller you will always feel that there is a void on your trophy shelf," Courtney said. "To drive for Abacus Racing at the 2024 Chili Bowl Nationals with the year they are having, I know I have a good chance"
Brent Cox, Team Principal for Abacus Racing, knew he had to fill a big hole with Seavey staying in the Swindell car for the winter, but is excited Courtney has come onboard.
"Logan let us know early in the year that he was committed to Kevin for the 2024 Chili Bowl Nationals, so we knew it was very important for us to find an experienced driver to fill that seat. We feel very confident we have done that with Tyler."
Abacus will go to a familiar package with Courtney for the event, running Spike Chassis with a Stanton SR11-X under the hood and CSI Shocks.
"I have had some success at the Chili Bowl in prior years, winning rookie of the year in 2011 and a preliminary night win in 2017, but the goal is to make that A-main Saturday night and work to finish the night on the top step of the podium," continued Courtney. "I believe that Abacus (Racing) can give me that chance, but to get there a lot of things need to go your way along with having a great car. I look forward to getting to Tulsa to see what we can do as a team."
The Lucas Oil Chili Bowl Nationals will begin on January 7, 2024 with practice with qualifying nights starting on January 8 and concluding with its feature events on January 13, 2024. Every lap will be streamed live on FloRacing.