2023 Lucas Oil Late Model Nationals at Knoxville Raceway
Aero-Hampered Jonathan Davenport Sent Into Knoxville Guardrail
Aero-Hampered Jonathan Davenport Sent Into Knoxville Guardrail
Jonathan Davenport collided with the Knoxville Raceway guardrail after taking the lead Friday night during the Lucas Oil Late Model Knoxville Nationals
Sep 15, 2023
by Kevin Kovac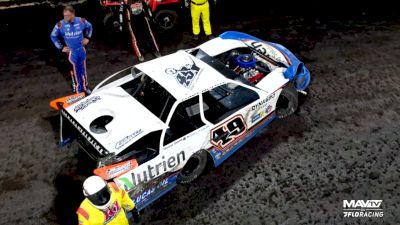 Just as Jonathan Davenport was gliding into the lead on lap 17 of Thursday evening's 25-lap Lucas Oil Late Model Knoxville Nationals preliminary feature, he suddenly ran into … A hurricane? A tornado? A wind tunnel? Wicked gusts across a bridge?
At least "that's what it felt like," Davenport said with a slight chuckle after an outing at Knoxville Raceway that went from promising to forgettable in the length of the half-mile oval's frontstretch.
There was no humor, though, in the difficult demise that the 39-year-old star from Blairsville, Ga., experienced in the opener of the 19th Late Model Knoxville Nationals. He was scored the leader of the 17th circuit and then seconds later crashed out against the steel guardrail in turn one.
Davenport appeared to be on the precipice of his first prelim triumph at Knoxville in nearly a decade after race-long pacesetter Daulton Wilson of Fayetteville, N.C., stumbled off turn two on the 16th lap, opening the door for the fourth-starting Davenport to surge ahead down the backstretch. But as the defending Knoxville Nationals champion angled off the top of turn four, his Double L Motorsports Longhorn Chassis hit an imperceptible air pocket that tossed him into the homestretch wall.
The vagaries of aerodynamics on the high-speed fairgrounds track had bitten Davenport.
"I was trying to lap Timmy (McCreadie) there, and Max (Blair) was right in front of him," Davenport said, just after explaining to McCreadie what had happened. "It ain't nobody's doing, but Max slid out of the bottom and slid across the track (exiting turn four), and, well, he just had a wake of air behind him, and I'm wide open around the top. You're always on the verge of wrecking here anyway, and I just caught his wake of air going the wrong way and it just blowed me right in the wall.
"I tried to turn and get (the guardrail) with the right-rear more so than the right-front, but I did hit it a little bit with the right-front."
Davenport bounced off the barrier and continued on to cross the start-finish line first as lap 17 was clicked off. But his car refused to turn entering the first corner, his machine's right-rear slapped the outside fence and the car twirled around, coming to rest backwards.
"I guess I might've cut the right-front (tire)," Davenport said. "It didn't feel like it was flat going down the straightaway, but as soon as I turned in the corner it was flat. Obviously it was a result of getting in the wall back there (in turn four). It ain't no tire blowing over there (in turn one).
"That was a pretty good hit. Luckily I slowed up and kind of entered down the racetrack just a little bit to see how the car was (following the initial contact). If I'd have blowed it off in there, hell, we might've been upside down, because we about was anyway."
Indeed, if Davenport's threatened to turn over as he spun around.
"The tires dug in on the left side — the wheels were full of mud," he said. "Luckily I was thinking a little bit ahead there after I got into the wall and I wasn't carrying more speed than I was."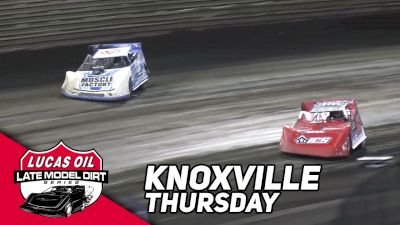 VIDEO: Watch highlights from Thursday's Lucas Oil Late Model Knoxville Nationals prelim feature.
Davenport, who escaped the incident without injury, said running through the burst of upset air behind Blair's vehicle off turn four felt "like a huge fan" that "just blows the car across the racetrack."
"He wasn't even right there. He was like six car lengths ahead of me," Davenport said. "That's how sensitive these (cars) are to the air.
"It always happens here. You just have to anticipate it coming, but I thought he was far enough away that it wasn't gonna hurt me right there. I thought I was gonna be fine. Like, I knew it was gonna make me loose off the corner, but I didn't know it was gonna blow me right in the wall.
"It's crazy," he added, shaking his head in frustration. "Until you feel it, you really don't know. It's hard to explain. It just takes that little bit. We're so aerodependent now."
Davenport is well aware of how a Dirt Late Model driver must, in a sense, "work the air" in order to avoid losing the handle of their car, especially at the bigger, faster tracks like Knoxville. Tackling the problem was on his mind before he even pulled into Knoxville's pit area.
"I was trying to do some stuff to my car this week to make it less aerodependent, and I thought I got a lot better," Davenport said, mentioning some massaging of his machine's bodywork he did in preparation for the weekend. "We were pretty good through traffic, but just that one little bit I underestimated."
Davenport was left with significant damage to his car, which was towed back to his trailer. His crew immediately went to work on it, first removing the mangled nosepiece — the right-front fender was especially twisted — in order to get a good look at the front clip.
"I hope it didn't bend the frame," Davenport said as his team was beginning their damage assessment. "That's the worst part of it. I hate bringing a good car (to Knoxville). You're on the ragged edge of tearing it up all the time, but for (Lucas Oil Late Model Dirt Series) points and everything else, you gotta bring a good car."
Davenport, of course, is no fan of the danger that comes with racing at the lightning-fast Knoxville oval. He's won at the track three times in his career — prelim features in 2014 and '15 and last year's $50,000 finale that was postponed to Sunday afternoon by rain and shortened to 50 laps (it's scheduled for 75 laps this year) — but has finished 11th-or-worse in six of his nine starts in the weekend finale.
And Davenport has experienced a similarly miserable Knoxville Nationals opener. In 2019, driving the Brewster Baker-themed car that just days earlier he had piloted to his third career World 100 triumph at Eldora Speedway in Rossburg, Ohio, he caught the inside berm in turn two with such force during the preliminary feature that he was knocked from the race with frame damage that forced him to a backup car.
According to Davenport's crew chief Cory Fostvedt, this time there didn't appear to be any frame damage. There would, however, be plenty of work ahead of the team if they opt to make repairs so Davenport, who was 15th in event points on Thursday after his 23rd-place finish, can remain in the same car for Friday's preliminary.