2023 PDRA Pro Stars + Night of Fire
PDRA ProStars Concludes Early At Virginia Motorsports Park's Night Of Fire
PDRA ProStars Concludes Early At Virginia Motorsports Park's Night Of Fire
The 2023 PDRA Pro Stars event was cut short due to a timing system failure at Virginia Motorsports Park. Watch replays of the event on FloRacing.com
Jul 24, 2023
by Courtney Enders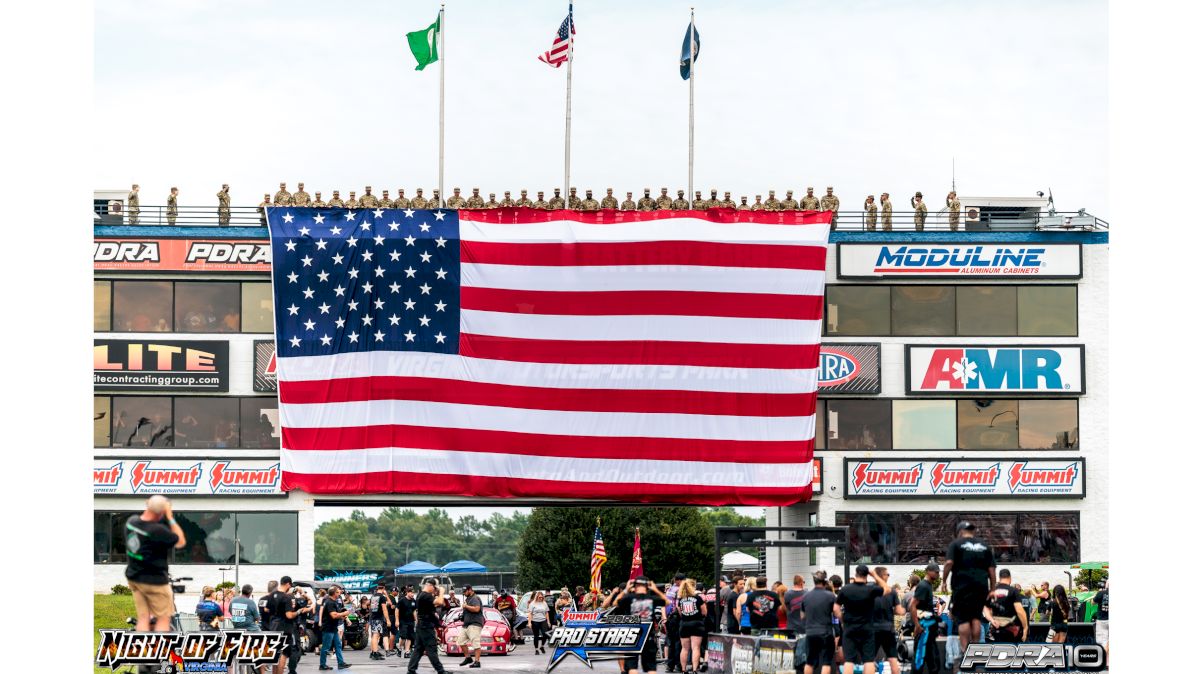 The third annual Summit Racing Equipment PDRA ProStars race came to an early end just before the final rounds were contested Saturday night at Virginia Motorsports Park. A timing system malfunction during the Top Fuel final round prevented the completion of the rest of the final rounds. The finalists in all PDRA classes split the winner-take-all payouts, and they'll race for the event trophy at the next PDRA race, Aug. 3-5.
"An unfortunate series of events caused a catastrophic timing system failure that could not be repaired in time to complete the final rounds," said Tyler Crossnoe, PDRA series director and vice president of Virginia Motorsports Park. "We exhausted every available resource and potential solutions in an effort to repair the system so we could wrap up what was an incredible show for the fans all day long, as well as crown ProStars champions. We appreciate the fans who joined us, and we thank the racers for helping us entertain the crowd. All the finalists took home some money, and they'll get the chance to race for the trophies and bragging rights at the PDRA Northern Nationals presented by Talbert Manufacturing in Martin, Michigan, in two weeks."
PDRA ProStars was a part of VMP's Night of Fire, which also featured country music concerts by Walker Montgomery and Chase Matthew. On-track, it included a four-car Top Fuel match race, an eight-car Top Alcohol Dragster Shootout presented by The Empowerment Alliance, two Nostalgia Funny Cars, two Jet Dragsters, a wheelstander, and the Super 64 Shootout.
The Top Fuel competition came down to multi-time world champion Larry Dixon Jr. and Scott Palmer. Dixon was declared the winner. Top Fuel newcomers Jacob McNeal and Artie Allen also took part in the event.
The Top Alcohol Dragster Shootout saw rookie Sarah Allen in her Florida-based A/Fuel dragster race to the final round to meet No. 1 qualifier Dan Dietrich in his supercharged, methanol-burning dragster. The two were set to race for $10,000 and a PDRA "660 Man" trophy, the first time a non-PDRA-sanctioned class has competed for the trophy.
The finalists in $15,000-to-win Switzer Dynamics Pro Nitrous were Virginia's own Tommy Franklin in his Musi-powered "Jungle Rat" '69 Camaro and Ed Burnley, who reached the ProStars final round for the second year in a row in his Musi-powered "Iron Man" '69 Camaro.
Young gun Preston Tanner in his screw-blown Strange Engineering Corvette was set to face Travis "The Carolina Kid" Harvey and his ProCharged GALOT Motorsports '69 Camaro in the $15,000-to-win WS Construction Pro Boost presented by P2 Contracting and Ty-Drive final round.
Two veterans of Liberty's Gears Extreme Pro Stock presented by AED Competition were ready to square off for the $10,000 prize. Past world champion Steven Boone reached the final in his Allen-powered Boone Motorsports '07 Cobalt, as did Dave Hughes in his Kaase-powered HRE '18 Camaro.
The final round in $7,500-to-win M&M Transmission Pro 632 was going to be a rematch of the final round from the first two races of the season. Reigning world champion Amber Franklin in her Musi-powered "OG Jungle Rat" '69 Camaro was set to face two-time winner Jeff Melnick in Alan O'Brien's Barry Allen-powered Greenbrier Paving & Excavating '20 Camaro.
In Menscer Motorsports Pro Street presented by Afco, which was competing in the ProStars event for the first time, Bill Lutz set low E.T. of the event in the first round to take his screw-blown '68 Camaro to the final round. He was due to race points leader Bill Riddle in his roots-blown Corrigan Race Fuels '89 Camaro.
Afco Super Street presented by Menscer Motorsports was also partaking in ProStars festivities for the first time. Points leader Blake Denton made it to the final round in his nitrous-fed '76 Camaro, along with Wes Ervin and his nitrous-assisted '88 S10.
The finalists in the sportsman classes were Henry Underwood and Tim Lawrence in MagnaFuel Elite Top Sportsman presented by PAR Racing Engines, Alan O'Brien and Tom Martino in Laris Motorsports Insurance Elite Top Dragster, Mark Payne and Al Davidowski in MagnaFuel Top Sportsman presented by Corbin's RV, and Dickie Smith and Nick Meloni in Laris Motorsports Insurance Top Dragster.
The Jr. Dragster class finalists were Chris Suppers and Brayden Davis in Coolshirt Systems Pro Jr. Dragster presented by PRP and Gavin Wood and Rowan Parlett in Classic Graphix Top Jr. Dragster presented by PRP.
The chase for 2024 ProStars points will kick off at the next race on the PDRA's 10th season tour, the Northern Nationals presented by Talbert Manufacturing, August 3-5, at U.S. 131 Motorsports Park in Martin, Michigan.