2023 Icebreaker at Florence Motor Speedway
Grassroots Racers Share Thoughts On Racing Dale Jr. In Late Models
Grassroots Racers Share Thoughts On Racing Dale Jr. In Late Models
Grassroots racers share their thoughts on what it's like to race against Dale Earnhardt Jr. in this weekend's Icebreaker at Florence Motor Speedway.
Feb 7, 2023
by Rob Blount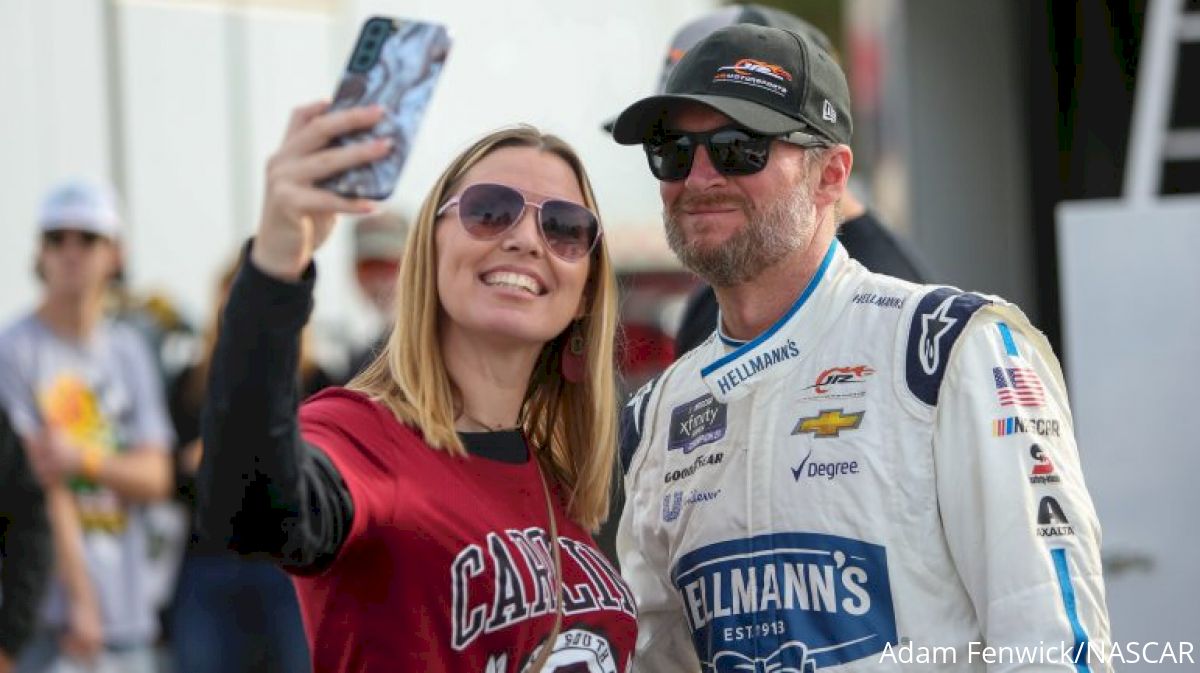 The Late Model Stock Car world is ready to break the ice at this weekend's 150-lap Icebreaker event at South Carolina's Florence Motor Speedway. More than 40 drivers are expected to make the trip for Saturday's race, and included on that list is none other than two-time Daytona 500 champion, Dale Earnhardt Jr. The presence of the NASCAR Hall of Famer in the field is something that excites both fans and competitors alike.
One of the many reasons why Earnhardt's presence is a treat is it's just another way that Earnhardt is giving back to the sport of short track racing. It was recently announced that Earnhardt, along with former NASCAR Cup Series driver Jeff Burton, 2014 Cup Series champion Kevin Harvick, and Trackhouse Racing team owner Justin Marks, purchased the CARS Tour Late Model Series as well.
"I think that it's great for short track racing," said Brenden Queen, the winner of the South Carolina 400 at Florence last November. "It brings so much crowd and attention to us short track guys. We're grateful for it. Not that we didn't think that what we were doing was cool, but now we're getting more of a spotlight on it. It's a win-win for everybody involved."
Earnhardt also competed in last November's South Carolina 400. He ran as high as third before two rough-driving penalties caused him to finish in ninth. Florence Motor Speedway saw its biggest crowd in years with fans filling every open space in the grandstands that night.
"I think what's so imperative for me is you hear people all the time saying, 'Support your local short track' and that's great, especially when it comes from those bigger icons in the sport," said Brandon Pierce. "But I think we can all agree that all that matters is results, and it's the same thing in that. All that matters is action. I tip my cap to Dale for doing that. He has been more than involved and everything he's talked about doing he's done."
It's also a bit of a thrill for your every day Late Model racer to say they raced with (or beat) Dale Earnhardt Jr., even though many of them will tell you that once the race starts he's just another competitor.
"Most of us that seem to run Late Models now are younger, and we grew up watching Dale in NASCAR," said Ryan Millington. "For us to get a chance to race against him is a great opportunity. He's got good equipment and he's definitely going to be a factor to win at the Icebreaker because he had a real fast piece at the 400."
"It's cool for Dale to run with us, but there's so many good cars that once that green flag drops you have to just focus in on yourself," said Pierce. "He's there playing in the same sandbox that you're in. He's just another driver and team that you have to contend with. But with him being in the race it definitely wouldn't hurt at the end of the night when you look at the results and we're on top when you see him in the field. That would be pretty cool."
Queen was one of a few drivers at November's South Carolina 400 that got up close and personal with Earnhardt on the track. One of their run-ins led to Queen's left-rear quarter-panel getting folded in nicely.
"I sent a tweet to him when he announced that he was running to take it easy on my new quarter-panel," said Queen with a laugh. "It's fun to joke around with him about it. I moved him and he got into me, but nobody was going to wreck anybody. It was good short track racing. To do that with somebody like Junior was really cool.
@LeePulliam11 can you ask @DaleJr to be easy on the new Quarter panel this time haha https://t.co/VseD4YhawT

— Brenden Queen (@03Butterbean) January 26, 2023
"But to tell you the honest truth, when we strap into those cars it doesn't matter who it is. I'm going to race Junior just like I'm going to race the next guy in line. I think that's what Junior appreciates about it is nobody is going to roll over just because it's him. We're going to race him like he's one of the guys. That's how I treated the 400. It just happened to be Junior that we were rubbing with because we both were up front."
Queen also knows exactly what it's like to beat Earnhardt, as Queen went on to win the South Carolina 400 last November. It's a feeling that his teammate Pierce is hoping to feel on Saturday.
"For me it would be huge, not just because it would end a drought for myself and our group since 2019," explained Pierce. "We've been extremely close a couple of times, specifically speaking at Florence. Last year we had a really good run going and broke a rear axle inside of 10 to go and my teammate went on to win. We always have extremely strong cars there. It would just be a big weight off my shoulders in general. Not only for me but also for Lee (Pulliam), my car owner, because we just feel like we've had this one get away from us throughout different races over the past couple of years now. We've found every way to lose every way we can, so that would be cool to win it."
The 2023 Icebreaker at Florence Motor Speedway takes place on Saturday, February 11. The FloRacing broadcast will begin at approximately 2:30 p.m. ET. Race fans that are not already FloRacing subscribers can become one by clicking here.