2023 NASCAR Whelen Modified Tour 200 at New Smyrna Speedway
Stacked Entry List Released For NASCAR Modified Tour's Return To New Smyrna
Stacked Entry List Released For NASCAR Modified Tour's Return To New Smyrna
36 cars have filed entries for the season-opener for the NASCAR Whelen Modified Tour at Florida's New Smyrna Speedway on February 11.
Feb 2, 2023
by Rob Blount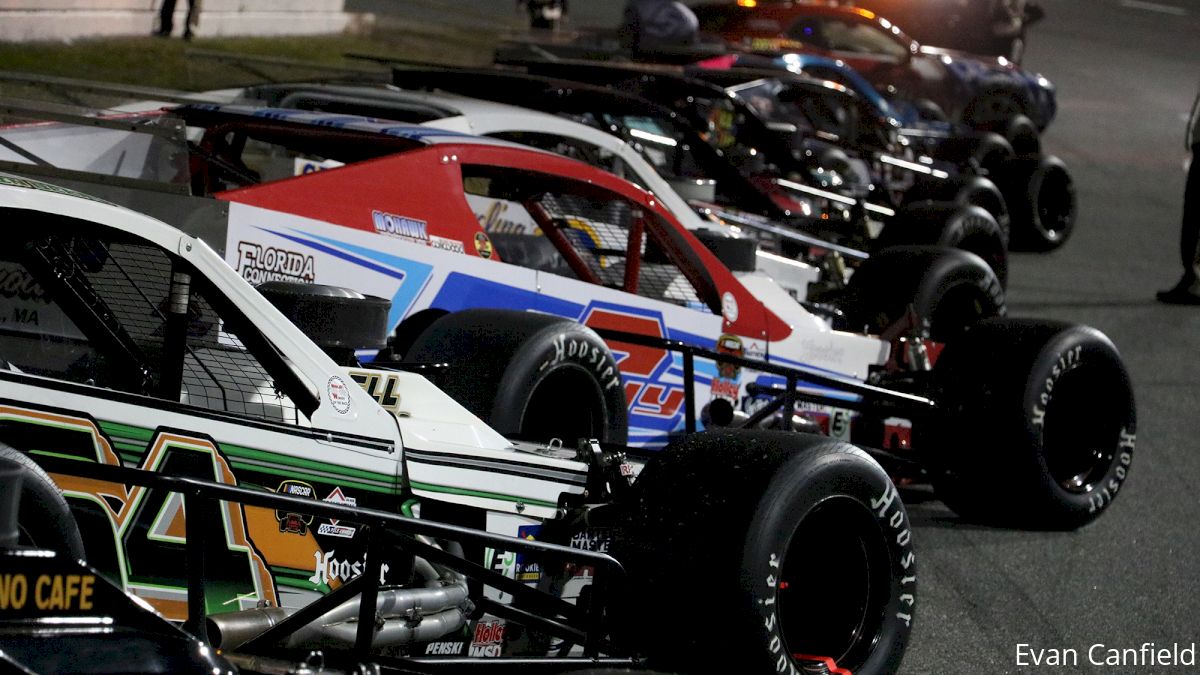 NASCAR Whelen Modified Tour officials have released the preliminary entry list for the season-opening "New Smyrna Beach Area Visitors Bureau 200" on February 11, and it is loaded deep with talent. The best of the best in Modified racing will be descending upon Florida's New Smyrna Speedway for the second year in a row.
The entry list boasts a strong 36 cars, and is headlined by the defending series champion, Jon McKennedy, and the defending race winner, Matt Hirschman.
McKennedy surprised many NASCAR Whelen Modified Tour followers by winning the championship in 2022 in just his second full season on the Tour. Though, realistically nobody should have been surprised. McKennedy is a champion in everything he's run, including winged Supermodifieds, and he also finished second in points in his rookie season in 2020. McKennedy finished fourth in this race one year ago.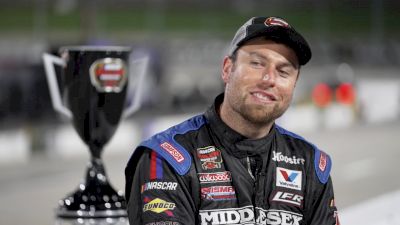 Jon McKennedy Goes In-Depth Describing What NASCAR Whelen Modified Tour Championship Means
Northampton, Pennsylvania's Hirschman went on to win this race last year, the first time the Tour ever held a race at the high-banked half-mile New Smyrna Speedway. Hirschman dominated the entire week at New Smyrna in 2022, scoring wins in this race, as well as in three of the five races held during the World Series of Asphalt Stock Car Racing. Even though his strong week failed to result in another World Series championship, it propelled Hirschman to a career-best season that included winning 28 of the 48 races he entered at 17 different tracks.
The driver that did end up winning the World Series championship was Howell, New Jersey's Jimmy Blewett. Blewett ran this race last year in a second car owned by Joseph Bertuccio. This year Blewett has filed an entry with his familiar red, white, and blue No. 76 family-owned Modified.
Six-time NASCAR Whelen Modified Tour champion Doug Coby will be one that the field has to contend with for the win this year. Coby ran a partial schedule in 2022, but recently announced that he will be piloting the famous black 7NY for Tommy Baldwin Racing to contend for a seventh championship this season. Coby and TBR went to victory lane three times in 2022. He was one of three different drivers to pilot the 7NY to victory lane as the team went on to win the owner's championship last season.
The famous "Ole Blue" No. 3 Modified owned by Boehler Racing Enterprises will be in the field for the season-opener next week for the second year in a row, though the driver will be different from last year. It was Ryan Preece behind the wheel last year, but Preece was recently promoted to run the full NASCAR Cup Series schedule for Stewart-Haas Racing. In his place will be Rehoboth, Massachusetts native, Jake Johnson. Johnson made six starts in Ole Blue in 2022, scoring two top-five finishes at Lee USA Speedway and Claremont Raceway, and four top-10 finishes.
The entry list also features familiar names like three-time champion Justin Bonsignore, multi-time race winners Eric Goodale, Patrick Emerling, and Craig Lutz, as well as last year's runner-up for the championship, the 2011 champion, Ron Silk.
Eight different states are represented across the entry list, with New York boasting the most drivers by a longshot. 13 drivers will be making the trip south from various parts of the Empire State. New Jersey and Connecticut are tied for the second-most entries with five each.
Although Florida is quite a few hours away from the region typically described as "Modified Country," the Sunshine State still is represented by three drivers for their home race. Former NASCAR Craftsman Truck Series winner, Joey Coulter, hails from Miami Springs, while Jeremy Gerstner's hometown is Wesley Chapel, and Chris Hatton Jr. will be making his NASCAR Whelen Modified Tour debut from nearby Deltona, Florida.
The NASCAR Whelen Modified Tour "New Smyrna Beach Area Visitors Bureau 200" at New Smyrna Speedway will take place on Saturday, February 11, live on FloRacing.
For the second year in a row, the entire NASCAR Whelen Modified Tour schedule can be seen live on FloRacing, the home for NASCAR Roots. Race fans can subscribe to FloRacing by clicking here.
New Smyrna Beach Area Visitors Bureau 200 Entry List
| | | | | |
| --- | --- | --- | --- | --- |
| Car No. | Driver | Owner | Crew Chief | Hometown |
| 01 | Melissa Fifield | Kenneth Fifield | Jake Marosz | Wakefield, NH |
| 02 | Joey Coulter | Coulter Motorsports | Harold Holly Jr. | Miami Springs, FL |
| 2 | JR Bertuccio Jr. | Joseph Bertuccio | Michael Bologna | Centereach, NY |
| 3 | Jake Johnson | Mike Boehler | Greg Fournier | Rehoboth, MA |
| 5 | Kyle Ebersole | Bob Ebersole | Bob Ebersole | Hummelstown, PA |
| 07 | Patrick Emerling | Jennifer Emerling | Jan Leaty | Orchard Park, NY |
| 7 | Doug Coby | Tommy Baldwin | Tommy Baldwin | Milford, CT |
| 09 | Chris Hatton Jr. | Chris Hatton | TBA | Deltona, FL |
| 12 | Anthony Bello | TBA | TBA | Newtown, CT |
| 16 | Ron Silk | Haydt Yannone Racing | Phil Moran | Norwalk, CT |
| 18 | Ken Heagy | Robert Pollifrone | Greg Gorman | Calverton, NY |
| 19 | Anthony Sesely | Thomas Wanick | Stephen Kopcik | Matawah, NJ |
| 22 | Kyle Bonsignore | Kyle Bonsignore | Cam McDermott | Bay Shore, NY |
| 24 | Andrew Krause | Diane Krause | Rob Hyer | Holmdel, NJ |
| 26 | Gary McDonald | Sean McDonald | Chad McDonald | Ronkonkoma, NY |
| 29 | Spencer Davis | Spencer Davis | Alex Query III | Dawsonville, GA |
| 32 | Tyler Rypkema | Dean Rypkema | Zach Truesdail | Owego, NY |
| 34 | JB Fortin | Nicole Fortin | Kenneth Lechner | Holtsville, NY |
| 36 | Dave Sapienza | Judy Thilberg | Eugene Orlando | Riverhead, NY |
| 41 | Kevin Shea | Kevin Shea | Brad Caddick | Mystic, CT |
| 43 | Matthew Kimball | William P. Kimball Jr. | Bill Kimball Jr. | Bennington, NH |
| 46 | Justin Brown | Russell Goodale | Doug Ogiejko | Manorville, NY |
| 51 | Justin Bonsignore | Kenneth Massa | Ryan Stone | Holtsville, NY |
| 54 | Tommy Catalano | David Catalano | David Catalano | Ontario, NY |
| 55 | Jeremy Gerstner | Dawn Gerstner | Stanley Butova | Wesley Chapel, FL |
| 58 | Eric Goodale | Edgar Goodale | Jason Shephard | Riverhead, NY |
| 60 | Matt Hirschman | Roy Hall | Michael Stein | Northampton, PA |
| 64 | Austin Beers | Mike Murphy | Ron Yuhas Jr. | Northampton, PA |
| 71 | James Pritchard Jr. | James Pritchard | Joseph Pritchard | Wharton, NJ |
| 76 | Jimmy Blewett | Jimmy Blewett | TBA | Howell, NJ |
| 79 | Jon McKennedy | Tim Lepine | Dale Hedquist | Chelmsford, MA |
| 82 | Craig Lutz | Danny Watts Jr. | Scott Tocci | Miller Place, NY |
| 92 | Anthony Nocella | Anthony Nocella | Chris Burdell | Berlin, MA |
| 99 | Ronnie Williams | Trey Tomaino | TBA | Vernon, CT |
| 120 | Eddie McCarthy | Edward McCarthy Jr. | Bill Cole | Brick, NJ |
| 125 | Brian Robie | Kayleigh Eastman | Scott Spaulding | Sunapee, NH |