2023 NASCAR Whelen Modified Tour 200 at New Smyrna Speedway
Doug Coby Joins Tommy Baldwin Racing For Full NASCAR Modified Tour Season
Doug Coby Joins Tommy Baldwin Racing For Full NASCAR Modified Tour Season
Six-time NASCAR Whelen Modified Tour champion Doug Coby is joining Tommy Baldwin Racing for the entire 2023 season.
Jan 27, 2023
by FloRacing Staff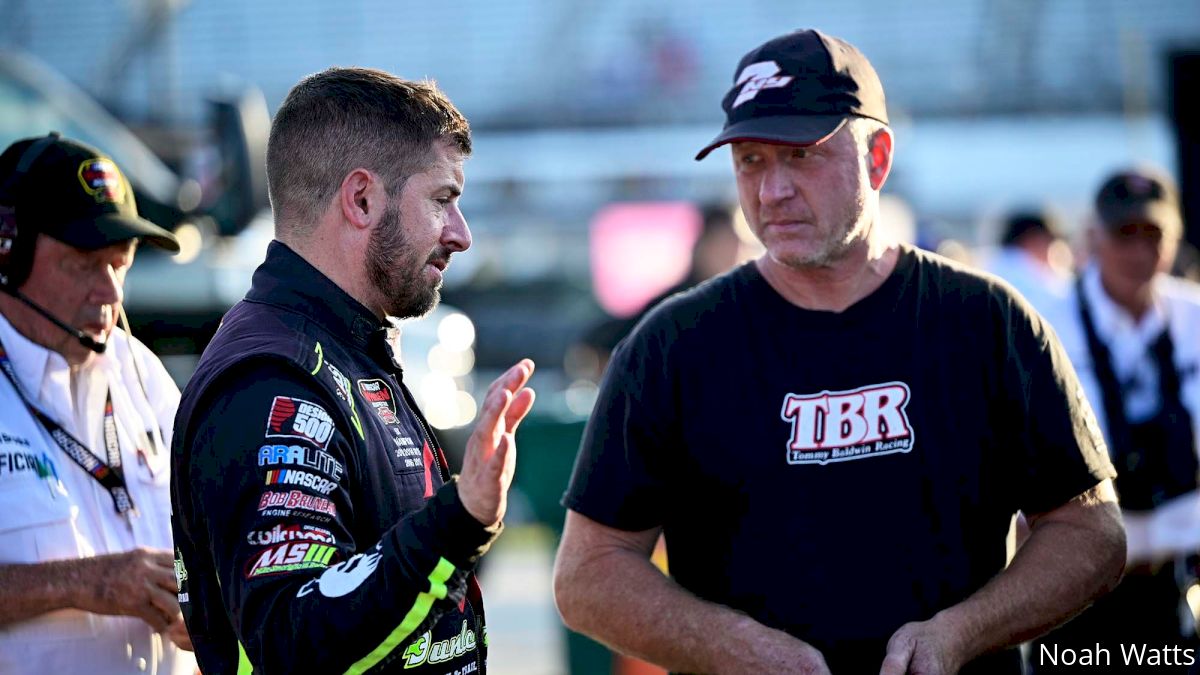 MILFORD, Conn. – Doug Coby and Tommy Baldwin Racing jointly announced today that Coby will pilot the historic No. 7NY for a full-time NASCAR Whelen Modified Tour campaign in 2023.
Set to compete in the 19-race schedule that begins in February at New Smyrna Speedway, the team will carry primary sponsorship from Mayhew Tools – a sponsor that has been with Coby since 2017 and is happy to make the move with him to TBR.
The partnership between Baldwin and Coby will allow the six-time series champion to chase a seventh championship, while also allowing Baldwin to try to continue his incredible run of success with his team. In 2022, Baldwin won the NASCAR Whelen Modified Tour owners championship with three different drivers – Coby as one of them. The Milford, Connecticut, veteran won three races with Baldwin in 2022, including two straight early in the season at Lee USA Speedway and Riverhead Raceway, and another at Langley Speedway.
Baldwin is excited to get work with Coby again, this time on a full-time basis.
"We worked together for the first time last year and it sparked success right from the first laps we had together on the track," Tommy Baldwin Jr. said. "Doug is a proven champion who knows how to be there at the end of races and the end of the year when it comes time to crown a champion. His record speaks for itself. With the year we had in 2022, we are looking forward to building on all of our success and putting ourselves back at the front again in 2023. Having Doug pilot the 7NY with the assistance of Mayhew Tools is a great opportunity for us."
Coby sits inside the top-six on the all-time wins on the Tour with 34 victories to go along with his six titles. He has finished inside the top-10 in the points in 12 consecutive seasons – including in 2022 – where he competed in 12 of the series' 16 events – driving nine races for Baldwin and three for his own team.
Mayhew Tools has been a major supporter of Coby in the last five years – including sponsoring his NASCAR Craftsman Truck Series debut at Bristol Motor Speedway in 2021. Mayhew also sponsors the NASCAR Whelen Modified Tour pole award at each event during the season.
"Mayhew Tools and I have a great relationship, with the goal being to bring brand awareness to the Mayhew name through our partnership on the NASCAR Whelen Modified Tour. I've been fortunate to have them with me at Mike Smeriglio Racing, my own team Doug Coby Racing, and now next season with Tommy Baldwin Racing," said Coby. "Tommy's family history in the Modifieds and his notoriety in NASCAR gives us a chance to get even more eyes on the Mayhew logo, and right now Tommy's preparing the fastest cars in the pit area, so teaming up with Tommy full time on the Tour in 2023 is a huge opportunity for us. Chasing my seventh NASCAR Whelen Modified Tour championship behind the wheel of the 7NY is a pretty neat story and I can't wait to build on the success we already found together last season."
The 2023 Whelen Modified Tour season will begin at New Smyrna Speedway in Florida on Saturday, February 11 and spread across eight states, ending in Virginia at Martinsville Speedway on Thursday, October 26, 2023. The series will visit multiple of New England's staple race tracks including Thompson Speedway Motorsports Park, Seekonk Speedway, Monadnock Speedway and more, while also helping to headline weekends with NASCAR National Series at New Hampshire Motor Speedway, Richmond Raceway and Martinsville Speedway, among other events. A full version of the 2023 NASCAR Whelen Modified Tour schedule can be found here.
"Mayhew Tools has been a supporter of Doug Coby and the NASCAR Whelen Modified Tour pole award for many years, and we have had a tremendous amount of success in the past with Doug and his race teams," said John Lawless, President of Mayhew Tools, "Last year was only a partial season for both Doug and Mayhew, but we are really looking forward to supporting the combination of Doug and Tommy Baldwin Racing for a full season on the Whelen Modified Tour. We think they're going to be a team that will certainly contend for many wins and a championship this season, and we are excited to help them work together on a full time basis."
Details surrounding any additional events in 2023 outside of the NASCAR Whelen Modified Tour schedule for Doug Coby will be announced at a later date.
For more information on Doug Coby Racing, visit DougCobyRacing.com and follow the team on Facebook for the latest updates. For more information on Tommy Baldwin Racing, visit the team on the all new TommyBaldwinRacing.com.