Two Short Track Stars For Each Track On 2023 SRX Schedule
Two Short Track Stars For Each Track On 2023 SRX Schedule
FloRacing names two short track stars who should join the SRX roster at each of the series' six events during the 2023 season.
Dec 21, 2022
by Brandon Paul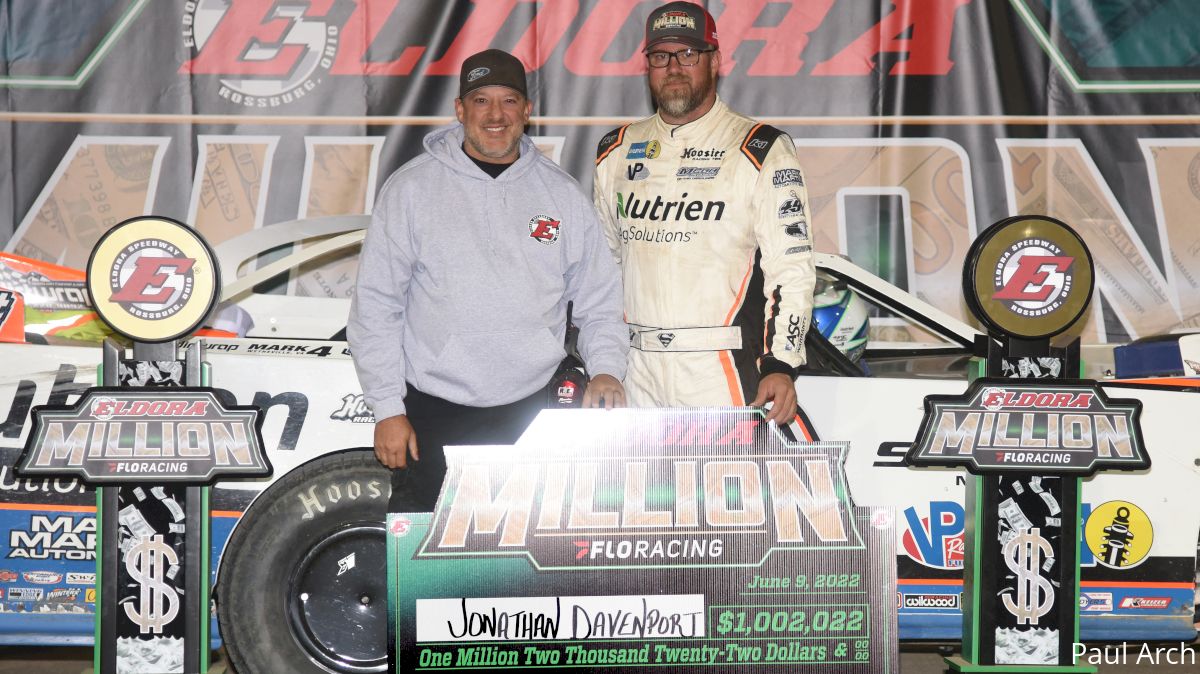 Since the inaugural Superstar Racing Experience (SRX) season in 2021, the series has provided a stage for local race car drivers to shine. In addition to nationally-known names like Tony Stewart, Bobby Labonte and Bill Elliott, a long list of local racing heroes like Bubba Pollard, Doug Coby, Luke Fenhaus and Scott Bloomquist have enjoyed their time in the spotlight.
On Tuesday morning, SRX officials and their new broadcast partners at ESPN announced a six-race schedule for the 2023 season. As part of ESPN's Thursday Night Thunder, the series will race on six consecutive Thursday nights beginning July 13 and ending on August 17.
With the announcement of the schedule, we are now one step closer to seeing what the third year of SRX racing will look like.
While the full-time roster of drivers has yet to be announced, the announcement of the six local short tracks on the schedule allows us to have a little bit of fun.
If the past is any indication, we can expect to see at least one local star competing alongside the regular cast of SRX characters at each event. So, we're going to have some fun and name two local drivers who should get a chance to race at each race track.
For the sake of this exercise, we are not going to include drivers who have already competed in an SRX event or who have experience in NASCAR's top-three national series.
Stafford Motor Speedway - Stafford Springs, CT (Thursday, July 13)
So far, the only local star who has won an SRX race has been Doug Coby, the winner of the inaugural SRX race at Stafford Motor Speedway in 2021. One year ago, Matt Hirschman won the prestigious Spring Sizzler event to earn his ticket to compete in the SRX event.
Who's it going to be this year at Stafford? While it's possible the Spring Sizzler winner will once again be awarded the golden ticket, we're going to pretend this isn't the case.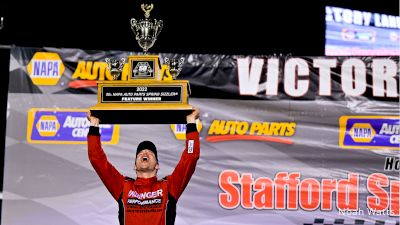 VIDEO: Matt Hirschman earned an SRX ride with a special Spring Sizzler win in 2022.
Woody Pitkat - Can you imagine the atmosphere at Stafford Motor Speedway if the "Sultan of Stafford" is in the field? Pitkat has certainly earned the opportunity over the years with 81 career victories at his hometrack, which currently ranks second behind only Ted Christopher on the all-time feature winners list.
Keith Rocco - You can't talk about Stafford without mentioning Rocco's name. The 2010 NASCAR Advance Auto Parts Weekly Series national champion has an impressive resume at Stafford that includes 78 career wins and four SK Modified championships.
Thunder Road Speedbowl - Barre, VT (Thursday, July 20)
Out of the six tracks on the schedule, Thunder Road may have been the easiest decision we had to make. Over the last decade, there have been two drivers who have established themselves as two of the best to ever do it at the "Nation's Site of Excitement." They also both call Barre, Vermont their hometown.
Jason Corliss - There has been nobody better than Corliss at Thunder Road over the last five seasons. The hometown driver has parked his No. 66 Late Model in victory lane at every major event held at the track and has kissed the cow on three occasions after winning the track's signature event, the Vermont Milk Bowl. He also won three consecutive track championships between 2019 and 2021.
Nick Sweet - While Sweet hasn't raced at his hometown track as often in recent years, he's still a threat to win everytime he does. Sweet is tied for the all-time record with four career Milk Bowl victories, with his most recent coming during the 2021 season. Like Corliss, Sweet has won other marquee events like the Labor Day Classic, Memorial Day Classic and Vermont Governor's Cup.
Motor Mile Speedway - Radford, VA (Thursday, July 27)
Mike Looney - Since 1995, Looney has been competing and winning races at Motor Mile Speedway. The Virginia native was the winningest driver at the track in 2022 with eight wins to his credit. While Looney has a rich history at Motor Mile, he may be known most for his underdog victory in the 2016 ValleyStar Credit Union 300 at Martinsville Speedway. If SRX has a desire to promote true grassroots racers, Looney is a perfect example of that.
Lee Pulliam - We're going out on a limb a little bit with this one given that Pulliam hasn't been behind the wheel since 2020, but there's little doubt that he would be competitive at Motor Mile. Pulliam has a career winning percentage of 64% (64 of 100 races) at the Virginia oval and holds the track record for most wins in a single season with 16. Did we mention that he's a four-time NASCAR Advance Auto Parts Weekly Series champion?
Berlin Raceway - Marne, MI (Thursday, August 3)
Brian Campbell - When drivers show up to Berlin Raceway, they know they're going to have to beat Campbell to win the race. The veteran racer from Battle Creek, MI is a two-time winner of the Money In The Bank 150 and a former winner of the Battle at Berlin 251. Add in all of his weekly Super Late Model wins, as well as wins with the ARCA/CRA Super Series and JEGS/CRA All-Stars Tour, and you have a driver who knows how to get around Berlin Raceway.
Evan Shotko - We go from a driver with a long history at Berlin Raceway to a driver who was relatively unheard of before this past season. Shotko beat Campbell in the battle for the track championship in 2022 and also came out on top to score the biggest win of his career in the Money In The Bank 150. Competing against SRX stars could provide the 19-year old with a chance to show off his talents to the world.
VIDEO: Evan Shotko reflects on the biggest win of his life at Berlin Raceway.
Eldora Speedway - Rossburg, OH (Thursday, August 10)
Eldora joins Stafford as the only track on the schedule that has previously hosted an SRX event. In 2021, track owner Tony Stewart crossed the finish line first with seven-time USAC Silver Crown champion Kody Swanson hot on his heels.
Who should represent the short track stars this time around at Eldora?
Jonathan Davenport - The man has a cow named "Eldora." Do we really need to say more? The driver known as "Superman" has been a dominant force at Eldora Speedway in recent years with five World 100 wins and a Dirt Late Model Dream win. If that isn't enough, Davenport put an exclamation point on his Eldora resume last June when he won the second running of the Eldora Million, claiming a $1 million check in the process.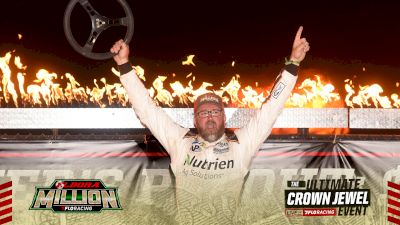 VIDEO: FloRacing went in-depth with Jonathan Davenport after he became a millionaire at Eldora Speedway.
Tyler Courtney - How about we bring a little "Sunshine" to SRX in 2023? Courtney has been one of the most successful open-wheel racers at Eldora in recent years with a whopping 13 victories at the track since 2017. Highlighted by a Kings Royal win at the track in 2021, Courtney's resume also includes wins with the USAC Sprint Cars, USAC Midgets, USAC Silver Crown and All Star Circuit of Champions at "The Big E."
Lucas Oil Speedway - Wheatland, MO (Thursday, August 17)
Chris Ferguson - The Show-Me 100 is the biggest event held each year at Lucas Oil Speedway, and Chris Ferguson is the defending winner of that race. In addition to his crown jewel win at the track one year ago, "Fergy" also collected a Lucas Oil Late Model Dirt Series Diamond Nationals win in 2020.
Tim McCreadie - We're going out on a limb a little bit with this one, but wouldn't it make sense for the two-time Lucas Oil Late Model Dirt Series champion to join the SRX field at Lucas Oil Speedway? And it's not like McCradie hasn't experienced success at the track either. "T-Mac" won the 2021 Lucas Oil Late Model Dirt Series Cowboy Classic and the 2017 Tribute to Don and Billie Gibson at the Wheatland, Missouri oval.