Every time we attend a race, we hope to see something special – an amazing move to take the lead, a memorable duel, someone overcoming the odds stacked against them, or pretty much something you don't see on a regular basis. These are those eight moments from the 2020 USAC National season that drew us out of our seats and made us say "wow!"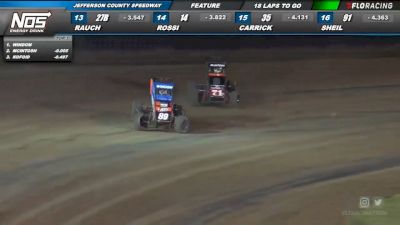 Unlock this video, live events, and more with a subscription!
Get Started
Already a subscriber? Log In
5. Windom Withstands The Heat In Fairbury Opener
Oct 28, 2020
Chris Windom withstood Buddy Kofoid's repeated, relentless challenges down the stretch, including a spellbindingly hellacious final four lap trophy dash to the finish, to capture the opening night of the Riverside Chevrolet-Buick-Cadillac Midwest Midget Championship presented by Westin Meats & Schmidt's Sanitation at Fairbury, Nebraska's Jefferson County Speedway.
It worked out A-Okay for Windom during the first couple of laps following the restart, but Kofoid was setting up his next move that he ultimately made with two laps remaining, sliding by Windom entering the first turn with little room to spare. Windom made contact with the rear bumper of Kofoid, elevating all four wheels of Windom's car off the racing surface.
Once Windom landed on all fours, he took off straight for the bottom of turn three as Daison Pursley stuck a nose into the battle to briefly make it three-wide on the back straightaway. Windom got to the bottom first, exited off turn four and, as he sped underneath the white flag, attempted to jet back to the bottom of turn one, resulting in contact between Kofoid's front chrome and Windom's rear bumper.
That move slowed up Windom's momentum off turn two, but Kofoid was only able to get half a car length under Windom as Windom made a beeline back to the bottom of turn three, forcing Kofoid and Pursley to try high as a last ditch effort, to no avail, as Windom sprinted to the checkered flag first.