2022 ARCA Menards Series West at Phoenix Raceway
Sammy Smith Wins ARCA West Finale While Jake Drew Captures Championship
Sammy Smith Wins ARCA West Finale While Jake Drew Captures Championship
Jake Drew was crowned the ARCA Menards Series West champion at Phoenix Raceway while Sammy Smith scored the win in the season finale
Nov 7, 2022
by NASCAR Roots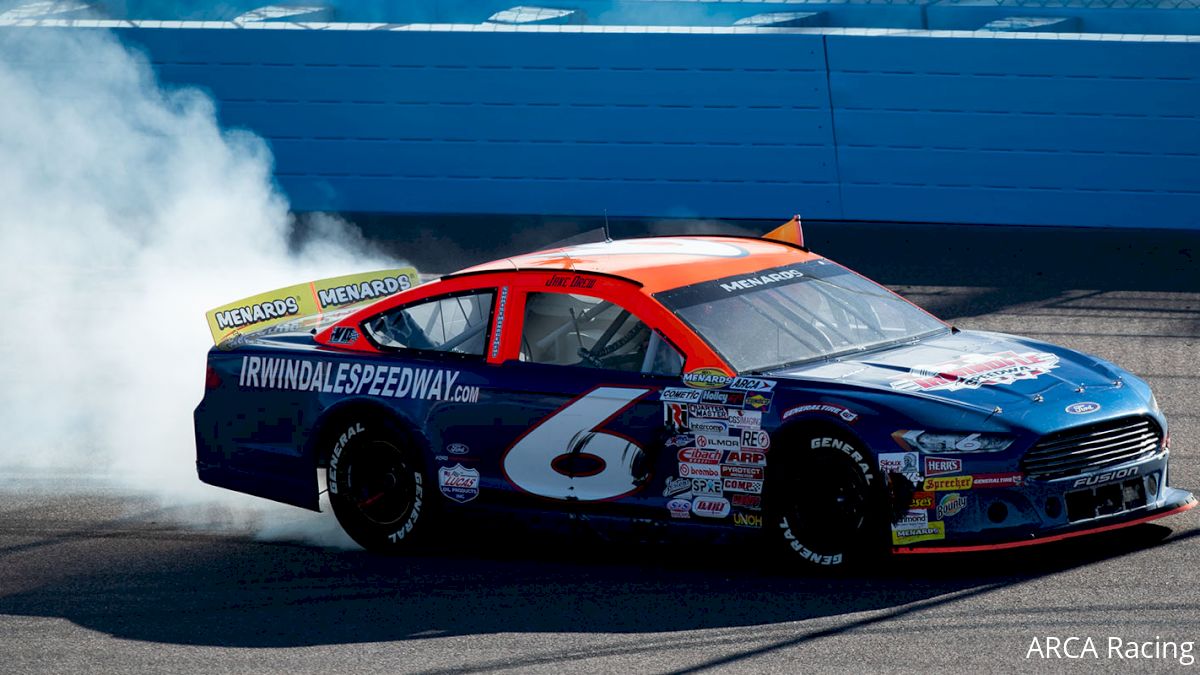 Redemption was on Jake Drew's mind when he arrived at Phoenix Raceway this weekend.
After losing last year's ARCA Menards Series West title in a tiebreaker with Jesse Love, Drew entered the Desert Diamond Casino West Valley 100 with almost no stress to deal with, as he only had to take the green flag Friday to clinch the 2022 championship.
Drew wanted nothing more than to give Sunrise Ford Racing owners Bob and Maureen Bruncati their fourth title as team owners in the West Series when 2022 began. He said their flawless campaign together is a testament to the organization's efficiency and camaraderie.
"This team is a family," Drew said. "I can't believe how hard everyone works in this organization, and I'm so thankful for the opportunity everyone [at Sunrise Ford Racing] has given me to do this. They all work so hard so that I can succeed at this level, and I'm just so thankful for all of them."
After having to battle five other drivers for the West Series title in 2021, Drew stayed one step ahead of his competition through all 11 races this year.
The Fullerton, California native tallied four West victories on his resume following a winless rookie campaign while also recording five top-five finishes. Friday's finale at Phoenix was the only time all year that Drew finished outside the top 10.
Drew anticipated he would be up at the forefront of the West Series title fight following his near miss in 2021, and he is honored to join Jason Bowles and Derek Thorn as drivers to win a championship for Sunrise Ford Racing.
"We knew we were going to have a good year, and I'm happy we pieced it all together," Drew said. "Everybody here is full of heart and they all love what they do. It shows every week."
Although Drew was one of the fastest drivers all year in the West Series, he was primarily a spectator to the dominant performance Sammy Smith and Kyle Busch Motorsports put together in the Desert Diamond Casino West Valley 100.
Smith easily asserted his authority over the 30-car field despite having to overcome a one-lap penalty stemming from an incident that saw him turn Taylor Gray into the outside retaining wall while battling for the lead.
Smith defended himself over the incident and said Gray was too aggressive with a block.
"[Taylor] was running me tight and putting [the car] on my door," Smith said. "I got a little bit free, washed up into him, and I felt like I was still there when he came down. I wasn't going to get used up, and I feel like I've been used up by him a couple of times this year. That wasn't going to happen again."
The victory for Smith on Friday gave him his 10th overall between the three ARCA divisions in 2022. His accomplishments on the year also include the ARCA Menards Series East title and the Sioux Chief Showdown championship.
Smith said his stellar ARCA season would not have been possible without everyone at Kyle Busch Motorsports and Joe Gibbs Racing helping him with his development. He is confident the efficiency he displayed throughout the year will carry over into 2023.
"We had the best car all day," Smith said. "It sucks what happened [with Taylor and the penalty], but I can't thank everyone [at Kyle Busch Motorsports enough] for bringing me such an awesome car. It's good to end the year like this. I love these guys and I'm looking forward to the future."
The atmosphere for both Smith and Drew after Friday's finale was equal parts rewarding and bittersweet.
Friday not only served as Kyle Busch Motorsports' final ARCA race under the Toyota banner, but also the final race for the Bruncati family as team owners in the West Series.
Bob Bruncati knew Drew always had the potential to be a champion from the moment he first him. While the championship celebration proved to be emotional in many aspects, Bruncati considered it fitting that his long-time protégé in Drew closed out his tenure in the West Series with a title.
"This has been an unbelievable year," Bruncati said. "I spotted [Drew] in go-karting about four years ago, and I've been nurturing him ever since."
Drew considers the Bruncati family to be an integral part of everything that has made the West Series special over the past couple decades. He knows their presence in the series will be missed, but he intends to remember the compassion and guidance they showed him as he moves forward with his career.
"It's truly special to be a part of [this championship]," Drew said. "I'm so thankful for the opportunity [Bob and Maureen] have given me to [drive for their team], and it's incredibly special to be the one delivering for them."
Following Smith across the line in second was 2021 West Series champion Jesse Love, with Andres Perez de Lara, Landon Pembelton and Todd Souza completing the top five.
Rounding out the top 10 in Friday's West Series finale were Landen Lewis, Bradley Erickson, Parker Chase, Jake Finch and Tanner Reif. Drew ended up crossing the line 13th after getting shuffled on the final restart.
A replay of the Desert Diamond Casino West Valley 100 will be shown on the USA Network on Friday, Nov. 11 at 1 p.m. ET.