2022 ARCA Menards Series West at Phoenix Raceway
Jake Drew Ready To Be Crowned ARCA West Champion At Phoenix
Jake Drew Ready To Be Crowned ARCA West Champion At Phoenix
The 2022 ARCA Menards Series West season comes to a close at Arizona's Phoenix Raceway with Jake Drew about to be crowned champion
Nov 3, 2022
by NASCAR Roots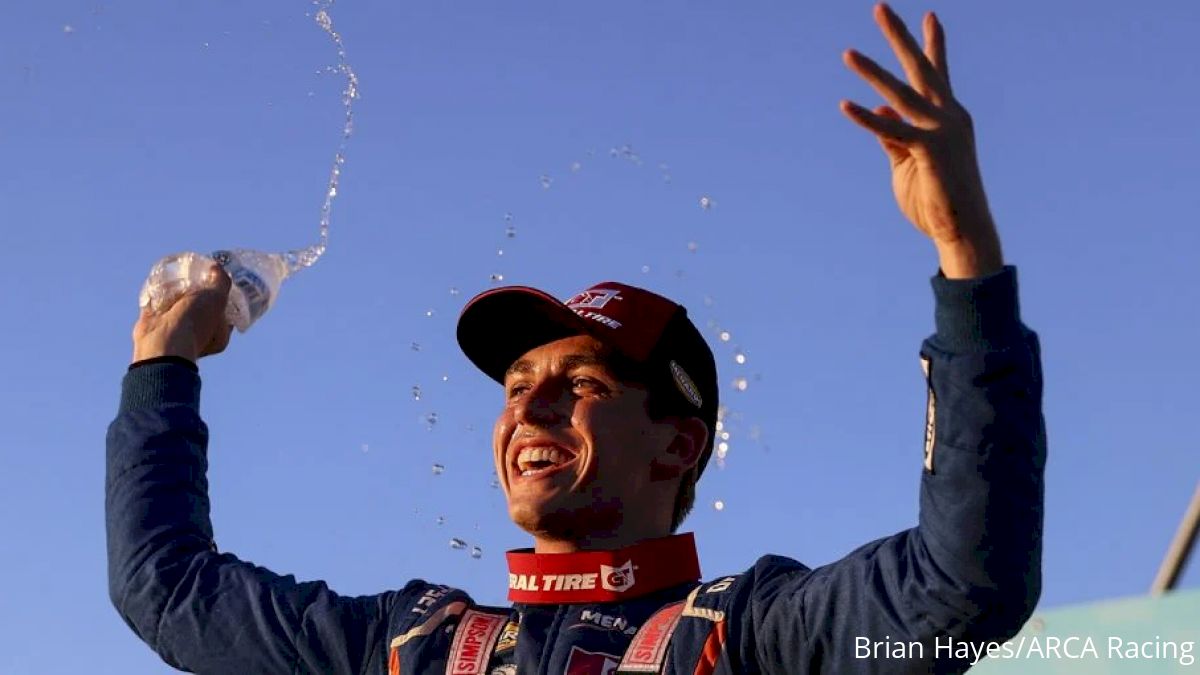 Jake Drew can take a deep breath, he doesn't have anything to worry about.
All he needs to do is start Friday's ARCA Menards Series West finale at Phoenix Raceway to lock up his first West Series championship.
That's a lot different than one year ago, when Drew was one of a whopping seven drivers who entered the finale at Phoenix with a chance to win the series championship. He ended up tied with Jesse Love but lost the championship via a tiebreaker, which went to Love based on his two victories that season.
Knowing all he has to do is start Friday's Desert Diamond Casino West Valley 100 to secure his first West Series championship is a big relief for Drew and the entire Sunrise Ford Racing team.
"I feel very relieved that I'm not in the same situation I was last year," Drew said. "I also feel a sense of pride and I'm proud of myself and this whole team and what we've been able to accomplish. I came into last year as a rookie with very minimal experience, so to even go to the last race in Phoenix and even be contending for a championship was such an honor to me. I felt excited to be apart of that.
"Then to move forward a year and just have an excellent year with wins and poles, just dominant performances almost every time, it's been amazing to show how much we've grown and show how much I've grown. We just kind of showed everybody what we could do."
Compared to his rivals, Drew has been in a different league all season. He's scored four victories this year, more than any other West Series competitor, and hasn't finished outside the top-10 through the first 10 races of the season. In fact, his worst finish this season is eighth, which came in the most recent race at The Bullring at Las Vegas Motor Speedway.
Prior to that, Drew hadn't finished worse than fifth all season and at one point went seven consecutive races where he finished second or better.
"I don't want to say I expected it because I don't feel like that's a very nice way of saying it, but I had very high hopes for a good season," Drew said. "I was very confident in my abilities to perform well each weekend. I had a lot of confidence in my team. I made the change to work with (crew chief) Bill Sedgwick and work with the No. 6 car. I felt like during pre-season testing I was really learning a lot with him and really gelling well.
"I'm just so happy that it all pulled together."
Knowing that the West Series championship is effectively locked up, Drew says he can put 100 percent of his focus on winning the finale at Phoenix Raceway to add to his impressive season-long stat sheet.
"My stress level is zero. I'm eager to get out there and I'm eager to have some fun," Drew said.
Looking back on his success throughout the 2022 season, Drew gave all the credit to Sunrise Ford Racing owners Bob and Maureen Bruncati as well as his crew, sponsors, family and friends. Without them, Drew said, none of his success this year would have been possible.
"I really just want to say thank you to Bob and Marueen and the rest of the Bruncati family," Drew said. "Thank you to Bill Sedgwick for all the amazing work he's done this year and all the advice and help he's given me from racing deals to being behind the wheel and how to be better at that. Thank you to my entire crew for all the work they do at the track. A huge thank you to Chris Pavlich, Dennis Belloso and Mike Fisk for all the work they do in the shop to make sure everything is ready to go every weekend.
"Of course thank you to all my supporters who have helped me these last two years and the biggest thank you goes to my family for being behind me 100 percent."
Second still up for grabs in West Series standings
While Jake Drew needs only to start Friday's Desert Diamond Casino West Valley 100 to claim his first ARCA Menards Series West championship, the battle for second in the series standings will go all the way to the checkered flag.
Drew's Sunrise Ford Racing rookie teammate, Tanner Reif, currently sits second in the standings thanks to two victories this season at California's Irwindale Speedway and Washington's Evergreen Speedway.
One point further back is Bill McAnally Racing competitor Cole Moore, who claimed his first West Series triumph on Oct. 1 at All American Speedway in Roseville, California.
Lastly, Todd Souza is fourth in the series standings, 10 points behind Reif and nine points behind Moore. Souza's best finish this season is second, which came at the tour's second stop at Portland International Raceway on Sept. 3.
Regardless which driver ends up second in the standings, it would mark a career best for any of the trio. Moore's previous best finish was third last year while Souza's best championship result was fourth last season. This is Reif's first full season of competition in the West Series.
NOTES:
Sammy Smith, the winningest driver on the ARCA platform this year with nine victories, will look to make it an even 10 Friday at Phoenix Raceway. He's already captured the ARCA Menards Series East and Sioux Chief Showdown championships this year in addition to the ARCA Menards Series owners' championship with Kyle Busch Motorsports.
Zach Herrin is slated to make his ARCA Menards Series West debut this weekend at Phoenix Raceway for Fast Track Racing. His only other ARCA experience came earlier this year at Daytona International Speedway when he took part in the annual pre-race practice in January.
Two drivers scheduled to take part in the Advance Auto Parts Driver for Diversity Combine – Andres Perez de Lara and Katie Hettinger – will again join the West Series field at Phoenix Raceway. They both debuted with the series at The Bullring at Las Vegas Motor Speedway, with Perez de Lara finishing second and Hettinger retiring from the event following an early crash.