2022 NASCAR Whelen Modified Tour at Martinsville Speedway
NASCAR Whelen Modified Tour Releases Largest Schedule In 19 Years
NASCAR Whelen Modified Tour Releases Largest Schedule In 19 Years
NASCAR Whelen Modified Tour officials have released a 19-race schedule for the 2023 season, the largest schedule for the tour since the 2004 season.
Oct 27, 2022
by Brandon Paul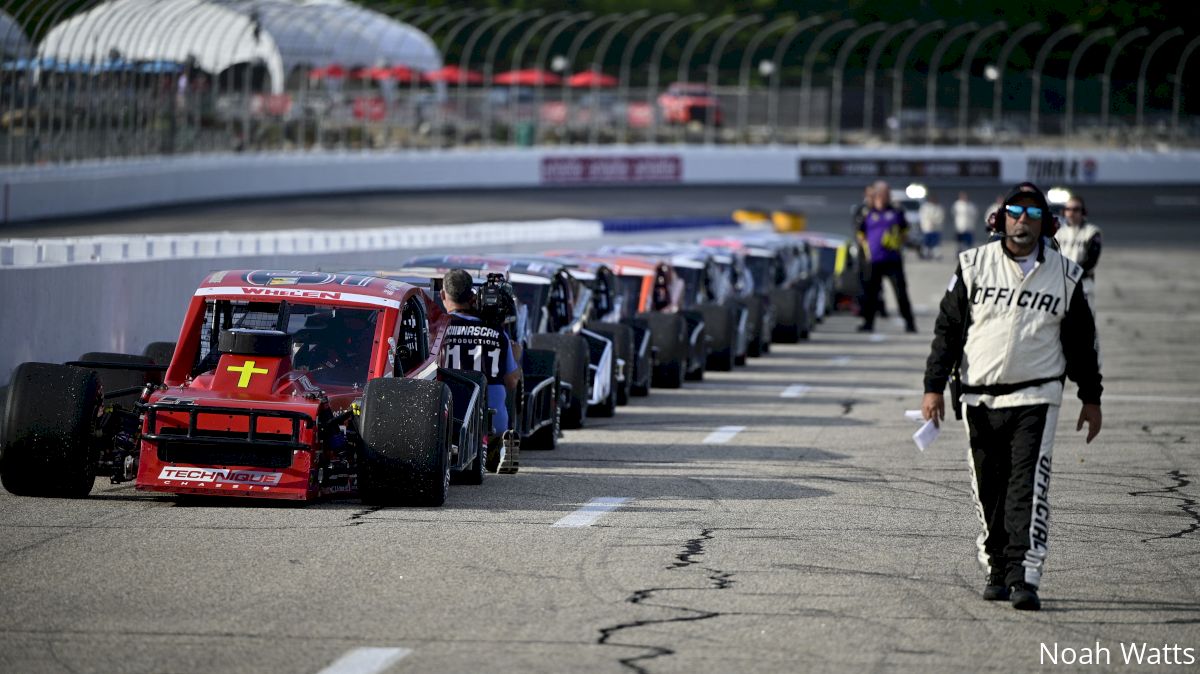 Prior to crowning a champion on Thursday at Martinsville Speedway, NASCAR officials released an ambitious schedule for the 2023 NASCAR Whelen Modified Tour season. The 19-race schedule, which is highlighted by the addition of North Wilkesboro Speedway, is the largest schedule for the Modified Tour since the 2004 season.
As announced last February following a successful inaugural event at New Smyrna Speedway, the NASCAR Whelen Modified Tour season will once again begin in New Smyrna Beach, Florida on Saturday, February 11.
Likewise, the season will again conclude and a champion will be crowned during NASCAR Cup Series weekend at Martinsville Speedway on October 26.
What happens between the season opener and the championship race is where things get interesting for NASCAR's oldest touring division.
The most intriguing addition to the schedule comes in the form of the revitalized North Wilkesboro Speedway on Saturday, September 30. It is unclear at this time whether that date will be a standalone event for the NASCAR Whelen Modified Tour or a combination race with one of NASCAR's national series.
In addition to North Wilkesboro, a pair of tracks will return after not being on the schedule in 2022. On Saturday, June 10 the tour will return to "The Cement Palace" known as Seekonk Speedway for the first time since the 2019 season. After a year away, Lancaster Motorplex also returns to the NASCAR Whelen Modified Tour schedule on Saturday, August 5.
The tour will once again share the spotlight with the NASCAR Cup Series on three different occasions in 2023. These occasions include a visit to Richmond Raceway on March 31, New Hampshire Motor Speedway on July 15 and the season finale at Martinsville Speedway on October 26.
A handful of staple tracks on the tour will return with multiple dates during the 2023 season. Riverhead Raceway hosts three events on May 20, June 24 and September 16. Thompson Speedway Motorsports Park returns with a traditional Wednesday event on August 16 and for the Sunoco World Series on Sunday, October 8. After hosting just one race in 2022, Monadnock Speedway will double the fun in 2023 with events on May 6 and September 9.
Other events on the schedule include a return to the Jersey Shore's Wall Stadium on July 8, Virginia's Langley Speedway on August 26, and Oswego Speedway on September 2 during Bud Classic Weekend.
Before we get to what should be an exciting 2023 NASCAR Whelen Modified Tour season, we still need to crown a 2022 champion. That will occur Thursday night when Modified stars battle around the paperclip at Martinsville Speedway.
Fans unable to attend Thursday night's race will be able to watch all of the action live on FloRacing beginning with qualifying at 6 p.m. ET. If you're not already a FloRacing subscriber, click here to sign up today.
2023 NASCAR Whelen Modified Tour Schedule
| | |
| --- | --- |
| February 11 | New Smyrna Speedway |
| March 31 | Richmond Raceway |
| May 6 | Monadnock Speedway |
| May 20 | Riverhead Raceway |
| May 27 | TBA |
| June 10 | Seekonk Speedway |
| June 24 | Riverhead Raceway |
| July 8 | Wall Stadium |
| July 15 | New Hampshire Motor Speedway |
| July 29 | TBA |
| August 5 | Lancaster Motorplex |
| August 16 | Thompson Speedway Motorsports Park |
| August 26 | Langley Speedway |
| September 2 | Oswego Speedway |
| September 9 | Monadnock Speedway |
| September 16 | Riverhead Raceway |
| September 30 | North Wilkesboro Speedway |
| October 8 | Thompson Speedway Motorsports Park |
| October 26 | Martinsville Speedway |