2022 SMART Modifieds at Motor Mile Speedway
Heady, Baldwin Lock Up SMART Modified Championship at Motor Mile Speedway
Heady, Baldwin Lock Up SMART Modified Championship at Motor Mile Speedway
Caleb Heady and Tommy Baldwin Racing scored the SMART Modified Tour championship Saturday night at Motor Mile Speedway
Oct 24, 2022
by FloRacing Staff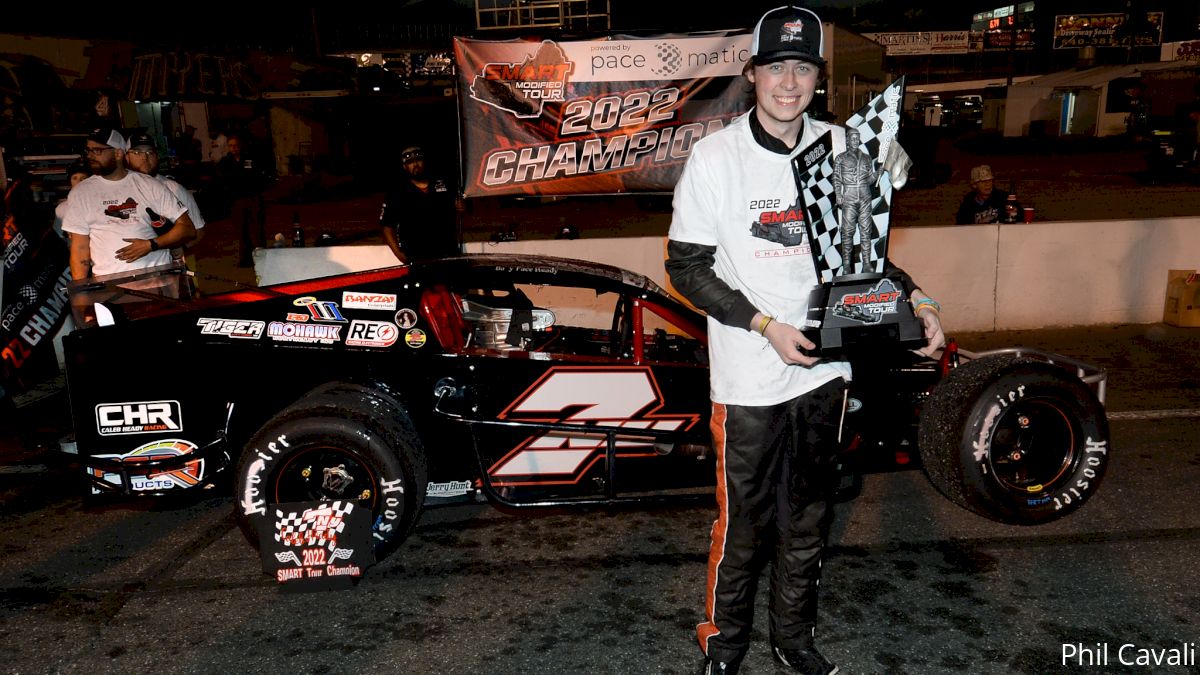 It's been a dream year for the team and it isn't over yet.
"To get everyone together and do what we did this year, I don't even know what to say," Baldwin said. "Three championships, four different drivers. I love the SMART Modified Tour and the tracks we race on. I'm so proud of everyone that has helped me get here today. To win all of these titles and all of the races with these guys behind me, it's awesome."
Baldwin is used to working with a variety of different style drivers, especially this year. On the NASCAR Whelen Modified Tour, he worked with three different drivers, each of different experience levels. Six-time series champion Doug Coby, multiple-time Wall Stadium Speedway champion Jimmy Blewett and rising star Mike Christopher Jr. wheeled for him on the Tour. On the SMART Tour, it was Heady – who is new to Modifieds – but caught on quickly.
Working with young blood is nothing Baldwin wasn't prepared for.
"I've worked with young drivers my whole life – dealing with drivers like Kasey Kahne in the NASCAR Cup Series down through Caleb and my sons – you have to let them grow and watch them grow and help them get there," Baldwin said. "It's been so much fun this year dealing with all of the different drivers and different attitudes. Caleb has been great to work with."
Heady jumped from the car at Motor Mile, elated with the championship trophy on the SMART Modified Tour, even after a difficult day at a track where he felt confident. To race in a growing Southern Modified division like the SMART Series against the likes of NASCAR Hall of Famer Bobby Labonte, southern modified great Burt Myers, and others, winning the title is a massive accomplishment.
"Man this is crazy," Heady said. "This is our first full year trying in the Modifieds and to win the championship, it's special. To be able to not even finish the last race and still win the championship, because we were so far ahead, it's incredible."
"Going into the race we knew we were in a good spot," Heady continued. "But the second we broke, I was nervous. The nerves were high but it's over now and we did it. The car is just bad fast everywhere we go. If we lose a race, it comes down to whoever is in the driver's seat. I can't thank Tommy and the team enough for helping me along the way… at the end of the day, we're champions. We got it!"
Tommy Baldwin Racing will return to the track for the NASCAR Whelen Modified Tour season-finale at Martinsville Speedway on Thursday, October 27. The team will officially be crowned the champions for the series owner's title.
For more information on Tommy Baldwin Racing, visit the team on Facebook for the latest updates.