2022 NASCAR Whelen Modified Tour at Martinsville Speedway
Labonte, LaJoie & Newman Joining NASCAR Modified Stars At Martinsville
Labonte, LaJoie & Newman Joining NASCAR Modified Stars At Martinsville
A bevy of NASCAR Cup Series talent will join the NASCAR Whelen Modified Tour stars for the season finale at the Martinsville Speedway
Oct 24, 2022
by Rob Blount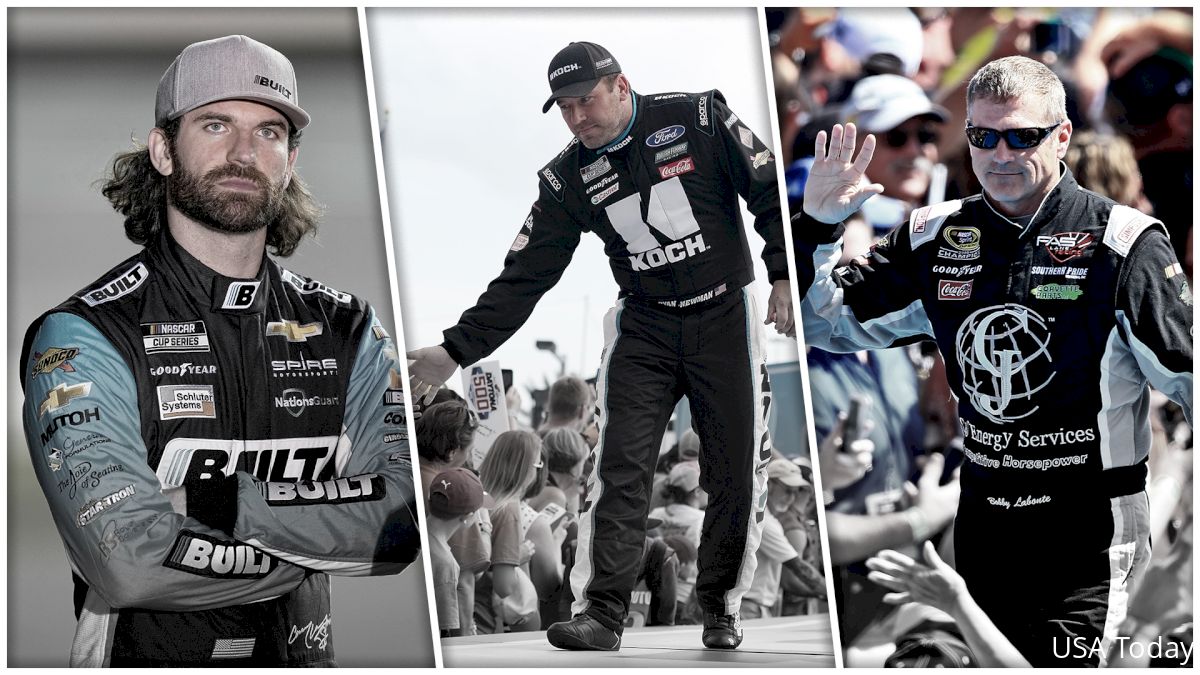 The entry list for the NASCAR Whelen Modified Tour's "Virginia is for Racing Lovers 200" at Martinsville Speedway on Thursday night has been released, and boy is it a stacked one. 37 cars have filed entries, with some of Modified racing and NASCAR racing's best on the list.
We'll start off with a past NASCAR champion and Hall of Famer who is making his NASCAR Whelen Modified Tour debut on Thursday night. If you guessed Bobby Labonte, you'd be correct. The Corpus Christi, Texas native will be making his first NWMT start on Thursday after running with the SMART Modified Tour all season long where he finished in the top three in points. Labonte has made 42 career starts at Martinsville with the NASCAR Cup Series, scoring one victory at the legendary half-mile way back in April of 2002. Labonte will be racing an entry fielded by Phil Stefanelli.
In more NASCAR Cup Series flair, 2008 Daytona 500 champion Ryan Newman will strap in behind the wheel of a Modified once again. Newman will be piloting a car owned by Hermie Sadler, the same car he drove to a 13th-place finish earlier this season at the Richmond Raceway. Newman has four NASCAR Whelen Modified Tour victories to his resume, and one win at Martinsville in the NASCAR Cup Series back in 2012. Newman finished 29th in this race in 2021 after falling out early with engine troubles.
Current Cup Series competitor Corey LaJoie will make his second NWMT start of 2022 on Thursday night driving a car owned by Mike Curb and prepared by Daytona 500 champion crew chief, Kevin "Bono" Manion. LaJoie finished ninth in July at the New Hampshire Motor Speedway earlier this year. This will be LaJoie's first NWMT start at the Martinsville Speedway.
Former Cup Series driver and 2013 NASCAR Whelen Modified Tour champion Ryan Preece will be making his fifth start of the season on Thursday night. Preece will be behind the wheel of the legendary "Ole Blue" No. 3 machine owned by Jan Boehler and Boehler Racing Enterprises. Preece's first NWMT victory came at Martinsville in 2008 driving Ole Blue.
Former winner in the NASCAR Camping World Trucks Series Joey Coulter will be attempting his third career NWMT start Thursday in Martinsville. Coulter has finishes of 25th at New Smyrna Speedway and 29th at Riverhead Raceway so far this season. Coulter has two top-five finishes in eight NCWTS starts at Martinsville Speedway.
"Big Money" Matt Hirschman will be making the trip south from Mud Lane in Northampton, Pennsylvania to Martinsville Speedway this week. It will be Hirschman's seventh start of the season. In his prior six starts this year Hirschman has finished no worse than fifth. Hirschman also scored the win in the season-opener back in February at Florida's New Smyrna Speedway. Hirschman has won just about everything there is to win behind the wheel of a Modified, except a grandfather clock. Hirschman has finishes of seventh, 16th, and a runner-up finish in 2008.
Six-time NWMT champion Doug Coby will be back behind the wheel of his own No. 10 Modified Thursday as he looks to bring home his first grandfather clock. Coby has two fifth-place finishes at Martinsville and he finished sixth in this race one year ago.
Out of all 37 entries, just four of them have ever visited victory lane at Martinsville after a NWMT race. Preece in 2008, Eric Goodale one year ago, Bobby Santos III in 2010, and Jimmy Blewett back in September of 2006. Newman and Labonte are the only other drivers in the field to have won at Martinsville across any series, with each of them having won NASCAR Cup Series races here.
And then of course there's the four championship combatants who all head to Martinsville with a chance at history. Jon McKennedy currently leads the points standings by six points over 2011 champion Ron Silk. Three-time and defending champion Justin Bonsignore sits third in points, 11 markers behind McKennedy, and Eric Goodale is fourth in points, just 13 points out of the lead after winning the most recent race a few weeks ago at Connecticut's Thompson Speedway Motorsports Park.
With 37 cars entered and a super tight points battle, Thursday night's Virginia is for Racing Lover's 200 season finale will be a can't-miss event. If you cannot make it to Martinsville Speedway to watch it all unfold in person, be sure to tune into FloRacing to catch every lap.