2022 USAC Fall Nationals at Lawrenceburg Speedway
Last Dance In The Midwest: $10,000-To-Win For USAC Sprints At Lawrenceburg
Last Dance In The Midwest: $10,000-To-Win For USAC Sprints At Lawrenceburg
Saturday at "The Burg," Kevin Thomas Jr. will try to put a fourth win on the board after previously winning the the Fall Nationals in 2017, 2019 and 2021.
Sep 30, 2022
by FloRacing Staff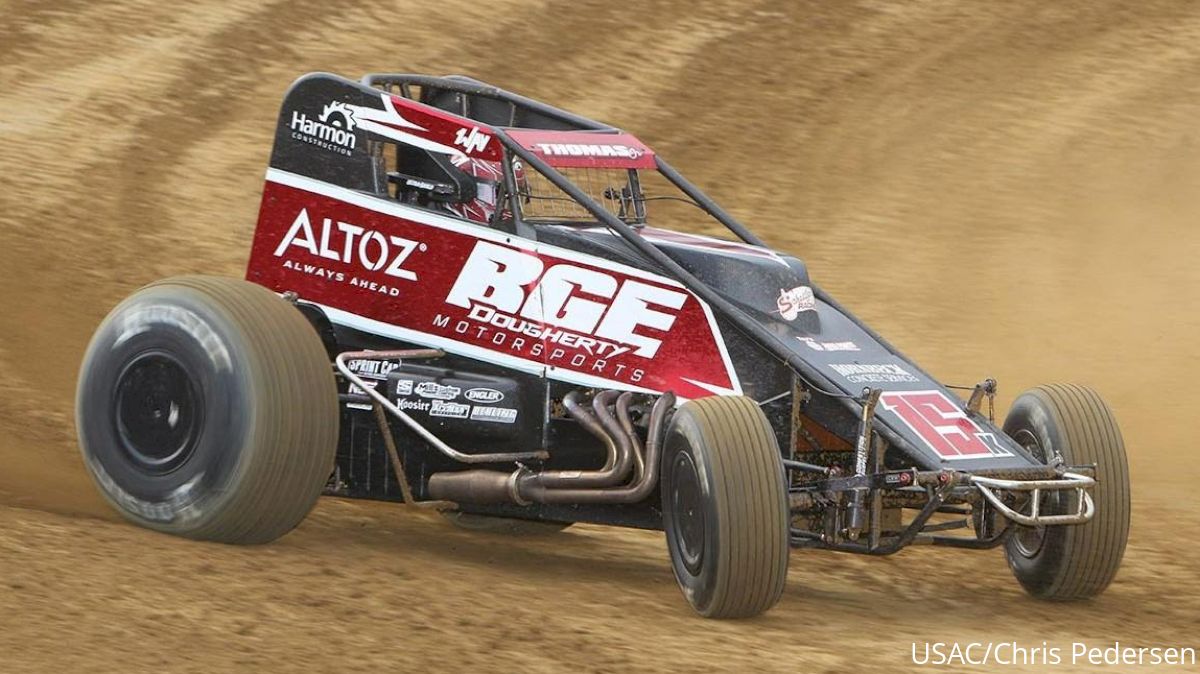 Kevin Thomas Jr. knew what was coming on the final lap of last year's running of the Fall Nationals at Lawrenceburg (Indiana) Speedway.
On the fly, he had to conjure up a plan on whether to fight the inevitable slide job on the final lap or just let it happen and prepare himself with a counter measure in response. After missing his mark in Turn 1 on the 30th, and last, lap of the $10,000-to-win main event, those exact thoughts raced through his mind.
Though he hadn't felt any pressure up to that point, from there, he knew his best option was to let him go, then hit the ridge in the middle of three and four and cross him over. And that's just what KTJ did, as he raced under the checkered flag to become the first three-time winner of the Fall Nationals.
This Saturday at "The Burg," he'll try to cash in the $10,000 check by putting No. 4 on the board after previously winning the race in 2017, 2019 and 2021.
The Cullman, Alabama, racer owns five career USAC National Sprint Car feature wins at Lawrenceburg dating back to 2013, which ranks tied for second all-time with Jon Stanbrough. Dave Darland has the most wins with seven.
However, in that 2021 race, for the longest time, it appeared outside front row starter Emerson Axsom had the upper hand, as he led the first 26 laps of the feature until exiting the fourth turn on lap 26.
That's when Axsom's right rear tire suddenly gave way, forcing him to a complete stop in a heartbreaking moment that denied him, at the time, his first career series victory. The series-leading rookie in points looks to return to USAC victory lane for the first time since February in Ocala, Florida.
Championship point leader Justin Grant (Ione, California) was triumphant in the 2018 Fall Nationals, where he led the first lap, and the final 18, after being mired in a spirited duel with Brady Bacon.
Four of Grant's USAC National Sprint wins have come at Lawrenceburg, including the first of his career in 2012. He has six career top-5 finishes at the Fall Nationals, including a fifth in 2013, fourth in 2014, fifth in 2016, third in 2017, first in 2018 and third in 2019.
Dueling with Grant for the series title entering the weekend is 2020 Fall Nationals victor Bacon (Broken Arrow, Oklahoma), who finds himself 80 points behind in second.
The four-time champ owns three USAC scores at Lawrenceburg, with additional victory-lane visits coming in the summer of 2015 and the spring of 2021.
At the Fall Nationals, Bacon has been the fastest qualifier in 2011 and has finished in the top-4 five times over the years, including second in 2014 and 2017, as well as fourth in 2015 and 2021.
The fastest 7 minutes in racing. Literally. ⏱️

Here are all the @Fatheadz Fast Qualifying runs from the past decade of the #FallNationals - 2012-2021.

How many of these did you see in person?

The USAC @AMSOILINC National Sprint Cars are back at @BurgSpeedway Saturday night! pic.twitter.com/nFX431ppL0

— USAC Racing (@USACNation) September 30, 2022
Two-time Fall Nationals winner Robert Ballou (Rocklin, California) won the first two editions of the event under Midwest Sprint Car Series sanction in 2007 and 2008, the first one coming on the former 1/4-mile and the latter coming on the 3/8-mile version.
Ballou has been a Lawrenceburg USAC Sprint winner once before in his career, scoring the "W" during 2011 Indiana Sprint Week. At the Fall Nationals, the 2015 series champion finished fourth in 2017 and fifth in 2020.
The very first of Chase Stockon's 13 career USAC National Sprint Car victories came at the Fall Nationals in 2012. He's started all 12 Fall Nationals under USAC sanction since 2009. The Fort Branch, Indiana, native also finished as the runner-up in the Fall Nationals during the 2013 race. He took ninth in 2021 and 10th at the event in 2019.
Fall Nationals winner Thomas Meseraull (San Jose, California) made his first start in the event with a solid sixth-place result in 2012. His next came in 2015 when he took over the lead on Lap 2 and dominated the rest of the distance in what was his second career USAC National Sprint Car victory at the time.
C.J. Leary (Greenfield, Indiana) has raced to a pair of Lawrenceburg USAC Sprint Car victories during the Indiana Sprint Week round in both 2017 and 2019.
The 2019 USAC National Sprint Car champion also won the 2013 Lawrenceburg Speedway track championship and has finished in the top 3 twice at the Fall Nationals in his career. He was third in 2015 and second in 2017. He was fourth in each of the last two years in 2019 and 2020. In both 2015 and 2018, he was the fastest qualifier at the Fall Nationals.
Logan Seavey (Sutter, California) has been the winner of a USAC National Sprint Car feature at Lawrenceburg, scoring a decisive victory during the 2021 Indiana Sprint Week round.
In June 2021, Seavey swept both ends of the night, taking wins in both the USAC NOS Energy Drink National Midget portion and the ensuing Lawrenceburg Sprint car feature. The 2018 USAC National Midget champ experienced his best Fall Nationals performance yet in 2021, finishing seventh.
Jake Swanson (Anaheim, California) was the fastest qualifier and a ninth-place finisher in his Fall Nationals debut in 2020. In 2021, the USAC National Most Improved Driver upped his game once more by traveling from 10th to finish fifth.
Shane Cottle (Kansas, Illinois) took seventh in the Fall Nationals of 2012. His ride for the Fall Nationals, the Hodges Motorsports No. 74x, won the event with Josh Hodges as the driver during the 2016 season. In fact, the Hodges car has finished in the top 10 at the Fall Nationals on three occasions: first in 2016, eighth in 2017 and 10th in 2018.
The 2016 run still stands as the fastest 30-lap USAC Sprint Car race in the history of Lawrenceburg Speedway at 7:21.09.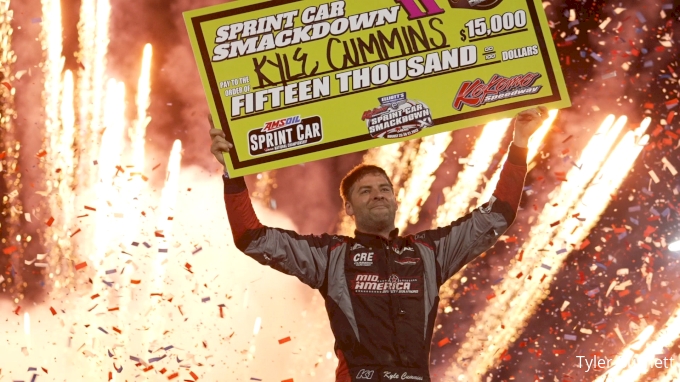 Kyle Cummins (Princeton, Indiana) owns three career top-6 results in his Fall Nationals career, led by a fourth in 2016, followed by fifth in 2009 and sixth in 2020. He's finished eight of his last nine USAC National Sprint Car feature starts inside the top 5.
Max Adams (Loomis, California) made the most recent Fall Nationals run his best with an eighth in 2021.
Among the Fall Nationals veterans joining him in the field include 2020 USAC National Most Improved Driver, Terre Haute, Indiana's Brandon Mattox (12th in 2021), Cincinnati's Saban Bibent (14th in 2021), recent first-time USAC winner Worthington, Indiana's Jadon Rogers (15th in 2021), plus one-time USAC winner, Pleasant Hill, Ohio's Matt Westfall (15th in 2018) and two-time USAC National Sprint Car winner, Broken Arrow's Jason McDougal (17th in 2018).
Impressive USAC Rookie Mitchel Moles (Raisin City, California) set Fatheadz Fast Qualifying time during Lawrenceburg's abbreviated, rained out Indiana Sprint Week round in July, but will plan to make his first series feature start at the track this Saturday. In June, he ran eighth at the Burg during USAC Indiana Midget Week.
Moles will be joined by Anton Hernandez (Arlington, Texas) as far as Fall Nationals rookies, and will be driving for 2B Racing, which won a local show at Lawrenceburg in April with driver Chad Boespflug. Hernandez captured his first career 410 Sprint Car victory at Lawrenceburg in 2020.
Furthermore, it's race number 9-of-10 for the Bubby Jones Master of Going Faster Series presented by Spire Sports + Entertainment.
Bacon leads the 10-race miniseries' point standings by 26 points over Grant (-26), with Leary (-52) in third. The champion will receive a $10,000 bonus.
One race remains after Lawrenceburg on Nov. 5, in the Oval Nationals at Perris (California) Auto Speedway.
Pits open for Saturday's Fall Nationals at 3 p.m. Eastern, with front gates opening at 5 p.m., the drivers meeting at 5:15 p.m. and hot laps at 6 p.m. Qualifying and racing will follow immediately.
The event features the USAC AMSOIL Sprint Car National Championship, along with the KOI Auto Parts UMP Modifieds.
Adult general admission tickets are $30, kids 7-12 are $7 and children 6 and under are free. Pit passes are $30 for members and $35 for non-members.
Saturday's Fall Nationals from Lawrenceburg can be watched LIVE on FloRacing. Click here to watch.