2022 NASCAR Whelen Modified Tour & Weekly Racing at Riverhead Raceway
NASCAR Whelen Modified Tour To Honor Eddie Partridge With Special Format
NASCAR Whelen Modified Tour To Honor Eddie Partridge With Special Format
The NASCAR Whelen Modified Tour and Riverhead Raceway are set to honor longtime car owner and track owner, Eddie Partridge, with a special race format
Sep 13, 2022
by NASCAR Roots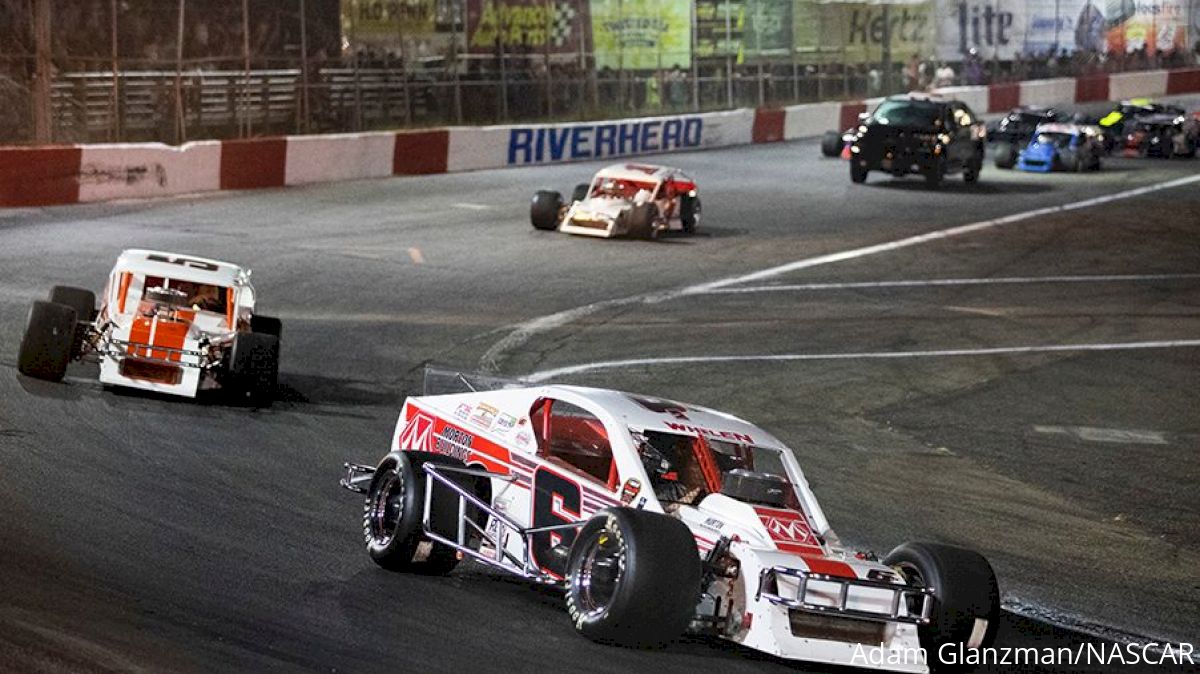 An emotional weekend is ahead for everyone involved in the NASCAR Whelen Modified Tour as the series heads to Riverhead Raceway for the third time this year.
Former Riverhead and long-time team owner Eddie Partridge is being honored with a 256-lap race named after him on Saturday. Normally a 200-lap feature, the race has been extended by NASCAR Whelen Modified Tour and Riverhead officials to its new distance to pay tribute to the No. 6 that Partridge fielded in the series for many years.
Having won both a driver and owner's championship in the NASCAR Whelen Modified Tour with Ron Silk and Ryan Preece, respectively, Partridge purchased Riverhead in 2015 and was instrumental in maintaining the facility's vibrant weekly culture that features track champions like Kyle Soper, who picked up his first series victory at the track earlier this year.
Outside of managing Riverhead, Partridge stayed committed to fielding a competitive team in the NASCAR Whelen Modified Tour. Partridge picked up his final victory with Preece at Richmond Raceway in 2021 before suddenly passing away hours later.
Partridge's legacy will carry on Saturday night as the local track heroes and NASCAR Whelen Modified Tour regulars remember an individual that meant so much to the historic track and to racing across the northeast.
Below is everything you need to know about the Eddie Partridge 256 at Riverhead Raceway on Saturday evening.
Eddie Partridge 256 at Riverhead Raceway
What to watch for:
A unique component to Saturday's Eddie Partridge 256 will be the inclusion of live pit stops inside Riverhead's infield.
To accommodate this change, temporary walls have been installed that will separate pit crews and drivers on the frontstretch and backstretch. An additional wall for crew members to stand on will create four rows in total at Riverhead.
Live pit stops are set to create another obstacle in the tight NASCAR Whelen Modified Tour championship battle. Jon McKennedy currently holds a 10-point championship lead and will look to add a second win on the 2022 season as he searches for his first title.
McKennedy currently has two drivers within striking distance of his lead. The 2011 series champion in Ron Silk has battled McKennedy all season long, but Justin Bonsignore's third victory of the season during the most recent outing at Oswego Speedway has allowed him to close within 17 points of McKennedy's advantage.
The championship trio will not only have to fend off the rest of the NASCAR Whelen Modified Tour stars, but also a healthy contingent of Riverhead regulars led by the most recent winner at the track in Soper, whose accomplishments at Riverhead include three championships and an Islip 300 win back in 2019.
Joining Soper on the entry list is the driver currently trailing him in Riverhead's weekly standings in Dylan Slepian. In three NASCAR Whelen Modified Tour starts this year, both of Slepian's top fives have come at Riverhead, including a career-best run of fourth during the first race in May.
Other notable names set to take part in Saturday's Eddie Partridge 256 include Ed Brunnhoelzl III as well as Timmy Solomito, who led a race-high 114 laps during the NASCAR Whelen Modified Tour's second trip to Riverhead in June before fading late and settling for an eighth-place finish.
The complete entry list for the Eddie Partridge 256 will be available later this week.
RACE FACTS
Race Eddie Partridge 256
Date Saturday, Sept. 17, 2022
Track Riverhead Raceway
Layout 0.25-mile paved oval
Location Riverhead, New York
Start time 8 p.m. ET
Laps 256
TV channel USA (Delayed: Sunday, Sept. 25, 1:30 p.m. ET)
Live stream FloRacing (Live)
Qualifying: Two consecutive qualifying laps. Fastest lap determines qualifying position. Adjustments or repairs may not be made on the vehicle after the vehicle has taken the green flag at the start/finish line. NASCAR reserves the right to have more than one vehicle engage in qualifying runs at the same time. Starting field for the Whelen Manufactured in America 100 is limited to 32 starters including Provisional Positions.
Tire allotment: The maximum tire allotment available for this event is twelve (12) tires per team. All tires used for qualifying and the race must be purchased at the track and scanned by Hoosier, unless otherwise approved in advance by the Series Director. Four (4) tires must be used for qualifying and to begin the race. All qualifying tires must remain in impound until released by NASCAR Officials. The remaining tire allotment may be used for practice and/or change tires during the event. The tire change rule is four (4) tires, any position.