2022 NASCAR Whelen Modified Tour & Weekly Racing at Riverhead Raceway
Live Pit Stops Add New Wrinkle To Eddie Partridge 256 At Riverhead Raceway
Live Pit Stops Add New Wrinkle To Eddie Partridge 256 At Riverhead Raceway
Live pit stops in the infield of Riverhead Raceway will add a new element that NASCAR Whelen Modified Tour teams will face Saturday night.
Sep 14, 2022
by Rob Blount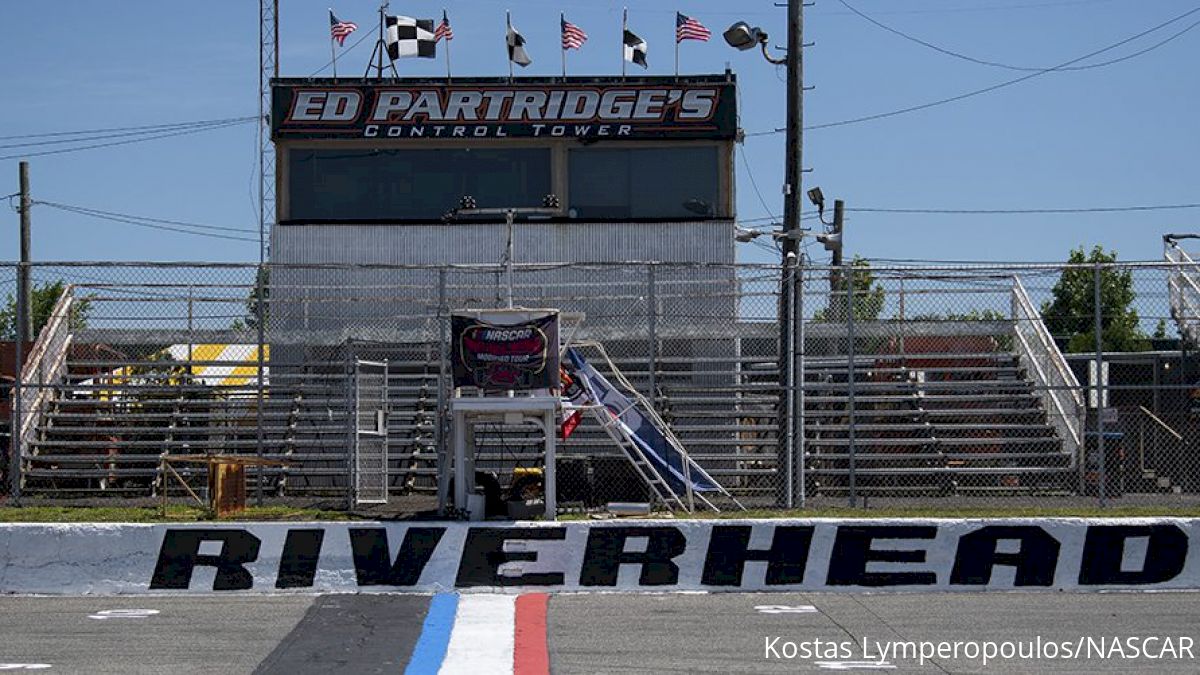 The NASCAR Whelen Modified Tour rolls into Long Island's Riverhead Raceway on Saturday night for the third and final time this season. But Saturday's race will have a new twist on it compared to events of day's past. Saturday's race will mark the 70th time the NASCAR Whelen Modified Tour visits Riverhead raceway, but for the first time this race will see teams making live pit stops in the infield of the tight quarter-mile bullring.
Saturday's race is being run in memory of longtime NASCAR Whelen Modified Tour team owner and owner of Riverhead Raceway, Eddie Partridge, who passed away hours after his car driven by Ryan Preece went to victory lane at Richmond Raceway last year. This event is being called the Eddie Partridge 256 and is 56 laps longer than the standard 200-lap race the Tour typically runs at Riverhead.
As a result of the extra distance, a pit stop is now necessary. Instead of doing pit stops in the normal pit area behind turns three and four, track and series officials have opted to construct a temporary pit area in the infield behind barriers. This way, pit stops will be seen by all fans in attendance, and it alleviates what would have been a complicated setup with the pit gates in turns three and four.
FloRacing reached out to a few of the drivers to get their thoughts on this new wrinkle, and the reactions have been mixed.
Multi-time Riverhead Raceway track champion and winner at June's Tour event there, Kyle Soper, said he thinks the live pit stops will be exciting for the fans to see.
"I think it will be exciting for the fans to see, and it adds additional strategy when on pit road," said Soper. I am concerned about the racing surface width now that there will be an infield wall. If you spin out, there will most likely be damage caused by the wall."
It's not uncommon for cars to spin out on the exit of the corner and spin into the infield at Riverhead. Typically, that would result in no damage because there's usually nothing to hit. The infield at Riverhead Raceway is wide open because it is the intersection for the Figure-8 race course used during weekly racing competition. With the barriers up to protect the pit crew members, there's a higher chance for cars to receive damage throughout the race.
While this has never been done at Riverhead, there is precedent for pitting in the infield at tracks as small as this one. Anderson Speedway in Indiana is a quarter-mile high-banked bullring with a Figure-8 course in the infield similar to Riverhead. During the Redbud 400 Super Late Model race and the Little 500 Sprint Car race, jersey barriers are put out to serve as protective barriers for the crews staged in the infield.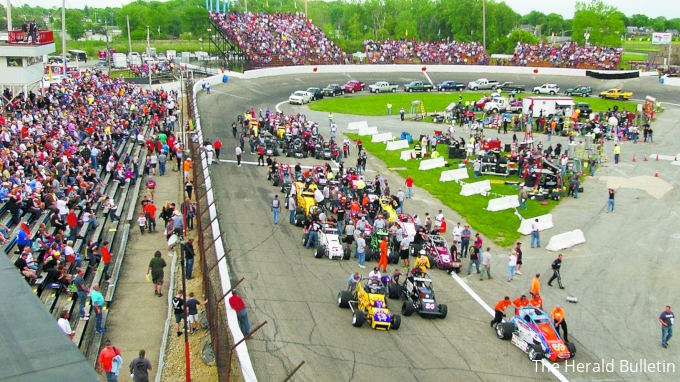 Anderson Speedway (IN) has live pit stops in its infield at multiple races each year.
"The infield pitting will definitely be interesting for the fans," said Timmy Solomito. "It will add an element to the race that they aren't used to being able to watch being that Riverhead is a tight race track. Saturday night's race can be won or lost on pit road, which makes it even tougher for the local teams, but it should be an exciting event."
Eric Goodale said the new twist is going to make strategy the name of the game, but that all can change depending on the length of the run. He also said the stops themselves have the potential to be quite wild depending on how many cars are on the lead lap.
"It's all going to depend how many people are on the lead lap and how the cautions fall," said Goodale. "If we get a long green flag run and still have 12 cars on the lead lap, it might be crazy. If we get a lot of cautions, not everyone will pit all at once."
The other element to live pit stops for the NASCAR Whelen Modified Tour is a rule that has been established for a few seasons now that forbids teams to change tires and refuel their car during the same stop. In most cases, that causes teams to come down pit road to take tires, leave pit road, then immediately return back to their pit box to add fuel.
All of these elements add up to a crazy night, even for full-time teams that are experienced in live pit stops. But for the local Riverhead Raceway teams that are looking to compete against the touring invaders, it's going to be quite the difficult task.
"Races with pit stops are tough for my team to be competitive," said Soper. "I've been trying to source together some friends that would be competitive."
Saturday's Eddie Partridge 256 for the NASCAR Whelen Modified Tour will go green at approximately 8 p.m. ET. Race fans can watch a full slate of weekly racing action from Riverhead Raceway that will lead right into the start of the Eddie Partridge 256, and all of the action can be seen live on FloRacing.