2022 World 100 at Eldora Speedway
World 100 Hopes Sag For Ricky Weiss Via Droop Rule DQ
World 100 Hopes Sag For Ricky Weiss Via Droop Rule DQ
Ricky Weiss saw his World 100 take a dramatic turn on Friday night when he was disqualified for failing the droop rule at Eldora Speedway.
Sep 10, 2022
by Kevin Kovac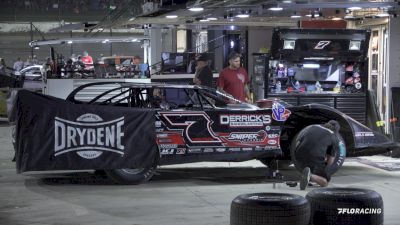 ROSSBURG, Ohio (Sept. 9) — Ricky Weiss would have preferred to just remain holed up inside his toterhome, privately stewing in disgust over his rear deck-height disqualification from a $12,000 victory in Friday night's first 25-lap World 100 preliminary feature at Eldora Speedway. Getting behind the wheel of the hauler and driving far, far away from the track would have been an attractive option as well.
But grudgingly, reluctantly, the 33-year-old driver from Headingley, Manitoba, was enticed to emerge from his truck and address his cruel fate.
Frustration was evident on his face as Weiss stood for media questioning in the dark crevice between two race car transporters. Changed into street clothes, he proclaimed, "We feel like we got robbed."
DIRTcar officials, who presided over the event that is run under the organization's sanction, disagreed with the Canadian's assessment. When his self-designed Sniper Chassis machine did not meet the requirement for rear deck height — colloquially known as the Droop Rule — during postrace inspection, Weiss was subject to the disqualification that handed the win to apparent runner-up Bobby Pierce of Oakwood, Ill.
"The (maximum deck height) rule's 51 (inches), and he was 52-and-maybe-a-16th-or-so," said Kenny Kenneda, the World of Outlaws Case Late Model Series technical director who handles World 100 tech inspection for DIRTcar. "We checked it four different times. We rolled him back, rolled him forward, and it measured the same every time.
"I hate to do it," Kenneda continued. "The guy went to victory lane and he celebrated and then he comes over here (to tech inspection). I just hate doing it that way. But at the end of day, I want everybody to leave this pit area and think that they got a fair shot. It is what it is, and we go about our business."
The DQ was a bitter twist of emotion for Weiss, whose performance in the 25-lapper had him walking on air when he reached the winner's stage. He seemingly had hit on a setup that had him circling the high-banked, half-mile oval as well as he did in 2019's Dream when he captured a preliminary feature and was in contention to win the big-money finale until slipping backward on a late restart and finishing seventh.
"We won that other prelim and we were real good there, but that was almost driving off (from the field)," Weiss said. "This one I actually had to work for it, and to be able to say you slid (Kyle) Bronson all the way to the top (to grab the lead on lap 16) … I hope it was clean and I hope I cleared him real good. I just felt like as long we could nail the next corner we would be good.
"It was fun. Our car was really good."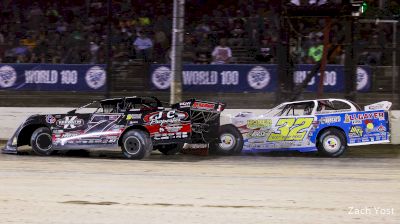 VIDEO: Watch highlights from Friday's World 100 preliminary races at Eldora Speedway.
Weiss even survived a challenge from the 25-year-old Pierce, who followed Weiss past Bronson. Pierce's outside line brought him to Weiss's rear bumper on on lap 19, when there was contact between the pair near the end of the frontstretch as Pierce looked to make a winning move and Weiss drifted ever-so-slightly up the track.
"For a second it was quite the handful, but luckily (Pierce) was able to get out of the gas," said Weiss, whose car momentarily lurched out of shape from the contact with Pierce. "I don't know if he was mad at me or not for that, but like I said, I didn't know that he was right there. After that I kind of just picked it up and I was just waiting for that checkered flag."
Weiss pulled away over the closing circuits and beat Pierce to the finish line by 2.134 seconds. He had earned a very satisfying, high-profile triumph — or so he thought.
Soon after Weiss reported to the technical impound area in the pit area and Kenneda commenced his post-race routine, it became apparent there was an issue with the Canadian's car. Kenneda repeatedly jacked up the rear end of the No. 7 — the Droop Rule calls for measuring to the top of the spoiler after the rear is raised enough for the left-rear wheel to turn — and stretched out his tape measure to check the deck height, which Kenneda found to exceed the maximum allowance. After additional discussion and measurements, DIRTcar director Sam Driggers finally declared the situation over and Weiss was disqualified.
Weiss steadfastly maintained that a mistake had been made with the measurement due to the method Kenneda checked the rear deck height.
"I said (after finishing seventh in a Thursday preliminary feature) if we could just get that right-front (corner of the car) to stay down on the racetrack we'd be real good," Weiss said. "Once again, you do stuff to add more rebound to the right-front. Well, Kenny's going back there jacking (the rear end) like he's changing the tires, and it's compressing the right-front and locking it down.
"So I mean, you go step on the nose, the tail's gonna come up. That's what he's doing — when he's jacking it that quick, it's locking my right-front down. So if I go take all the rebound out of the right front, then it comes back.
"They're just in such a big rush, and they love the drama around here," he angrily added. "Scott (Bloomquist) can't make it anymore, so they just want to see … they jack it up so fast that they say you're high. Well, when you're jacking the car up like you're gonna change the tire instead of just pulling it off the ground, it's just compressing the right front down so much."
Weiss claimed that when he "got out of the car and showed them (how to) just jack it (up) normally," to raise the car "slow and steady" until the left-rear comes off the ground, he got a measurement of 50-and-a-half inches. Kenneda disputed that.
"They told me I had it jacked up too much so I let them do it, and they couldn't get it there (to a legal measurement) either," Kenneda said. "I did it four times and I don't know how many times they done it, and they still couldn't get it there.
"He kept telling me I was jacking the car up too fast, or I'm jacking it up this way or whatever. But I've checked 100 cars this weekend, and we check every car in the same spot on this concrete bed. I never found any car anywhere close to where he was at (for deck height).
"He was telling me that he had a real soft biscuit in his droop limiter," he continued. "I don't think it makes any difference how soft it is because, at the end of the day, the (droop-limiter) chain has to be tight. It don't make a difference how soft that biscuit is. The chain has to be tight, and when it's tight, that's when we measure."
Weiss argued that "since we've been here, they've probably checked our deck four, five times, and we've been legal every time." When he ended up failing to measure up after his apparent victory, it left him with a sour taste in his mouth for the Droop Rule itself.
"This stupid rule, it's the second time it's got me now," Weiss said, referring to the victory he lost in a non-points, elimination-style WoO event on July 2, 2020, at Cedar Lake Speedway in New Richmond, Wis., because a problem with his droop limiter caused him to exceed the deck height mandate (he was penalized three finishing positions because a total disqualification was not in the rules then). "Second time I went to victory lane, second time I got the trophy, second time I got the trophy, and they all go.
"They seem to think that (the rule is) making the racing better, but I know you've heard it a million times, 'It's all about the aero.' It hasn't fixed nothing. Nothing to do with that droop rule has fixed the aero of these cars.
"The other thing is, you just spend more money on shocks, more money on inventing stuff to cheat the rule," he added. "Which is, again, they're trying to make this sport more affordable, they're trying to bring drivers into it, and small teams like us that don't got these shocks on the car or anything to try to benefit by this rule. We got standard stuff and we can really roll around here. Just frustrating that they try to keep taking that away from us."
An eight-time starter in Eldora crown jewel finales, Weiss was hoping to crack the World 100 feature lineup for the third time in his career. But his DQ stripped him of his points for Friday's action, leaving him scheduled to start 14th in the fourth of Saturday's six 15-lap heat races. With the top three transferring to the $55,000-to-win main event, he faces a major uphill climb — if he decides to race.
"I mean, you come out here and you spend all this money and try to compete with these guys and it just throws you for the whole weekend," Weiss said of his disqualification. "I'm sure we're buried in a heat race tomorrow and it might not even be worth pulling out the car."