NASCAR Roots
NASCAR Roots Notebook: Amber Lynn Reigns Supreme At Bowman Gray Stadium
NASCAR Roots Notebook: Amber Lynn Reigns Supreme At Bowman Gray Stadium
Amber Lynn made history Saturday at Bowman Gray Stadium becoming the all-time winningest female racer in the history of the facility
Aug 4, 2022
by Rob Blount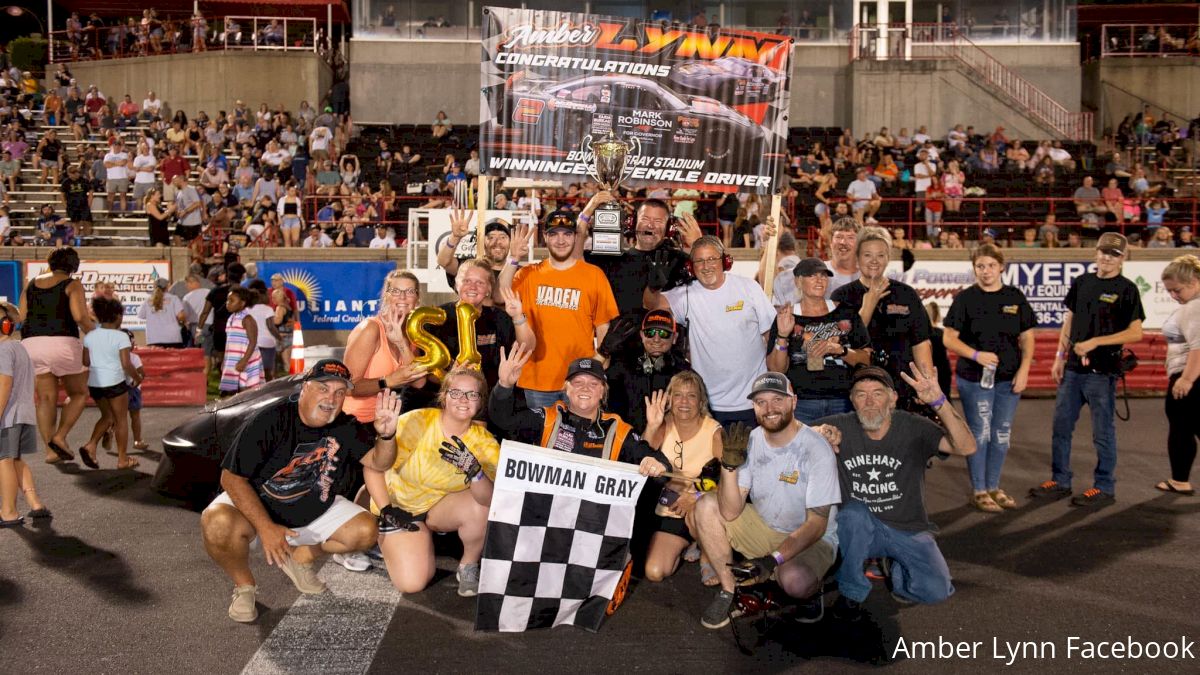 This past Saturday night at Bowman Gray Stadium, history was made. Amber Lynn took the victory in the 100-lap Sportsman feature, and with that win she became the all-time wins leader among female drivers across the entire 73-year history of racing at "The Madhouse."
Lynn had to hold off numerous charges from Riley Neal in the final laps of Saturday's race to get the win, but she was able to do so to score her record-setting 12th career win at the Winston-Salem, North Carolina quarter-mile.
FloRacing caught up with Lynn this week to discuss her achievement, and she said it's something that of which she's still trying to understand the magnitude.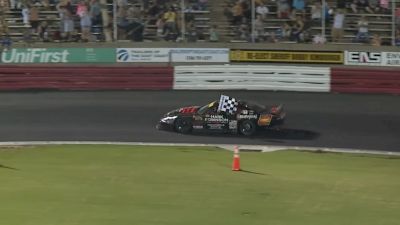 Watch: Amber Lynn becomes all-time leading female in victories at Bowman Gray Stadium
"I don't think I understand the magnitude of it, or I don't comprehend it yet," said a very honest Lynn. "We didn't go for that title. We go for points titles. But I think it stands more for the kids coming up and the little girls that look up to me. And even the adult women that look up to me. I have one fan going to get a tattoo of my signature. She says it reminds her to never stop trying and always keep going. I think it's awesome, because I don't see myself as anyone important. I just love to race."
Lynn is a bit of a lightning-rod in the Sportsman division. Every week when her name is announced you can count on seeing half the fans in attendance cheer, while the other half rains down boos. But, as Dale Earnhardt once said, "at least they're making noise."
"In the beginning, it seemed like I won over a majority of the Stadium," she said. "As time goes on, you win some and you lose some. I used to get really upset about it, but now I just laugh at it. I tell my husband that I'm going to read the "Sunday Funnies" which is the comments on Facebook. I'm not going to sit there and read all (the comments), but whether it's good, bad, or ugly, it's publicity."
This week it's certainly good publicity. She just pulled off an accomplishment 73 years in the making, and since she's still in her early-20s, there's plenty more wins for Lynn to add to her stats sheet at Bowman Gray Stadium.
Modified Tour Points Battle Heating Up
With summer temperatures continuing to be high, the battle for the NASCAR Whelen Modified Tour championship is beginning to sizzle as well.
When the Tour left the New Hampshire Motor Speedway a few weeks ago, Jon McKennedy had cut Ron Silk's points lead down to 10 markers due to Silk getting caught up in a crash and McKennedy finishing in the fifth position.
Well, that gap is even tighter now, thanks to McKennedy scoring the win at the Clash at Claremont 150 at New Hampshire's Claremont Motorsports Park. McKennedy now sits just four points back of the 2011 champion Silk with just six races remaining on the calendar.
Jon McKennedy celebrates his second NASCAR Whelen Modified Tour victory (Rachel O'Driscoll/NASCAR)
Eric Goodale lost a little bit of ground to Silk and McKennedy with his 12th-place run at Claremont last weekend. Goodale is now 21 points behind Silk, but he has some good race tracks coming up for him, including two stops at Connecticut's Thompson Speedway Motorsports Park, one more visit to his home track of Riverhead Raceway, and the season finale at Virginia's Martinsville Speedway where Goodale is the defending winner.
And don't look now, but three-time and defending series champion Justin Bonsignore now sits just 28 points behind Silk. At this point it would still take either a catastrophic collapse by Silk and McKennedy or an extremely dominant stretch in these final six races for Bonsignore to pull off a fourth title, but anything is possible for Bonsignore and his Ken Mass Motorsports team. Silk has already faltered once at NHMS, but Bonsignore was able to capitalize there, as he finished 12th after starting on the pole.
That said, Bonsignore has wins at more than half of the remaining tracks, a third-place run at Martinsville last year, and a fifth-place result the last time the Tour went to Langley Speedway back in 2017. It's hard to say that Bonsignore isn't the favorite to win at any of the remaining races.
Perhaps the most interesting part of this tight championship battle is that Silk is still without a victory this season. He and his team, a first-year team led by multi-time championship winning crew chief Phil Moran, have been the model of consistency all season, aside from the crash in Loudon. Friday's race was the first runner-up result of the year for Silk, who now has six top-five finishes and nine top-10 finishes in 10 races this year.
A few weeks ago it appeared that Silk might be able to pull off a winless championship season, but now that one of his main challengers for the championship in McKennedy has pulled off a victory that is looking less likely.
Big Weekend For Layne Riggs
The NASCAR Advance Auto Parts Weekly Series national points leader, Layne Riggs, had another big weekend behind the wheel. But, his weekend isn't memorable just because he scored another NAAPWS victory on Saturday night at Virginia's Dominion Raceway.
It's memorable because Riggs made his debut in the NASCAR Camping World Trucks Series driving in a second truck owned by Halmar-Friesen Racing at the series' return to the Lucas Oil Indianapolis Raceway Park in Brownsburg, Indiana.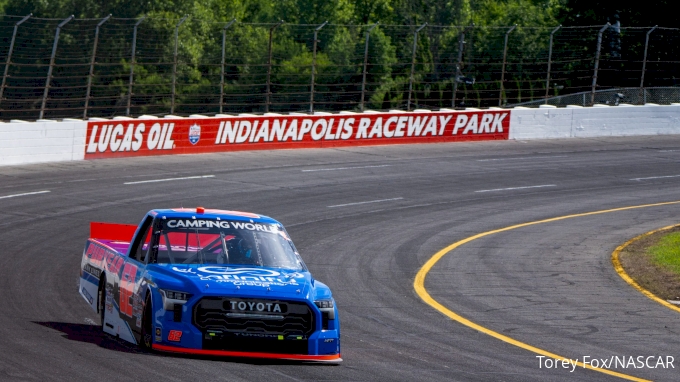 Layne Riggs made his NASCAR Camping World Trucks Series debut at Lucas Oil Indianapolis Raceway Park (Torey Fox/NASCAR)
And better yet, Riggs didn't just qualify for the race and that was it. The 20-year-old second generation racer went out and scored a top-10 in his debut with a seventh-place finish. After that, Riggs went straight to the airport to fly back to North Carolina, to then make the five-hour drive north to Dominion Raceway.
The trip paid off as Riggs won the pole and scored the victory in the first of two Late Model features that evening. The win is the 13th of the season for Riggs, which leads all NAAPWS drivers.
Riggs will get another chance to show off his skills with the Halmar-Friesen team at the Richmond Raceway on August 13.
Alaska Raceway Park Ready For Two Consecutive Nights Of Action
The one-third mile oval with perhaps the most scenic backdrop in all of motorsports has its biggest weekend of racing up next. The Alaska Raceway Park will run not one, but two nights of racing this weekend with special divisions and special guests.
The headlining Late Models, Baby Grands, Legends, Thunder Stocks and Bomber Stocks will all be in action like usual, but this weekend will also feature a special event with Dirt Late Models taking to the paved oval that sits 40 miles outside of Anchorage.
Plus, Alaskan race fans will get a rare chance to see Alabama Super Late Model legend, Augie Grill in action. Grill has a decorated career full of victories, including a pair of Snowball Derby wins, three Snowflake 100 wins, two Rattler 250 victories, two Florida Governor's Cup wins, and many more. Grill will be running the No. 89 Late Model this weekend.
Both nights of action will be live on FloRacing, as is every event held on the oval at the Alaska Raceway Park.
Tim Brown Still Winless At Bowman Gray
With just three weeks and four races left in Bowman Gray Stadium's 2022 season, the all-time leader in wins with 94 and championships with 11 at Bowman Gray, Tim Brown, is still winless. It's a 25-race winless streak that dates back to July 24 of last season, and is the longest current winless drought of any driver in the division with Lee Jeffreys breaking his 36-race winless streak last week.
The amazing thing is that even though he's yet to visit the winner's circle on the Bowman Gray frontstretch this season, Brown is still in a great position to win his 12th championship and second in a row.
Brown currently is just two points behind Brandon Ward. Ward, by the way, does have a win this season. Ward won the most recent 100-lap Modified race on July 23.
If Brown does win the championship without winning, it would only be the third time in the history of the Modified division that the champion went winless during the season.
The Modifieds will once again race for 100 laps this Saturday night as they season winds to a close. After that, the Modifieds will have twin 50-lap features on August 13 leading into the Carolina Farm Credit 150 season finale on August 20. That race will pay double points as well.
National Championship Update
| | | | | | | | |
| --- | --- | --- | --- | --- | --- | --- | --- |
| Pos | Driver Name | Track | Starts | Wins | Top 5 | Top 10 | Points |
| 1 | Layne Riggs | Dominion, Hickory, S Boston, Wake | 29 | 13 | 21 | 24 | 574 |
| 2 | Peyton Sellers | Dominion, Langley, S Boston | 23 | 7 | 18 | 21 | 540 |
| 3 | Jacob Goede | Elko, LaCrosse, Madison | 19 | 3 | 12 | 18 | 462 |
| 4 | Brandon Ward | Bowman Gray | 29 | 1 | 11 | 18 | 456 |
| 5 | David Hebert | Autodrome Granby, RPM Speedway | 16 | 6 | 13 | 15 | 444 |
| 6 | Steve Bernier | Autodrome Granby, RPM Speedway | 16 | 6 | 13 | 15 | 444 |
| 7 | Tim Brown | Bowman Gray | 20 | 0 | 12 | 19 | 436 |
| 8 | Chris Fleming | Bowman Gray | 20 | 3 | 11 | 16 | 428 |
| 9 | Jonathan Brown | Bowman Gray | 20 | 4 | 11 | 15 | 420 |
| 10 | Jason Myers | Bowman Gray | 20 | 1 | 11 | 18 | 414 |
NASCAR Roots On FloRacing This Week
Saturday
5:30 p.m. ET – NASCAR Modifieds at Riverhead Raceway
6 p.m. ET – Motor Mountain Masters 150 at Jennerstown Speedway
6:30 p.m. ET – ARCA Menards Series at Michigan International Speedway
6:30 p.m. ET – Limited Late Models at Berlin Raceway
7 p.m. ET – Twin Late Model Stock Car features at South Boston Speedway
7 p.m. ET – Late Model Stock Cars at Hickory Motor Speedway
7 p.m. ET – Twin Late Model Stock Car features at Langley Speedway
7 p.m. ET – Late Model Stock Cars at Florence Motor Speedway
7:50 p.m. ET – 100-lap Modified feature at Bowman Gray Stadium
8 p.m. ET – NASCAR Late Models at LaCrosse Fairgrounds Speedway
9 p.m. ET – Late Models at All American Speedway
10 p.m. ET – Night 1 from Alaska Raceway Park
Sunday
2 p.m. ET – NASCAR Pinty's Series at Grand Prix Trois-Rivieres
10 p.m. ET – Night 2 from Alaska Raceway Park
Wednesday
5:45 p.m. ET – 2022 Battle at Berlin from Berlin Raceway