2022 USAC Indiana Sprint Week at Gas City I-69 Speedway
It's On! 2022 USAC NOS Energy Drink Indiana Sprint Week Preview
It's On! 2022 USAC NOS Energy Drink Indiana Sprint Week Preview
In its 35th year, there's nothing like USAC AMSOIL Sprint Car National Championship racing. It's one-of-a-kind. Now, it's time for Indiana Sprint Week.
Jul 19, 2022
by FloRacing Staff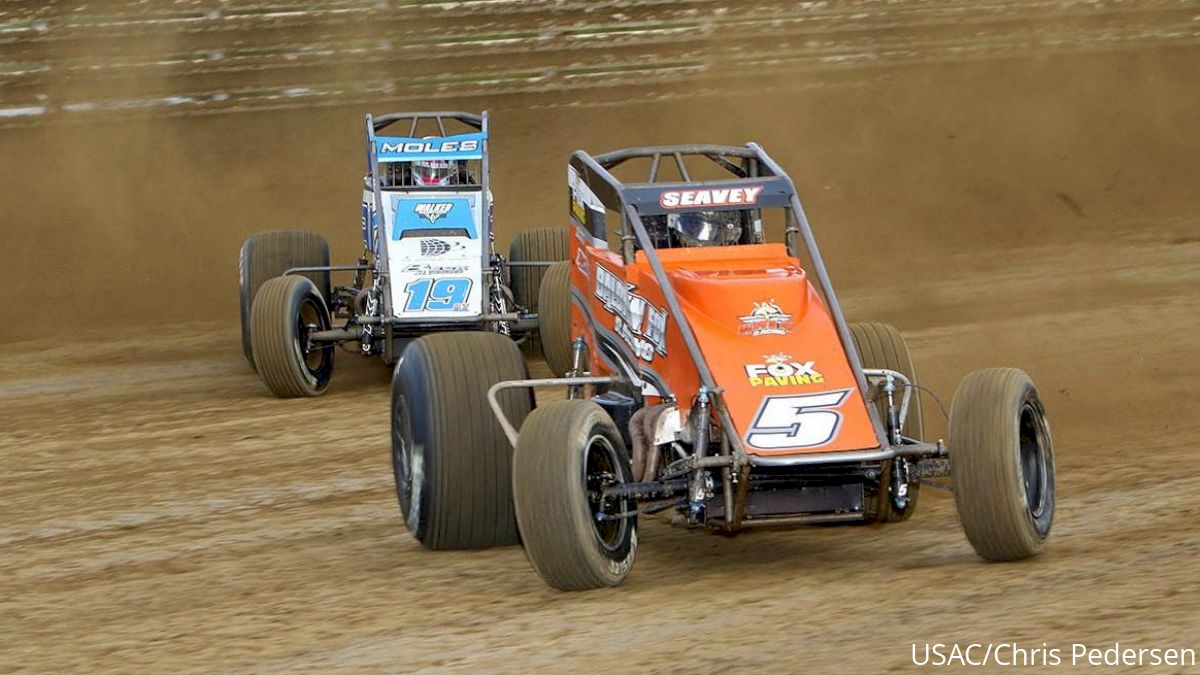 It's an enduringly happy place, isolated from the world of work, bills and 9-to-5s. It's paradise, and it's your kingdom to command just once each summer. It's Shangri-La for eight races over a nine-night span.
For race fans, that is USAC's NOS Energy Drink Indiana Sprint Week in a nutshell. For racers, it can be grueling, yet rewarding. It can be energizing, but also a test of endurance, both mentally and physically, that ultimately can spell the tale of the outcome of the week.
In its 35th year, there's still nothing quite like it for USAC AMSOIL Sprint Car National Championship racing. It's truly one-of-a-kind.
This year, each event is one of eight, with the schedule boasting its largest slate of races, equaled only by the 2003, 2007 and 2019 editions of ISW.
ISW pushes off July 22 at Gas City, then continues July 23 at Kokomo, July 24 at Lawrenceburg, July 25 at Circle City, July 27 at Terre Haute, July 28 at Lincoln Park, July 29 at Bloomington and July 30 at Tri-State.
First time ever! @NosEnergyDrink Indiana Sprint Week with the @USACNation @AMSOILINC National Sprints coming to @CircleCityDirt Raceway this Monday! More info at https://t.co/8FOsTKzRke, https://t.co/L2dh4hByY9, or https://t.co/6HCUMMrWvJ. as well as Social Media (FB, Twitter) pic.twitter.com/C1qNdZfGw1

— Track Enterprises (@TEIRacing) July 19, 2022
All the hoopla and excitement each summer is paramount for ISW, but now it's time to get down to business. It's time to fire off for one of the greatest traditions in all of motorsports, which began back in 1988, and it all begins this Friday night at Gas City.
The Champs
Six past Indiana Sprint Week champs are represented in this year's field.
Kevin Thomas Jr. (Cullman, Alabama), the 2017 and 2021 ISW titlist and a six-time feature winner in the series, had been absent from the USAC scene all season, before making his return to action in early July. Starting this week, he'll begin his quest to become the first repeat ISW champ since Levi Jones in 2008 and 2009.
Robert Ballou (Rocklin, California) translated his 2015 Indiana Sprint Week success to a USAC National Sprint Car title at season's end, one of six drivers to achieve the feat, along with J.J. Yeley (2003), Levi Jones (2009), Bryan Clauson (2013), Brady Bacon (2016) and C.J. Leary (2019). Ballou owns four career ISW feature triumphs.
.@robertballou81 WINS NIGHT #1 OF THE @usacnationals @HusetsSpeedway WITH THE @AMSOILINC SPRINT CARS! 🏁 @NosEnergyDrink | @GSP_NA | @CookOut pic.twitter.com/0oDtOdRu5Z

— USAC Racing (@USACNation) July 9, 2022
Leary (Greenfield, Indiana) scored the ISW championship three years ago and is among a line of ISW champions to do so without the aid of a victory over each of the past four years, joining Chris Windom (2018), Leary (2019), Chase Stockon (2020) and Thomas (2021). However, Leary does own his fair share of wins, clicking off five to this point in his ISW career.
Four-time ISW feature winner Bacon (Broken Arrow, Oklahoma) is among those who are itching to make ISW a springboard en route to a title run at the end of the year. The importance of ISW cannot be understated. Its eight-race docket makes up roughly 20% of the entire USAC Sprint Car schedule, mashed into a little over a weeklong span.
Stockon (Fort Branch, Indiana), along with Leary, aim to join the ranks of Hoosier natives to win multiple ISW crowns. The 2020 champ and two-time feature winner eyes the mark of Kevin Thomas (no relation to Jr.), who scored four in a five-year span in 1992-1996, as well as Dave Darland, who notched three (1998, 2001, 2007). Jon Stanbrough took two (2006 and 2010), and Bryan Clauson scored twice, back-to-back (2013 and 2014).
Darland (Lincoln, Indiana) returned to USAC action in July following more than a year away from competition. He leads practically every stat category in ISW history: 20 wins and 66 top-5s, plus tops the following columns, which only constitute the USAC era of ISW, which began in 1996: 431 laps led, 31 heat race wins, 12 fast qualifying times and 155 starts.
On The Verge
Justin Grant (Ione, California) has finished inside the top 5 of the ISW standings in each of the past three seasons. He was third in 2019, second in 2020 and fifth in 2021. The five-time ISW feature winner and 2020 USAC Silver Crown champ enters ISW as the USAC National Sprint Car point leader.
Last year, he became the sixth driver to win both the first and the last feature race during a single Indiana Sprint Week and first to do it in 17 years, joining Danny Smith (1989), Kelly Kinser (1994), Dave Darland (1998), Cory Kruseman (2002) and J.J. Yeley (2004).
Logan Seavey (Sutter, California) finished a career-best third in ISW points during 2021 on the strength of three consecutive victories at Lawrenceburg, Gas City and Terre Haute, which put the 2018 USAC National Midget king in rarified air as one of just four individuals to win three consecutive races during ISW, joining Stanbrough (four straight in 2006-2007), Jay Drake (2000), Kruseman (2002) and Thomas Jr. (2013).
Vets On The Cusp
There are a group of veterans who always are in contention and have won throughout their careers during Indiana Sprint Week. These individuals are highly capable of stringing wins and consistency together in pursuit of a first Indiana Sprint Week championship.
Thomas Meseraull (San Jose, California) has captured a pair of wins at ISW, both at Kokomo, while Shane Cottle (Kansas, Illinois) captured perhaps the closest finish in ISW history at Gas City in 2019, when he started 18 deep in the field. Kyle Cummins (Princeton, Indiana) has reached the top 7 in the final ISW standings in each of the past three seasons, finishing fifth in 2019, fourth in 2020 and seventh in 2021, to go along with five feature victories.
First Taste Of ISW Success
This group has tasted USAC National Sprint Car victory but hasn't experienced Indiana Sprint Week jubilation.
Emerson Axsom (Franklin, Indiana) and Mitchel Moles (Raisin City, California) will be making their ISW debuts this week. Axsom won two of the first three races to start the year, while Moles recently picked up $12,000 in the Huset's Speedway USAC Nationals.
Two-time USAC Sprint winner Jason McDougal (Broken Arrow, Oklahoma) will give it a whirl, as will one-time USAC victor Matt Westfall (Pleasant Hill, Ohio), who'll both take in the full week of racing activity as they seek their first ISW wins.
Jake Swanson (Anaheim, California), a frequent winner locally in Indiana and during an Oval Nationals prelim in 2021 at Perris (California) Auto Speedway, will eye his first ISW win, too.
Kicking In The Door
Twenty drivers have found the ultimate way of breaking through by grabbing their first career USAC National Sprint Car feature wins during Indiana Sprint Week. Among them are 2022 participants Grant (2012), Thomas Jr. (2012) and Cummins (2016), as well as five-time winner Brady Short of Bedford, Indiana (2006), and one-timer Brent Beauchamp of Fairland, Indiana (2016).
Shooting for that target this time around are USAC full-timers Jadon Rogers (Worthington, Indiana), Brandon Mattox (Terre Haute, Indiana), Alex Banales (Lafayette, Indiana), plus a number of invaders from outside the national ranks.
Sprint Week Invaders
USAC CRA Sprint Car series' most recent winner Brody Roa (Garden Grove, California) arrives from the West Coast for the first time since 2019, while 2019 USAC CRA Rookie of the Year Eddie Tafoya Jr. (Chino Hills, California) makes his third consecutive trip out to the Hoosier State.
Briggs Danner (Allentown, Pennsylvania) is the USAC East Coast Sprint Car point leader and has finished inside the top 10 in all five of his 2022 USAC National Sprint Car starts.
He's making his first voyage out to the Midwest for the first five events, while United Kingdom's Tom Harris (Banbury, Oxfordshire) makes his first Indiana Sprint Week appearance since 2018, planning to appear only for the final four events.
Xavier Doney (Odessa, Missouri) will run the full ISW tour for the first time in his career. The USAC Midwest Wingless Racing Association feature winner and 2021 Rookie of the Year recently finished sixth at Huset's.
The Local Protectors
One of the aspects of ISW that provides extra entertainment is the local protectors, the ones who have competed on a regular basis at the tracks on the Indiana Sprint Week slate and provide that local edge that regularly can stand up against USAC national's best when going head-to-head.
Among those looking to test the national guys are Sebastopol, California's Geoff Ensign (Lincoln Park), Bloomington, Indiana's Jordan Kinser (Bloomington), Fillmore, Indiana's Brian Hayden (Lincoln Park), Brazil, Indiana's Harley Burns (Gas City), Indianapolis, Indiana's Nick Bilbee (Lawrenceburg), Marion, Indiana's Scotty Weir (Gas City), Justin Owen (Lawrenceburg), Brownsburg, Indiana's A.J. Hopkins (Lincoln Park & Circle City), Davenport, Iowa's Davey Ray (Bloomington), Pittsboro, Indiana's Critter Malone (Tri-State), Phoenix, Arizona's Tye Mihocko (Gas City & Lincoln Park) and Marion, Illinois' Shane Cockrum (Lincoln Park), just to name a few.