2022 USAC Nationals at Huset's Speedway
USAC Midgets Take On Three-Night Adventure At Huset's
USAC Midgets Take On Three-Night Adventure At Huset's
Three-straight nights of USAC Midget National Championship racing arrives at Huset's Speedway, with action taking place Friday-Sunday.
Jul 7, 2022
by FloRacing Staff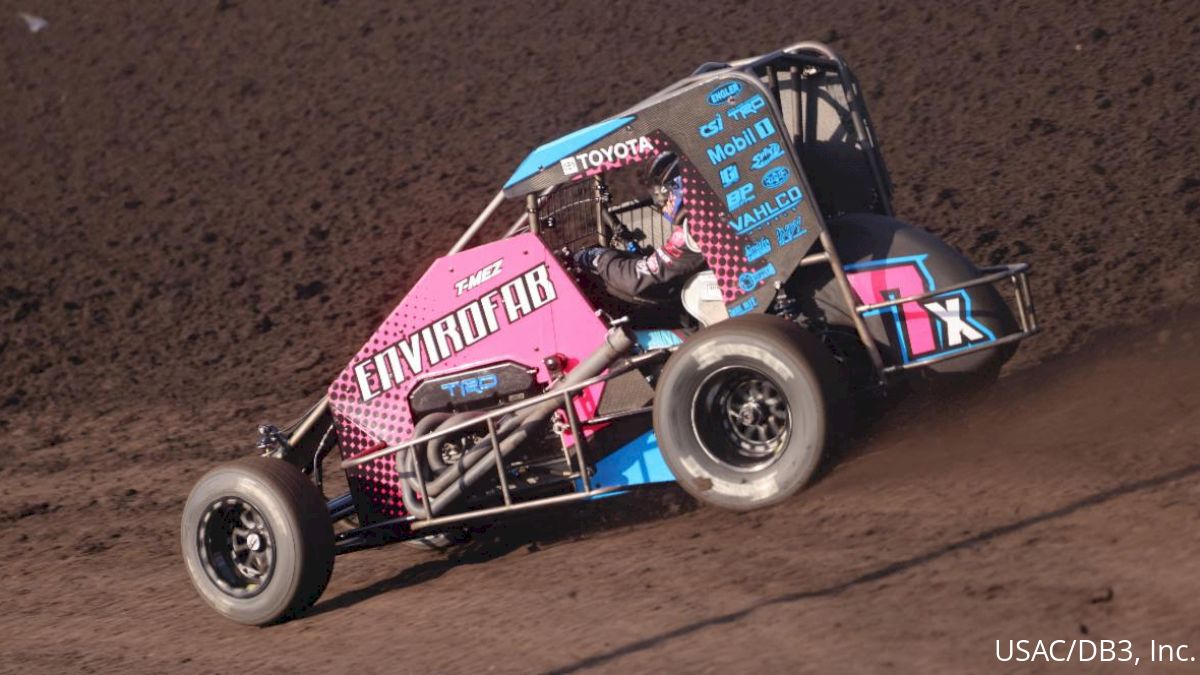 With the checkered flag in his sight, Thomas Meseraull had resigned himself to a third-place finish during the 2021 opening night Huset's Speedway USAC Nationals feature for the NOS Energy Drink National Midgets in Brandon, South Dakota.
Running inside the top five throughout the first 29 laps, Meseraull thought he saw his hopes of victory dashed on the final lap as the leaders raced into the distance on the back straightaway, while his destiny seemed sealed.
However, divine intervention swept over the speedway in the form of a yellow flag due to a stopped car in Turn 2 that brought about not only a halt to the race, but also reverted to the last completed lap, thus sending Meseraull back into second place and provided him another shot with a green-white-checkered bout waiting ahead.
Meseraull assaulted the cushion without hesitation and stuck to his guns to charge by for the win, ultimately completing the winning pass at the exit of Turn 4, while charging to the white flag. Not to be denied, Meseraull sealed the deal on the final lap by turning in his best lap of the contest.
The San Jose, California, driver has his eye on the ball once again for this weekend's return to the 1/3-mile dirt oval as he seeks consecutive years of Huset's success.
THE INTRODUCTION:
Three-straight nights of USAC NOS Energy Drink Midget National Championship racing arrives at Huset's, with action taking place Friday-Sunday, alongside the USAC AMSOIL Sprint Car National Championship in a delectable triple-threat doubleheader.
3 big nights await at the @HusetsSpeedway @usacnationals for the USAC @NosEnergyDrink National Midgets this weekend!

➡️ Appearance points only.

➡️ SP3 only on the right rear.

Complete Event Info: 👇

Friday & Saturday: https://t.co/3sZNEmU8X7

Sunday: https://t.co/zIQ8qlPaK9 pic.twitter.com/sw2koBgtqE

— USAC Racing (@USACNation) July 7, 2022
The first two nights will feature 30-lap USAC National Midget main events, paying $5,000-to-win. Meanwhile, Sunday night's 100-lap finale will pay $12,000 to the winner. Throughout the weekend, points will be accumulated, and the top point gainer in the midget division for all three events combined will earn a $10,000 prize.
Friday, Saturday and Sunday night's events will award 50 appearance points only to all USAC nationally licensed drivers and entrants. No qualifying, heat race, preliminary or feature points will be issued.
RUSHMORE HISTORY:
USAC NOS Energy Drink National Midgets have competed in the state of South Dakota just nine times in the 67-year history of the series.
Nine previous South Dakota USAC National Midget races have produced eight different winners between 1976-2021: Steve Cannon (1976 in Huron), Sleepy Tripp (1976 in Rapid City), Johnny Parsons (1977 in Huron), Rich Vogler (1977 in Hartford), Ken Schrader (1982 in Hartford), Kenny Irwin Jr. (1996 at Huset's), Meseraull (2021 at Huset's) and Chris Windom (twice in 2021 at Huset's).
THE RETURNEES:
Among the top returnees in the field are the man who won his first career World of Outlaws NOS Energy Drink Sprint Car feature just two weeks ago at this very same place. That's defending USAC National Midget champion and current point leader Buddy Kofoid (Penngrove, California).
Kofoid's three Huset's midget starts last year resulted in a fourth-place finish the first night, third place the next night and a runner-up finish on the final night of racing. Kofoid is sensing a trend, and he'll be shooting to get back into victory lane for the fifth time this season.
Huset's fans got to see @MichaelKofoid win his first World of Outlaws feature. Now come back to @HusetsSpeedway this weekend for the @usacnationals to see if Buddy can put his @KKM_67 Midget in Victory Lane too! He was SO CLOSE last year.

🎟 available at https://t.co/cunZl57NmW pic.twitter.com/vRSL6KPamr

— USAC Nationals (@usacnationals) July 6, 2022
Shane Golobic (Fremont, California) was solid in all three of his starts a year ago at Huset's, with the 2017 USAC Indiana Midget Week titlist finishing third on Night 1, fifth on Night 2 and seventh on Night 3.
Golobic was the first to break the track record in the 2021 opener, but the ensuing evening saw Mitchel Moles (Raisin City, California) up the ante once more by setting a new track record for the series at 12.776 seconds.
Moles, this year's leading rookie-of-the-year candidate, nearly pulled off a victory on the first night of the 2021 festivities, taking the lead on the final lap before the yellow fell. On the restart, he dropped to sixth and is primed to become the series' newest first-time winner.
Logan Seavey (Sutter, California) possesses the USAC Sprint Car one-lap track record at Huset's, but his prowess in a midget there is just as strong. The 2018 USAC National Midget champ rose to seventh, fourth and sixth during his three runs at the track in 2021.
Justin Grant (Ione, California) is the lone driver to win in all three USAC National divisions this year. The 2020 USAC Silver Crown champ, and three times a 2022 USAC National Midget victor, scored a best of sixth at Huset's on Night 2 in the inaugural 2021 edition.
Cannon McIntosh (Bixby, Oklahoma) was the dominant force early on the final night of 2021's USAC Nationals. He led a total of 23 laps, before suffering a flat right rear tire, which dashed his hopes of victory. The winner of the series' most recent round at Kokomo (Indiana) Speedway in June collected a best of ninth on the second night of action.
Brenham Crouch (Lubbock, Texas) placed ninth on the final night of 2021, while Chance Crum (Snohomish, Washington) performed solidly with 10th-place results on each of the first pair of racing nights.
Lurking just outside the top 10 last year and hungry to move up through the field this time around are 2021 race returnees Ethan Mitchell of Mooresville, North Carolina, who was 13th on the first night, as well as Hayden Reinbold of Gilbert, Arizona, who was 14th the same night. Four-time USAC National Sprint Car champion Brady Bacon (Broken Arrow, Oklahoma) suffered trouble on his run last year, relegating him to 17th in the opening-night finishing order.
THE ROOKS:
The USAC Nationals Rookie class in the midget division includes many of the series' shining new stars.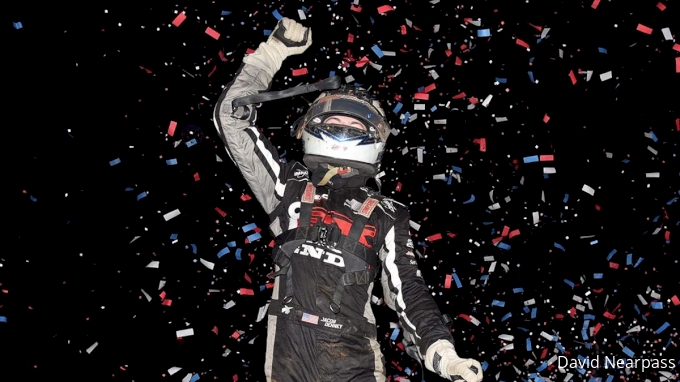 Jacob Denney (Galloway, Ohio) captured his first career USAC National Midget victory during USAC Indiana Midget Week at Lincoln Park Speedway in June.
The Keith Kunz/Curb-Agajanian Motorsports pack includes three drivers currently positioned inside the top 8 in the overall standings, and all hungering after their first series victory.
Third in points is Bryant Wiedeman (Colby, Kansas), Kaylee Bryson (Muskogee, Oklahoma) is sixth and Taylor Reimer (Bixby, Oklahoma) is eighth. Cade Lewis (Bakersfield, California) is a newcomer to the team and is making his first South Dakota voyage this weekend.
Jade Avedisian (Clovis, California), like Reimer, is a recent feature winner with the Xtreme Outlaw Midgets and also is making her Huset's debut, along with CB Industries teammate and fellow series Rookie Jace Park (Overland Park, Kansas).
POWRi Midget champ Zach Daum (Pocahontas, Illinois) will be among those pulling double-duty in both the USAC Midgets and Sprints at Huset's, as will Alex Schriever (Hartford, South Dakota), not exactly a newbie to USAC racing at Huset's after finishing 14th with the sprints there in 2016.
Badger Midget champion Chase McDermand (Springfield, Illinois) is in the lineup, as is USAC Western Restricted HPD Midget champ Blake Brannon (Morgan Hill, California) and more.
For the first two nights of racing at Huset's, Friday and Saturday, pit gates open at 1 p.m. Eastern. The front gates will open at 4 p.m. EDT, and the drivers' meeting will be held at 5 p.m. An autograph session will be held behind the grandstands from 6-6:30 p.m., engine heat will happen at 7:30 p.m. and hot laps will happen at 8 p.m., with qualifying and racing action to follow.
On the final night, championship night the pit gates open at 1 p.m. Eastern. The front gates will open at 4 p.m. EDT, and the drivers' meeting at will be at 5:15pm. Cars will be on track for engine heat at 6 p.m., and hot laps will be at 7 p.m.
Tickets, multi-day packages and limited camping spots are going fast. Visit usacnationals.com to get yours today.
Follow @USACnationals on Facebook, Twitter and Instagram for event news, updates and information.
If you can't make it to the event in person, all three nights of racing action at the Huset's Speedway USAC Nationals will be aired live on FloRacing. Watch here.