2022 Bill Gardner Sprintacular at Lincoln Park Speedway
Twin Bill: Two Sprintacular Nights Of USAC/MSCS Sprints At LPS
Twin Bill: Two Sprintacular Nights Of USAC/MSCS Sprints At LPS
Kevin Thomas Jr. is back in form and will make his season debut with the USAC AMSOIL Sprint Car National Championship in Indiana this week.
Jun 30, 2022
by FloRacing Staff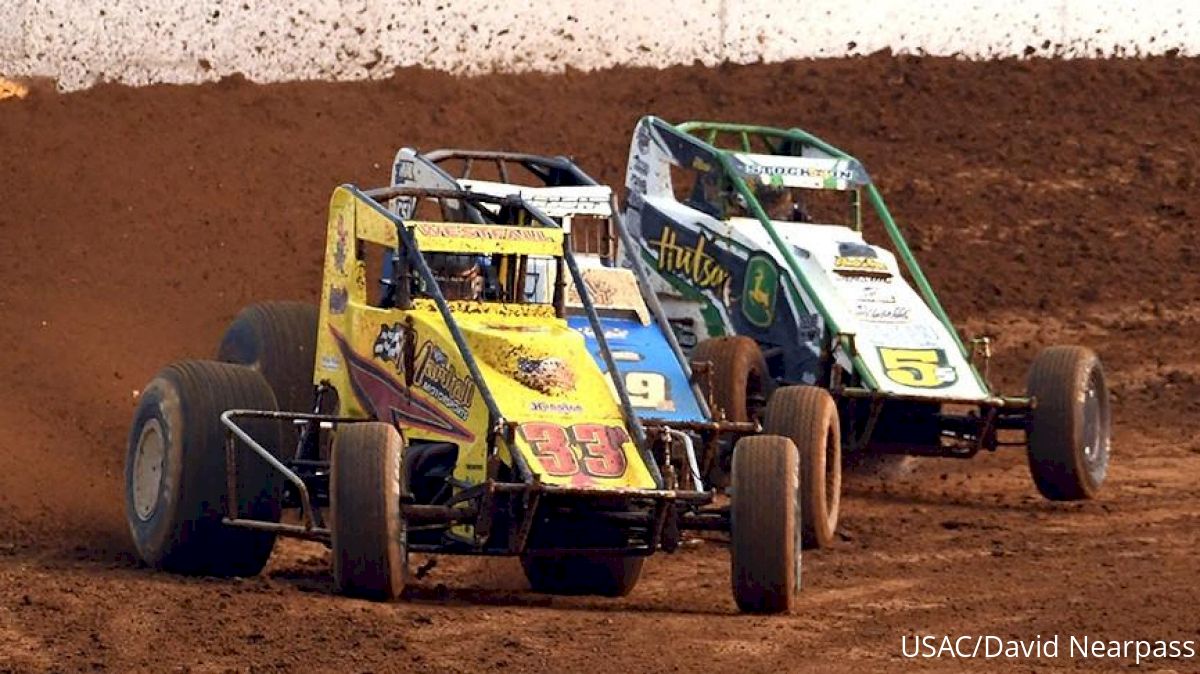 Kevin Thomas Jr. began his Sprintacular winning quest from the back half of the field during the 2021 event at Lincoln Park Speedway in Putnamville, Indiana.
Now, a year later, Thomas is back in form as he looks to make his season debut with the USAC AMSOIL Sprint Car National Championship in the eighth annual Indiana Open Wheel Bill Gardner Sprintacular, which encompasses two consecutive evenings of co-sanctioned USAC AMSOIL Sprint Car National Championship and Midwest Sprint Car Series events at LPS' 5/16-mile dirt oval on July 1-2.
Mired deep - 14th in the 22-car feature lineup - the Cullman, Alabama, native rapidly ascended through the field, securing the lead just six laps from the finish of the 40-lap event to quench his thirst with a monumental victory.
In fact, it was an unprecedented triumph in KTJ's career. His 13-spot advancement to the top of the leaderboard is one he estimated as a personal-best.
"I've never won from that far back, I don't think," Thomas pondered. "That was a lot of fun there, just battling through the field and doing whatever we had to do to win."
Thomas also engineered a Sprintacular win in 2017 and finished as a runner-up in both 2015 and 2019. He most recently won at Lincoln Park's Fast Freddy Classic on June 18.
He's also one of several past winners of a Sprintacular feature who are vying for this weekend's winner's share of $5,000 on Friday and $10,000 on Saturday. The field also will include Robert Ballou (2015 & 2016), Justin Grant (2018), Kyle Cummins (2019), Shane Cottle (2020), Brady Bacon (2020) and C.J. Leary (2021).
Ballou (Rocklin, California) is one of two multi-time feature winners in the history of the Sprintacular, along with Thomas, winning on the second night of 2015, followed by another score in the 2016 opener.
Like Ballou, Bacon is a three-time LPS USAC Sprint winner. His latest came at the Sprintacular, where Bacon prevailed in the closest three-car finish of the season, with a mere car length separating the top-three at the finish line on the final night of 2020.
Leary (Greenfield, Indiana) has finished within the top-four in each of his last four Sprintacular starts, notching a victory in the 2021 opener, after starting in 11th. He followed it up with a fourth-place finish the next night. The 2019 USAC National Sprint Car champion was second and fourth on each night in 2020.
Cottle (Kansas, Illinois) scored his Sprintacular victory in a stirring drive from sixth to first in the early stages to win the 2020 opener. He actually has finished inside the top 5 in all of his last four Sprintacular starts, first taking second in 2019 and first in 2020. He was third and fifth, respectively, on each of the two nights during 2021, while also setting quick time in the 2021 opener.
Grant (Ione, California) captured a Sprintacular win during the 2018 event at LPS. The current series point leader was second in the event during both 2020 and 2021.
Cummins (Princeton, Indiana) finds himself in the Sprintacular winning group as well, having taken the gold back in 2019. He also added an Indiana Sprint Week feature victory at LPS in 2019. He won with MSCS at LPS in late May and owns the 10-lap USAC Sprint Car track record at LPS with a time of 2:09.325, set in 2021.
Among the individuals searching for a first Sprintacular victory are Chase Stockon (Fort Branch, Indiana) who earned his first career USAC Sprint Car win at LPS in September of 2020. At the Sprintacular, he finished a best of third in 2015.
His KO Motorsports teammate Jason McDougal (Broken Arrow, Oklahoma) made his first career USAC National Sprint Car start of any kind a memorable one during the 2018 Sprintacular when he charged from his 22nd starting position to finish third.
Recent Eastern Storm champ Logan Seavey (Sutter, California) will make his Sprintacular debut this weekend after finishing fifth in his most recent USAC Sprint Car start at LPS during Indiana Sprint Week in July 2021 and winning a weekly program at the track that same year.
Leading USAC National Sprint Car Rookie of the Year contender Emerson Axsom (Franklin, Indiana) won the track's most recent event June 25. Fellow Rookie Alex Banales (Lafayette, Indiana), like Axsom, is taking in his first Sprintacular experience.
The 2020 USAC National Most Improved Driver, Brandon Mattox (Terre Haute, Indiana), was eighth twice in 2018 and ninth in 2020, his recent Sprintacular performances.
Jadon Rogers (Worthington, Indiana), the 2020 USAC National Sprint Car Rookie of the Year, was the fastest qualifier on the first night of the Sprintacular in 2020 and was 15th the same year in the event. Matt Westfall (Pleasant Hill, Ohio) recorded an 18th-place finish in 2017.
A.J. Hopkins (Brownsburg, Indiana) is the reigning two-time Lincoln Park Speedway track champion and was victorious at LPS on the local level back in June. At the Sprintacular, Hopkins turned in his best career USAC performance, finishing second in 2018. Max Adams (Loomis, California) was seventh in 2019.
Hopkins is among the bevy of Lincoln Park Speedway winners this season vying for their first Lincoln Park USAC Sprint Car win.
It's a lengthy list, which includes Jake Swanson (Anaheim, California), who collected a Racin' Fest victory at LPS in April and finished as the runner-up on the opening night of the 2021 Sprintacular after leading eight laps late.
Lincoln Park Speedway Sprint Car point leader Geoff Ensign (Sebastopol, California) already has won twice at the track this year, and he'll be joined in the field by Silver Crown standout, 2016, 2018 and 2019 track champion Shane Cockrum (Benton, Illinois), who won the April season opener at LPS, while Tye Mihocko (Phoenix) used the top shelf to win there in early May.
Track champions of Lincoln Park are prevalent throughout the field, with Hopkins and Cockrum in the fold, along with Fairland, Indiana's Brent Beauchamp (2012 and 2017) and Fillmore, Indiana's Brian Hayden (1995 and 2013). Beauchamp was the fastest qualifier at the 2020 Sprintacular and possesses a pair of top-5 finishes in the event. He was fourth in 2018 and fifth in 2016.
The sons of track champions are making waves, too, with Avon, Indiana's Brayden Fox, son of 1997 champion Brad Fox, as well as Brazil, Indiana's Hayden Burns, son of 2000 titlist Eric Burns. Fox was 16th in the 2021 Sprintacular. Burns, meanwhile, was a 17th-place finisher in the 2019 event.
The event honors the life and memory of Bill Gardner, who died in July 2014.
Gardner was born and raised in Putnam County, Indiana, but you also could say he was practically raised at Lincoln Park Speedway, where he was a fixture throughout his life and was a crew member for best friend Brian Hayden. Gardner co-owned a sign and graphics business and created and designed one of his greatest lasting legacies to the racing community, indianaopenwheel.com.
The eighth annual Bill Gardner Sprintacular will feature two consecutive nights of USAC AMSOIL National Sprint Car racing at Lincoln Park Speedway, with Friday night paying $5,000-to-win and $500 to start and Saturday night paying the elevated purse of a $10,000 winner's share and $600 to start.
Friday's Bill Gardner Sprintacular event will utilize the MSCS format, which features group qualifying as well as an H15 or Medium on the right rear and concludes with a 30-lap feature. On Friday, all licensed USAC National Sprint Car drivers and entrants will receive 50 appearance points, regardless of finishing position.
Saturday's show will use the standard USAC format of single-car qualifying to seed the starting lineups, the use of a Medium right rear tire and full points for all events, leading up to the night's 40-lap feature race.
On Friday, the pits will open at 4:30 p.m. Eastern, and front gates will open at 4:45 p.m. Hot laps will begin at 6:30 p.m., with qualifying and racing immediately following.
On Saturday, the pits open at 3 p.m. Eastern, and front gates will open at 5 p.m. Hot laps will get underway at 6:30pm, with qualifying and racing immediately following.
General admission tickets for each night are $30 apiece with kids age 10 and under are free. Pit passes are $35 with kids age 10 and under free.
FloRacing will provide live coverage for both nights of the USAC/MSCS Bill Gardner Sprintacular. Watch here.