2022 USAC Open Wheel Madness at Port Royal Speedway
Logan Seavey Uses Last-Lap Heroics To Claim USAC Silver Crown Win
Logan Seavey Uses Last-Lap Heroics To Claim USAC Silver Crown Win
Logan Seavey used a last-lap pass on Matt Westfall to claim the USAC Silver Crown win in thrilling fashion Saturday night at Port Royal Speedway.
Jun 19, 2022
by FloRacing Staff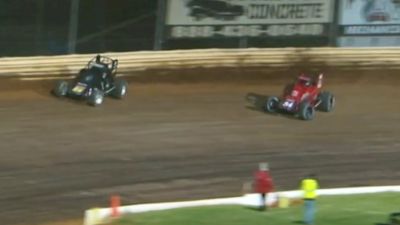 Port Royal, PA -- They say an individual receives just one opportunity to make a first impression.
If that's truly the case, then Logan Seavey's introduction to Pennsylvania's Port Royal Speedway is a match made straight out of a storybook.
The Sutter, California's fairytale racing evening began with him collecting a USAC AMSOIL Sprint Car National Championship feature victory on the half-mile dirt oval. Later that night, when he re-strapped himself into a USAC Silver Crown car, the end result was just the same.
However, while the sprint car portion was a relative comfort cruise for Seavey, his subsequent USAC Silver Crown run was anything but.
Seavey led on two different occasions within the final nine laps of the first ever USAC Silver Crown event held at Port Royal, then used a late-race restart with two laps remaining of the 50-lapper to work his way back by Matt Westfall just a half-lap from the finish line while banging the outside guardrail for the majority of the distance to propel him forward off the turns and down the straightaways.
Ironically, it was Seavey himself who may have inadvertently saved his own race. With two laps remaining and trailing Westfall by a car length, Seavey clocked the turn two guardrail three different times, which sheared off his own right rear wheel cover.
With Seavey's wheel cover sitting right smack dab in the middle of the highline groove near the outside rail in turn two, a debris caution was called, which set up a two-lap dash between Westfall and Seavey.
Westfall led the initial lap following the lap 49 restart by running through the middle of the racetrack while Seavey committed himself to banging off the outside fence up top. Westfall stayed steady and led Seavey by a single car length as the two crossed under Warren Alston's white flag.
Seavey clipped the turn two wall not once, but twice and possibly three times as he vaulted himself ahead of Westfall midway down the back straightaway. Once Seavey's rear bumper cleared Westfall's front bumper, Seavey changed course and headed to the bottom to steal away Westfall's low line. Both couldn't quite hold the grip on the bottom in turn three, and both simultaneously drifted up the track surface in synchronicity. Exiting turn four for the final time, Seavey could finally breathe a sense of relief with a mere two car length gap separating each other at the checkered flag.
The third win of Seavey's Silver Crown career was his most impressive yet as he utilized every ounce of grit he could muster out of his car and of himself to earn the $8,000 winner's share – minus $100 for the dislodged wheel cover per USAC rules.
Nonetheless, it's quite clear that Seavey loves Port Royal and Port Royal's love back to him is requited. Seavey's sweep of the two features he ran on Saturday at Port Royal made him the first driver to capture main event wins in the USAC Silver Crown and USAC National Sprint Car divisions on the same day since Chris Windom in 2013.
"I knew this was going to be a place I was going to fall in love with," Seavey noted while basking in the afterglow of victory beside his STIDA.com – Lucas Oil – Legacy Motorsports/DRC/Pink Foxco Chevy. "I have such a good racecar and we really just based it off how we race at Eldora and these cars are really good there. I knew we were going to be good but, actually, I struggled really bad in the beginning of the race, and I was complaining to my crew chief Ronnie (Gardner) under the yellow with 20 to go when I said that I can't run the middle or the bottom like these guys, so I'm just going to free myself up a little bit and commit to the wall, and that's what I did."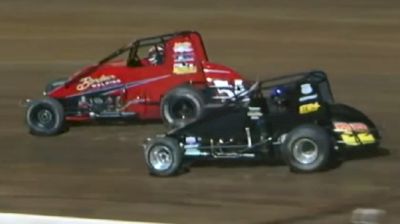 VIDEO: Watch highlights from Saturday's USAC Silver Crown feature on FloRacing.
C.J. Leary was the epitome of the class of the field early on as he rolled from the pole position to lead the opening 15 circuits, the latter of which he battled lap-after-lap, side-by-side with the ever-pursuant Brady Bacon. Yet, while all eyes were affixed on those two, fourth-starting Westfall was masterfully patrolling the low line as he drove by both and put himself in the lead where he'd remain for the bulk of the race for a total of 26 laps.
Up to that point, Seavey was a bit-player in the mix as he strode in fifth for practically the entire first half-plus until a yellow on lap 30 was displayed for seventh-running Justin Grant who slowed with a torsion bar and shock issue on the right rear, ending his race with an uncharacteristic 21st place result.
Moments later, on the lap 30 restart, Seavey put on his spurs, got on the horse and rode the high side from fifth to second, but Bacon was momentarily able to stave off the pressure and regained third back from Seavey for the time being. Just three laps later, however, Seavey cleared both Bacon and Shane Cottle on the top side to take the reins of the second position.
Digging and digging some more, Seavey made his own personal path on the outside to leap past Westfall on lap 42, but Westfall was able to stick with him as lapped traffic loomed ahead. However, just as the traffic was within arm's length, sixth-place Jake Swanson's car came to a rest, spun and stopped, in turn three with seven laps remaining, causing some consternation with Seavey's bid for victory.
"I hated to see that yellow," Seavey stated. "All those lappers were on the bottom and that's where Matt was."
On lap 45, Westfall found a run on Seavey for the number one spot as he dove under in turn three. Seavey countered back underneath and, suddenly, the two found themselves in unfamiliar positions with Seavey low and Westfall higher entering turn one. Seavey promptly slid up just a tad while Westfall found grip and motored away with less than five to go before ultimately constructing a six-car length lead until the aforementioned caution for Seavey's displaced wheel cover, which necessitated a final green-white-checkered duel between the two.
"I didn't know if I was going to have enough there at the end with a two-lap run to get to him," Seavey admitted. "(Westfall) seemed like he was searching a little bit. I was not searching. I had one goal in mind, and that was to just use the wall to drive around him. There are 22 other guys that would've probably run me into the fence on the back stretch, but he left me just enough to bounce off the wall and sneak by."
It was so close for Matt Westfall (Pleasant Hill, Ohio) as the two-decade veteran of USAC Silver Crown racing came within a half-lap of winning his first career series feature after leading a race-high 30 laps in his Westfall Motorsports/Lynn Cook – Bordner Welding – Lake City Bowl – Ray Marshall Motorsports/Maxim/J & D Chevy. His second-place result ties his best career series result after similar runner-up finishes at Ohio's Eldora Speedway in 2013 and again in 2021.
It's now two starts and two podium finishes for Brady Bacon (Broken Arrow, Okla.) during the 2022 USAC Silver Crown season thus far in his Five Three Motorsports/Fatheadz Eyewear – Smith Titanium – Indy Powdercoat/Maxim/Kistler Chevy. Bacon ran inside the top-three for all 50 laps at Port Royal, and the end result saw him finish third for the second consecutive time this season after also scoring a third in May at the Terre Haute (Ind.) Action Track.