2022 USAC Open Wheel Madness at Port Royal Speedway
The Speed Palace: USAC Sprints Make Port Royal Return Saturday
The Speed Palace: USAC Sprints Make Port Royal Return Saturday
USAC AMSOIL Sprint Car National Championship racing's kings have excelled and thrived at Port Royal Speedway, and they be back Saturday night.
Jun 17, 2022
by FloRacing Staff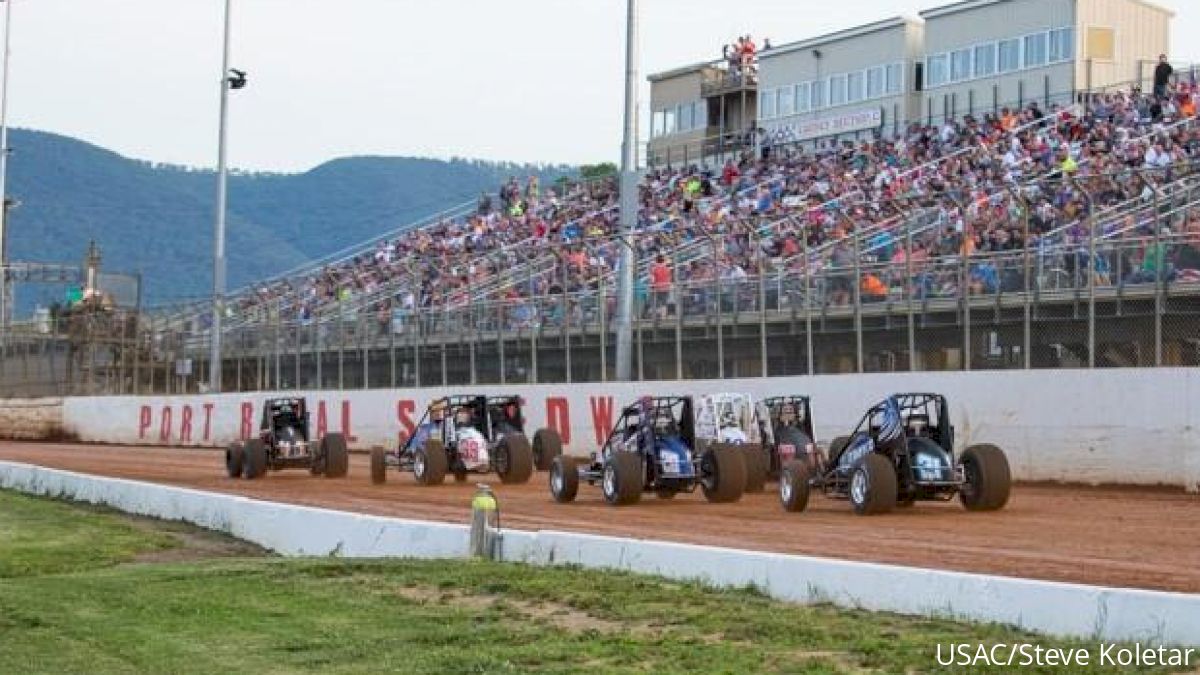 The Speed Palace is more than just a nickname - it's an apt description of Pennsylvania's Port Royal Speedway.
USAC AMSOIL Sprint Car National Championship racing's kings have excelled and thrived at this joint, with names like Brady Bacon and Robert Ballou presiding over the win list at the half-mile dirt oval, and who will be vying to ascend the throne once more Saturday night for the penultimate round of USAC Eastern Storm.
Bacon (Broken Arrow, Oklahoma) was victorious at Port Royal in 2014, winning the Eastern Storm crown that year, before adding a first USAC National Sprint Car title as the cherry on top.
The now four-time USAC National Sprint Car champion finished second at Port Royal in 2016, third in 2017, fourth in 2013 and seventh in both 2015 and 2019. His time of 2:32.57 set in 2019 is the eight-lap USAC National Sprint Car track record at Port Royal.
Ballou (Rocklin, California) had an Eastern Storm for the ages in 2015, sweeping the series, including the stop at Port Royal, en route to a dominating Eastern Storm championship. He also was the king of the USAC National Sprint Cars at season's end.
He enters this week as the reigning Eastern Storm champ and, at Port Royal, he's also cooked up fourth-place finishes in 2012, 2014 and 2018, as well as eighth in 2016.
C.J. Leary (Greenfield, Indiana) possesses the one-lap USAC National Sprint Car track record at Port Royal of 18.105 seconds, set during his Eastern Storm and USAC National Sprint Car championship season of 2019, a night in which he earned his best career finish at the track, third in the feature. Leary added a fifth in 2016 and a 10th in 2018.
Justin Grant (Ione, California) twice has been a fast qualifier in USAC AMSOIL National Sprint Car competition at Port Royal (2014 and 2017). The 2020 USAC Silver Crown champ finished a best of second in 2017, added a fifth in 2019, seventh in 2014, seventh in 2018 and eighth in 2015.
Chase Stockon (Fort Branch, Indiana) was the fastest qualifier at Port Royal in 2016 and finished as the runner-up in the feature during 2015 Eastern Storm. His other top finishes include fourth in 2019, fifth in 2013, sixth in 2014, sixth in 2018 and seventh in 2017.
Shane Cottle (Kansas, Illinois) earned a pair of 10th-place finishes at Port Royal with the USAC National Sprint Cars in 2013 and 2015. Thomas Meseraull (San Jose, California) has earned a top-10 finish during Port Royal's Eastern Storm date in 2017 (sixth), while Shane Cockrum (Benton, Illinois) took ninth in 2014.
Mark Smith (Sunbury, Pennsylvania) was 11th in the first Eastern Storm visit to Port Royal in 2012 and was fifth in USAC East Coast Sprint Car action this past April. Matt Westfall (Pleasant Hill, Ohio), meanwhile, was a best of 14th in the Eastern Storm event at Port in 2018.
A number of USAC East Coast Sprint Cars' best have performed well at Port Royal. Alex Bright (Collegeville, Pennsylvania) won two USAC EC features, first in 2020 and again in 2021. With the USAC National Sprint Cars at Port Royal, Bright finished 13th in 2017.
Three-time USAC East Coast Sprint Car champion Steven Drevicki (Reading, Pennsylvania) finished second behind Bright in April's EC race. Drevicki was 20th in the 2019 USAC National Sprint Car race at Port Royal. Briggs Danner (Allentown, Pennsylvania) has garnered the last two consecutive USAC East Coast Sprint Car feature victories in 2021 and in April of this year. Joey Amantea (Mount Pocono, Pennsylvania) was a 15th-place runner in April.
Port Royal first-timers are in abundance this weekend, with Wednesday night Bridgeport Eastern Storm winner Logan Seavey (Sutter, California) in attendance, along with two-time 2022 USAC National Sprint Car feature winner Emerson Axsom (Franklin, Indiana), 2020 USAC National Sprint Car Rookie of the Year Jadon Rogers (Worthington, Indiana), 2020 USAC National Most Improved Driver Brandon Mattox (Terre Haute, Indiana), 2017 USAC West Coast Sprint Car champion Jake Swanson (Anaheim, California) and 2018 USAC Southwest Sprint Car champion Charles Davis Jr. (Buckeye, Arizona).
USAC AMSOIL National Sprint Car Rookie Alex Banales (Lafayette, Indiana) will be on hand for his first Port Royal run, as will be Korbyn Hayslett (Troy, Ohio) and Dallas Hewitt (Troy), plus late model/modified standout Brian Ruhlman (Clarklake, Michigan) and Austin Graby (Lebanon, Pennsylvania), who will take the wheel of the Lotier-Nemeth Motorsports No. 7, normally driven by Timmy Buckwalter, who has modified racing obligations that same night.
Saturday night's Eastern Storm/Open Wheel Madness II "USAC Eastern Blast" will feature the USAC AMSOIL Sprint Car National Championship, USAC Silver Crown National Championship and 410 Wing Sprint Cars.
Pits open and front gates open at 4 p.m. Eastern, and hot laps will begin at 6 p.m., followed by qualifying and racing.
Adult admission tickets are $30, students age 13-18 are $15 and children 12 and under will be admitted free. Pit passes are $35 for members and $40 for non-members.
All Eastern Storm events will be streamed here, live on FloRacing.