2022 Illinois Speedweek at Farmer City Raceway
Tyler Erb Beats Ricky Thornton Jr. In Farmer City Thriller
Tyler Erb Beats Ricky Thornton Jr. In Farmer City Thriller
Tyler Erb used a dramatic last-turn pass on Ricky Thornton, Jr. to win the Illinois Speedweek Farmer City 74 at Farmer City Raceway.
May 15, 2022
by FloRacing Staff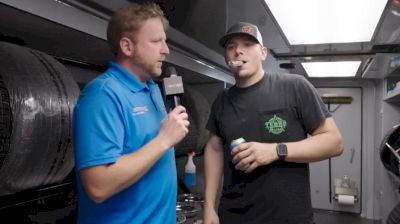 FARMER CITY, Ill. — Tyler Erb understandably needed time to catch his breath after pulling off a dramatic last-turn victory in Friday's Farmer City 74 presented by Douglas Dodge at Farmer City Raceway.
"Give me a minute," the 25-year-old from New Waverly, Texas, told DirtonDirt.com's Derek Kessinger before starting his postrace interview.
The beads of sweat rolling down Erb's dirt-covered face told the story of his relentless late-race charge to a MARS Racing Series checkered flag worth $15,000. He got up on the wheel of his Best Performance Motorsports Rocket machine over the final 10 circuits of the 47-lap feature to dog leader Ricky Thornton Jr. of Chandler, Ariz., before finally slipping underneath his fellow Lucas Oil Late Model Dirt Series regular off turn four and winning a drag race to the finish line by mere inches.
"That was a lot of fun," Erb said with a broad smile as he glanced up at the cheering Farmer City crowd on Night 3 of the inaugural four-race Illinois Speedweek. "I love coming here, Fairbury, all these Illinois tracks. I just never had much luck here."
This time Erb hit the jackpot at the quarter-mile oval, emerging triumphant in a wildly competitive race that saw runner-up Thornton lead laps 15-46 and third-place finisher Hudson O'Neal of Martinsville, Ind., pace laps 1-14. The remainder of the top five was filled out by Bobby Pierce of Oakwood, Ill., who advanced from the 20th starting spot after winning a B-main, and eighth-starter Brandon Sheppard of New Berlin, Ill.
Erb, who started fifth, spent more than half the distance racing under the radar as Thornton and O'Neal battled for the lead and Dennis Erb Jr. of Carpentersville, Ill., rose up to make a mid-race bid to overtake O'Neal for second. But after sneaking past Dennis Erb (no relation) for third place just before the race's lone caution flag flew on lap 33 for Garrett Alberson sliding to a stop inside turns three and four, Erb found himself firmly in contention for the big prize.
Then Erb continued turning up the wick.
"Randall (Edwards) told me to kind of quit running the bottom like I was," Erb said of his veteran crew chief. "I never felt like I was making no more speed."
Erb immediately overtook O'Neal for second on the restart. Four circuits later the Texan began nosing underneath Thornton in turns one and two.
On the 43rd lap, Erb slid hard to Thornton's inside through turns one and two and there was slight contact between the two cars. Erb was ahead off turn two, but Thornton crossed back underneath down the backstretch and maintained command.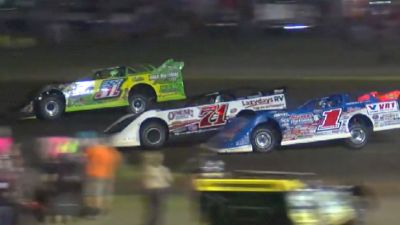 VIDEO: Watch highlights from the Farmer City 74 at Farmer City Raceway.
After at least two more slider attempts by Erb failed in turns one and two, the white-flag lap saw Thornton pull ahead by several car lengths on the backstretch. But when Thornton went low through turns three and four in an effort to stave off a Hail Mary slider from Erb, his SSI Motorsports Longhorn car drifted up the track in turn four and Erb, ripping the top, ran up on Thornton's rear bumper. Then Erb cranked his car off the outside lip exiting turn four, pulled to Thornton's inside and barely beat RTJ to the checkered flag.
"Ricky, he had a really good car," Erb said. "I know we rubbed there (on lap 43) … he was kind of screwed there getting into three that last lap and we pulled it off.
"I get it totally. He's searching (as the leader) and doesn't know where to go. Really, in one and two he was a lot better than us. I knew my line there (in turns three and four), and I honestly couldn't believe it the last corner. He just kind of skated to (the top), and I turned 9900 (RPM on the homestretch) and it worked out."
Thornton, 31, was gracious after his heartbreaking defeat.
"I was worried (Erb) was gonna get a good run there off of two (on the last lap) so I was kind of protecting (entering turn three) so he couldn't slide me," Thornton said. "It was my own fault. I should've been running a lot harder than I was. I was trying to keep the deck in it … I'm tired of fixing everything every week.
"But it's pretty awesome (to finish second)," he continued. "We had a really good car. We struggled bad last night (he was the first retiree in Thursday's feature at Lincoln Speedway after damaging the nose of his car), so we ended up second by very little … it kind of sucks, but congrats to Terbo. He definitely ran me clean. He could've knocked me out of the way a few times. It just didn't work out."
The 21-year-old O'Neal remained winless in 2022 in his Roger Sellers-owned Rocket car, but his third-place run was a promising development.
"I thought there with five to go, once I finally got cleared of (Dennis) Erb and was able to move to the top down here, I thought maybe I was gonna be able to get to 'em," O'Neal said. "I just ran out of laps. I should've maybe got up there a little earlier and tried to get back to 'em.
"It's definitely better than how we've been running," he added. "We're inching away. We're just getting a little bit better at a time. This first one's gotta come soon. We just don't when it's gonna be."
From his vantage point in third place, O'Neal noted that the finish between Erb and Thornton was too close for him to call.
"It was a great race," he said. "I didn't know who won. I thought maybe Ricky had won until they said it (was Erb) over the Raceceiver."