2022 NASCAR Whelen Modified Tour at Riverhead Raceway
Riverhead Locals Headline Deep NASCAR Modified Tour Entry List
Riverhead Locals Headline Deep NASCAR Modified Tour Entry List
Thirty-one teams are entered for Saturday's NASCAR Whelen Modified Tour Miller Lite 200 at Riverhead Raceway.
May 10, 2022
by Rob Blount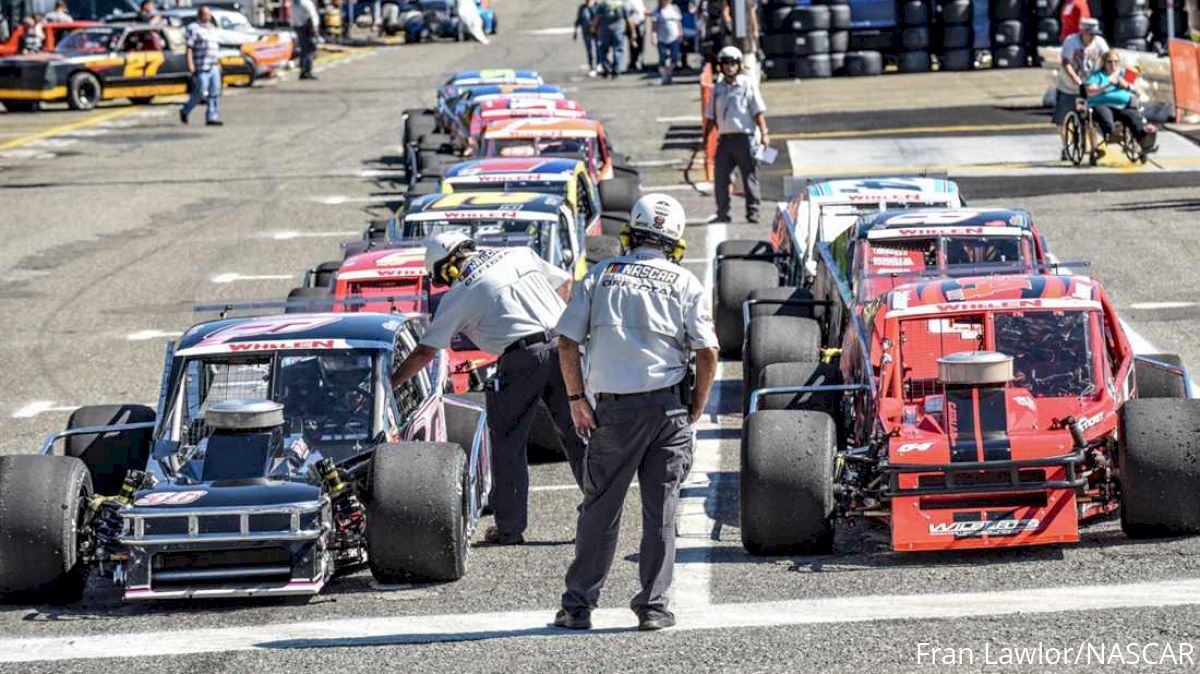 The NASCAR Modified Tour rolls into the Northeast for the first time this season when it heads to Long Island's Riverhead Raceway for the first of three races at the challenging bullring this season. The entry list for Saturday's race features a deep 31-car field full of former champions, race winners and local drivers ready to make a name for themselves.
The "Long Island Gang" as they were dubbed many years ago is coming out in force this weekend. Seven of the 31 entries for the 200-lap showdown are local drivers, including multi-time track champion Kyle Soper.
Joining Soper on the entry list is nine-time NWMT winner, Timmy Solomito, who is making his first start of the year. Multi-time track champion Tom Rogers Jr. is attempting his 32nd NWMT start, while still searching for his first win. Former Super Pro Trucks champion and multiple Modified winner at Riverhead, Roger Turbush has filed an entry. Turbush finished in third in the NWMT event last fall at Riverhead, his best career NWMT finish. John Baker, John Beatty Jr., and Dylan Slepian are Riverhead regulars also on the entry list.
One surprise on the entry list is the No. 2 machine of Joey Coulter. The former NASCAR Camping World Truck Series winner has made appearances in a Modified with the SMART Modified Tour in the Southeast and has one NWMT start to his name which came at New Smyrna Speedway earlier this season.
Patrick Emerling is the most recent NWMT winner at Riverhead, and he's looking to rebound from an early exit at Richmond Raceway last month. Emerling, who finished second in points to Justin Bonsignore last year, crashed in turn one just 62 laps into the 150-lap race.
Multi-time Race of Champions Asphalt Modified Tour champion Chuck Hossfeld is still seeking his first NWMT victory at Riverhead Raceway. Hossfeld has seven career NWMT victories, but his best finish at Riverhead was a runner-up result in 2006.
This year's New Smyrna Speedway World Series of Asphalt and multi-time Wall Stadium Speedway champion Jimmy Blewett will be behind the wheel of a car that Riverhead Raceway fans are very familiar with, the legendary 7NY owned by Tommy Baldwin Jr. Blewett has not made a start at Riverhead since 2019, but he is a former winner at Riverhead. That win came back in 2008.
(Update: Six-time NWMT champion Doug Coby will pilot the No. 7NY owned by Tommy Baldwin Jr. this weekend at Riverhead Raceway. Coby has two victories at Riverhead, both of which came last season. Coby was announced as driver of the 7NY Wednesday morning, after the initial entry list was release.)
Of course, all of these drivers will be chasing the NASCAR Whelen Modified Tour regulars, led by three-time and defending champion Justin Bonsignore. Bonsignore leads all active drivers in wins at Riverhead Raceway with eight. However, Bonsignore has been quick to point out that with both corners recently having been repaved, Riverhead is no longer the same Riverhead at which he was so dominant.
The only other driver on the entry list to have a victory at Riverhead on their resume aside from Bonsignore, Emerling and Blewett is Riverhead native, Eric Goodale. Goodale has three career victories, with the first of those wins coming at Riverhead back in June of 2014.
While he does not have a NWMT win yet, JB Fortin ran near the front of the field at Richmond for much of the race before fading late to finish 14th. Fortin is now coming home to Riverhead where he won the Islip 300 last November.
With 31 drivers on the entry list, Saturday's 200-lap race is going to be tough from the moment these teams unload until the checkered flag waves.
Race fans can watch Saturday's race, along with the entire racing program at Riverhead, live on FloRacing.