2022 NASCAR Whelen Modified Tour at Riverhead Raceway
Three Trips To Riverhead Raceway Is A Tall Task For NASCAR Modified Drivers
Three Trips To Riverhead Raceway Is A Tall Task For NASCAR Modified Drivers
Three trips in a season to Long Island's Riverhead Raceway will pose a big challenge to NASCAR Whelen Modified Tour drivers with championship hopes.
May 6, 2022
by Rob Blount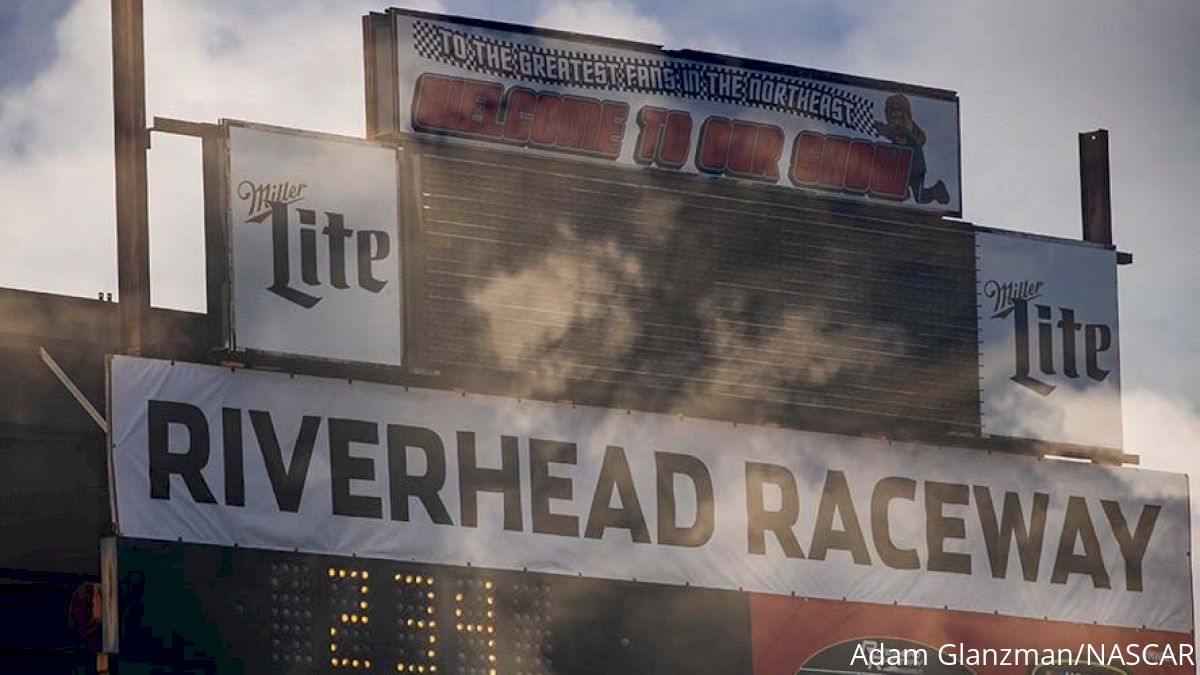 It wasn't that long ago that Riverhead Raceway hosted just one NASCAR Whelen Modified Tour race a year and rumors were swirling about the track potentially dropping off the schedule. But now, the historic Long Island bullring will be the track the series visits the most with three trips to Riverhead on the calendar for 2022.
The first of those three dates is this month on Saturday, May 14. In September the series will return for the third time this year and 70th time overall. Riverhead Raceway is now the only track to have been on the NASCAR Whelen Modified Tour calendar every year since it was founded in 1985.
Racing at Riverhead has changed throughout the years, but when you break it down to its most basic level, it's still a rough and rowdy bullring that produces plenty of contact throughout the field.
"It's a tough little bullring," said eight-time Riverhead winner and three-time champion, Justin Bonsignore. "They've changed it over the years. It's not the same track that we were really strong at years ago, but we've been making good headway there."
Recently the staff at Riverhead repaved both corners, and they started putting down a traction compound similar to what is used at places like Bristol Motor Speedway and New Hampshire Motor Speedway for the NASCAR Cup Series in the hopes of producing a second groove in the tight corners. At times, some believe the outside groove is the preferred groove, something that used to be unheard of at Riverhead.
One of the other unique things about racing at Riverhead is the strong group of weekly drivers who are able to not just qualify for the race, but also contend for the victory. Riverhead Raceway is the only track that runs its weekly series with the same rules the NASCAR Whelen Modified Tour uses.
Kyle Soper, who is now a four-time Modified division track champion has multiple top fives in NASCAR Whelen Modified Tour races at Riverhead, including a podium finish in 2017. Roger Turbush, who graduated to the Modifieds from the Super Pro Truck division at Riverhead, finish third last September behind Patrick Emerling and Bonsignore. Tom Rogers Jr. has won victories in 18 consecutive seasons in weekly Modified competition at Riverhead, and he too has multiple top five finishes in NWMT competition.
As a result of the weekly competitors being so strong throughout the years, many of them like Bonsignore and Eric Goodale, eventually graduate to running full-time on the Tour. Along with Bonsignore and Goodale, Dave Sapienza, Craig Lutz, and Ken Heagy are all full-timers who hail from Long Island and make up the current day "Long Island Gang."
Goodale, along with Bonsignore, has visited victory lane at his home race track. His first NWMT win came at Riverhead back in 2014. The near-capacity crowd that night were all on their feet cheering on a hometown driver to his first win.
"It definitely makes it a little bit more special to win there," said Goodale, who also has wins at Bristol and Martinsville Speedway. "I always have a lot of friends and family there, so it would be really cool to get another win there."
Bonsignore said it's a place that he expects to find success because of how many laps he has there, even with the changes to the track that have been made.
"You grow up racing there every week, so you want to be successful at a place where you think you should be good just based off of your history."
The first of Riverhead's three NASCAR Whelen Modified Tour races will be next Saturday, May 14. The entire NASCAR Whelen Modified Tour schedule can be seen live on FloRacing.