2022 SMART Modifieds at Florence Motor Speedway
SMART Modified Tour Storylines Entering The New Season
SMART Modified Tour Storylines Entering The New Season
Take a look at some of the biggest storylines entering the 2022 SMART Modified Tour season.
Mar 4, 2022
by Brandon Paul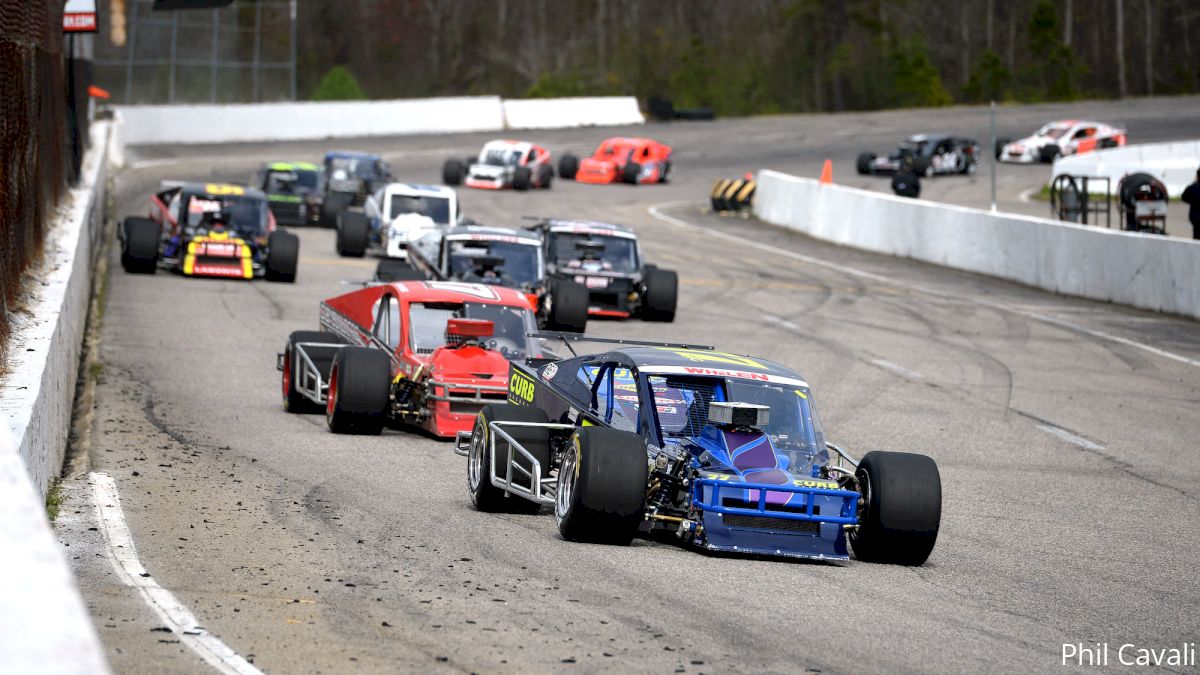 As the SMART Modifieds get ready to kick off its 2022 season, it's time to catch you up on everything new before the season begins. There's new tracks, a new title sponsor for the series, and even more new. So let's dive in and get started so you're up to date on all of the new changes before the 2022 campaign gets going on Saturday at Florence Motor Speedway.
New Tracks Added to the Schedule
New tracks coming to the season schedule will highlight the changes the tour has made leading into the season. The 12-race schedule will feature stops at Caraway Speedway, Hickory Motor Speedway, and Motor Mile, Speedway but that's not all. Tri-County Motor Speedway, Orange County Speedway and Southern National Motorsports Park are welcomed as new stops for the 2022 season. Orange County is new to the schedule, but Tri-County and Southern National are part of the original schedule that the tour went to back in the early days of the tour in 1990. Orange County may be a new track for the tour, but the asphalt is old and fast. Some of the fastest laps of the season are anticipated to be turned at Orange County.
Pace-O-Matic Becomes Title Sponsor
Pace-O-Matic has entered into a multi-year contract to partner with the SMART Modified series for title sponsorship.
"This has been a monumental year for our sport, highlighted by significant changes in our business model to ensure long-term viability and growth," SMART Tour Director, Chris Williams said in a statement. "As we begin this new partnership, we are joined by an incredible brand with grass roots businesses in mind."
The Tour's new sponsor will be featured in several capacities throughout the company, including broadcasts, digital, social media and in market promotions. Pace-O-Matic, located in Duluth Georgia, prides itself on creating software that players love to play and can use their skills to win every time. Winning relates well within the SMART Modified Tour.
"We are proud sponsors of the Southern Modified Auto Racing Tour," stated Pace-O-Matic CEO, Michael Pace. "After supporting Hermie Sadler in his return to racing in October and spending time with many of the drivers, Karmin and I felt this was a great fit for Pace-O-Matic and our goal of giving back to the community and supporting small businesses. As an entertainment company that develops gaming software players love to play and delivers additional revenue to small businesses, we understand how important these races and the drivers mean to their local communities. We know this will be a great partnership and a whole lot of fun!"
Stage Break Leader and Halfway Leader Offers Unique Challenge
Last season the SMART Tour introduced the Jerry Hunt SuperCenter Stage Break. On lap 30 the flagman would throw an orange and white checkered flag to signify the end of the stage. The stage winner received three points, second place received two points and third received one point. Also, they received a cash bonus of $300, $200 and $100. This year the tour will introduce a new opportunity for more money incentives. The Halfway Lap Leader will receive an additional $350. So the option to run for points or money will be intriguing to see. Drivers could potentially walk away with more points or more money by playing a different strategy than the rest of the field.
Driver Storylines & Silly Season
Burt Myers - The 2021 Driver's Champion, Myers won the championship off of consistency, with strong top 5 and top 10 finishes and 0 wins! Can Myers get back to victory lane and claim his third career SMART Tour title?
Brian Loftin - Loftin made the cut for last year's one race playoff, was the underdog in the trio. Has a brand new car and motor as the Grady Jeffreys owned Shady Grady Racing Team looks to win another modified championship.
Bobby Labonte - Labonte returns to run with the SMART Modified Tour after a successful rookie campaign that led to being named the 2021 Rookie of the Year propelled by 2 wins, a pole and 92 laps led.
Hermie Sadler - Hermie Sadler teams up with Senator Bill Stanley of Virginia to form SS Racing. SS Racing will run Phil Stefanelli prepared cars out of the PSR Products stable. Sadler & Stanley will field 2 cars, a full time entry with Jonathan Brown tabbed as the driver of the #22 car. Sadler will pilot the second car #16, but Sadler will only race a few times and he'll have an "all-star" lineup of drivers in the car.
Jonathan Brown - The aforementioned Brown will step out of his own #22 car and into the SS Racing #22 car. Brown is riding a wave of momentum coming into the season. Brown only ran a part time schedule last season with four races under his belt. Brown finished top five three times and his lowest finish was 7th. Brown won twice last year, including the season finale at Ace Speedway. The partnership with Senator Stanley & Hermie Sadler and running Phil's cars bodes well for the Winston-Salem, NC native.
Jeremy Gerstner - The 2-Time SMRS Champion will jump from his family owned ride to the legendary David & Susan Hill owned Hillbilly Racing Team. Gerstner led the most laps in 2021 with 133 laps, only 1 lap over Matt Hirschman.
Matt Hirschman - Speaking of Hirschman, Big Money Matt only ran 2 SMART races in 2021, but in both races Hirschman took the pole, led the most laps and won both races. Hirschman will run the season opener at Florence and possibly up to three more events during the season with the Roy Hall owned Pee Dee Motorsports Team.
Caleb Heady - A former Legends National Champion will run the full season this year, Heady will return to the seat of the famous 7NY owned by Tommy Baldwin Jr. Heady ran only 6 races last year with the SMART Modified Tour, all 6 starts resulted in Top 10 starts and Top 5 finishes.
Joey Coulter & Spencer Davis - Both men had impressive finishes at New Smyrna during Speedweeks including Top 5's and Top 10's. Coulter placed 8th in the final points, while Davis placed 13th out of 46 drivers that attempted a race.
Brandon Ward - The former full fendered driver turned open wheeled racer is riding a high wave of momentum, the last three races the Randy Renfrow/Joey Coulter owned team entered in 2021 they finished 1st, 1st and 2nd. Ward and the crew are planning on racing the full season, where they'll be a immediate threat for stage wins and race wins.
Michael Ritch - The former Hooters Pro Cup Southern Division Champion is scheduled to race a modified this season. Ritch has been running Super Late Models the past few seasons and finished 8th in the CARS Tour Super Late Model points in 2021.
Bobby Measmer Jr. - Measmer Jr., whose affectionately known as Farmer Ted, ran only one tour race in 2021 and finished 6th at Hickory. Measmer Jr. will run the full slate of races in 2022. The racing veteran and modified stalwart will run a throwback scheme to his car owner Kevin Hughes.