2022 NASCAR Whelen Modified Tour at New Smyrna Speedway
Hirschman Scores Special Win In First NASCAR Modified Race At New Smyrna
Hirschman Scores Special Win In First NASCAR Modified Race At New Smyrna
Matt Hirschman has accomplished a lot in Modified racing. But he might have scored his most special victory on Saturday at New Smyrna Speedway.
Feb 13, 2022
by Rob Blount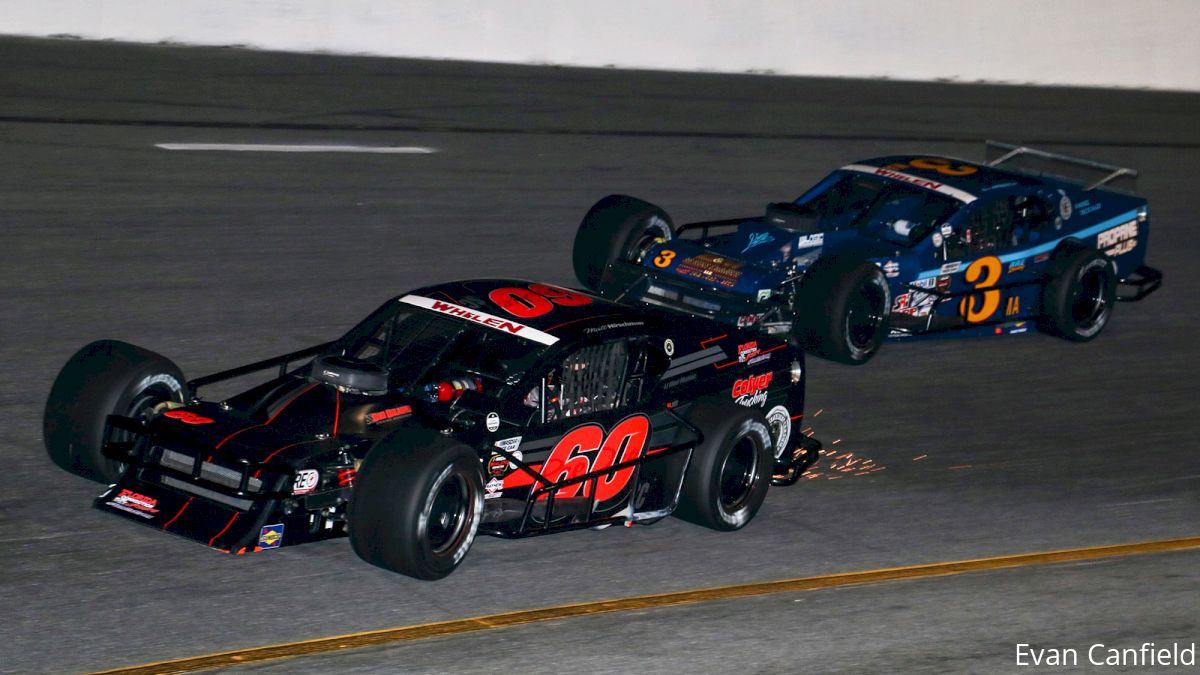 Matt Hirschman has accomplished a lot in Modified racing. Multiple touring series championships, multiple North-South Shootout wins, multiple Race of Champions victories. You name it and he's pretty much done it. But when he won Saturday night's New Smyrna Visitors Bureau 200 for the NASCAR Whelen Modified Tour at New Smyrna Speedway, he scored what might be his most special victory.
"I never made it to Daytona, but this is huge for me," said Hirschman in victory lane.
There can only be one inaugural race winner, and Hirschman will forever have the title of being the winner of the first Whelen Modified Tour race at Florida's New Smyrna Speedway, a track that has a storied history with the Tour-type Modifieds.
"This being the first time the Whelen Modifieds are here, it just means a lot," he said. "Of all the things we've done with this team, this being our sixth year, coming to Florida has been the most enjoyable thing I've done with these guys and this team. You feel like you've made it when you come down here and win a big race. It's awesome."
Hirschman qualified on the pole with a lap of 17.462 seconds on Saturday afternoon and led the first 73 laps before losing the lead to Ryan Preece. After that, Hirschman started to lose spots quickly before the caution flag waved for the second time just three laps shy of the halfway mark.
Preece and Hirschman both hit pit road during that caution and due to differing strategies throughout the field they restarted in 12th and 11th respectively.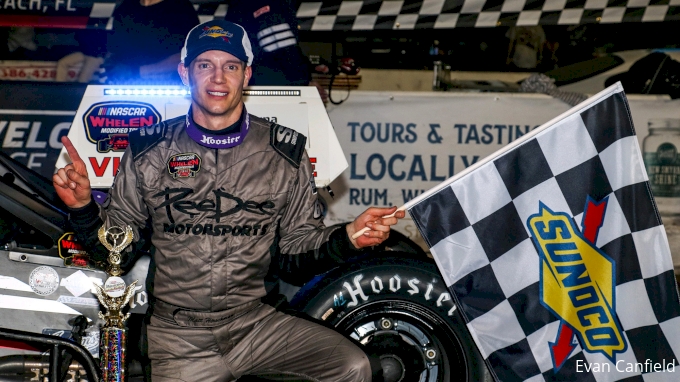 Matt Hirschman scored the inaugural NASCAR Whelen Modified Tour victory at New Smyrna Speedway Saturday night (Evan Canfield photo).
As Preece worked his way back through the field, the 2013 NASCAR Whelen Modified Tour champion saw his hopes of winning come to an end when he and Andrew Krause made contact off turn four battling for fourth. Krause slammed the inside wall with the nose of his car, while Preece went for a lazy slide. Even though Preece's No. 3 machine took no visible damage, his tires were extremely worn thanks to the slide.
Meanwhile, Hirschman took advantage of the caution and pitted for two right-side tires. He restarted in the sixth position on Lap 148 and then quickly made his way forward.
Hirschman retook the lead with 39 laps to go with ease from Mike Christopher Jr. off turn four. It was smooth sailing from there to the finish for the defending World Series of Asphalt champion at New Smyrna.
The only driver that could have challenged Hirschman was Riverhead, New York native Eric Goodale, who took over second-place with 38 laps to go. Goodale got within three car lengths of Hirschman before eventually finishing about a half-second behind.
"I knew I probably wanted to get him early on in that run," said Goodale. "Matt's way too good of a driver to make mistakes late in the race, and I knew with about 15 laps to go he probably had a better car. I was hoping lapped traffic or a mistake on his behalf would put us back in the mix. We were driving away from third, so I was just driving the thing as hard as I could to not make any mistakes and stay with him in case he bobbled. I'm just proud of my guys. We've been fast right since our first time out here today, so I'm really happy with the overall speed of the car."
Christopher Jr., Jon McKennedy and Tyler Rypkema rounded out the top five. Defending Tour champion Justin Bonsignore finished in the 31st and final running position after dropping out of the race on just the 33rd lap of the event.
The NASCAR Whelen Modified Tour will be back in action on Friday, April 1st at Virginia's Richmond Raceway.
Race fans can catch the full feature replay of Saturday's New Smyrna Visitors Bureau 200 right here.