2022 NASCAR Whelen Modified Tour at Riverhead Raceway
Why You Should Watch The NASCAR Whelen Modified Tour
Why You Should Watch The NASCAR Whelen Modified Tour
We caught up with some of the top talent in asphalt Modified racing today and asked them to tell you why you should watch NASCAR's oldest division.
Feb 10, 2022
by Rob Blount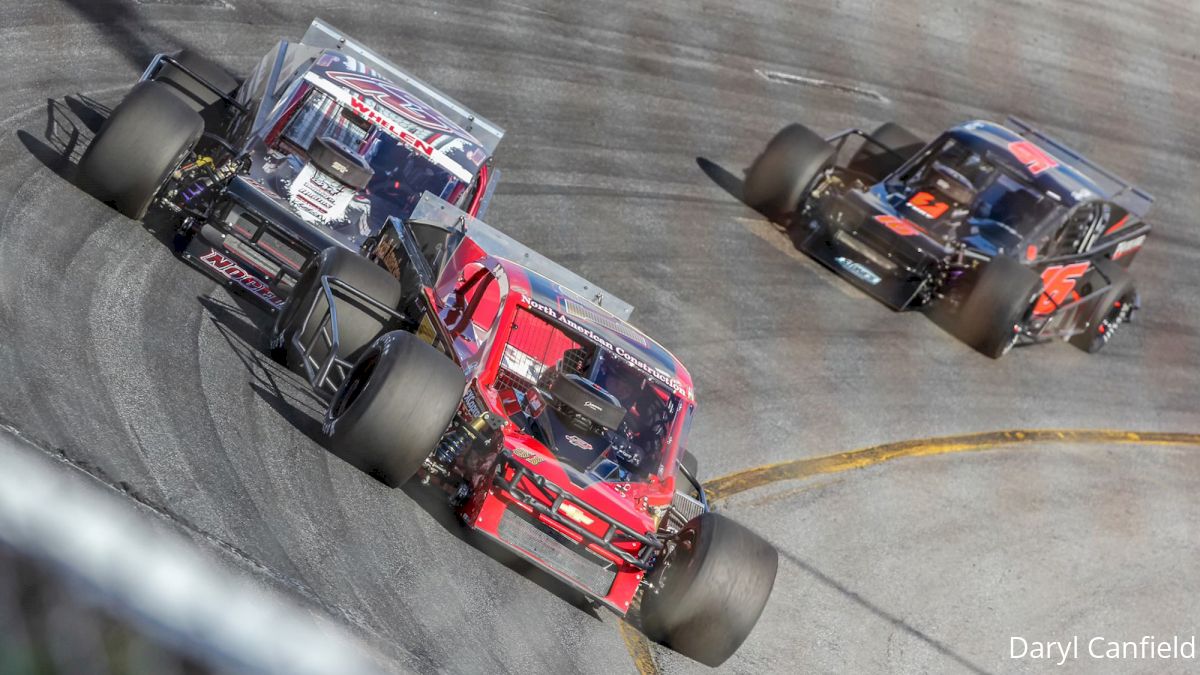 Starting on Saturday night with the running of the New Smyrna Visitors Bureau 200 at New Smyrna Speedway, the entire 16-race schedule for the NASCAR Whelen Modified Tour will stream live on FloRacing. If you've never seen a NASCAR Modified race but saw that announcement and said "I think I want to try to get into Modified racing now," then you've come to the right place.
We caught up with some of the top talent in asphalt Modified racing today and asked them to tell you why you should watch NASCAR's oldest division, and what you could expect to see.
"The open-wheel Modifieds are probably one of the most exciting series out there and I just feel like we haven't gotten the exposure that we needed," said Jimmy Blewett, who will compete Saturday at New Smyrna Speedway behind the wheel of the Joe Bertuccio-owned No. 21 car.
Blewett, who hails from Howell, New Jersey, is a multi-time track champion at New Jersey's Wall Stadium, which is the same track where NASCAR Cup Series champion Martin Truex Jr. got his start in racing. Blewett has won a handful of NASCAR Whelen Modified Tour races throughout his career and numerous races at New Smyrna Speedway, the site of this Saturday's season-opener. When the man they call "Showtime" talks, you should definitely listen.
"I can't really ever say I've seen a bad open-wheel Modified race that I've sat on the outside looking in," Blewett said. "There's been years that I haven't run the Modified Tour and I've sat and watched the races when we were able to see them on TV, and I haven't seen a bad one yet. I'm really glad that NASCAR has teamed up with (FloRacing) for the exposure and so our family back home can see the races."
Saturday night's race at New Smyrna will see Blewett compete against the likes of NASCAR Cup Series driver and 2013 NASCAR Whelen Modified Tour champion Ryan Preece, former NASCAR Camping World Truck Series race winner Joey Coulter, the now three-time Tour champion, Justin Bonsignore, and many more.
"It's definitely a different form of racing," said defending champion Bonsignore. "We have that NASCAR national series type of presence and allure and the way the race days are formatted with live pit stops. That in itself is interesting with the way we do our pit stops with wide-five hubs. That's not a normal pit stop the way you see on TV."
If you ask any driver to describe the racing itself, they'll all use the same word: aggressive.
"It's some of the most aggressive, hard-nosed racing you'll ever watch," Bonsignore said. "At the same time, it's good, hard, clean racing. And, to top it all off, it's open-wheel racing, but we beat and bang. We have nerf bars and bumpers on the front of the car. They call it the chrome horn for a reason."
Bonsignore grew up in Holtsville, New York on Long Island and began his Modified career racing weekly at Long Island's only remaining race track, the quarter-mile bullring of Riverhead Raceway. Bonsignore has been full-time with the NASCAR Whelen Modified Tour since 2010 and since then has accumulated 31 wins, 96 top-five finishes and three championships, including the last two in a row.
The Whelen Modified Tour for a few years became a very regionalized division with as many as nine races on the schedule being held in the state of Connecticut. That is definitely no longer the case as the Tour this year will run events in Florida, Virginia, New Hampshire, New York, New Jersey, Pennsylvania and Connecticut. The season will begin in Florida and end at Virginia's Martinsville Speedway on October 27th.
"It's a type of racing that people just absolutely love," he said. "We have some of the most passionate fans in the country here in our area, and we're hopeful that more eyes will be on our series and can enjoy and appreciate the love that we have for our series on a more national level.
"I think the FloRacing platform is going to be great for our series. I have a FloRacing subscription. I get to watch some of the best dirt racing around the country. I'm hoping it puts some new eyeballs on the series. FloRacing did an amazing job with NASCAR of bringing this package to us. It helps the teams and it helps the race tracks. It's a really good platform and we're hopeful that since streaming is the way of the future that it can only help expose our series to broader regions, bring in more sponsors, make the series better and make all of asphalt Modified racing in general better."
Blewett said he completely agreed with Bonsignore's sentiments.
"Hopefully it opens eyes to people for not only just watching the racing and tuning in every week, but maybe also for that young up-and-comer like a Michael Christopher," Blewett said. "Maybe somebody can see him with some little extra exposure. Maybe they'll say, 'Hey, look at that guy. Maybe we should give that guy a shot.'"
"The people that maybe don't see us regularly or have never seen us that are FloRacing subscribers, if they tune in, not only are they going to be hooked for (New Smyrna), but I believe they'll be looking at future races," said Matt Hirschman, who will also be racing in Saturday's NASCAR Whelen Modified Tour opener.
Hirschman is the son of five-time NASCAR Whelen Modified Tour champion, Tony Hirschman, and brother of Kyle Busch's longtime spotter in the Cup Series. Hirschman's nickname is "Big Money" because if there's a race paying big money, he'll probably end up in victory lane.
"I'm really proud to be a part of what is this Tour-type Modified product today," Hirschman said. "I'm not trying to take any more credit than anyone else or anything, but being one of the recognized names in today's Tour-type Modified racing is something I take pride in. I do believe that not just myself, but many others have brought this resurgence and attention and have put on some fantastic races that are generating this. I take that seriously, and I want to continue to see the division grow and prosper."
Blewett had perhaps the simplest bit of advice for new viewers to the NASCAR Whelen Modified Tour.
"Just enjoy the show."
That show begins Saturday, February 12th at Florida's New Smyrna Speedway with the running of the New Smyrna Visitors Bureau 200 at 7:30 p.m. ET live on FloRacing.