2021 Castrol® Gateway Dirt Nationals
No Apologies From Tyler Carpenter After Gateway Dirt Nationals Win
No Apologies From Tyler Carpenter After Gateway Dirt Nationals Win
Tyler Carpenter offered no apologies after ruffling feathers with Ricky Thornton Jr. and Brandon Sheppard at the Gateway Dirt Nationals.
Dec 3, 2021
by Kevin Kovac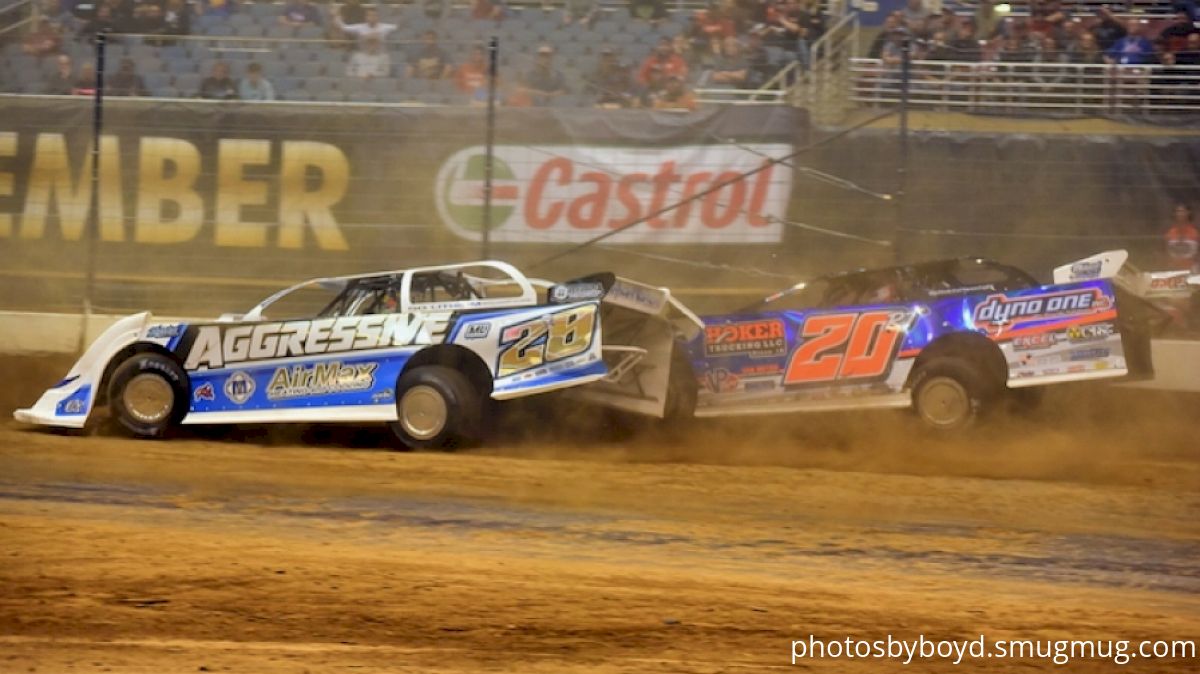 ST. LOUIS, Mo. — Tyler Carpenter's latest conquest of the fifth-mile temporary bullring inside The Dome at America's Center brought more fans to his hard-charging, colorful-talking side.
But Ricky Thornton Jr. and Brandon Sheppard certainly weren't among those singing Carpenter's praises after the 30-year-old from Parkersburg, W.Va., captured Thursday's 25-lap Castrol Gateway Dirt Nationals preliminary feature. The two national touring series standouts had serious objections to the manner in which Carpenter earned the $5,000 top prize for his third straight win over two years at the indoor venue.
Following a furious mid-race stretch that saw Thornton and Sheppard crash out of contention while battling with Carpenter for the lead, they expressed mutual dismay with the ever-growing Legend of the Dome's driving tactics that they blamed for their demise.
"Me and Brandon tried to race with as much respect as we could," Thornton said in the pit area after finishing 17th, "and clearly Tyler didn't really have that."
"I don't even know what to say about him honestly," offered Sheppard, who was scored as the 16th-place finisher piloting World of Outlaws Sprint Car star Donny Schatz's Dirt Late Model. "He's just a little bit reckless."
As is his style — especially under the bright lights of racing at the Dome — Carpenter brushed off the accusations with nary a second thought. He gave no apologies for pushing the issue with a move through lapped traffic that contributed to a chain-reaction scenario in which Thornton and Sheppard were eliminated.
"It's either make the move or be moved," Carpenter said. "I don't want to crash them guys. Hell, I like 'em all. We're here to race … they've had their opportunity to win big races. This is the only shot I got as of right now. I ain't got the backing they got (to win at bigger tracks)."
The moment that triggered so much consternation among Thornton and Sheppard came on lap 15. Thornton had managed to nose ahead of Carpenter, the polesitter and pacesetter from the race's start, to lead the 14th circuit, but Carpenter fought back to surge in front on the backstretch. When the lead trio exited turn four Carpenter bolted forward to fill a gap between the slower cars of David Webster and Jayme Zidar; contact at the start-finish line between Carpenter and Zidar caused Zidar to veer left toward the infield, collecting Thornton and Sheppard in the process.
Thornton, 31, of Chandler, Ariz., lashed out at Carpenter with several R-rated remarks to infield reporter Blake Anderson over the P.A. system and on FloRacing's live stream ("Hopefully somebody dumps his ass" was among RTJ's tamer comments) before his SSI Motorsports car was towed to the pit area. Sheppard, meanwhile, limped to the pits with a flat right-rear tire.
Carpenter, of course, survived the encounter with only cosmetic damage to his Kryptonite car's right-side door and went on to lead the remaining distance unchallenged, adding to the ire of the vanquished Thornton and Sheppard.
After briefly exchanging some words with some Carpenter team members following the race, Thornton recounted the turn of events that dive-bombed his bid to win the race or at least lock into Saturday's $30,000-to-win finale with a top-four finish.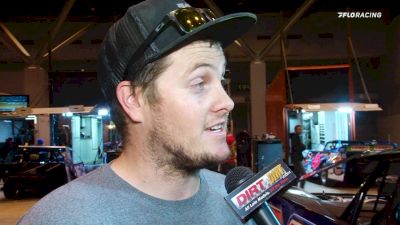 VIDEO: Ricky Thornton, Jr. reacts after his run-in with Tyler Carpenter Thursday night.
"I lifted for him four or five times," Thornton said of Carpenter. "I get next to him and he runs me over in turn three. I get next to him again and he tries to fence me down the back straightaway. Then we get down to the next corner (exiting turn four on lap 15) and he plum runs through a lapped car and wrecks both me and Sheppard.
"There was no room to go three-wide and he just made a hole and pretty much junked all of us. It junked (Zidar's) whole left side so he goes down the racetrack, I run into him, Sheppard runs into me … and of course the guy who causes it gets to keep going."
Thornton levied some blame on himself "for being nice early in the race and just not knocking him out of the way and taking off," but he wasn't really interested in being extra aggressive to chase a victory.
"I figured as long as we ran top four it didn't matter," Thornton said, aware that the top-four finishers from the Thursday and Friday preliminary features will redraw for the top eight starting spots in Saturday's 40-lap finale. "I was just kind of cruising, and I was way better than (Carpenter). I was just riding around and he was a windshield wiper. He was doing whatever he could to make sure he didn't get passed. I guess to him it was a million dollars to win, not $5,000.
"We got a good car. That's all that matters," he added, before asserting: "We'll come through a B (main) Saturday and we'll make sure we fence (Carpenter) on the way (in the feature)."
Sheppard, 28, of New Berlin, Ill., found himself swept up in the type of tangle he was trying to avoid.
"Here's exactly what I was thinking in my head," Sheppard began when asked to rehash the 15th lap while he stood in Schatz's trailer eating a bowl of chili. "I was like, 'OK, this is getting crazy, this is getting a little sketchy. I'm gonna back off. I'll run third and I'm fine with it. The big money's on Saturday.'
"About three laps later I thought, Man, I'm literally barely even touching the gas right now and I'm about to pass these guys. I guess I'll move around and try to stay out of the way of carnage, and then carnage just found me because (Carpenter) is impatient, which is understandable because there's cars everywhere and he was getting ready to get passed.
"But, you know, obviously (Carpenter) wasn't good enough to get through the lapped cars like me and Ricky was, so I guess he felt he needed to make his s--- wide and it tore up a lot of s---, which … whatever.
"We all know there's a chance that we take when we come here, but it's just unfortunate. There's got to be a lot of give-and-take, and that's why I'm mad, because you got, for the lack of a better term, some idiot out there … I mean, if you get beside of him, he's coming left if you're on the left, and he's coming right if you're on the right. You ain't passing him or else you're gonna get your s--- wrecked.
"But hey, he won, so whatever … that's three in a row for him here," he continued. "That's fine, but somebody's gonna have to teach him a lesson at some point. I don't think he's raced enough big races to really know that you gotta respect the people around you or else you're gonna get your s--- junked."
With Sheppard aware that he will face a stiff challenge to make Saturday's feature field because he'll line up deep in a last-chance race, he said he'll spend Friday's split-field preliminary program as a Bobby Pierce fan.
"My hopes right now is that the 32 wins tomorrow and then teaches (Carpenter) a little lesson when they're starting (Saturday's feature) together," Sheppard remarked. "Then I'm gonna go buy me a (Pierce) Scooby-Doo shirt and all's gonna be well."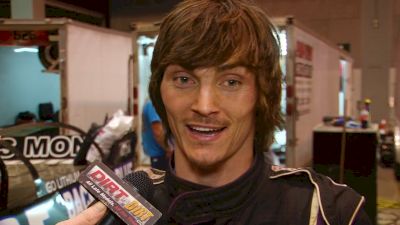 VIDEO: Tyler Carpenter discusses the battle for the lead with Ricky Thornton Jr. and Brandon Sheppard.
Carpenter maintained that he simply raced the way it's necessary to be successful at the hardscrabble Dome oval.
"It was just hectic as hell," Carpenter said of the feature's middle stages. "I was watching that big (video) screen, which I do every time I'm out there — sometimes it hurts me, sometimes it helps me — and I wouldn't say I had a lead on them guys, but I had a comfortable little lead I felt like. Then we caught them lapped cars and it just slowed the whole pace down. I didn't know where to go, and then when I went to make a move on 'em I had a guy trying to pass me down low and a guy trying to pass me on the top and it started getting real hairy. I knew I had to do something or I was about to get got.
"I just dove it in there (between Webster and Zidar) and I guess it pissed the rest of 'em off. But you know, if I didn't make the move, they was going to. The only shot I had was just try to squeeze in there. We just had to do a little rubbing."
Carpenter said Thornton "gave me the bird" on the track to express his displeasure, but he disregarded the middle-finger salute because "in the heat of the moment everybody's gonna be pissed for a minute." He plans to press on, unworried about other competitors' thoughts of him as he aims to defend his 2019 triumph in the Gateway Dirt Nationals finale.
"If they come here to make a buddy, they come here for the wrong reason," Carpenter said. "I come here to win the race, and they have that (NASCAR Camping World) Truck deal now (Saturday's feature winner will receive the opportunity to run 2022's Truck race at Iowa's Knoxville Raceway) and that made it sweeter so I'm after that damn thing. Maybe I'll get 20th on Saturday, but I'm going after it.
"I hated the fact that Sheppard and Thornton did get taken out," he continued. "I'd rather have just raced it out straight up, but when you're in lapped traffic, some of them guys, they got the right to be on the track just like the rest of us. But dude, it's either go for it or go home, and I ain't going home broke."