2021 FALS Super Nationals at Fairbury Speedway
Bobby Pierce Is The Pinball Wizard At Fairbury
Bobby Pierce Is The Pinball Wizard At Fairbury
Bobby Pierce won a late-race slugfest with McKay Wenger to score a $10,000 MARS Racing Series victory Saturday at Fairbury Speedway.
Sep 6, 2021
by FloRacing Staff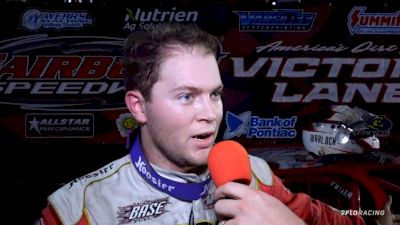 FAIRBURY, Ill. — Call him the Pinball Wizard.
His feathers ruffled by contact with multiple drivers, Bobby Pierce said he felt "like a pinball" during Saturday's MARS-sanctioned FALS Super Nationals at Fairbury Speedway. But the Oakwood, Ill., driver bounced all the right directions in winning a stirring late-race duel with hometown favorite McKay Wenger, making a last-lap pass in turn two to grab the lead for the fourth time in the wild 50-lapper at the quarter-mile oval.
"I'm pretty fired up," Pierce said in victory lane after the $10,000 victory. "But I've gotta give a huge thanks to everyone that came out, all my crew, all my sponsors, all my family ... shoutout to everybody. That's a tough race. I'm glad it's over."
Leading 35 of 50 laps, the fourth-starting Pierce took the checkers by a mere 0.237 of a second over the 10th-starting Wenger, who led on three occasions for a total of nine laps. Garrett Alberson of Las Cruces, N.M., was right in the mix in the closing laps after charging from his 15th starting spot to finish third while Ryan Unzicker of El Paso, Ill., and Tanner English of Benton, Ky. — who spun on the 21st lap after contact with Pierce in turn one — rallied back to fifth.
The wild affair included eight cautions, separate spins for both front-row starters, a five-car pileup in turn three (one of three third-lap cautions) and the Pierce-Wenger slugfest over the final 15 laps with both drivers letting it all hang out.
Pierce has faced criticism — including just a week earlier after an incident with Chris Madden in World of Outlaws Morton Buildings Late Model Series action at Davenport (Iowa) Speedway — of contact that has hampered other drivers, but Pierce felt like he was getting the raw end of the deal at Fairbury, including when English clipped the groove-swapping leader on lap 21.
"I think every car that battled for the lead hit me. I don't know what to say. It is what it is, it's hard core racing. That's what I say all the time, so that's what it is," a fired up Pierce said in victory lane. "Congrats to these guys on second and third ... Wenger (had) a good race. I know he wanted that win bad. I mean, obviously got a little wide here and there, but hey, it is what it is."
The polesitting Frank Heckenast Jr. led the first seven laps before stumbling off turn four and allowing Pierce to sweep into the lead with English dropping Heckenast to third. Pierce stayed in control through the race's middle stages, surviving his scrape with English, while Heckenast fell from contention while running third when Jason Feger made contact in turn one to send him around.
On lap 30, Pierce slipped up in turn two and the low-running Wenger — running eighth just 10 laps earlier — took command just before Brian Shirley slowed after charging from 13th and into the top three.
Wenger restarted up front and led a few more laps before Pierce's high groove carried him back out front on lap 35. After the eighth and final caution for a spinning Trevor Gundaker in turn four, Wenger resumed his pursuit of Pierce as Alberson moved into contention.
On the 44th lap, Wenger briefly went ahead before a Pierce crossover move on the frontstretch, and Wenger made the pass stick on the next lap to lead laps 45-46. Pierce swept around Wenger to regain the point on lap 47 before Wenger again slid ahead in turn four with Pierce clipping the rear of Wenger's car as he tried to dive back under him.
Wenger kept Pierce in check and led lap 49, but when Wenger went too high in turn two on the final lap, Pierce went under him to take the lead, surviving turn-three contact and taking the checkers.
"Wow. Man, that just came down to the wire. I appreciate all the support guys," Wenger told the Fairbury faithful. "One of these days we're going to get us one. Man, that's all I had. It's tough. Thursday night would've been my biggest win and tonight would've been my biggest win. I guess all you can ask for is to be there and have a chance. We're going to get one here soon."
Alberson struggled with suspension problems late but had a front-row seat for the shootout.
"What an awesome track. That thing was awesome. I was up on the wheel," said Alberson, who rebounded from a frightening end-over-end wreck a week earlier at Davenport. "These guys are animals. I fought hard and an A-arm started going out on me a little bit right there at the end. I had to work a little bit harder. These guys are fun to race with.
"Right before that last caution, I felt like I had a little bit of rhythm going. But yeah, I just needed to do a little bit better, I just need to work on myself a little bit better (and) we'd be right there. The car was really good, this Black Diamond was awesome. ... We had a helluva bad ride last week and it was really cool to come over and get my confidence get built back up. So hopefully we can keep putting on some good shows."
Three lap-three cautions plagued the early laps with Mike Provenzano involved in each. The first appeared when Provenzano and Mike Spatola tangled on the backstretch. A bigger pileup occurred on the restart with Provenzano, Billy Hough, Reid Millard, Jeffrey Ledford and Brent McKinnon part of a turn-two mess. And finally Provenzano ended up facing the wrong way in turn four before the entire field took the green.
A fourth caution appeared on the seventh lap when Shannon Babb spun in turn four and the fifth yellow appeared for English's spin.
Heckenast's lap-25 spin, Shirley's lap-32 slowdown and Gundaker's lap-37 spin also slowed the action.
Notes: Pierce notched his 12th career MARS victory but first of the season. ... He has 18 victories overall in 2021. ... Eleven drivers completed 50 laps. ... Shirley won Thursday's MARS event at Farmer City (Ill.) Raceway while Friday's action at Farmer City was rained out after heat race action.