2021 NOS Energy Drink Knoxville Nationals
Kyle Larson Checks Knoxville Nationals Off Bucket List
Kyle Larson Checks Knoxville Nationals Off Bucket List
Kyle Larson checked the top item off his dirt track bucket list, holding off Donny Schatz to win the 60th Knoxville Nationals.
Aug 15, 2021
by Andy Hamilton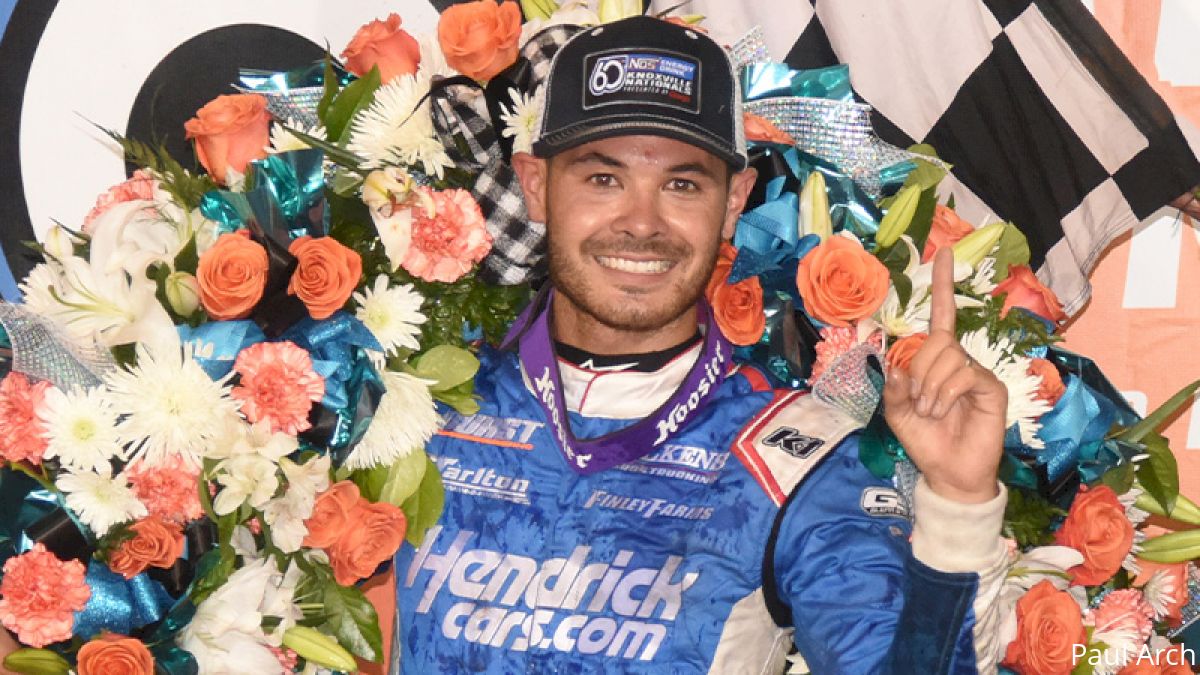 There were nights in recent years when Kyle Larson slept through the scene that became his reality Saturday night — taking the checkered flag, making the right turn into victory lane and climbing atop his #57 car as the Knoxville Nationals champion.
When he said he dreamed of winning sprint car racing's crown jewel, he meant it in every sense of the word.
"We all say we dream of winning this race," Larson said. "But I legit had dreams of winning this race."
Larson crossed the top item off his dirt track bucket list Saturday night, holding off Donny Schatz in the closing laps to win the 60th Knoxville Nationals in front of a sellout crowd of 21,135. With it, the 29-year-old California native added yet another line to one of the best one-year racing resumes ever assembled.
The Chili Bowl.
The NASCAR All-Star Race.
The Coca-Cola 600.
The Kings Royal.
The Prairie Dirt Classic.
And now the Knoxville Nationals.
Larson has won all of the above in 2021, further cementing himself as a wizard behind the wheel and strengthening the case for those who argue he's the best all-around driver on the planet.
"He's definitely an extremely one-off talent," Schatz said. "If we ever see anything like this in our lifetime again, it'll be pretty rare."
This is the kind of high praise others heaped on Schatz during his historic decade-long domination at Knoxville. For 14 consecutive years, he never finished outside the top two at the Nationals while racking up 10 championships.
And for a moment Saturday night, it looked as if the 44-year-old from North Dakota might rekindle his old magic and take home his 11th title.
Schatz darted past pole sitter Gio Scelzi to take the lead on Lap 10. He ran at the front until Larson passed him just before the intermission of the 50-lap feature.
Larson began to pull away after the midway break, stretching the lead to 3.3 seconds with eight laps to go.
"Honestly," he said, "I was surprised I had such a big lead."
In the blink of an eye, though, it was gone. Schatz was on his back bumper and 2018 Knoxville Nationals champion Brad Sweet wasn't far behind while Larson was tucked in behind Shane Stewart.
"I was hoping (Stewart would) bobble and I could squeeze by, but he didn't — ever — so I just had to fall in line," Larson said. "There wasn't anything I could do. I knew I needed to be patient. I was watching the big screen and I had seen Donny get back to second and I knew there weren't any lappers between me and him, so I knew he was going to be coming fast.
"I was just praying that he didn't get to my bumper, but he got there with like two to go and he was really on me on the frontstretch coming to the white. I just had to not lift too much and get tight and get out of the rubber. I ran a slow pace, but I didn't want to get too close to Shane and get trapped in his dirty air and start making mistakes. We were able to get it done."
Schatz finished second, followed by Sweet, Scelzi and Logan Schuchart.
It's the 18th time Schatz has finished second or better at the Nationals. He might look back on this one, though, as a turning point.
By his standards, this season has been a struggle for Schatz. He's registered just one win in 54 starts this year on the World of Outlaws circuit and he entered the week hoping he'd find enough speed to secure a spot in the big show and race forward from there.
"Obviously, we would've liked to have won the race, but there's no shame in anything we did here all weekend," Schatz said. "We ran one of the best drivers in the country right to the very end and made him earn it."
Larson collected $176,000 for the win, which included a $26,000 bonus for the 26 laps he led. It's not the biggest payday of his racing career, of course — Larson has twice claimed the $1 million prize for winning NASCAR's All-Star race — but it ranks at the top of his list of biggest wins.
"To me," Larson said, "this is the biggest race there is."
Larson began the day in Indianapolis, turning practice laps for Sunday's Cup Series race, though his mind drifted back to Knoxville.
"I had butterflies all day today during Cup practice," he said. "All I could think about was: 'What do I need to do at the start of the Knoxville Nationals? What do I need to do to beat Donny and (David) Gravel?'
"I felt like I did a good job of staying calm during the race. It was just this whole week leading up. Honestly, it's been so cool to feel that feeling again. I haven't been nervous in a couple years and I was happy to feel this week and especially today. But at the same time I was like, 'Man, you've got to chill out and calm down' because when your nerves are up you start making mistakes. But it's just how big this race is and how much it means to me."