2021 Kings Royal At Eldora Speedway
The Split Kingdoms Of Courtney And Larson Shall Reign Supreme
The Split Kingdoms Of Courtney And Larson Shall Reign Supreme
Kyle Larson and Tyler Courtney will share a single Kings Royal reign over the next year.
Jul 18, 2021
by Matt Weaver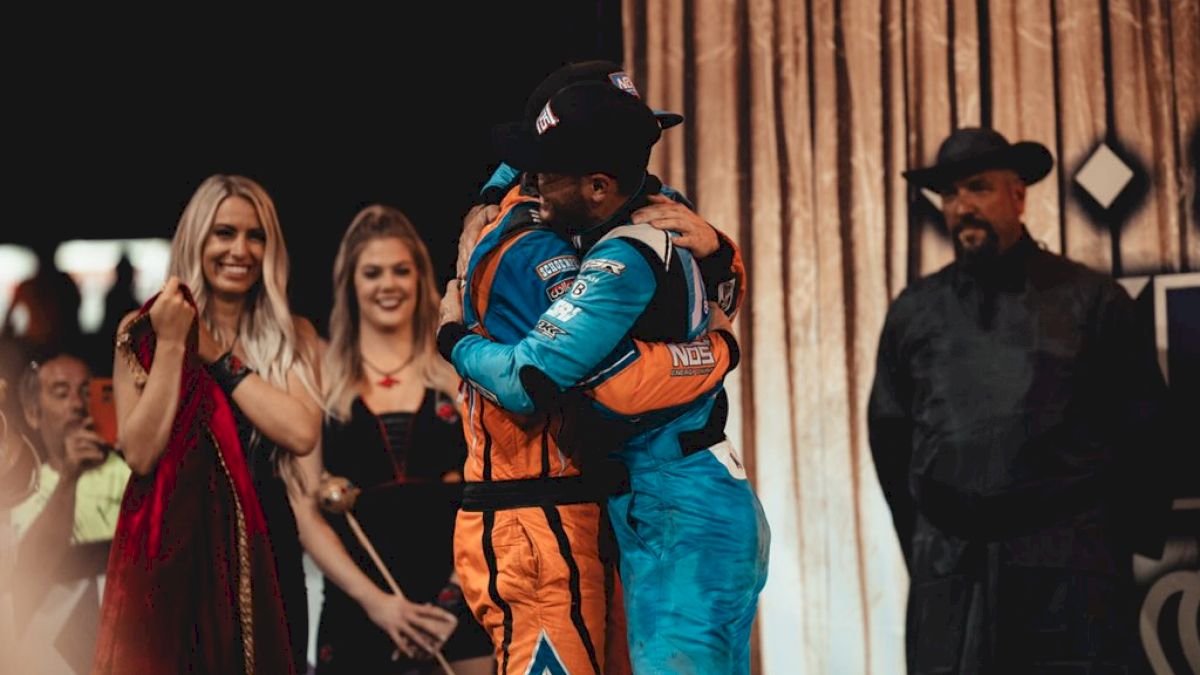 In this empire, two kings will reign supreme together over the next year in perfect harmony.
King Kyle XXXVII and King Tyler XXXVIII have the unorthodox distinction of serving their reigns together. This diarchy was made possible only by the plague -- a generational event this kingdom will soon never forget.
In this game of thrones, the initial outcome resulted in the crowning of Tyler Courtney, baptized under the regnal name King Tyler XXXVIII. Missing from this war of succession was Kyle Larson, one of the soon to be king's closest confidants but oldest rivals for the throne, who was seemingly slain in pursuit of the ascension.
But no, Larson watched with pride from afar as his friend occupied the throne, content in the conviction that he too would eventually conquer the kingdom of Rossburg, Ohio. (pop. 201)
It was destiny after all.
Serving exile in the conclave that is The Hauler of Paul Silva until his sword and shield were restored to its previous noble luster, Larson revealed his impending return to the new royalty, congratulating his liege but convicted that the kingdom of Rossburg would soon be split between them.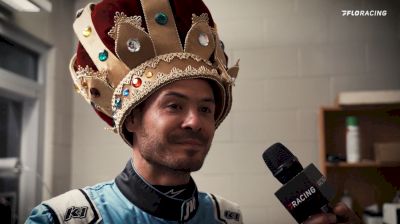 Hear from Kyle Larson after his Kings Royal win.
King Tyler XXXVIII's hold on the kingdom was iron fisted until late in the battle when his trusty steed tired, but not so much that he be required to abdicate the throne. Larson had won this battle, taking part of this kingdom for himself, baptized as King Kyle XXXVII.
He did so after a triumph over the Young Prince Sheldon, issue of King Jac IV, XI and XV and the Duke of (Carson) Macedo.
This is not the first such diarchy following the dual reigns of William III and Mary II in the Kingdoms of England and Scotland, tsars Peter I and Ivan V of Russia and Charles I and Joanna of Castile. So too, shall Kyle XXXVII and Tyler XVIII of Rossburg co-exist as such a split kingdom -- peacefully on the order of its respective rulers.
There shall be peace in this land for the next twelvemonth, henceforth known as the epoch leading to the return of the Historical Big One.
The King of Kings, His Majesty Steve Kinser, holds the original crown and it is in His respect that Kyle and Tyler shall coexist.
No less, their castles have been parked directly alongside each other, adjacent to the split territorial line of Rossburg.
Tyler Courtney backed up his crown with a fourth place finish later that night.
"I've never won anything like this before," King Tyler says. "I'm parked next to (King) Kyle so I'm sure we will have a few drinks before he heads to (The Kingdom of) Loudon."
Kings Tyler and Kyle fought too hard to have anything other than peace in this land so they shall co-exist ... albeit with a royal caveat.
"I am King XXXVIII and he's King XXXVII so I'm the reigning king as far as I'm concerned," Tyler added.
The terms, says King Kyle, are amenable.
"He is one of my best friends," King Kyle said. "He was in my wedding and it gives me chills that I get to share the crown with him through next year. He has his camper up there by mine and I wish I could party with him all night, but I have another race to go run tomorrow."
Ah yes, the planned conquest of the Kingdom of Loudon. (pop. 5,317)
"I said I was kind of glad I missed the feature and I got to see one of my best friends win the Kings Royal," said King Kyle. "And then, to have the chance to win my own Kings Royal is just very special."
King Kyle hopes to take the crown to his next target, but his majordomo Paul Silva, is keeper of the crown and is very strict even in the face of royalty.
"I hope I can take it to Loudon," said King Kyle," and hopefully (the kingdom of Rossburg) has a spare that I can take. I'll bring it back to Paul."
Prepare for the dual reigns of King Kyle Larson XXXVII and King Tyler Courtney XXXVIII blessed be thy names.