2021 Southern Nationals at Beckley Motor Speedway
Rice Regrets Scrape But Savors Beckley Southern Nationals Payday
Rice Regrets Scrape But Savors Beckley Southern Nationals Payday
Josh Rice didn't win Friday's 2021 Schaeffer's Southern Nationals opener at Beckley Motorsports Park in a vacuum.
Jul 17, 2021
by Kevin Kovac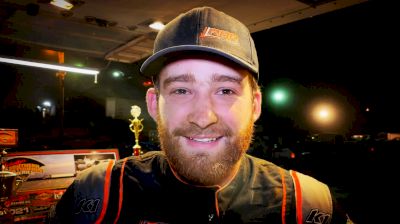 BECKLEY, W.Va. (July 16) — Josh Rice didn't win Friday's 2021 Schaeffer's Southern Nationals opener at Beckley Motorsports Park in a vacuum. The first sentence that tumbled from his mouth in a post-race interview at his pit stall made it clear he completely grasped the moment.
"It wasn't pretty," Rice said a bit sheepishly, "but we got it."
The soon-to-be 23-year-old talent from Verona, Ky. — he celebrates his birthday Tuesday — understood that his $10,053 triumph in the 53-lap feature had a controversial element to it. While he certainly gained some fans with the aggressive, cushion-pounding style he employed in his first-ever start at the high-banked, third-mile oval, his mid-race run-in with Jacob Hawkins of Fairmont, W.Va., tempered his good vibes about the evening.
"I hate we run over Jake like that," Rice said of the home-state driver who salvaged a third-place finish with a car that sustained significant damage from the encounter with Rice. "I think he thinks a little bit less of me now."
Yes, Hawkins offered strong, critical words toward Rice during his postrace interview on the track's homestretch. He was no less agitated about his fate when asked about it inside his C.J. Johnson Motorsports team's trailer following his return to the pit area.
The questionable contact came on lap 23 as Rice was bidding to overtake Hawkins for third while Devin Moran of Dresden, Ohio, was challenging Ross Bailes of Clover, S.C., for the lead. When Rice dived hard to the inside of turn one, his Rick Jones-owned XR1 Rocket drifted up the track and clipped the left-front corner of Hawkins's Rocket.
Rice knew immediately that he had made a misstep which he survived relatively unscathed but Hawkins didn't. The left-front fender was torn off Hawkins's car and its suspension was bent, leaving him no hope of contending to win a race he had led for laps 1-7 after starting outside the front row.
"He was blocking the whole track so I was trying to just let him know I was there," Rice said. "I was either thinking about picking him up one time, or just trying to dive him and cut the corner as hard as I could to where I could just slide on in front of him.
"When I turned down I got all squirrelly. I was actually sideways to the left on the frontstretch, and it was just … (Rice's) right-rear right into the fender (of Hawkins's machine). Once I decided what I was gonna try to do, it was just too late. I'm just glad we didn't tear it up any worse than we did.
"It was just body (damage)," he added of the effects to his car. "It tore my stuff up worse when he was pushing me around the racetrack (during an ensuing lap-38 caution period)."
Hawkins lost touch with Rice as his car fell off his earlier pace following the incident, but he ran down Rice under caution to express his displeasure with the Kentuckian's pass for third. He grazed Rice's car on the homestretch and again exiting turn two.
"We had a good car," said Hawkins, who refrained from any direct confrontation with Rice after the race. "I knew it was just gonna be a gamble to go up and run that top (lane) for 50 laps. I mean, there's so many rocks in this track. I had two flat tires tonight already (before the feature) — one tire had three laps on it — so I just thought I could run middle-to-bottom, maintain.
"I wasn't worried when Bailes got into me (passing for the lead in turns three and four on lap seven), which it was what it was; my suspension wasn't bent and I could steer. And I didn't get excited with Devin leading; I knew he was charging that top, and I knew he was gambling with the tire going down.
"Then Rice just killed the whole left-front of my car and my night (chance of victory) was over. I was just holding on. The suspension's messed up, I'm toed-in now.
"I just don't know what they expect us to do," he added, shaking his head his exasperation. "You can't retaliate or go do anything, but yet these guys are just able to take these hundred-thousand dollar cars and treat 'em like matchbox cars. It's crazy."
Rice felt that Hawkins let him know his feelings well enough during the caution and, more specifically, when the green flag flew again on lap 38.
"He got me back going into one on that restart," said Rice, who was shoved high toward the guardrail in turns one when Hawkins slid aggressively into the corner. "I was in like fifth there (although a caution that flew before a lap was completed fortunately allowed Rice to remain in second place).
"I pulled up alongside him during that caution and I gave him a thumbs-up. I wanted to just go back to racing because I knew we were both good."
Rice paused, then added: "I hate how it went, but sometimes you gotta do what you gotta do."
The rest of the race belonged to Rice, who inherited the lead before the lap-38 restart when Moran headed pitside to change two flat right-side tires on his Tye Twarog-owned Longhorn Chassis.
"Getting into (turn) one I seen everybody (officials) looking at Devin's car," Rice said, recalling the caution period. "They were obviously looking at something, and my crew guy was saying he had a flat. Then I pulled up alongside of him and I seen it.
"I hate that for Devin, but it worked out for me. Then I was able to get out (front) away from Jake (Hawkins) where he couldn't wreck me."
Rice spent the final 15 circuits — a stretch slowed by just a single caution flag on lap 49 — tearing around Beckley's thick cushion with little apparent consideration to conserving his equipment or babying his tires. He had a full straightaway edge on eventual runner-up Zack Dohm of Cross Lanes, W.Va., who has dominated Beckley's Super Late Model specials in recent seasons, when the last of the race's eight caution flags flew. Rice won by 1.529 seconds.
"I think I was harder (on right-rear tire-compound choice) than everybody," Rice said. "I think everybody had 1350s on and I had a 1600 on. I knew I was harder and I could run the whole 50 laps. At Florence (Speedway in Union, Ky.) we run 50 laps all the time, and if you give it four or five laps off the start, you can beat on it the rest of the race.
"So the first couple laps I just rode around the bottom (from his fifth starting spot). Then they started getting out on me on the top and I was like, 'All right, it's time to go,' so I moved up there.
"I was beating the cushion. I was hitting it real hard," he continued. "And I knew as long as I could hit it backwards and not forward I would be all right. I could run it down off of two, like diamond it off the cushion, and it was working."
The scrape with Hawkins not withstanding, Rice was proud to emerge a winner in his Beckley debut.
"First trip here," he said, "it's pretty cool to win 10-grand."
The checkered flag was Rice's ninth overall of the 2021 season, also spread across his longtime home track of Florence (four wins, including his career-best $15,000 payoff for capturing May 1's Lucas Oil Late Model Dirt Series-sanctioned Ralph Latham Memorial), Atomic Speedway in Alma, Ohio (two) and MRP Raceway Park in Williamsburg, Ohio (two).
"I guess this is our breakout year," Rice said. "People have always said I can only win at Florence. They can kiss my ass now."
The campaign hasn't been all smiles, however, for Rice and Co. He experienced such a disastrous trip to Eldora Speedway in Rossburg, Ohio, for last month's double Dreams — he lost two engines, including one that completely melted down in spectacular, smoky fashion during June 9's preliminary program heat action — that he "kind of figured we were done" for the remainder of the season.
"Going into Eldora we were three motors deep and I was thinking, Awesome. We're gonna get to race the rest of the year. We're set," Rice said. "After Eldora, we were down to one."
That final powerplant was a brand-new Jay Dickens-built piece that was sitting on the floor of the team's shop. It was installed for Atomic's June 25-26 Valvoline Iron-Man Series weekend — Rice promptly won the $4,000 opener — and it was in his car for Friday's program at Beckley.
"Nothing against Jay (Dickens). He builds a heck of a motor," Rice said of his Eldora engine trouble. "We found some stuff that could've been wrong on our end, and this thing here has been awesome. It's not even gotten hot since we put it in."
It's the only bullet still left in the arsenal of Rice's Sunesis Holdings operation — Dickens is currently repairing the one motor hurt at Eldora that's salvageable — so he has to be smart with his race choices.
"We're not gonna go to anything big, nothing like Eldora," said Rice, who was eyeing Saturday events at either Florence or Brownstown (Ind.) Speedway so he could race close to home with an early Sunday wakeup call in the offing for his Sunday through Wednesday job working the conveyors at the DHL shipping company. "We're gonna try to stay away from the motor-eater tracks because obviously we've got to make this one last."
Wherever Rice decides to run, though, he believes he can be a contender. Beckley was proof of his strength.
"When the driver can keep his head on right, we can win about anything right now it feels like," Rice said. "I'm just that confident. We're that good right now and we're having a lot of fun."