2022 Lucas Oil North/South 100 at Florence Speedway
Josh Rice's Top-Side Talent Awes Observers At Florence
Josh Rice's Top-Side Talent Awes Observers At Florence
Florence Speedway dominator Josh Rice enters this week's North-South 100 as a favorite to claim the biggest payday in track history.
Aug 12, 2022
by Todd Turner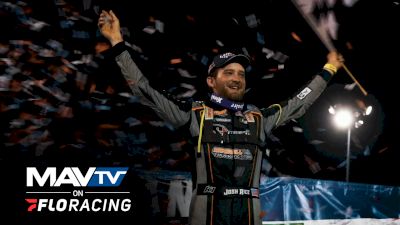 UNION, Ky. (Aug. 11) — How would you describe how high-flying Florence Speedway favorite Josh Rice blazes around the high-banked, half-mile oval?
"He's up on the cushion a lot," said young fan Briahna Lennex of Maysville, Ky., wearing her favorite Josh Rice shirt as she headed toward the Florence pits before Thursday's opening night of the Sunoco North-South 100 weekend.
Rice drives like he's "skinning fleas right there riding on that line" against the wall, said Bryantsville, Ky., driver Dustin Linville, who grew up racing against Rice.
"He knows where that skinny pedal's at," said spectator Brandon Coffey, like Rice a resident of nearby Verona, Ky.
Another way to describe the 24-year-old dirt racer? A winner.
Rice will get three chances to win on the Lucas Oil Late Model Dirt Series during the richest weekend in track history with more than $300,000 in total purse money on the line, including split-field $5,000-to-win semi-features Thursday and Friday and the $75,000-to-win North-South 100 finale on Saturday night. (Rice's chances were reduced to two after Thursday's rainout.)
He's among the favorites thanks to three victories in four Super Late Model starts this season at Florence, including a $15,000 Lucas Oil Series triumph in June 30's Ralph Latham Memorial. After that win, before heading to victory lane, Rice saluted the fans by stopping his car on the backstretch and climbing onto the roof with upraised arms. The fans loved it, just like they love his daring high-groove line that he's perfected in recent seasons.
Linville, himself an accomplished racer, is a believer.
"Out of everybody I've ever raced against, he rides the top better than anybody I've ever seen, and he's got this place down to a T. We was actually talking coming up the road here and I know he's probably got a lot of pressure on him, he's got a lot of high expectations coming here," Linville said. "No doubt, I mean, he's the man that come to beat when you come to this racetrack, whether you're racing for $5,000-to-win or $75,000-to-win. Pretty cool to see. We grew up racing around him, him and (brother) James both. He's got a unique style. We've raced against some guys that can ride the top really good. He does it better than any guy I've ever seen."
Chris Ferguson of Mount Holly, N.C., whose season includes $50,000 paydays at a dirt-covered Bristol (Tenn.) Motor Speedway and the Show-Me 100 at Lucas Oil Speedway in Wheatland, Mo., knows that if he's going to win the North-South 100, Rice will one of the prime drivers he'll have to outrun.
Ferguson and Rice, who both have career-best finishes of fourth in the North-South 100, have a little inside bet about who can win Florence's biggest race first.
"We've had this little thing where we always tell each other, 'It's not your time. It's my time.' " Ferguson said. "And he told me coming into this weekend, he said, 'Hey Fergy, it's not your time.' And I was like, 'All right.' Hopefully, if I win, I'm going to tell him, 'Hey, it's not your time.' "
When you come to Florence, "you know he's the favorite to win, 100 percent, like every night, not even just one night, not even (just the) 100-lapper," Ferguson said. "You know that some way or another you're gonna have to have a good enough car and not only outrun him, but outrun him on the cushion. Most times, you're going out there trying to have the fastest car and drive the best race and know that you're faster than everybody else. But in this scenario, when you race here, you know you have to be faster than Josh Rice on the cushion. So you've got to hit it dead perfect and you got to hope that the track's in our conditions."
While Rice is known as a high-side expert, "there's a lot of people that don't give him credit," Ferguson added. "I ran here in May last year, and I ran like sixth or seventh, and I actually made it to fourth behind Josh on the bottom on a restart. Josh drove by cars on the bottom that night. So I know he's the best there is when it comes to the cushion at this track, but the kid can get around the track even around the bottom, too. You just know when you come in here he's going to be a tough one."
Coffey, the husky Verona resident who has long been friends with the entire Rice family, is anxious to watch the No. 11 go for checkered flags all weekend.
"He's wide open around Florence. He knows how to beat the boards over here. This year, he's gotten better running that low side and keeping the deck (in the car). He knows he has to keep the deck in for 100 laps or he ain't gonna be there at the end. But he knows where that skinny pedal's at," Coffey said. "I grew up watching his dad (Jerry) here. But Josh, he's figured out (turns) three and four where he can diamond that off and he still has drive off (turn) four. I don't know how he does it. Hopefully Saturday night he's up there holding that big check and we're tearing this place down."
Josh's older brother James Rice shares genetic material, certainly — the young men resemble each other — but James doesn't share the driving style of Josh.
"Everybody's joking with me saying that it's in my DNA somewhere, but I haven't found it yet," James Rice said. "He's got a special way of entering on the cushion, just like staying on there on it and just carrying momentum around there. I don't know. I haven't figured it out. I don't know. I feel like I've hit it a couple laps — and then I felt like I'm gonna die. So then I just kind of moved back down.
"What's so impressive about it is how consistent he is doing it. I mean, because it's not a very safe line up there. He stays consistent on the stopwatch and he's been getting better at not blowing the deck out of it, too. So it's very impressive what he's doing."
Rice has proven his winning ways in shorter races, but to win $75,000 on Saturday, he'll have to outrun the sport's best drivers — including invading Southerners Jonathan Davenport, Brandon Overton and Chris Madden — in a long-distance affair.
"There's one thing to do for 50 laps. To do it for 100 laps? That's risky. But if anybody here can do it, he's gonna do it," Linville said. "Dad's always told me growing up, you know, the closer you are to the wall, the less damage you get (when you hit it and) the less it's gonna hurt when you do hit it. But you're running into the corner at 110 plus mph, and to drive that fine edge around through there, you're skinning fleas right there riding on that line. Like I said, he hits his mark every time, no doubt.
"Come Saturday, he'll be the man to beat, I don't care who comes up here."